Training your furry friend is a great bonding time for both of you. You get to teach him new tricks and you get to correct their behavior positively. One thing about positive reinforcements is that you need treats. However, where do you put your treats while you're training? Dog training pouches like the one in this Paw Lifestyles Dog Treat Training Pouch review is here to give you a hand.
Things To Consider Before Buying A Dog Treat Training Bag
Training bags are an important part of the whole process. This allows you to keep your hands free while training your furry friend all the while having treats in the bag for training. Here are some things that you might want to consider before choosing your training pouch:
Hands-Free
Like what I said, you want your hand to be free during training especially if you are teaching your dogs with hand signals. This is also great to have when teaching loose leash walking so you can give your furry friend treats from time to time.
Having a training pouch that you can sling across your shoulder or clip on your belt will give you enough room to do more during your training. Stop fussing over how to hold your treats during training and get yourself a pouch that allows you to do everything during your training.
Extra Compartments
When you train your dog, you want to feel as light as possible. You don't want to be carrying multiple bags for your dog's things and your things separately. Having extra compartments to store the small things that may otherwise be in your pockets can make you feel free and remove all the heaviness.
Paw Lifestyles Dog Treat Training Pouch Overview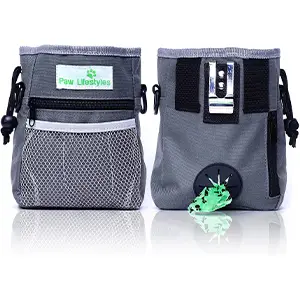 The Paw Lifestyles Dog Treat Training Pouch is the best one out of the list of training pouches. It can carry everything that you can think of. It can carry treats, toys, kibbles, and even poop bags. It is also equipped with d rings for you to clip on accessories that you need for training like clickers and portable water bowls.
Choose from 3 ways to wear the treat pouch for convenience. The straps are fully adjustable and very light to carry. Lined with a neon green lightweight and waterproof nylon fabric to make sure that your treats are dry and safe to consume. It even has compartments that you can use to carry your own things like your keys and your phone.
Quick Glance
What's Good
Neon green lightweight and waterproof lining
Adjustable waist and shoulder straps
Extra compartments
D-Rings to clip on accessories
Drawstring feature; Easy to open and close
Poop bag carrier
What's Bad
Zippers are too small for some phones
Waste bags are only available from the back of the pouch
Durability could be improved on
Features & Benefits Of The Paw Lifestyles Training Pouch
This product has various features and benefits that we are sure you and your dog will love. A few of these are as follows:
Drawstring Pouch
The Paw Lifestyles Dog Treat Training Pouch has drawstrings that allow you to close and open the treat bag whenever you want. It is very easy to use especially when training with your dog. It is lined with a neon green waterproof nylon to make sure that you see the treats when you look inside the pouch. It also keeps the treats dry and makes the pouch easier to clean.
Wearable
Paw Lifestyles' training pouch gives you 3 ways to wear the training pouch. You have a 48" removable and adjustable waistband if you want to wear around your waist. You can also wear it across your shoulder if that makes it easier for you or you can also clip it on your belt with its strong metal belt clip. Any way that you want to wear it that's most comfortable for you, you can do it.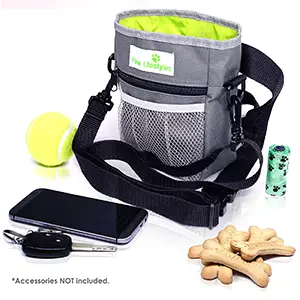 Extra Compartments
Who doesn't love extra compartments? The training pouch has a zipper compartment that you can store small accessories that you may need. You can also store small toys and accessories in the mesh compartment in the front. They say that you can also keep your phone inside the training pouch but many users have said that their phones are too big for the compartment.
Poop Bag Holder
Aside from all the extra compartments that this pouch has, it also makes you always ready for what happens. Especially when your furry friend heeds the call of nature when you are out for training. It can carry poop bags for you and has a dispenser for them at the back of the pouch. Some users feel that the poop bags should be placed in the front as well. I guess there is still room to improve for the Paw Lifestyles Dog Treat Training Pouch.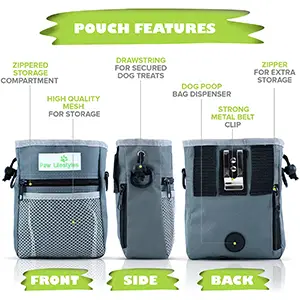 What Users Say About The Paw Lifestyles Dog Pouch
While writing this product review, I stumbled upon some reviews that seem helpful for those looking to get a new training bag. Here they are: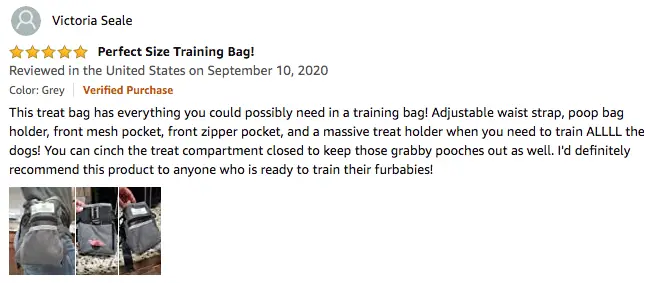 Victoria Seale thinks that this is the perfect size for a training bag. She has multiple dogs that she has to train and she gets to work with them all through this training bag.

On the other hand, William Zepeda-Campos thinks that this is a very convenient training bag. One downside he saw is that his iPhone will not fit in the front pocket so he needs to find another way to carry it while training.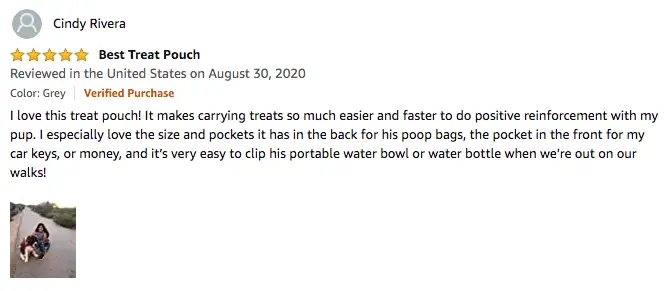 Cindy Rivera says that this is the best training pouch to use when training with positive reinforcement. She even clips on his portable water bowl when they go out and train.
Alternative Dog Treat Bags To The Paw Lifestyles Dog Treat Training Pouch
If you are looking to compare how this dog treat bag fares against others of its kind, we have listed three alternatives below to help you:
Doggone Good Rewards Pouch
The Doggone Good Rewards Pouch is made from 600 denier polyester "backpack" material so you can rest assured that this is one durable training pouch. It has a magnetic closure that allows you easy access when training your furry friend.
It has a roomy main compartment that is well-shaped to easily reach for treats. It is lined with gray interiors to enhance visibility when picking out treats. It comes with a waist strap to allow you to be hands-free when training your pooch. The training pouch has a zippered back compartment to store all your things like your phone, keys, and money.
eBasics Dog Treat Pouch
The eBasics Dog Treat Pouch is the most professional looking out of all on the list. It has a simple, sleek black design that is ergonomically shaped so you can reach in with ease. It can carry up to 3 cups of treats so you will not run out while you're out for a training session outside.
You can easily close and open the treat bag with its magnetic seal. It is also equipped with a zipper compartment on the front for all the small accessories that you may need in your session. It is made of 900 denier polyester fabric. You can easily wipe off the dirt from the bag or hand wash it and air dry for better results.
Chuckit Treat Tote
The Chuckit Treat Tote is simply designed for convenience. It has a drawstring opening for ease of access to the treats. It can hold up to 1 cup of treats at a time. That is not a lot, but it is enough for short training sessions.
This durable pack-cloth treat bag is water-resistant to keep your treats as dry as possible. It is made small and discreet to keep your dog's attention on you and not the treats. Clip this on your belt or pocket so you can have your hands free for training. This tote is available in various colors and sizes.
Our Final Thoughts
Overall, this dog treat bag is one of the best we have seen in this category. Hence, why we wrote this Paw Lifestyles Dog Treat Training Pouch review. It has multiple compartments that you can store accessories and your personal things in. You can wear it in 3 different ways that are very comfortable and it keeps your hands free for training. Always be ready with its built-in poop bag dispenser and enjoy the training session without stress.
Click here to get current pricing on Amazon for The Paw Lifestyles Dog Treat Training Pouch >>