It's always discomforting to leave your pet at home. If the situation allows, you would have chosen to bring your animal buddy with you. As a pet owner myself, I can't help myself but feel concerned about the welfare of my dog whenever I leave him alone at home. There's no way I could check up on him when I'm out with the Pawbo Pet Camera. Keep reading to see my complete Pawbo life wi-fi pet camera review below.
There are places you go to, and stuff you need to do that won't allow you to bring a pet with you, but there is a way to at least keep tabs on your dog or cat at home. The Pawbo Life Pet Camera allows you to monitor and even communicate with your pet, thereby eliminating the stress of not knowing if the animal is safe and sound.
Things to Consider Before Buying a Dog Camera That Dispenses Treats
Purchasing a pet camera for the first time usually involves weighing two factors – features and price. But there are other important things to consider, too.
The majority of camera systems designed for pet monitoring are motionless, which means if you want to monitor your pets at home, they might be off-camera. There is an option to zoom in or pan, but the camera remains stationary. The best solution to this issue is to purchase more than a couple of cameras to have multiple viewing positions.
Since pet cameras rely on wireless technology, it means you can access them via your smartphone or tablet device. But for the sake of safety, I strongly advise against checking on your dog or cat while driving or walking in the street.
Buying a pet camera makes sense if you spend most of your time away from home. It is recommended for people who leave their pets behind while they work all day. It is not ideal for people who travel out of town and spend several weeks out of the house. If you always travel, you're not supposed to have pets in the first place, unless you send them to a pet daycare facility or hire a pet sitter.
Pawbo Pet Camera Product Description
Pawbo Life Pet Wi Fi Pet Camera is a small camera that you can connect to a phone for monitoring pets left at home. It measures 4.4 inches and weighs close to 1.2 pounds. It acts as a two-way communication device for you and your pet. It can be set up in different locations of the house, including the wall, floor, or table.
Pawbo Life Pet Camera Quick Glance
What's Good
User-friendly and intuitive design
Pre-installed games with a choice for automatic or manual control
Innovative treat delivery system
What's Bad
Mediocre camera performance in low lighting
Lacks a night vision feature
Limited by a fixed camera angle
Pawbo Wireless Interactive Pet Camera Features
High Definition Video
The pet camera features a 720p high-definition live video through 130° wide-angle lens. When connected to a mobile device like a smartphone or tablet, the camera offers live streaming so you can check and monitor your pet anytime you want. The HD video is coupled with 4x digital zoom, capture, and recording features, making sure you don't miss out on your pet's movements while you are away.
Interactive Technology
The Pawbo Life Pet Camera comes equipped with a built-in microphone and speakers for convenient two-way communication. The interactive technology feature includes the laser and treats dispenser so that you can easily talk, listen, play, and treat your pet. Interaction is possible, thanks to the collection of features that mimic your presence. The microphone is sensitive to the sound produced by your pet, like that of a dog bark. The barking will send an alert to your phone or mobile device, telling you that it's time to check on your pet.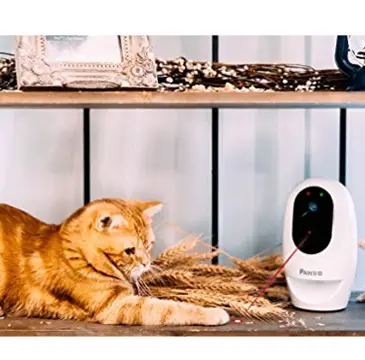 Check Amazon's Price
Social Sharing
The instant social sharing capability of the Pawbo Life Pet Camera allows you to take photos of your pet and share it on social networking platforms, including Facebook, Instagram, and Twitter. Being able to snap pictures of your dog or cat even while you are away, meaning you won't miss any adorable moment. The camera is there and ready to capture memories even when you're not physically there to take the shot.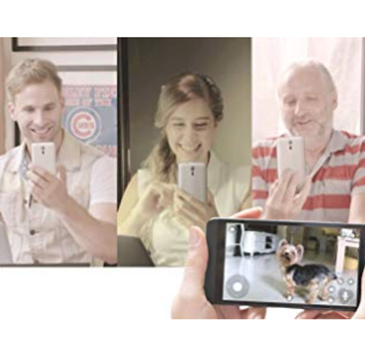 Check Amazon's Price
Easy Setup
Setup is as convenient as it can get for this camera. There are only two components you must handle – the camera and power cord. The package comes with simple instructions. All you need is to connect the pet camera to the nearest power outlet. Wait for the blinking light from the device. It tells you that the setup is ready to begin. You must download the Pawbo Life app on your phone to pair the pet camera over Wi-Fi. You can create and log in to your account once the wireless connection is established. The entire setup is done in a few minutes.
WPS Alternative Setup
Pawbo's pet camera comes with an alternative WPS setup designed to help users who cannot connect their device to the Wi-Fi. The Pawbo Life app you downloaded earlier on your phone helps you set up this connection. You will be directed to press the WPS button located on the back of the camera, followed by pressing the same WPS button found on the back of the router. You will successfully connect your pet camera to your smartphone or tablet device in no time.
Added Connectivity
The product has multiple connectivity options. You can even control multiple Pawbo cameras during the setup. Since pet cameras are stationary, some people buy more than a couple of them to get several angles and points of view. If you wish to buy more than one Pawbo Life Pet Camera to increase your pet monitoring coverage, then it wouldn't be a problem since the system allows you to control multiple cameras, plus you can connect to eight users simultaneously.
iOS and Android Compatibility
You can use your iPhone, iPod, or iPad to connect with the Pawbo Life Pet Camera. Setup is done in minutes by downloading the Pawbo Life app for devices running iOS 8 or later versions. If you use an Android-powered device, you can connect to the Pawbo Life app via Wi-Fi as well as WPA2-AES encryption. The two options for connectivity are a safeguard against the issues of not being able to connect to the Wi-Fi at first attempt.
Long Battery Life
An often-overlooked feature of the Pawbo Life Pet Camera is its considerably long battery life. Unlike other pet cameras, it provides up to two weeks of runtime on a full charge. It means you can monitor and take care of your pet for an extended period without the concern of the battery running out.
Treat Dispenser
One of the best features of the Pawbo pet camera is the treat dispensing function. All you must do is pull the treat tray out and add your preferred pet treats. However, your choice is limited to small and medium-sized treats because most large treats won't fit into the rotating chamber. There is the option of breaking down the treats into smaller pieces before putting them into the tray. Overall, it's a smart feature that adds functionality to the pet camera. It is a worthy addition, especially when you know that not all pet cameras have the same function.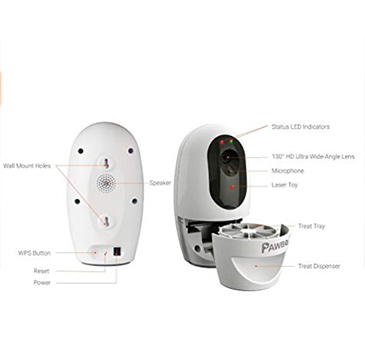 Check Amazon's Price
Pawbo Life Wi Fi Pet Camera And Treat Dispenser User Reviews
The majority of those who chose the Pawbo Life Pet Camera over other similar products are satisfied with their decision. One of the most praised features of the camera is the quick setup.
A handful of users said that right after download the Pawbo Life app, the pairing of the camera and their smartphones took just a couple of minutes. Although it's important to mention that there are also a few users who said that they encountered issues in connecting the camera to the Wi-Fi.
Several users praised the laser tag game with manual and automatic options as the best feature, especially for those who have cats at home. They loved the fact that the laser autonomously and effortlessly moved for added fun.
Another user review mentioned the versatility of the barking alert or notification feature of the Pawbo Life Pet Camera. The feature might disturb neighbors in apartments and condos. Thankfully, there's a nifty feature that switches the alert to a push notification or text so that the pet doesn't need to make a lot of noise.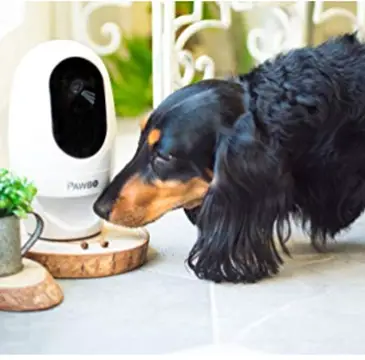 Check Amazon's Price
Other Options To The Pawbo WiFi Pet Camera
The Pawbo Life Pet Camera has its share of positives and drawbacks. But if you think it does not address all your needs for a pet camera, you can always choose other competing brands. Take a look at our review round-up for video cameras that dispense dog treats here: treat dispensing video dog cameras. Below is a list of the options with similar features:
Furbo Dog Camera
The Furbo Dog Camera is like Pawbo in many aspects, including the connectivity features and two-way communication. It is also paired with a smartphone using an app downloaded over Wi-Fi. The difference is that Furbo has a 1080p video quality, making it a much better option if you're looking for better resolution. It can provide live streaming and can be used in night and low light setting due to its night vision camera feature.
SKYMEE Dog Camera
The most notable similarity between the SKYMEE Dog Camera and Pawbo's pet camera is the addition of a treat dispenser. The former also features a 1080p camera like the Furbo and two-way communication functionality. SKYMEE's product allows you to take photos of your dog and share it online. The camera offers live video streaming where up to eight people can watch at the same time. The brand is renowned for the 24/7 tech support it provides for its users.
WOPET Smart Pet Camera
Like the Pawbo Life Pet Camera, WOPET's version is designed for different pets, not just dogs. It has a capable and bright camera and a free downloadable app for easy pairing with a smartphone. The product is a practical alternative to that of pricey pet cameras because it costs significantly less.
PetChatz PawCall Camera
For anyone who stresses about leaving their pets at home as you travel and find yourself away from home constantly, PetChatz HD is a product you should highly consider. PetChatz allows pet owners to stay connected with their pets even as they're away from home. PetChatz HD is a digital pet camera that doubles as a treat dispensary. Click here to read our complete PetChatz PawCall Video Camera review.
Conclusion
Your pet is an integral part of you. It is part of your family. But as much as you hate the idea of leaving your cat or dog behind, it's a fact of life. The good news is that modern technology has paved the way for the creation of sophisticated and smart pet cameras.
In times when you need to spend an entire weekend on a business trip, or maybe you must visit a place where bringing a pet is somewhat inconvenient, you have no choice but to leave your buddy behind. For most people, it's not a big deal because they can readily ask someone to become a sitter for a day or two. You can also take your cat or dog to a pet daycare. But the one option you cannot dare consider is leaving them behind without some form of a monitoring device.
With the help of a product like the Pawbo Life Pet Camera, you can confidently leave your pet at home, thinking that it is safe and taken care of. Even if you're not physically present to tend to your pet's needs, the camera, along with its convenient features, allows you to continually monitor and watch your pet's activities. You can even communicate with your furry buddy to keep it calm and relaxed. The voice communication, as well as the treat dispenser features, maintains the bond between you and your pet.
After learning all the features, including the pros and cons, you now have enough to go on and decide if the Pawbo Life Pet Camera is the best solution to your needs. It may not be as advanced or fancy as other smart pet cameras, but the reasonable price makes up for the absence of some features. The camera gives you the peace of mind you need when you're worried about the safety and welfare of your pets.