Are you the active type of person who likes to bring their cats along with them on their trips? Whether it be hiking, camping, or plainly just traveling somewhere new. I know how it could be so stressful to travel with your pet. Luckily, there are now new products out there to help us out. The Pecute Cat Carrier Backpack is one of them.
Pondering Over
Maybe by now, you're wondering if this is the right product for you. And you're probably asking yourself, "Is it really worth it?" I was in your position once before. And here are some of the things that you might want to consider before purchasing the best cat carrier for you.
Design and Size

Is it gonna be enough space for my cat?
Will it feel stuffy inside the backpack?

Comfortability

How comfortable will my cat be inside the bag?
Is it comfortable for me as well?

Safety

What are the safety features of this product?
How safe is it to use for traveling?

Added Features

What features does it have that will be beneficial to me and my cat?
It is unbelievably hard to travel with your cat. Trying to get all her things ready and trying to fit it all in one bag is stressful enough. Some of the backpacks out there are just not enough. Take a little time to ponder on these things before finding the best cat backpacks. If you are ready to know more keep reading and let me tell you more about this product. Hopefully, after this article, you get to decide if this is the right backpack for you and your cat.
The Pecute Backpack Overview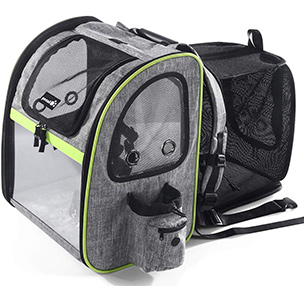 The Pecute Cat Carrier is a pet carrier that is fully expandable to give your furry companion the space that it needs. This large cat carrier is made with high quality, scratch-proof material, this carrier has a mesh window in front for extra ventilation and viewing. It acrylic windows with 2 holes to help light transmission into the backpack. Below are some Pros and Cons to help you balance the qualities of the product.
Quick Glance
What's Good
Foldable and Portable
Expandable
Airline Approved
Built-in retractable hook for safety
What's Bad
Velcro issues of some customers
Some customers received scratched backpacks upon arrival of their order
Reports of tears at the expandable part after limited use.
Key Features
One of the things that I like about this backpack is that it has a lot of features that I can enjoy with my cat. It is amazing when you go on an adventure and just have all her essentials in one bag. Let's take a look at what other features you can enjoy from this product:
Design and Safety
This backpack is made with light-weight, durable oxford material. It has a mesh window on top and two acrylic windows on the sides with holes for better ventilation. For safety, this carrier is equipped with two zippers with buckles for extra safety and also a retractable safety strap you connect to the collar of your cat to prevent it from jumping out of the bag before you've attached her collar. Although in my research, some users said that their products had tears and rips after a limited time of use.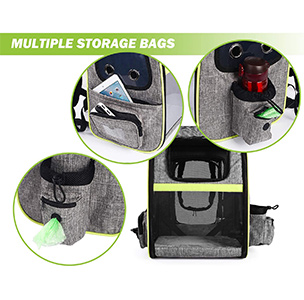 Comfortability
Pecute's carrier comes with a removable, reversible, and easy-to-clean bottom pad for the comfort of your cat. One side is a soft plush to help with cold weather and wintertime, the other side is made of exfor material to help your cat keep cool during the summers. One thing that I like about this is that they think of our comfortability as traveling pet owners. They created this backpack with an adjustable comfort strap, a shoulder-fixing buckle and a waist-fixing buckle to help distribute the weight that we carry and increase comfort. Perfect for long hikes!
Added Features
One of the best features of this product is the expandable part of the backpack. You open a latch at the backpack and it reveals a mesh expandable space that gives your cat enough room to feel free and comfortable when not on your back. While it is expandable, it is also collapsable and saves space for storage. Don't you worry, it is also easy to set-up. And if you are worried about extra pockets, Pecute gives you two extra storage pockets on its sides. One for waste bag dispensers and water bottles, and another for storing phones, wallets, keys and any other small items you might need for your trip.
Pecute's carrier really gets me going. It has a lot of cool and fun features that I can use on my trips with my pet to help make it as exciting and as fun as it can be but also stress-free. Although considering all of these, Pecute's Carrier isn't the cheapest in the market. It's a bit more expensive than the rest of the best cat carrier backpacks.
Customer Feedback
If you still doubt Pecute's potential to be the product for you, here are some reviews from other customers that may help with getting rid of that doubt.

This user has a 20-pound cat that fits just right into this sturdy all-around travel carrier. She also likes the straps and zippers that make this carrier safe to use.

Sarah is a fan of this backpack. She like that she can let her cat look around while being held by the built-in leash without the worry of them escaping. She plans to order one for each of her cats.

This user is one satisfied customer. He travels a lot and makes great use of this carrier. He also loves the expandable part so his 8-pounder can freely roam around.
How does it compare?
Wondering if this is the best cat window backpack out there? Let me show you a few more of cat carriers that you might be interested in if you're not sold on the Pecute's carrier. This way, you can find the best cat backpack for your feline friend.
Lollimeow Cat Backpack
This backpack has an eye-catching window type front where you cat need not worry about visibility. It is equipped with multiple ventilation holes and mesh sides for proper ventilation. It only has one mesh pocket on its side. One cool feature of this carrier is that you can carry this backpack in front of you when you have a nervous kitty and a small side opening where you can calm them down while traveling. It also comes with a safety leash so they don't jump out when you open the bag. Click here to view our review of this backpack.
LEMONDA Portable Cat Backpack
I think that the coolest feature of this particular cat carrier backpack is the design. It is made to look like a little space ship carrying your cat. A small, clear, round window in front of the bag for those curious cats. It also has multiple ventilation holes but no mesh vents. One user comment I found said that his 14-pound cat did not fit the bag. Maybe this is perfect for slimmer cats.
Blitzwolf Cat Backpack
Almost the same features as the Lollimeow backpack, the Blitzwolf cat backpack comes with a full, clear front for the eye-wandering cats. It comes in 2 sizes, a small and large size. You also have different colors to choose from. Equipped with multiple air holes and a mesh vent on the sides of the bag. I guess the added feature would be the free gif that comes with it. They gift you a Dual-use water and grain cups and two collapsable bowls. That's pretty neat!
Is The Pecute Cat Carrier Backpack For You?
I'm not sure if you have made a decision at this point. One thing I know for sure is that Pecute's backpack makes life so much easier. With all the space that it gives for my cat and me as an owner really is great. I cannot guarantee that this is the best for you but I know that it can surely help.
Check out current pricing and availability on Amazon here >>