Our cats love to get cozy. They love going into tight spaces in our bed, under it, and even in the depths of the couch. They do this to keep them warm and cozy when they sleep. The best thing you can do for them is to get them a cat bed like the Pet Magasin Thermal Self-Heated Cat Bed.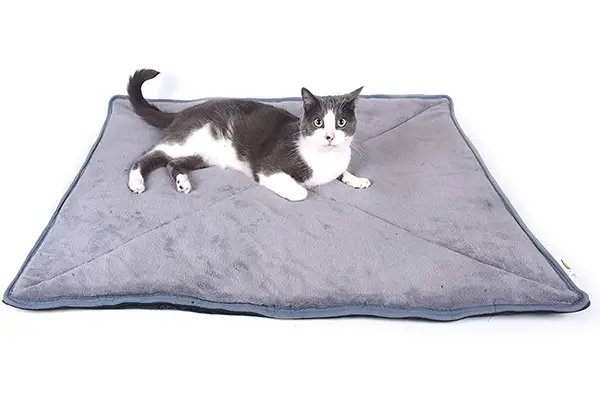 Things to consider before buying a Cat Bed
There are quite a few considerations that you might want to think about before getting a cat bed for your furry friend. Here are some of them.
One thing to consider is if the bed is heated or could be heating. There are also some that are self-heating where they use your cat's natural body heat and reflect it back to them. It uses the same advanced technology that space blankets or emergency blankets use.
When your cat's bed is heated, it is more likely for them to stay in the bed as they love cuddling up and keep warm as they take their catnap or sleep in the night. It is an instinct that all cats have. So, a heated cat bed is the way to go.
Another thing to look for is washability. Since your furry friend will use it everyday it has to be something you can clean very easily. There are cat beds that are machine washable and there are some that are not.
Choose the one that best applies to your situation. If this is something that you need then look for ones that allow you to do a quick wash in the machine and tumble it dry. More complex cat beds exist, that cant just be washed that easily, If you do have the time.If you do have the time, there are some cat beds that are more complex and can't just be washed that easily.
The last thing is the affordability of the bed. You can go for the really pricey ones that use the highest quality of material but if you do have a cat that scratches or nibbles at the bed, that might not be the best choice. There are more affordable beds that offer the same quality, warmth, and comfort as those in the higher ranges. Think hard before you get a bed and see what your cat likes.
Pet Magasin Thermal Self-Heated Cat Bed Overview
The Pet Magasin Thermal Self-Heated Cat Bed gives your cat a place for them to sleep where they feel cozy and warm. It is stylish and comfortable. Very minimalist. If you are looking for mats that can provide all the comfort and coziness of other beds without the fuss.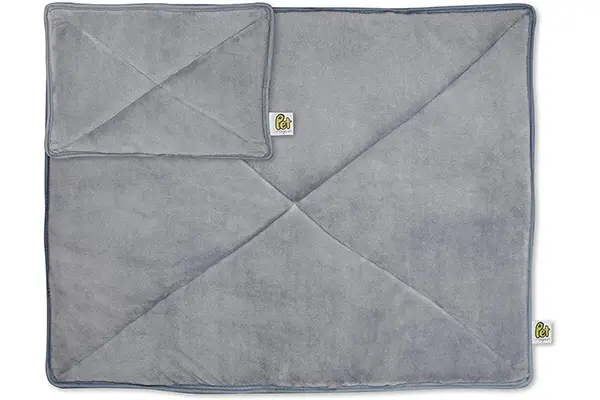 It is also equipped with a non-slip underbelly that keeps that mat safely in its place. Made with three thermal insulation layers, it keeps the bed comfortable, thick, and warm for your furry friend.
Quick Glance
What's Good
Self-heating technology using Mylar film
Velvet microfiber cover
You get two (2) mats when you order; 1 large and 1 Small
Non-slip underside
Three thermal insulation layers
What's Bad
It takes time to get used to the crinkly sound the mylar lining makes
Not machine washable – Some user found the non-slip side peels off when washed in the washer
Key Features of Pet Magasin Thermal Self-Heated Cat Bed
Self-Heating
The Pet Magasin Cat Bed is self-heating and gives your cat constant warmth. It absorbs, holds, and reflects your cat's natural body heat back to them using a piece of soft insulating fabric and an integrated layer of mylar fabric.
Mylar fabric is the type of fabric that they use in space blankets to keep emergency victims warm. It basically uses the same technology so your cat is sure to warm up to this bed quickly. This fabric can also protect your cat from the cold floors when the cool season arrives.
Comfortable and Thick-Padded
The Pet Magasin Thermal Self-Heated Cat Bed is very comfortable and padded thick. It has three thermal insulated layers to give your cat the softest lounging area in the house. The top cover is made of a velvet microfiber fabric.
The next layer is made up of a springy hypoallergenic thermal foam to cushion them from hard floors. Comfort is the most important thing that cats look for in a bed, that's what you should give them.
Non-slip underside
This bed is equipped with a non-slip underbelly that prevents the bed from slipping and sliding across the floors. They have a rubberized underside so there will be no accidents soon. This keeps the bed in place so well that they said you can place it on top of dressers or wherever your cat chooses to perch themselves every day.
What others say about the Pet Magasin Cat Bed
I have compiled numerous lists for cat beds and have found some reviews of the Pet Magasin Thermal Self-Heated Cat Bed I think everyone should see.
KChypher says that this cat bed is poorly made but works pretty well. The seams somewhat unraveled after being in the washer. Her cats still loved it though.

Curtis Jackson says that his cat has taken on to this mat, however disappointed that he got a small mat instead of another large as he expected.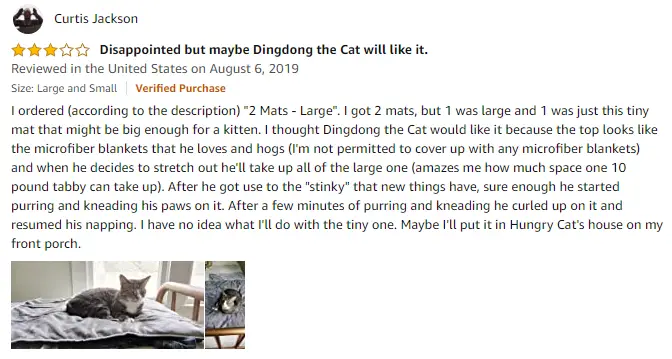 Melissa Gammonster absolutely loves this cat bed. Her 15-year-old with arthritis stays on this bed the whole time, she uses the smaller one for her 5-year-old and loves it as well.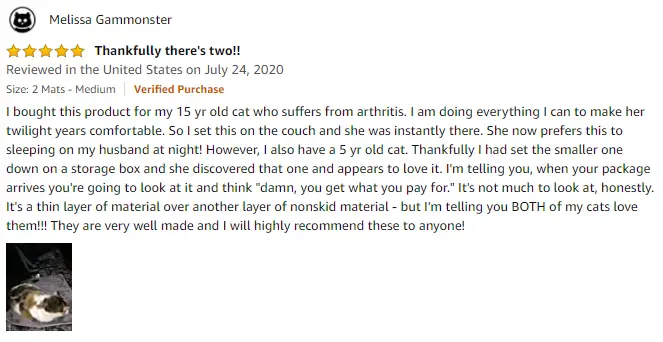 Alternatives to the Thermal Cat Bed
AmazonBasics Collapsible Cat House with Bed
AmazonBasics' Collapsible Cat House gives your feline friend a place to lounge, play, and escape when he wants to. It is accommodating to any cat's natural instincts. It combines a bed to sleep in up top and a hiding spot for when they want to be cozy and escape from everyone as most cats do.
This cat bed is also collapsible so that you can bring it anywhere. You can pick from 3 neutral colors that go well in any house.
Petmate Aspen Pet Self Warming Bed
Petmate's Aspen Self Warming Bed has a corduroy lining that features reflecting heat technology to keep your furry friends warm as they sleep. The bed reflects your cat's own body heat upon themselves to keep them cozy. This bed also does not require electricity.
The bed is made of plush corduroy and the sleep surface is covered in faux lambswool that is so soft, your furry friend will not want to get up. It also features a non-slip underbelly to prevent the bed from slipping every time they get into the bed.
It comes in various sizes that can cater to your cat's size.
K&H Pet Products 3191 Thermo-Kitty Heated Pet Bed
The Thermo-Kitty Heated Pet Bed By K&H are cat beds for all seasons. It envelops your furry friend in a heated bed for the colder seasons. When summer comes along, remove the heater to make it more comfortable for them.
This bed comes with a one-piece pillow and an inside fleece cover to make it the most comfortable bed for your cats. The entire cover is removable to easily wash it in the washer. Just unzip to remove the ortho-foam. A 4-watt heater is inside the bed that heats its surface up to 15 degrees higher than room temperature.