Hiking on your own is already a challenging activity. Add on a cat and all of the things you need to bring for him, and it becomes almost insurmountable. If you want to go hiking or camping with your cat, what you need is a Cat Carrier Backpack. Luckily, we have the PetAmi Premium Cat Carrier Backpack. Click here to view this backpack on Amazon.
Do I need Cat Pet Carrier?
Going on adventures with your cat can be very stressful, but it can also be a lot of fun. Given the right equipment, you can make all your trips and hikes a very effortless experience. Choosing the right type of carrier can be vital to your trip. That's why there are some things that you need to consider when choosing a pet carrier backpack. Here are a few key features to look out for when looking for the best cat backpacks:
Design and Comfortability – How will my cat feel staying inside this carrier for a long period of time?
Safety and Security – How secure is this carrier? Will my cat be able to escape?
Functionality – What is this carrier for? What else can I do with this carrier?
These are just a few of them and there can be a lot more depending on what you're looking to do with the backpack. Is it just to carry my cat? Is it a carrier where I can put my cat's items too? What conditions will I be using the carrier for? Do I need to find a pet carrier backpack for a small cat or a large cat carrier? I know you may still be confused about what I am talking about. Let me first present to you what this feature is about.
PetAmi Premium Cat Carrier Quick Info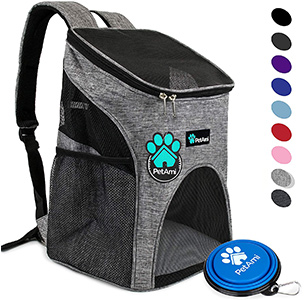 The PetAmi Premium Cat Carrier Backpack is designed for the best and most convenient experience for you and your cat. PetAmi promises that your cat will travel in comfort. Using high-quality materials, your cat will surely love this well-designed backpack. It is constructed with durable, high-grade polyester that will give a breathable experience for your cat.
Quick Glance
What's Good
It comes in 9 different colors
Fits most small and medium-sized pets
Packaged with a free collapsable bowl
Comfort for you – safety buckles in front for extra support
Multiple pockets for essential items
Ventilated design cat backpack
What's Bad
Not a lot of room to move around as per some customers
Reports of non-stability
Cheaper than most cat carrier backpacks
PetAmi Premium Cat Carrier Features
So, let's talk about what the features of this carrier backpack are. This is what makes this carrier what it is. You will find out why this carrier prides itself as the best outdoor cat carrier backpack in the market.
Design and Comfortability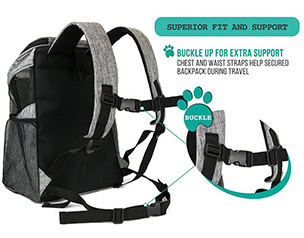 Made with high quality, very durable polyester and mesh, this cat carrier is light-weight and very easy to bring around. It is lined with sherpa fabric to give your cat the best comfort it can get while traveling. If you have a very small cat this might be great for you. It comes in 9 different colors that look absolutely amazing. A breathable padded strap is equipped with this carrier backpack to provide comfort for you. Although this is a very good design and idea, I have read reports saying that this carrier backpack is very flimsy since it is labeled as a mesh backpack for travel. Some customers say that the top part keeps falling on to their cat and the cat becomes very uncomfortable.
Safety and Security
Safety and security for a carrier backpack are very important. You would want to make sure that your cat feels safe inside the backpack at all times. A safety strap is included inside the carrier to prevent the escape of your cat. Waist and chest buckles are provided for extra safety to avoid back pains from carrying your cat around. Of course, we do not want our cat to suffocate inside the carrier backpack. PetAmi has included mesh windows for maximum air circulation and visibility for your cat.
Functionality
Now, the carrier backpack is not only about how it looks. With great looks, comes great responsibility. It has the responsibility to make sure that this cat holder is all that the user needs. This carrier backpack is equipped with extra pockets for all the needs of your feline buddy. It is fully collapsible for easy storage and cleaning. This particular carrier is also airline approved so you and your kitty can take trips that involve flying. PetAmi has also included a free collapsible bowl for every time you purchase a carrier backpack. PetAmi prides itself as the best outdoor traveling portable cat carrier backpack.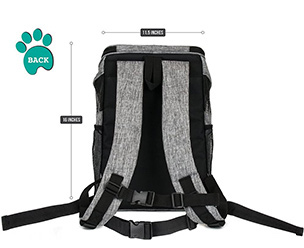 Taking all these into consideration, I believe that this carrier backpack is perfect for those who have smaller cats and those who enjoy going on hikes, treks and long walks at the park. It is very affordable but I think that it is not a good trait. Being the lowest-priced carrier backpack in this category and reviewing customer feedback, I believe that this will be beneficial with smaller cats. I'm not quite sure if this will quite fit the medium-sized kitties.
What Other Customers Think
After studying this carrier backpack, I find it best that you get to see some customer reviews coming from those who have actually used the product.

GT Jones believes this carrier backpack is a good buy. He finds that the extra pockets are very useful. He bought it for her kitten that has now outgrown it.

Tonya uses the carrier on their walks. She loves how her 6-pound cat fits very nicely in the bag. Although, she wishes that the mesh lining could be a little lower since her cat lays down while inside the carrier.
This user finds that the carrier is only good for very small cats and kittens. He used it with his 12-pound cat and he felt his cat was a little cramped inside the carrier.
Other Options For Cat Carriers
Here are some of the other best cat carrier backpack that can be found online. Let's see how the PetAmi Premium Cat Carrier Backpack compares with the rest of them.
Pecute Cat Carrier Backpack
The Pecute Carrier Backpack is similar to the featured product. Most cat carriers are bubble backpacks that have acrylic windows. Like the featured product, this carrier is made of high-quality oxford material that is promoted to very durable. It also has mesh ventilation to develop great air circulation. These backpacks seem to be sturdier than the ones of PetAmi. The main feature that this carrier has is that it is expandable and gives your cat a bit more room to move around inside the carrier.
LEMONDA Portable Cat Backpack
The LEMONDA Portable Cat Backpack is a bubble backpack that has a clear acrylic window in front of the carrier for your very curious cat. It has a space design that makes it look cute and fashionable that will make heads turn when taking a walk. It is equipped with multiple air holes that circulate ventilation. There is also a mesh pocket on its side to contribute to that. This is best for taking walks in the park or when you need to bring your cat to the office.
Blitzwolf Cat Portable Carrier Space Capsule Backpack
Finally, Blitzwolf has produced a space capsule designed backpack. Contrary to LEMONDA's, this backpack has a full clear acrylic front to showcase your kitty as you go on your walks. This will also make people want to approach you and awe at your very cute kitty and her carrier. This particular carrier comes with a dual-use grain and water cup and two collapsible bowls. This is a fashion carrier and best used in urban venues rather than hiking and camping trips. Talking about quality, this is a little less affordable than other soft cat carriers.
Where do I buy?
Now that you know what factors to look for and thinking about what you need, is this carrier backpack for you? This has a lot of different awesome features and functions that can be useful for those outdoor adventures. However, if you have a larger kitty with you, might I suggest a different carrier.
Check out current pricing and availability on Amazon here >>