Is there anything that makes dog-owners happier than returning from an 8 hour work day (or longer) just to see your dog jumping up and down, frantically wagging its tail, welcoming you and signaling it missed you? What if instead of skipping all those hours you never talked to your pet during work you could've called them by their name and treated them to some food?
This is now possible: Introducing "PetCube Bites". If you ever felt guilty about not spending time with your beloved pet, the PetCube will alleviate you of your guilt because it will give you the ability to communicate with your pet seamlessly during the day.
Petcube Bites Interactive WiFi Pet Camera Review – Is The 'Priciest' Dispensary Camera Worth It?
What could make your pupper or kitten feel more loved than hearing your voice and receiving a treat when you're separated? The PetCube Bites WiFi Camera With Treat Dispenser allows you to communicate with your beloved pet while you're working or traveling. All you have to do is activate the device is to connect it and install the app on your phone. You can then say "Good boy!" and dispense a treat directly from the app. The PetCube Camera connects via WiFi and provides full device control from your smartphone.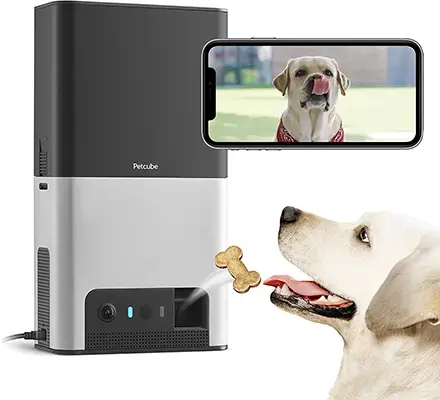 Check Amazon's Price
Things To Consider Before Buying Petcube Bites: Top Features
Petcube is a market leader in pet dispensary cameras. This device serves as a communication device and a surveillance camera. The market for "treat dispensary" devices is not yet developed, and your options will narrow down to about 3-4 popular products (listed below under "Alternatives").
Petcube 'Bites' Quick Glance
What's Good
1080P full HD video, full-room view & night Vision
4x zoom
Built-in Alexa
Sound & motion detection
24-Hour customer care
What's Bad
Position of camera requires the placement to be near the edge of your furniture to maximize the room view, allowing for easy knocking over
Video history "smart filters" don't always correctly recognize human/pet on a video
Has to be fairly close to an outlet or power cord
Here's the truth: While the Petcube is the pricier option among the popular selections, it's the largest, best-made, has the most intuitive App and offers optional subscription plans (but it can function for free!). This product is a serious investment for people who wish the best and refuse to fiddle with inferior devices which inevitably break after a few months. Cheaper dispenser cameras might get chewed off or clawed by the dog/cat, but this is impossible on the Petcube.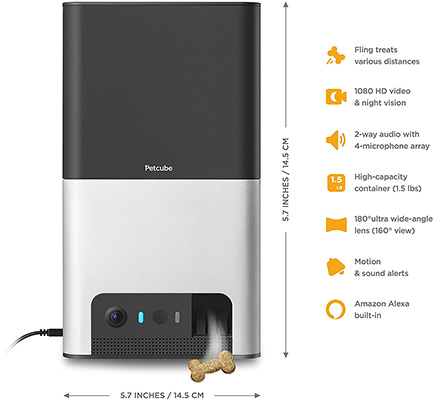 The following are Petcube's most notable features:
Petcube App
The Petcube App powers the whole device: It's available for iOS and Android and it's a fun, intuitive way to engage your pet while allowing you to control treats and watch videos. The company used fun drawings to illustrate snacks in the form of bones. Want to dispense a treat? Press a button. Want to talk to your pet and tell them you've been good? Press a button– the app is simple and engaging.
1080P HD, Wide-Angle Camera
The camera has a wide-angle camera that covers the room wall-to-wall. The camera can record, save and stream video on the Petcube app in real-time. This camera has a high-definition 1080P resolution and retains quality even at the maximum of 3x zoom. The camera is protected under a double-cover, making it impossible for your pet to scratch or bite through. The microphone is also located near the camera, allowing you to hear everything. There is a barking/meowing sensor that activates on the Petcube Care upgrade. The camera features dual infrared sensors that allow you to see in the dark and locate your pet. The 1080P camera can stream video directly to your phone, providing you with a real-time view of your pet while you're away.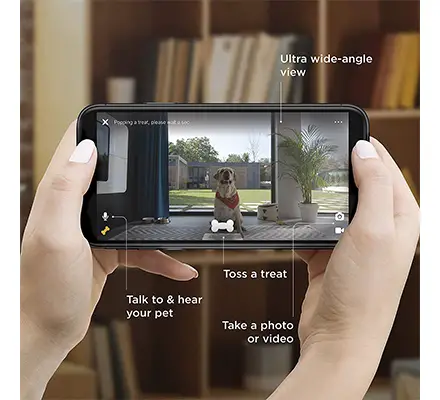 Gigantic Treat Storage
Petcube Bites is a giant device with an oversized storage panel. The treat storage has a capacity of 2 lbs (weight-wise) and it can store up to 100 treats. This way you won't have to re-fill the treats box every day. The treats are controlled via the app. You can dispense a treat with the press of a button. The treat can "launch" up to 6 feet away and you can select how much you want it to fly. You can also pre-schedule the time you want the box to release treats. Don't worry! The treat box is double sealed and the dog/cat will never be able to chew off or claw their way into the treats.
Motion/Sound Detection
The Petcube has "smart" features such as motion and sound detection. Is your dog barking too much and causing trouble for the neighbors? The sound detector can pick up on their bark and allow you to call them in for a treat, which calms them down. The motion detector can inform you when your cat starts climbing everywhere and you can tell it off via the audio panel. The Petcube has two-way audio functionality.
All-Inclusive Package
The package gives you everything you need by default (no need for other purchases). Inside you get the main device, sample treats, one adaptor, one cord, one reset key, instruction manual, and 2-months free Petcube Care membership. Each new client receives 10 days of video history, "smart alerts" that pick up on sounds (barking, meowing, other pets, people, etc) and smart filters which allows you to skip to the videos that matter rewind what your pet did for the day.
Optional: Petcube Care Upgrade
The Petcube Plus is a paid membership version of the app that gives you numerous benefits in relation to video length and cloud storage. You don't have to upgrade to use the device (the app is free), but membership carries many benefits. All users get 2 free months of Petcube Care to determine whether it's for them. Without Petcube Care, you'll only be able to save snapshots for the last 4 hours. If you want to rewind all moments 10-30 days ago, you can do this with Petcube Care. Petcube care offers 2 plans: Optimal (for $3.99/month) and Premium (for $8.25/month).
Petcube Design & Build Quality: Larger Than You Think
The size shocked us: The Petcube was way bigger in the real-life package than we expected based on the pictures. This thing is almost the size of a toddler. The striking size, featuring 13″ height and 7″ width means you won't be able to "hide" it underneath the counter. This is a good thing for two reasons. First, your pet will be able to see it and "find" your voice. Second, you can store infinite treats in the storage compartment. The unit is very sleek, featuring a black and matte silver finish that will match your stainless steel appliances. The ideal location is to place it somewhere near an edge where it won't tip over, but still gives you a great view of the room. The camera should be located where your dog/cat spends the most time. This way you'll get the most engagement with your beloved pet.
Note: The camera on the Petcube is located at the very bottom which is inconvenient for people who want to rest it at the bottom of the room. To get the best view of the room you must place it at a lower table or countertop. This way the pet will be able to reach its treats (although it can dispense them up to 6 feet away!). To get a proper view of the whole room you need to raise it a bit above the ground level. The wide-angle lens will take care of the rest, giving you a full overview of the entire room.
Petcube App: Easy & Intuitive Functionality
The package comes equipped with cords, instruction manuals, and free trial membership. However, you only need two things to get it running: The device and the power cord. There are no "manual" control options for this camera and it relies on the Petcube app to do anything. To set it up when you're away, you have to connect it to the app. Start by downloading it on the App Store or Google Play. The Petcube app is not limited to a single owner – the entire family can download the app. The App controls the whole device: Flinging treats, live streaming, monitoring the pet, motion alerts, video history, etc. To sign up it takes 2 seconds and Petcube lets you sign-up with Facebook. You can add a picture of your pet at the sign-up process and then you're done! Each device comes with a 2-month free version of "Care" which gives you premium cloud features and motion alerts.
Petcube can be used as a surveillance camera without treats too. If you only want to monitor your pet and engage it occasionally, you can do this without treating them. Many owners prefer to treat pets once they're back home or once they've "earned it" to train them to be well-behaved. If you don't want to treat your pet, the camera can function without any treats.
Petcube included a tiny box of treats that can get you started immediately. The treat box works with hard and dry treats – it's not ideal for soft/mushy treats because it must "disperse" the treats. Users don't have to be tech-savvy to install this device. Many pet cameras make you connect to complex IP networks which get confusing if you didn't graduate from a computer science school. There's none of that complexity here! Simply connect to WiFi, install the app and you're good to go.
Petcube Camera: Wide-Angle Streaming & Recording
What good is a surveillance camera if you can only see in the immediate direction? Say hello to Petcube's wide-angle, 138° camera giving you a wall-to-wall view of the entire room. The wide lens allows you to monitor your dog once it climbs the kitchen table or jumps up on the TV on the opposite end of the room. The camera flings a tiny blue light to indicate people are watching at that moment, which can give you an indicator if multiple people are using this at home. The video quality is impressive at the full length and slightly decreases once you zoom in at 3x (which is normal). The camera doesn't get mushy and slow when pets start moving fast, but it records them smoothly. The footage is recorded in 1080P and the app allows you to zoom in, capture photos/videos and share them on social media directly.
There's even night mode! If your dog has a tendency to wake up at 4 AM and wreak havoc, you can learn their habits by recording at night. The infrared lights allow you to see everything in complete darkness (no need to keep the light on!). You will see what the little devil is up to and find them when they're causing trouble. The camera can also record videos and take still photos at night once the infrared sensors are activated. The camera saves them directly on a "Camera Roll" where you can review the footage. You can set the camera to record on "motion detection", conserving your space when not in use.
Petcube features two-way audio communication which provides seamless interaction between the camera and the connected devices. Want to hear your dog barking? Is your dog barking and signaling it's hungry? You can hear them and they can hear you! You will be able to interact with your pet the same way as if you were there. And reward them, of course.
Petcube Bites Treat Dispenser: Launch Treats Up To 6 Feet!
Dispensers are the most fun features for cats and dogs – we all had fun dispersing treats! The dispenser has a mechanic launcher that flings 1″ large treats up to 6 feet away. If you want to launch smaller treats you can use a rubber insert. We had a lot of fun flinging treats from this launcher because it can reach serious distances (it doesn't just spit them out in front of the device). The launcher excites the pet and makes a distinct sound. My dog got used to this sound immediately and once I launched it again it started jumping all excited. The launcher is the most fun feature on this device. The best part: You can schedule when you want the launcher to activate and never have to press on it manually.
The launcher can dispense multiple treats at the same time. The maximum amount it can dispense is 10 treats in a row. You can handpick the exact amount of treats you want to be launched and it will launch them immediately. If you select 10 treats, the launcher will launch 10 treats one at a time.
Petcube Care: Optional Upgrade
Petcube Care is the membership upgrade that makes this device worth it. However, it's optional and you can use the Petcube without upgrading (you'll be limited to the last 4 hours). This is an affordable service that can cost as little as $2.99/month and you get the first two months for free. The service allows you to rewind video more than 4 hours ago (it can stretch back as far as 30 days ago) and it's compatible with Amazon Alexa. The service activates motion and sound alerts.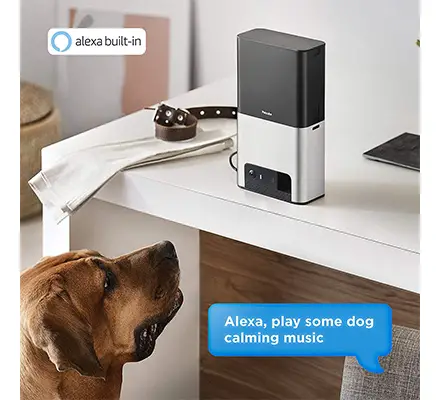 Example: Your dog starts barking because it's anxious. You then get an alert and a video of the dog barking. This means you can talk to the dog, call them out and treat them. Once the dog gets the treat it calms down. This is ideal for anxious dogs that can't stand separation. The "Care" service can identify dog barks and other people too – other cameras only pick up on barks. It's a full-service surveillance camera with rewinding and social media sharing features.
Petcube Care's "Premium" Features:
Footage Archiving. Rewinding video history of 24/7 activity up to 30 days.
Motion/Sound Detection. The detector can identify pet activity: Barking, meowing, movement, etc. The system sends alerts to the app.
Extended Warranty. The warranty is extended for the camera by default.
Discounts. Petcube includes discounts for affiliated pet brands.
Customer Reviews: What Other Users Are Saying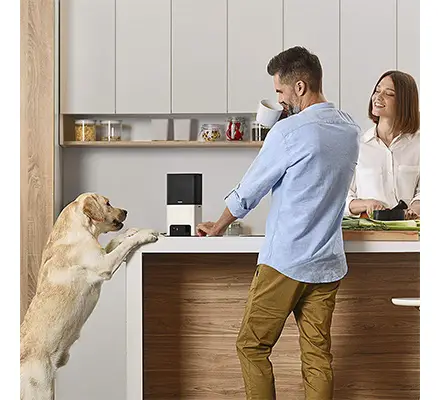 Check Amazon's Price
Hear from some customers that have purchased the PetCube Bites 2 dog camera:
I wanted this camera to be able to check on my puppy while I'm at work and be able to surprise him with treats and boy did it deliver! Setup was quite easy- all you have to do is follow instructions via the app once you download- and it even came with free treats which were a perfect size for my puppy. If you have a larger dog with larger treats it comes with three different treat inserts as well which is nice. View the complete review here.
I have only had my petcube for about a week and am already in love. Off the bat I was impressed by how simple set up was. Instructions were very clear and the associated app is extremely user friendly. I have enjoyed being able to keep tabs on my furry friend at work and away from home. The image quality really is much nicer than I was anticipating and my dog picks up on the audio features very well. View the complete review here.
As an owner of the original Petcube Bites, I wanted to provide some insight into the new and improved version Petcube Bites 2. As much as I liked the previous version, this new release definitely improved the level of interaction with my pet. Zorro (my dog) is not so adventurous when it comes to anything new. For the most part, he's happy to ignore the previous treat dispenser because of the loud and un-natural sound of the internal mechanism making a whirring noise that scares him off. It then is followed by some kibbles launched like a projectile to kill, scattered randomly in various depths and distances. The new machine definitely has improved on this. View the complete review here.
Alternatives: How They Compare
If Petcube Bites isn't for you, check out our review round-up of dog treat dispensers with video cameras for a full list of alternative options. The following are the most similar dispensers to the Petcubes in terms of price and functionality:
SKYMEE Dog Camera Treat Dispenser
The Skymee has a slightly smaller viewing angle at 130° and it's smaller in terms of height at 9″ while the Petcubes is 13″. This means less storage for treats.
Furbo Dog Camera
The Furbo is much smaller at only 8″ while the Petcube is 13″ height-wise. This means less storage space. The Furbo also only identifies barks and can't pick up on cat meows, making it unusable for cat owners. Click here for our comprehensive review on the Furbo video camera
Petcube Rundown: Never Leave Your Pet Alone!
Petcube is the pricier all-around dispenser surveillance camera that connects pet-owners with their beloved pets while they're at work or traveling. The Petcube has it all: 1080P recording, night-vision, treat dispenser, recording/live-streaming, iOS/Android support, motion detection, sound detection, and large storage compartment.
The size of the Petcube is the largest of all dispensers, stretching over 13" height-wise. This makes the Petcube far bigger than its closest competitors which only stretch between 6-9", giving you storage for up to 100 treats. The Petcube can function without any upgrades and each device receives a free 2-month trial of the "Care" membership upgrade. The Petcube is an ideal gift for any dog or cat owner and many times it goes on sale on Amazon.