If you like hiking with your dogs, you've probably had the problem where your dogs get some cuts or blisters from stepping on sharp objects on the trail you went on. Have no fear because the Petilleur Breathable Dog Hiking Shoes are here. This article is our review of these dog booties that are great for hiking. To see more options, read our round-up of great boots that protect your dog's paws.
Why the need for Dog booties hiking shoes?
Like us, dogs can also get cuts and punctures while on a hike. They are not immune, believe me. They also need protection for whatever the rough roads on the hiking trail throw at him. Although, before purchasing hiking shoes, there are some things that you should consider to find the perfect pair for you.
Material and Quality – What are the shoes made of? Will it wear out if used often?
Design – How do these boots protect my dog's paws? Are they strong enough?
Security – What safety features are in place to keep them on my dog's paws?
These are just some of the things that you should look out for but maybe the most important. These kinds of boots are also available in different colors and sizes. One note that we always give our readers is to get your measurements correctly otherwise these boots might not work correctly.
Petilleur Breathable Dog Hiking Shoes Review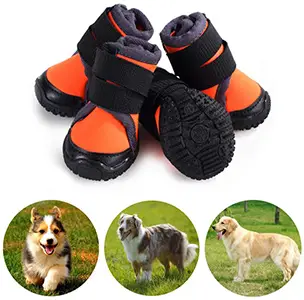 The Petilluer Dog Hiking Shoes are the best partner for your dogs who like to go on hikes, treks, and other outdoor activities. They have a waterproof, flexible, and durable sole that will surely protect your dog from the difficult paths they may encounter along the way. These boots have nylon velcros to securely fasten the boots on your dog.
Quick Glance
What's Good
Durable, waterproof sole
Lycra outer fabric
Reflective velcro straps
Affordable Price
What's Bad
Lower rating than other dog boots
Not easy to get on and off
Limited color variations
Taking Your Dog Hiking Safely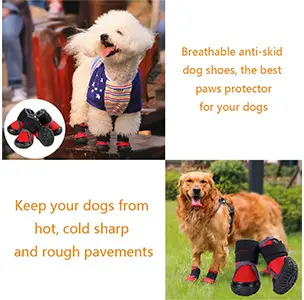 Keeping your dogs safe is the main priority when bringing them along on a hiking trip. You need good quality hiking shoes that will not let you down. Let's see if the Petilleur Boots can do that for you.
Material and Quality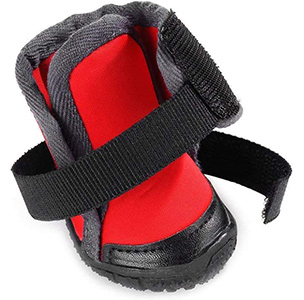 These boots are made with an outer lycra material to give your dog the comfort that he needs while on the hike. It is sewn with very durable soles that help keep your dog protected from hot pavements, rocks, and mud. Materials that are used on these boots are a mix of lycra, nylon, and caoutchouc – which is unvulcanized natural rubber. All these help in keeping your dog feel safe and secure while running through rough roads while on a hike.
Design
Petilleur's dog hiking shoes are good looking shoes. They only come in black and orange and red and black varieties. These are designed to have waterproof soles so your dogs can play freely. These soles are also non-slip to avoid those accidental trips and fall on any surface, even the indoor hard to walk on floors. These boots are advertised as a good shoe to have even on snowy hikes. Sadly, some users do not find that to be true. Petilleur's boots are a little shorter so when going on deep snow, these boots may not be the best at keeping your dog's paws warm and dry. These are perfect for dry and shallow puddles only.
Security
Extendable velcro straps are equipped to keep these boots on your dog's paws through the hike. These straps are also reflective so you can use them on late night and early morning walks. Unfortunately, some users do not find these extendable straps to be easy to use. They find themselves wrapping them around the dog's paws and would take them longer to put on.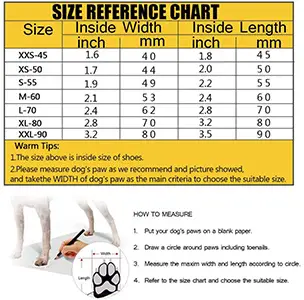 Although, once you get them on, they stay on. That's the good thing about them. They also come in the largest variety of sizes that I have seen. They come ranging in from XXS – XXL, giving those tiny and giant dogs a chance to wear boots as well.
What do other customers say about Petilleur Boots?
If you are a bit wary of these boots, or you are still unsure that these are the boots for you, let me give an idea of what real users have to say about these boots.

Lael loves these dog boots. But the only drawback for her is the lack of ease when putting these boots on. Otherwise, she says these boots are cute and tough.

Andy thinks these shoes are very decent for the price. Although he thinks that they are a bit short so going on deep snow will not work out.

JB had a hard time finding good fitting shoes for his big dog. Luckily he found these. After using them on long hikes, they still are as durable as ever.
Alternatives to Petilleur's Dog hiking Shoes
If you are looking for something similar to Petilleur's boots, we have a shortlist of boots and shoes that might work better for your needs.
LONSUNEER Paw Protector Dog Boots
The LONSUNEER Paw Protectors are made with soft fabric mixed with mesh to provide breathable boots so your dogs won't find it uncomfortable to wear them all day long. It has flexible cuffs to make it easier to put on and off. Non-slip soles are there to protect your dog's paws from any harm that may come their way. It comes in 2 colors: Blue and Red and various sizes from X-small to X-Large.
Canine Equipment Ultimate Trail Dog Boots
These dog boots are made from recycled rubber soles to provide traction for your dog on any kind of surface. These can also provide protection from small and sharp objects in grass and gravel. Different sizing for the front and hind paws to get a better fit. The Dog booties from Canine Equipment come only in Black and 5 different sizes ranging from X-small to X-Large.
Ruffwear – Grip Trex™ Dog Boots
Ruffwear's Boots are said to be the standard dog boots worn by active dogs who like to run, hike, and trek. High-performance dog boots that have a resilient and rugged design with Vibram outsole for exceptional grip on hard-to-walk on the terrain. Designed to securely fit on your dog's paws so they can forge ahead and explore the great outdoors with you.
Our Final Thoughts
Over-all, The Petilleur Dog hiking Shoes are great shoes for hiking. They are advertised as good for even snow but we found that it may not be the case. This is a product that's great on dry land and will protect your dog's paws with its very durable and non-slip soles. Although it is given a lower rating than the rest in its category, these boots can still be a great product for some. These shoes come in 7 different sizes ranging from XXS – XXL, so these are perfect for those having a hard time looking for boots that fit their smaller or giant dogs.
Check out current pricing and availability on Amazon here >>