Cleaning up after your cat is never an easy task. The litter gets scattered everywhere and the odor just seems to diffuse around the house. Luckily there are a few pet products that will help us, like the Petmate Booda Dome Clean Step Cat Litter Box.
Why Do I Need A Good Odor Control Litter Box?
Cat litters are essentially there for your cat to do his business. Normally it's just a box with litter and your cat will poop or pee then it's a done deal. Nowadays, there is more to these cat litters. Like our featured product, most cat litters are now equipped with covers to keep the mess to a minimum and odor filters to reduce the smell of kitty litter around the house. But what do they really do now? We'll be talking about that more in a little bit. For now, I want to give you a list of what to look out for when shopping for a cat litter.
Design – How big is it? Will my cat be able to do his business in this litter box?
Functionality – How well does this litter box work? Do all the functions have benefits that would make my life easier?
Added Features – Aside from letting my cat do his business, what else can it do for me?
These are just some of the things that I'd like you to think about while you scroll down along this article. Also, ponder on things that would be a perfect fit for your cat and your lifestyle.
Petmate Booda Dome Litter Box Review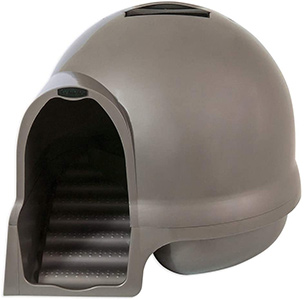 The Petmate Booda Dome Clean Step Cat Litter Box is a place for your cat to relieve himself that has a dome shape enclosure so your kitty can do his business in private. The enclosure also ensures that none of the litter gets out of the dome. It is fitted with charcoal filters to reduce the odor of the litter box. This product is perfect with any size of cats and also multiple cats in one household.
Quick Glance
What's Good
Fully enclosed for those private poopers
Charcoal filters contain odor from spreading
Perfect for multi-cat homes
Curved non-stick plastic walls
What's Bad
The awkward shape makes it difficult to throw dirty litter in the bin
The top enclosure is not sealed properly, therefore, pee comes out says some users
Sharp edges inside the dome, poorly made
Key Features Of The Enclosed Booda Dome Cat Litter Box
As with most items today, one thing is just not one thing. Most of the things we buy are for multiple purposes. Take the featured product for example. Let's take a look at what this cat litter box, or should I say dome, do.
Design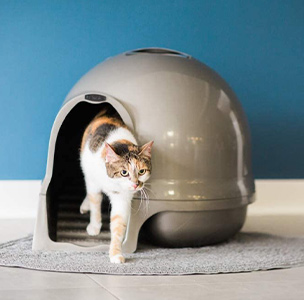 This cat litter box is a wonder to look at. It is not shaped like a normal litter box. The dome shape will make it look like another piece of furniture in the house. It comes in 3 different colors: Titanium, Brushed Nickel and Pearly White. With a 21"x21" size, this is perfect for multi-cat homes and larger cats. There have been some problems with the cover not lining up with the bottom part of the dome.
Functionality
This dome does wonders for some of its users. If you have a very private kitty who doesn't like to be seen while doing his business, this may be the perfect one for you. It is fully enclosed so no litter gets scattered when they try to cover up what they did. Although I have read reports that this dome is not as well made and some sharp corners may be dangerous for your cat.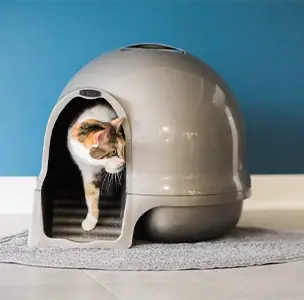 Added Features
As with what I said, this dome is not just one thing. This dome is equipped with charcoal filters that contain the smell of a dirty litter inside. It prevents the spread of the odor across the house. It is also fitted with a grooved clean step entrance to remove excess litter from your kitty's paws. So you've got odor and mess covered.
Other Reviews On The Petmate Booda Dome Clean Step Litter Box
If you'd like to hear about what real users have to say, here are some customer feedback from those who use this product every day.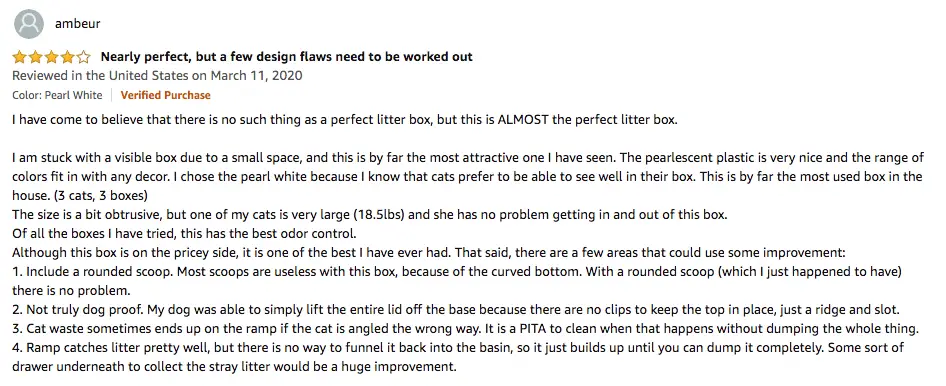 This user likes this very much and her 18-pound kitty can move freely inside the dome.


Teylor was surprised by the size of the dome. She says it works pretty well for her and her kitty. She loves the carbon filter.


Callie loves this product. Her cats love it too. The steps really remove litter from their paws. One con for her is the size. It's too big for her.
Alternative Hooded Litter Boxes To Consider
Nature's Miracle Oval Hooded Litter Box
Nature's Miracle Enclosed Litter Box promotes it being odor-free with the help of charcoal filters to control the odor that comes out of the box. It has a flip-top hood to keep the cat from scratching any litter outside the box. It is covered in a non-stick surface to prevent clumping of the litter. Plus, it's easy to clean.
AmazonBasics Hooded Cat Litter Box
The AmazonBasics cat litter pan gives your cat its privacy with its snap-on hood. It also prevents your cat from creating any mess. It is made of stain and odor resistant material to ensure an odor-free environment. A plastic swinging door is installed for your cat's easy in and out. This cat litter is also equipped with carbon filters to keep the odor inside the box.
Catit Jumbo Hooded Cat Litter Pan
This Catit jumbo cat litter box is great for multi-cat homes because of its size. It has a hood for easy access when cleaning. It is fitted with a carbon filter to reduce the spread of odor across the house. It has a transparent door opening to let your cat in and out of the box. It is very easy to clean with soap and water.
Petmate Booda Dome Litter Box: Final Thoughts
If you have large kitties or multiple kitties, this cat litter box may be the one for you. It can reduce odor to a minimum and prevent your cat from creating a mess in your house. The step is great for keeping your house clean as well. If you want to purchase this better make sure the one you get is clean and no sharp edges are protruding from the box that may hurt your cat.
To see similar products, check out our product roundup on the best odor-controlling cat litter boxes.
Check out current pricing and availability on Amazon here >>