My experience the first time I brought my two-year old Border Terrier in travel was a forgettable one. He was the inspiration for my Petmate Sky Kennel Review article. He was all over the place and seemingly did not want to calm down. It was only a three-hour drive to my parents' house where I planned to spend the weekend. I felt terrible for him because he was so exhausted. I kept thinking about our return trip – there was no way I will let him experience the same thing over again.
It may have been too late for me to figure out that a dog travel crate would have helped, but at least I bought one. I chose the Petmate Sky Kennel because it is specifically designed for travel and the brand is something I recognized. So, is it the right one for your dog travel needs? We also have a resource that reviews multiple travel dog crates. Click here to see the top 5 dog crates for travel.
What You Must Consider in the Purchase of a Dog Travel Crate
Contrary to what most people believe, dog crates are not exclusively for training and restraint. It is true that most of the products you will see in stores are for crate training, but the term "crate training" could mean a lot of things. Aside from behavior and potty training, it is also designed to keep Fido safe during travel, especially inside the car.
Since there are many choices out there, you may end up buying the wrong type of dog crate. Do not forget that your goal is to find something that is designed for traveling. Some crates and carriers are not meant for car transport, most notably those made from fabric or cloth with soft sides. Since you need your dog to be comfortable and secure against the bumps and curves on the road, then you must look for something that is made from high-quality and durable material.
Material Options for Dog Travel Crates
I already talked about the many different types of dog crate, but you do not have to overwhelm yourself by trying all those options out. Since you are looking at something useful for road trips and travels, then you should focus on a dog crate made from wire, hard plastic, and wood.
Wire Crates – Dog travel crates made from wire are a convenient option because they are collapsible and easy to transport. It is also ideal for dogs that could get easily claustrophobic since it has excellent airflow. I recommend wire dog travel crates when traveling in warm climates as the airflow will keep the dog cool.
Plastic Crates – Meanwhile, plastic crates are a durable and sturdy proposition. It is for dogs that tend to chew and scratch on the crate when they are stressed out inside the crate. Dog travel crates made from plastic are lightweight, too.
Wooden Crates – Lastly, wooden dog travel crates are like plastic since they are durable. However, they are likely more expensive than wire and plastic because of the material. I am not a fan of wood dog crates for travel though because I only see them as an ideal containment option inside the house.
Petmate Sky Kennel Review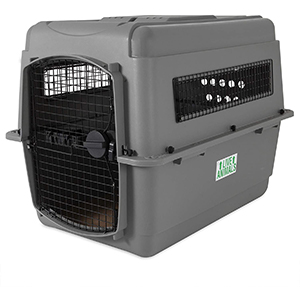 The Petmate Sky Kennel Pet Carrier is made from durable and heavy-duty plastic material with extra safety features. The company behind it is no stranger when it comes to manufacturing pet care and convenience products, so the reliability of this dog travel crate is never an issue. The only thing you must figure out at this point if it is good enough for your dog.
Quick Glance
What's Good
Made from durable components
Excellent ventilation system
Comes in different sizes for various dog breeds
Equipped with a bevy of security and safety reinforcements
What's Bad
Sizing could be inaccurate
Could use some exterior designing
Petmate Sky Kennel Features and Highlights
I made a list of this dog travel crate's features with the hope of helping you decide if it is a worthy proposition despite the many competitors.
Added Security for Travel
This product features a four-way vault door that offers security while traveling. The vault door mechanism effectively prevents sliding and shifting, especially in bumpy roads and sharp curves. The door's design also helps the dog feel at ease because he can see you through it, giving it some reassurance that you are there with him.
Heavy Duty Construction
The Petmate Sky Kennel dog crate is made from durable plastic reinforced with non-corrosive wing nuts. Aside from the plastic shell, the crate comes equipped with steel wires to keep it resilient against pressure and added weight. Meanwhile, the interlocking door offers an almost unbreakable entryway that no dog of any breed can break or damage.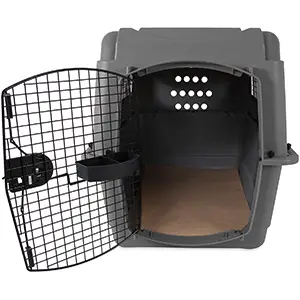 365 Degree Ventilation
You get to see a handful of small openings around the kennel, which provide the needed ventilation for your dog. Those openings allow for fresh air to penetrate, giving your canine buddy the chance to be as comfortable as possible. The openings also help in improving visibility, which is essential for a pet when it is placed inside a confined space like a kennel or travel crate.
Built to Last
You want nothing short of a reliable and proven kennel for your dog, especially on extended road trips. Petmate Sky Kennel offers an industry-leading durability with its plastic crate. The material used in constructing this travel crate is fully compliant with North American air and highway travel standards.
Integrated with Travel Necessities
This kennel is the definition of a complete package, thanks to the addition of your dog's accessories needed for travel. The list includes a couple of Live Animal stickers, ID stickers, clip-on bowls, and a top handle available in two sizes.
Airline-Approved Design
You do not need to buy another pet carrier if you plan to bring your furry friend for air travel. The Petmate Sky Kennel is airline adaptable, which means that the design meets most airline company standards when flying with pets. However, I still recommend that you check with the specific airlines just to be sure you are bringing the right one.
Versatile Sizing
Petmate is a brand that emphasizes durability and quality of its products, but its kennels and dog crates are also known for versatility. You can get the Petmate Sky Kennel in different sizes, from 21 inches to 48 inches. Your choice depends on the breed and size of your dog.
What Others Say About The Petmate Sky Kennel
Before I got my first dog travel crate, I made sure I had enough information about the Petmate Sky Kennel pet carrier. When I searched the web for firsthand accounts from real users, I found some great Petmate Sky Kennel Review snippets which I am sharing below:
Tyler was noticeably frustrated with his first store-bought pet carrier. He thinks this dog crate more than makes up for the previous bad purchase.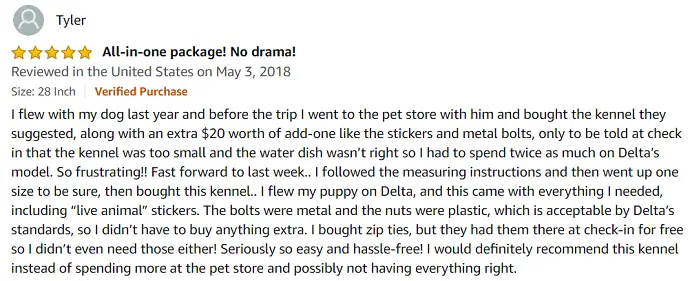 The only thing Litmonk did not like about the product is the plastic screws. Still, he gives it 5 stars for his dog's overseas trip.
Like Litmonk, the only gripe for Heck Colorado is the plastic bolts, but he is impressed by the kennel's durable construction.

Alternatives To The Petmate Sky Kennel
If you are not totally sold with the Petmate Sky Kennel, you naturally will explore other options. These products are within the same price range and specifications:
EliteField 3-Door Folding Soft Dog Crate
The most notable difference between this product and Petmate's version is the material. This one is made from fabric with a steel tube frame. It is a soft crate with emphasis on comfort and ventilation. If you want something that is easy to carry around and assemble, then you should consider this pet carrier. Check out the features of the EliteField Soft Dog Crate here.
Noz2Noz Soft-Krater Indoor and Outdoor Crate for Pets
Like the EliteField dog crate, this product is described as a soft-sided carrier made from mesh fabric and supported by metal frames. It is stylish and can hold a dog weighing up to 70lbs. It looks better than the Petmate Sky Kennel but may be left behind in terms of safety and protection during transport. If you are interested in the Noz2Noz crate, click this link.
Aspen Pet Porter Heavy-Duty Pet Carrier
The Aspen pet kennel is like Petmate carrier in many respects. For instance, it is made from durable plastic material and has several pet essentials attached to it. There is also an easy-open latch for convenient and quick access. Learn more about this heavy-duty carrier through this link.
Our Final Thoughts
I enjoyed writing this Petmate Sky Kennel Review. With the ugly experience I had with my dog a few years back, I never thought I could be doing more road trips with him. I always thought that bringing a pet inside the car while driving was never a good idea, but it changed when I stumbled upon the Petmate Sky Kennel. Although I must admit that it is not the prettiest of dog crates, it does the job of providing comfort and safety during travel, be it on land or air. I can attest to it because it is the only travel crate that I am using ever since. If this gets damaged or broken, I probably will purchase the same product.
Click here to check current pricing on Amazon for the Petmate Sky Kennel >>