As you're walking your dog, does he ever just pull on the leash and you get dragged with it? Well, the PoyPet No Pull Dog Harness just might help with that. It is a training tool to help you and your dog go on effortless walks.
What is a "No Pull" Dog Harness?
If you're looking for something to help you train your dog on loose-leash walking, then you're in the right place. I'm here to talk about the PoyPet No Pull Dog Harness, its features, benefits, and strengths and weaknesses. By the end of this article, you will have a sense if this particular harness is for you.
I know the stresses of having to use collars and regular harnesses when walking a dog that is high in energy and just wants to keep running ahead of you. You dream of wanting to go on a cool, stress-free walk with your dog without the worry of them choking on the collar or injuring their shoulder because of pulling too hard. I will discuss in this article what this product can help you with and what it can do to have you walking comfortably with your dog by your side.
Some of the things I would consider before buying a No Pull Harness would be the following:
Comfortability – Is this harness a good fit for my dog? Will it chafe my

dog

's skin?
Leash Attachments – Some No Pull

Dog

Harnesses have two

Leash

attachments – one for relaxed walks and another for discouraging pulling away.
Will it help me? – Will this product give me relief when I use it? Will it help me train my

dog

?
Taking all that into consideration, let's take a look at the product that we're here to talk about.
Dog Harness Product Overview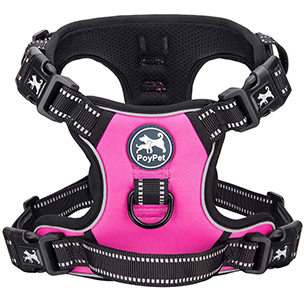 Check Amazon's Price
The PoyPet No Pull Dog Harness is a reflective no pull dog harness that helps you take leisurely walks with your dog without stress. They say that it is "Dog's New Best Friend." This product can definitely be very useful if you want to train your dog not to pull on the leash every time you take them out on a walk. There are many ways and to train your dog on loose-leash walking, and this is one of the tools to do just that.
Here are some of the Pros and Cons of owning this reflective dog vest:
Quick Glance
What's Good
Effective training tool for pullers
Reflective straps great for evening walks
Double leash attachment hooks
4 snap buckles for easy on and off
Lightweight and Breathable design
What's Bad
Harnesses affect the gait of the

dog

Will not be replace training/trainers
An ill-fitting harness can cause stress on the

dog

's front limbs
Leash may get tangled if the front leash attachment
A bit more expensive than regular harnesses
Cool New Features
This No Pull Dog Harness from PoyPet has a lot of cool features. Over the years, through customer reviews and testing, the company has upgraded some of these features to fit the needs of every dog owner looking to take leisurely walks with their furry friends. I'll go through these features of this non pull dog harness so that we'll get a sense of what the harness can do and how it can help us.
Functionality (4 Paws)

The first feature, maybe the most important feature of a no-pull harness, is the 2 leash attachments that it comes with. This harness comes with a front and back leash attachment. The front harness is there for discouraging your dog from pulling. Every time your dog tries to pull away, it will make him face you and not pull. The back leash attachment is there for control when your dog gets used to walking by your side and not pulling away. However, don't think that this will solve the problem of your dog pulling when back on a collar. This harness is just a tool to help you train your dog.
Security and Ease (5 Paws)

Second, comes the 4 snap buckles. Instead of trying to insert the harness on your dog's head while he is trying his best not to let you do that, this harness allows you to wrap the harness around your dog's neck hassle-free.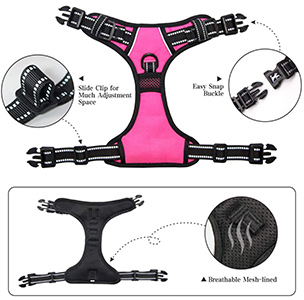 Check Amazon's Price
It has 2 snap buckles for the belly, and 2 snap buckles for the neck. This securely fastens your dog on the harness and you will be able to make full use of the front leash attachment to discourage him from pulling you. Although try to get the correct size for your dog, otherwise the harness might be too loose, that your dog will be able to escape from it, or too tight that it may cause chaffing on your dog's skin.
Design (4 Paws)

The last feature is the design of the harness. It is designed for maximum comfort, safety, and adjustability. This new design is built with non-toxic breathable mesh fabric that is soft to the touch. The reflective strips on the straps of the harness give it its safety feature. These strips will reflect the light shone on them. These will especially be great when walking at night or taking a hike early in the morning.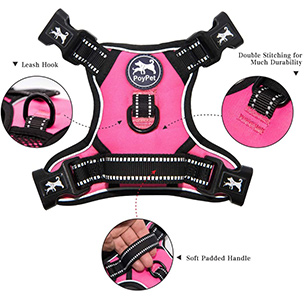 Check Amazon's Price
There is also a soft, padded handle on it that will surely be a feature used when your dog is near you and you want total control for when another dog passes by for example. It can also be used as a seat belt loop for when taking trips using the car. The straps are adjustable to get the perfect fit for your dog.
Over-all the PoyPet No Pull Dog Harness is a great product with its lightweight design and comfortable fabric. This will surely help with training your dog to not pull your arm off when taking a casual stroll in the park. Although, just remember that this is only a training tool and not a solution to your dog's pulling problem. Consult a dog trainer/behaviorist if the problems persist.
Customer Feedback
Aside from my own opinions on this dog harness, here are some other customer reviews to assist you in your decision-making process:
Pogepi03 says that it is sturdy and secure! They love that it doesn't have to go over the head for the dog to be able to wear it.

AG353 wrote "Great Harness for pulling dog". I guess it can even handle an alpha dog's pulling strength.

Carlotta is very satisfied with the durability of the product and can handle her Yorkie mix's adventures in the dog park.
How does it compare?
Here a few No Pull Dog Harnesses that are in the market that could help you compare the No Pull Dog Harness of PoyPet:
Copatchy No Pull Dog Harness
The Copatchy No-pull Dog Harness is one of the cheapest harnesses around. The design of this harness might not give the best comfort to your dog as the others but it will surely give the support you need for a pulling dog. It only has 1 leash attachment at the back, unlike the one of PoyPet's which has 2. The harness's design does not have support in the chest area as the harness wraps around the neck of your dog. If you're looking for a cheaper alternative, this one will still do its job.
BABYLTRL No Pull Pet Harness
This No Pull Harness of BABYLTRL is the sturdiest looking one yet. It comes with 2 leash attachments like PoyPet's. It also has reflective strips on the harness for night walking. The downside that I saw for this product is that the handle is not as comfortable to hold on to when your dog starts pulling. Although, price-wise, this is a cheaper alternative that has almost the same feature as PoyPet's No Pull Dog Harness.
TRUE LOVE No-Pull Dog Harness
This may be the most expensive one in this category. TRUE LOVE's No Pull Dog Harness has 2 leash attachments. This is designed with an Oxford fabric and also includes nylon webbing around the harness. This may not be as comfortable as the mesh lining of PoyPet's but it sure will be sturdy enough to keep your pulling dog at bay.
Review Synopsis
So if you are in the market looking for a training tool to help you with your dog pulling you with him every time you go on walks, the PoyPet No Pull Dog Harness is a great product to have around. It is comfortable enough for your pet to wear it the whole day with its lightweight breathable fabric and comfortable design, they'll be ready for walks any time of the day. Remember to use the front leash attachment to discourage your dog from taking control, you need to be in control when you take him on walks.