Are you stressing out about finding the perfect gift for the animal lover in your life? Stress no more.
I love the custom, personalized socks from PrintsField!  I was on the search for the perfect gift for my husband, I wanted it to be unique and fun.  The custom dog socks were the perfect solution and took away all my stress of finding the perfect gift.  And, our dog Bailey was the hero! (This product is also great for cat lovers.)
Things To Consider When Buying Customized Pet Socks
If you are looking for a creative gift, this product is perfect for you.  Your loved ones will be delighted to receive a pair, or several pairs, from you.  And, they are also great for self purchasing too.
The personalized socks from PrintsField are an ideal gift for anyone on your list, men and women alike – if they have feet then personalized socks are the way to go.  These socks are available in one universal size which removes the guesswork on deciding on the correct size. The material they're made of is super flexible and can stretch to nearly every foot size.
You may be curious about is my picture suitable?  Or, do I have to crop my photo? All those questions will be answered for you when placing your order.
Taking And Selecting The Best Photo
After deciding on buying personalized photo socks, you need to select the photo(s) to place on them. That opens up the next question, what makes a good photo to use on personalized socks? Here are a few pointers on taking a good photo for your custom dog socks.
Make sure you have good lighting for your photo. This is especially important to make sure that all the details of your dog are visible. Dogs with darker hair need more lighting.
Photos that are head-on seem to work better. The best option is to ensure that your dog's full face is in the photo, including both ears.
Choose clear photos. Try to use the highest resolution photo that is very clear. Keep in mind that your picture will be reduced in size in order to fit on the socks. Because of that, some of your dog's features may not come through as clear on the final product.
If you keep these points in mind, your personalized dog socks will be the best custom dog socks ever!
PrintsField Dog Photo Sock Review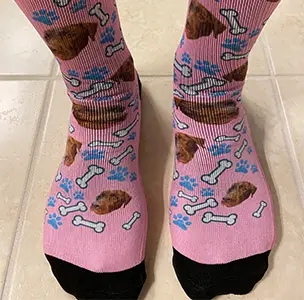 PrintsField personalized socks are all about happiness, bright colors, surprise and delight. When you choose your favorite bright-colored designs and personalize them with your pet's picture you will be sure to impress everyone with the unique accessories or surprise your friend with a great gift. You can also personalize and customize men's boxers and women's briefs.
Quick Glance
What's Good
Good quality and good customer service
This gift makes a great impression on the receiver
Comfortable
Good for anyone, young to old, male or female
What's Bad
Delivery times are a little long, so be sure to give yourself enough time
One size fits all so there may be some slight sizing concerns
Awesome Features Of PrintsField's Personalized Photo Socks
These socks come in three lengths: ankle socks, standard socks, and crew socks.
The ankle socks reach just above the ankle.  The standard socks come to mid-calf. The Crew socks are slightly longer than standard ones and reach approximately under the knee.
These socks are available in one universal size, the material they're made of is super flexible and can stretch to nearly every foot size.
In addition to adding your lovable pets to the socks, you can also add a human face to the design.  And, there are designs for all occasions: the Christmas Holidays, Valentine's Day, I Love You and Just Married.
Caring for your socks is easy, simply add them to your regular laundry and machine wash on a cold, gentle cycle.  Please remember, these socks are printed and so they can pale and change color under high temperatures. Do not dry clean, or iron.  Dry flat and do not bleach.
One of the things I love about PrintsField is that they give back and helping animals in need is their mission! The company contributes 1% from each completed order to the chosen animal shelter.
Returns are extremely rare – because everyone loves these products due to the personalized and customized nature. But of course, on the rare occasion that something is just not right, PrintsField offers refunds of products ordered through their PrintsField website.
What Other Customers Think
After exploring these socks as a gift solution, I wanted to hear what customers were saying about the product.  Here are a few reviews:
BKS loves these socks and says they would make a nice present for young and old people.
Fabrizio loves to wear his socks to bed.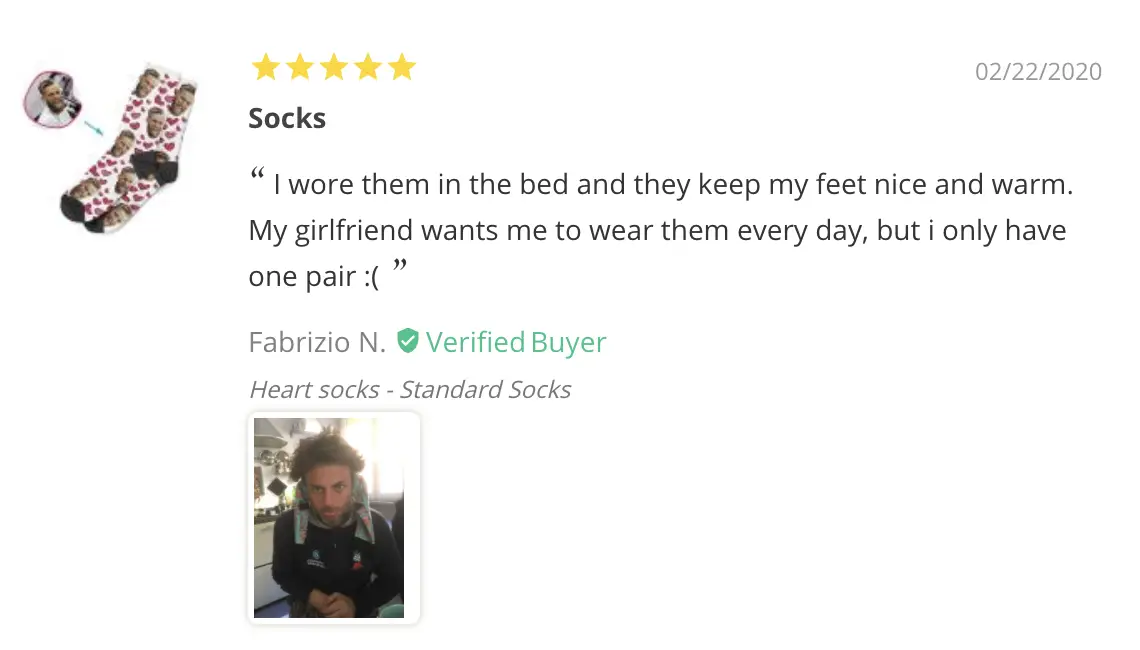 Ruben was very happy with the preview image of the socks.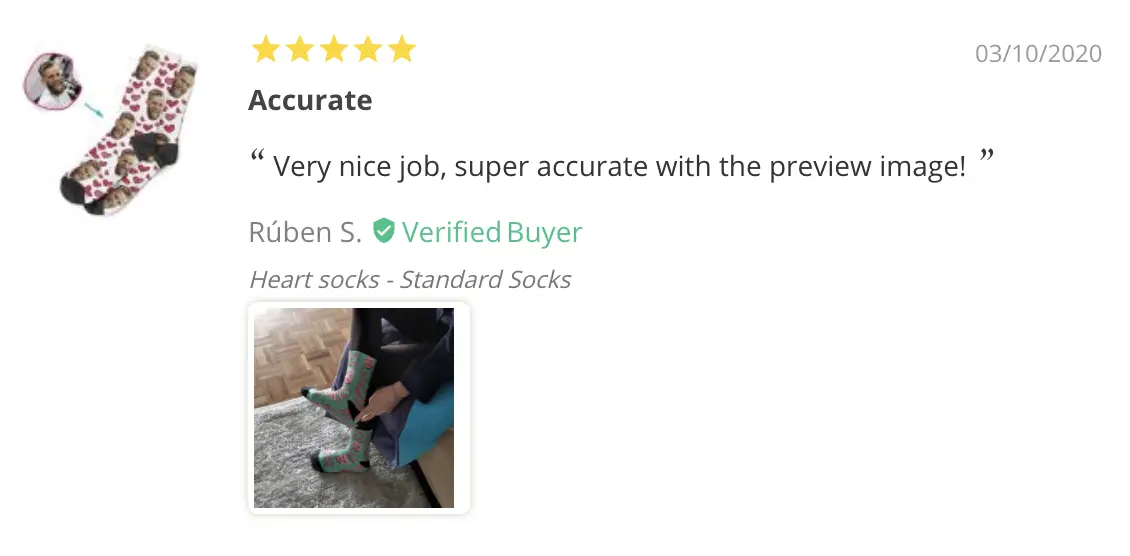 Our Wrap-Up Of These Custom Animal Print Socks
If you are looking for a unique, personalized and customized gift that will delight the pet lover in your life, look no further.  This gift is perfect for everyone on your gift-giving list; husband, wife, children, parents, and friends!!
Order yours here: www.printsfield.com