I used to feed my American Bobtail with just about anything. I only realized that it was a terrible idea when I noticed that she was gaining a lot of weight. Her stool was always wet, and she seemed lethargic for most of the day. I have heard about the idea of feeding dry cat food from a friend. He gave Purina Pro Plan Veterinary to his Bengal cat. Now I am more than happy to share my experience of choosing the product.
What You Should Factor in Choosing A Dietetic Management Dry Cat Food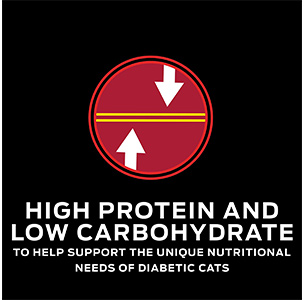 Choosing the right food for your cat is not a walk in the park. It is why you are trying to get as much information as you can. The choice of cat food depends on what is balanced and healthy. Although there are numerous brands to choose, not all of them offer a good formula for your feline.
A healthy cat food option is the one that promotes growth as your cat is growing. It must be nutrient-rich and should contain a lot of protein, a little bit of fat, and minimal carbohydrates.
When you feed your cat with dry food, be sure she has access to fresh water all the time. This is to offset the lack of liquid in the formula. The reason why dry food is ideal for cats is that it emulates the nutritional composition of her prey in the natural environment.
Protein Content
Cats are obligate carnivores. They can only meet their nutritional needs by consuming other animals as their prey. The high protein requirement means you must focus on finding a product that has lots of it. Dry cat food usually has chicken, duck, turkey, and fish as sources of protein.
Nutrition
Grains are the favorite fillers in cat food products, but many pet owners choose a natural and grain-free formula. Whole grains are a cheap source of energy that a cat can quickly breakdown, but the reality is that it is a form of carb that can add to the feline's weight when consumed in considerable amounts. A nutritious dry cat food formula should contain fats, and you should focus on it when you have an underweight feline at home.
Age
The age of your cat is another determining factor in choosing her ideal food. It means that the diet for a kitten is different from that of an adult. Kittens require specific amounts of nutrition for growth and development, while adult cats may not need those nutrients for growth. If you are unsure about the age and the nutritional requirements of your cat, the best way to go is to visit and seek help from a veterinarian.
Purina Pro Plan Veterinary Dry Cat Food Review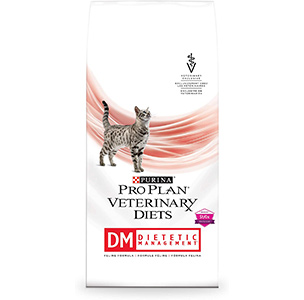 The Purina Pro Plan Veterinary is a specialized feline formula offering a nutritionally balanced food for your feline. The manufacturer claims that the product is optimized for cats with special dietary needs. You may want to give this product a try if your cat has diabetes or is overweight.
Quick Glance
What's Good
The best option for managing weight
Minimal amounts of carbohydrate content
Lots of antioxidants, including omega 3 fatty acids
Designed for cats with diabetes, complements well with insulin injections
What's Bad
Higher price compared to the competition
Needs consistent monitoring and supervision when feeding a diabetic cat
Improvement in weight management may be incremental in some overweight cats
The Purina Pro Plan Veterinary benefits and features are highlighted below:
Special Formulation
A diabetic cat requires double the attention you give to a perfectly healthy feline. It includes daily monitoring of her blood sugar levels and feeding her with food that prevents the spike in those glucose levels. The Purina Pro Plan Veterinary Diets DM comes with a unique formulation to address the nutritional needs of a diabetic cat. It has low carbohydrate content and high protein levels.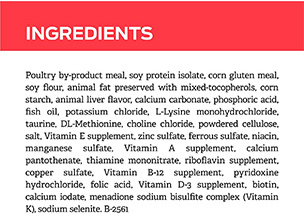 Excellent Protein Source
The product contains at least 50% protein, which says a lot about the commitment of the manufacturer to imitate the cat's natural source of food – its prey. Cats, being carnivores, require more protein than dogs. The protein-rich formula of the Purina Pro Plan Veterinary does not cause any harm to a feline with diabetes as it does not raise blood glucose levels.
Dry Formula for Metabolism Issues
The product promotes proper digestion and prevents the likelihood of metabolism problems in cats. The dry formula is proven to help curb chronic loose stools and persistent hyperglycemia, which means it can be of significant value for a cat owner who is struggling to manage his or her feline's condition.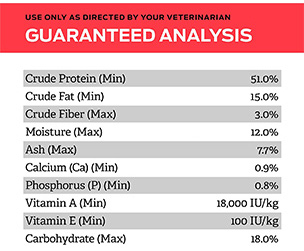 Full of Antioxidants
The high levels of omega 3 and omega 6 fatty acids make this dry cat food a viable option for cats who are prone to develop calcium oxalate crystals. Those are hard lumps of minerals that can build up in the kidneys.
What Other Customers Think About The Purina Pro Plan Veterinary Dietetic Management Dry Cat Food
I am not the only one who has first-hand experience of using the Purina Pro Plan Veterinary Cat Food for my feline. These are some of the things that other people said about the product:
James has a cat that was diagnosed with diabetes and he switched over to the Purina Pro Plan Veterinary Dietetic Management Feline Dry Food and couldn't be happier!
CJ's diabetic cat was always hungry. After his vet agreed, he switched to this food and his cat loves it!

Jrugg's comment below is self-explanatory!
Other Diabetic Dry Cat Food Options
Three other products share similar properties and value to that of the Purina Pro Plan Veterinary cat food. You may compare them to figure out which one best addresses your cat's needs.
Solid Gold Indigo Moon Dry Cat Food
This dry cat food contains at least 40% of crude protein and chicken as its primary source. It does not have artificial coloring and preservatives, making it a practical option for cat owners who want to avoid health issues associated with chemicals. But there is no proof that the Indigo Moon Dry Cat has the same properties that make it a viable food option for diabetic cats or those with special needs.
Dr. Elsey's Cleanprotein Formula Dry Cat Food
Aside from being a grain-free product, this formula from Dr. Elsey has a protein content that is 90% animal-based. It is a big plus considering that the natural diet of a cat consists of animal prey. The product is available both in chicken and salmon, but there is no mention of it being a suggested dry food option for cats with diabetes and other health issues.
Blue Buffalo Wilderness High Protein Cat Food
The three attributes of this high protein cat food formula that makes it similar to the others on this list is chicken being the primary protein source, grain-free, and the fact that it contains both omega 3 and 6 fatty acids. It is recommended for adult cats.
Our Final Thoughts
Cats are lovely creatures. We consider them as part of the family, and as such, they need the same attention and care when it comes to food. The bottom line is that you cannot feed her without exerting any effort in figuring out if the product is healthy and nutritious. It is doubly true when you have a diabetic feline. Hands down the Purina Pro Plan Veterinary Diets DM offers you one of the best options out there. It is recommended by veterinarians, which alone is enough reason to trust the product.
Check out current pricing and availability on Amazon here >>