Do you have a cat who sprays outside of his box or one that excessively covers his waste to the point where cat litter scatters all over the place? If so, then you and I probably have the same problem- cleaning up after the cat.
Picking up the broom and vacuum several times in a day is both exhausting and frustrating. So, I searched the internet for a possible solution to my problem. This is how I found the Purina Tidy Cats Breeze Hooded Cat Litter Box.
Things to consider before buying a cat litter box
Choosing the right litter box is not as easy as just picking out the cheapest one and praying that your cat will like it. Remember, cats are susceptible to their environment, and the litter box is one of the essential parts.
The right litter box will have a positive impact on your cat's overall health, and choosing the wrong one can have the opposite result as well. At the same time, if your cat doesn't like the litter box you bought for him, he will, more than likely, find a different location to go to the bathroom.
So, to ensure your cat's happiness, there are a few things that you will need to consider to ensure that you've picked out the best litter box.
Accessibility
Accessibility is something very important to think of when choosing a litter box. Sometimes, when cats don't find easy access to their litter box, they immediately decided not to use it, and this can be a problem on your part.
If you have kittens, make sure that they have easy access to their litter box. Choose one that has low sides or an opening that is close to the ground if you're opting for closed litter boxes.
For adult cats, having a high-sided litter box may not be a problem. However, for older cats or cats with medical conditions, make sure there's a lower part that will help them access the litter box easily.
Size
The size of your litter box matters as well. It's best to always think about your cat's comfort. Make sure that they have enough space to turn around their box whenever they want to bury their waste. Ideally, the length should be at least one-and-a-half times the length of your cat.
Other than the length, you should also consider the depth of the litter pan if you want to get rid of cat litter problems. If you have a messy cat like mine, high-sided boxes or enclosed ones are the best choices.
Ease of Cleaning
Cat litter needs to be scooped out and changed frequently. This is why it's necessary to consider if a litter box gives you convenience in terms of cleaning.
Ideally, you would need it to have a big opening for you to scoop the cat litter out easily. Open litter boxes offer this option the best. However, if you prefer enclosed litter boxes, then try to find one that has a lid that can be easily removed. This way, you can scoop out your cat litter without any hassle.
Another thing that you should take note of is the material used. Sometimes, this also affects the ease of cleaning. In this case, make sure to choose a litter box with non-stick and smooth surfaces.
Covered vs. Uncovered Litter Boxes
Choosing between a closed and uncovered litter box is something to consider too.
Covered litter boxes offer excellent privacy, plus, it prevents bad odor from spreading around your home. It's also great for spraying cats because their mess remains inside the litter box.
Open litter boxes, on the other hand, provide more space for your cat to move around, and it ensures that your feline buddy is not cramped up inside. However, without the right cat litter, the odor will likely spread around your home.
Just one reminder: what you prefer may not be the same as to what your cat prefers. So, it's best to observe your cat's behavior first before purchasing a cat litter.
Our Purina Tidy Cats® Litter Box Review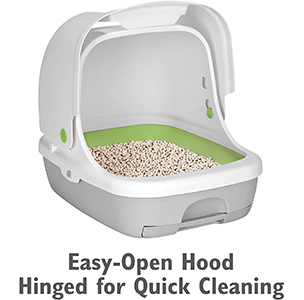 The Purina Tidy Cats Breeze Hooded Cat Litter Box is a highly-rated and recommended cat litter box on the market today. This is probably because Purina manufacturers went the extra mile to produce an efficient litter system that a lot of users love.
The litter system itself helps separate solids from urine, which makes cleaning a breeze (as the name implies). To know more about how this system works, let's dive deep into the features and benefits of this product.
Quick Glance
What's Good
Excellent litter system
3-piece construction is easy to assemble
Controls urine odor
What's Bad
Pellets are larger than traditional litter
Some cats might have a hard time to adjust to the pellets
Size and Appearance
The Purina Tidy Cats Breeze Hooded Cat Litter Box is an enclosed type of cat litter box. It has a simple top and bottom with a large door for easy access. Since this is a covered litter box, the mess will be the least of your worries.
With dimensions of 16.8 x 20.5 x 16.5 inches, this is a perfectly-sized litter box for medium-sized cats. However, if you have a larger cat, then you can opt for the XL version. They're just the same, but it's bigger and can better accommodate larger cats.
The Purina Tidy Cats Breeze Hooded Cat Litter Box is nice-looking, and it gives off comforting vibes, which is nice. The only problem I see is it doesn't have other color options other than white and green, which would have been great. Though, it's also understandable if they want to keep that specific branding.
Cleanliness
When it comes to cleanliness, the Purina Tidy Cats Breeze Hooded Cat Litter Box offers the best litter system on the market. It's probably the only litter box that can separate urine from solids for easy cleaning.
The way this function is through the use of two things: the BREEZE litter pellets, and the disposable pads.
After assembling the litter box, you will need to place a disposable pad in the BREEZE Litter System Drawer. This is found on the bottom part of the litter box. All you need to do is to slide that inside. Next, place the pellets on the top portion of the box, and then you're done. You can let the pellets do the job.
The way this function is, when your cat uses his litter box, the urine will drip straight down to the disposable pads on the most bottom part of the litter box. The solid waste stays above this section, with the pellets. The best thing about this litter system is that you won't smell a thing as it also comes with ammonia blockers.
The only downside, however, is that the pellets don't bury the solid wastes. Also, you will need to make sure that you scoop out solid waste and dispose of the pellets daily. The disposable pads, on the other hand, can last for a week.
Quality
The Purina Tidy Cats Breeze Hooded Cat Litter Box, like most litter boxes, is made of heavy-duty plastic. This means that there won't be any problems with it being easily scratched or cracked. Also, you won't have to deal with the risk of leakage in the long-run.
The litter system quality is impressive. It's truly a gift for several cat owners, and it's something different on the market.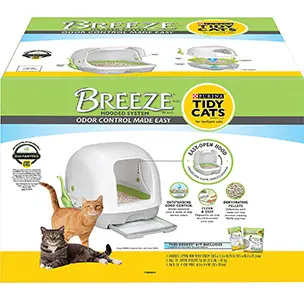 What do other people say about the Purina Tidy Cats® Litter Box?
A lot of users undeniably love the Purina Tidy Cats Breeze Hooded Cat Litter Box because of the litter system. Here are a few things they say:
Rachel stated that she switched my cat to wet food and this was a great litter box for all the urine!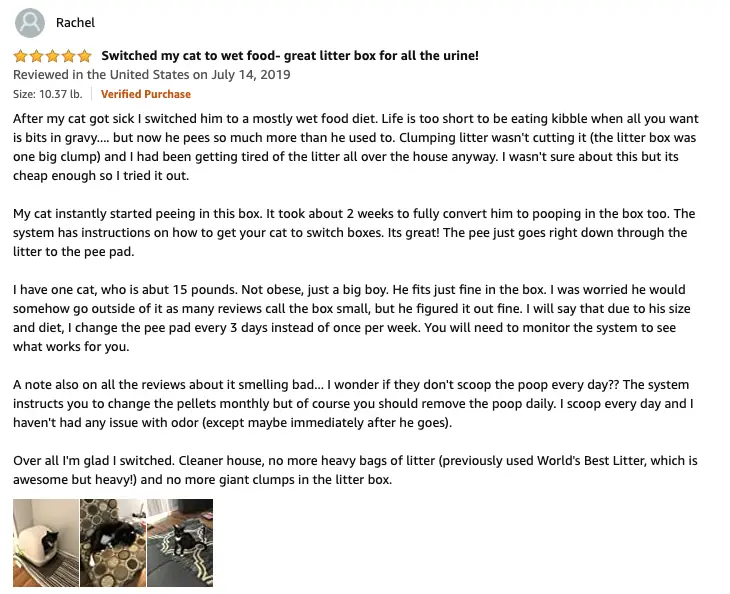 Lisa said this litter box was "Nub" approved. Easy clean-up. Doesn't leave tracks. Oder control is a plus for small apartments.

Cameron digs this litter box! He like that we is only scooping stinky poop and doesn't have to deal with urine but once a week on trash day.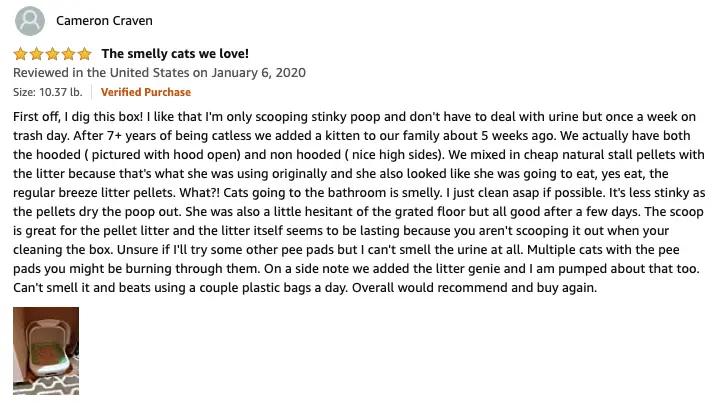 Alternatives to Purina Tidy Cats® Litter Box
The Purina Tidy Breeze Hooded Cat Litter Box is indeed remarkable. However, as I've mentioned, not all cats are the same. In fact, many are picky. So, if you think this is not the best choice for you, here are a few alternatives that you can check out:
Petmate Booda Dome Clean Step Cat Litter Box
The PetMate Booda Dome Clean Step Cat Litter Box is an excellent alternative because of two lovable features: the dome and the clean step. The dome gives your cat excellent privacy and keeps the mess inside after your cat uses it. The clean step is a great feature that removes litter left on your cat's paws.
In terms of a mess-free system, the Booda Dome Litter Box is one of the best options. The best thing is, even if it's enclosed, the space is generous enough to accommodate an adult cat.
There won't be problems in terms of odor, as this comes with a filtration system too. The filter is located at the top part of the litter box and traps odor that rises up.
Catit Jumbo Hooded Cat Litter Pan
Another great alternative is the Catit Hooded Litter Pan. It is also an enclosed litter box that aids in spraying cat problems while giving your cat excellent privacy. The space inside is generous enough for your cat to move around comfortably inside.
It also comes with a filtration system that traps odor and prevents it from spreading inside your house. This way, your home stays clean and fresh.
Nature's Miracle High-Sided Litter Box
Not all cats like privacy. There are those that love seeing their surroundings too. If you're looking for an open litter box, Nature's Miracle Litter Box is one of the best options on the market.
From the name itself, it is designed with high sides to prevent spraying cats from creating a mess. This generally means less cleaning, sweeping, and vacuuming for you. However, even if this litter box has high sides, there's one lower area to provide easy access for your cat.
My Wrap Up
If you're looking for a litter box that offers an excellent litter system, then the Purina Tidy Cats Breeze Hooded Cat Litter Box might be the best solution for you. The separation of solids from urine is impressive, plus you wouldn't even smell anything.
The only downside, however, will be the cost, especially since you will need to buy both pellets and disposable pads. These items are not cheap, which can be a problem if you're on a budget. However, you may also consider it as an excellent investment.
Check out current pricing and availability on Amazon here >>