A lot can happen while you are walking with your dog. He can trip, fall, or simply just step on something on the ground. Thankfully, there are dog boots to help protect our dog from the dangers of a hike, trek, or daily walks. The QUMY Dog Boots are here to help with your paw protection. This article is our review of these dog booties but if you would like to see more like the QUMY Dog Boots, click here to see our review roundup of top 5 dog paw protection shoes.
Why wear dog boots?
Dog boots are around to help with protecting your dog's paws while you are on a walk. It can help avoid scratches, blisters, and any other hazard on the trail. Most dog boots like the QUMY boots are worn on your dog's paws to make them as comfortable as they can be on a walk. Some people use these boots for the rehabilitation of their dogs who have certain illnesses and need a little help getting up. Let's take a look at what you need to watch out for before purchasing dog boots.
Quality and Material – How comfortable is this for my dog? Can it stay on for long periods of time?
Design – How will this look on my dog? Will it help protect my dog from hazards on the road?
Security – Will these stay on my dog's paws on a long walk? What safety features do these boots have?
We will be taking a look at how the QUMY dog boots size up to these criteria. You will also find out after this article if these are the right dog boots for your needs.
QUMY Dog Boots Review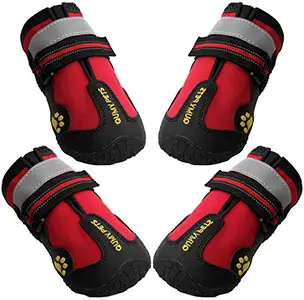 The QUMY dog boots are the perfect partner for your dog against the hurts of walking on sidewalks, asphalt, and grass. These boots are made with high-quality fabrics and tough bottom souls to handle any tough roads that you may cross on your walks. They are also fashionable with pet paw embroidery on the boots. They are easy to put on and off and very comfortable for your dog.
Quick Glance
What's Good
Great traction for difficult to walk on floors
Reflective velcro straps
Cheaper than most brands
Great for all weather
What's Bad
Boots spin around if not properly fastened
Velcro straps fray easily
These Boots Are Made For Walking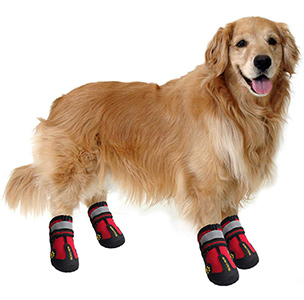 So, let's take a look at what the QUMY boots are really made of. We'll talk about 3 different aspects of the boots to see the full features and find out if these boots are the best for your furry friend.
Quality and Material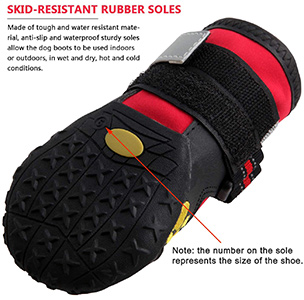 These boots are made with high-quality fabric that is waterproof and weatherproof. They are sown together with rugged anti-slip soles to help your dog go through anything the trail may throw at him. Although these boots are great, some people say that the material used is easily worn out and can affect how they use the boots.
Design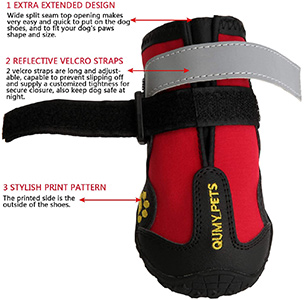 The QUMY boots are designed to help with protecting your dog on walks from injuries to their paws. You never know what can happen. These boots have tough soles that are there to keep sharp objects from puncturing through the boots and on to your dog's paws. They come in 2 colors: Black and Red to suit whatever you'd like for your dog. They are also embroidered with pawprints to make it even cuter. It comes in 4 sizes to accommodate almost any breed.
Security
The dog boots fasten with the help of double velcros that are reflective to help with midnight or early morning walks. QUMY promises the ease of putting on these boots with an expandable opening and split seams. One thing we learned is that you should try to fasten the velcros as tight as possible as to not allow the boots to slip off your dog's paws.
One thing you have to watch out for is the sizing. You have to measure your dog properly to get the right size for them. QUMY offers a sizing chart and a how-to measure guide to help you sort it out. Most of the comments that you will see on this product are just those who got the wrong size or they made a mistake in measuring their dog's paws. Read their instructions carefully before you purchase a pair of their boots.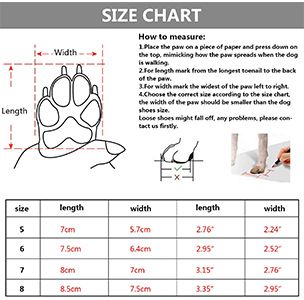 What do people say about the QUMY Boots?
If you need more proof that these boots can provide your dog protection, here are some of the comments that we have found.
Kat absolutely loves this product, so does her dog. She trusts these boots so much that she bought a second pair when her dog outgrew the first one.
Miranda thinks that these boots are great. Unfortunately, her pair have frayed velcros after only four uses.

L Marr found this the best solution to his dog always cutting his paws. His dog took a while to get used to the boots but over-all, no more cut paws.

Alternatives to the QUMY Dog Boots
You might be wondering what other boots are out there. Maybe just to compare, or you think that these boots may not be for you. We have 3 alternatives that can help you make a better decision.
Petilleur Breathable Dog Hiking Shoes
These dog boots from Petilleur are made with soft lycra fabric. It comes in 2 colors: Orange and Red. They are equipped with non-slip soles to make sure that your dog does not slip on any surface. They can protect your dog from hot pavement, snow, and sharp objects on the road. This comes in seven different sizes ranging from XXS to XXL, perfect for any dog breed.
LONSUNEER Paw Protector Dog Boots
The LONSUNEER Dog booties are made with soft fabric mixed with mesh to provide breathable boots so your dogs won't find it uncomfortable to wear them all day long. It has flexible cuffs to make it easier to put on and off. Non-slip soles are there to protect your dog's paws from any harm that may come their way. It comes in 2 colors: Blue and Red and various sizes from X-small to X-Large.
Canine Equipment Ultimate Trail Dog Boots
These dog boots are made from recycled rubber soles to provide traction for your dog on any kind of surface. These can also provide protection from small and sharp objects in grass and gravel. Different sizing for the front and hind paws to get a better fit. Canine Equipment's boots come only in Black and 5 different sizes ranging from X-small to X-Large.
Our Final Thoughts
Ultimately, you decide what dog boots you purchase for your dog. You can never go wrong with high-quality boots like the QUMY dog boots. These boots are great for taking walks while providing protection and comfort. They can be used in any type of weather and condition. You never have to worry about your dog hurting his paws again.
Check out current pricing and availability on Amazon here >>