It can be quite bothersome when dogs pull on their leashes. But don't fret! This is a common problem that pet parents face. I knew I had to address the problem before my dog hurts himself from all the pulling. If you are struggling with this issue with your pooch, then a no-pull harness will help you curb this behavior. However, the trick is to find the best no pull dog harness. I've tried out Rabbitgoo No-Pull Dog Harness to check how it will fare compared to its competitors.
Things To Consider Before Buying A Dog Harness
Your dog pulling on its leash is not just annoying. The constant pulling poses a risk not only to your dog's safety but to you as well. It can lead to injuries on your furry best friend's throat, neck, or legs. Whereas, your dog pulling can put a strain on your shoulders, arms, and back.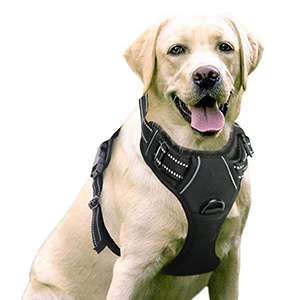 Check Amazon's Price
Harnesses have been steadily attracting dog owners when it comes to leash training their dogs. A dog harness fastens around the upper body of your pooch. This way, much of the pressure is taken off your dog's neck. The pressure is distributed throughout your dog's chest instead. It is an ideal training tool for small dogs or for pets that have existing neck issues.
Dog harnesses come in a variety of designs. Also, there are various types of dog harnesses. The no-pull harness is one of them. This style works by slightly tightening under your dog's front armpits when pressure is applied. However, you should be mindful of signs of irritation this style of harness might have on your dog.
Before you start looking for the best no-pull dog harness for your pup, you should determine the correct measurements of your dog first. Knowing the size of your dog is important if you don't want to end up with an ill-fitting harness. A harness that is too tight will only hurt your dog. A harness that's too loose, on the other hand, will not be able to do its intended purpose as your dog can easily wiggle out of it.
Rabbitgoo Pet Harness
Rabbitgoo's adjustable dog harness has a no-pull design that gives you better control via the no-pull front ring. Some dog harnesses tighten around the dog's chest to discourage pulling. But with Rabbitgoo's safety vest dog harness, you help train your dog to stop leash pulling by redirecting your dog's motion when he or she pulls instead. This helps protect your pooch from choking and other neck injuries. This is also a more gentle way of training your dog to stop leash pulling.
Click Here to get Amazon's current price for the Rabbitgoo's adjustable pet harness.
Some of the pros and cons we found with this product include:
Quick Glance
What's Good
Available in four sizes – from small to extra-large
Comes in a variety of colors to fit your style
Customizable fit with adjustable straps
Made of weather-proof material for year-round use
Has built-in reflective threads
What's Bad
Materials aren't as durable as there were complaints of seams ripping and clasps breaking after several uses
Side straps can loosen on overly aggressive

dogs

Not chew-proof
Not machine-washable
Rabbitgoo Dog Harness Features
This product is equipped with many benefits and features we're sure you and your dog will love. Some of these are:
Premium Quality Materials
Rabbitgoo's non-pulling, overhead dog harness is made of a breathable air mesh fabric. It also has a soft cushion for added comfort and protection. The Nylon Oxford material has reflective seams for visibility when you go out for late walks with your pooch. The material is also weather-proof, meaning you can use it year-round.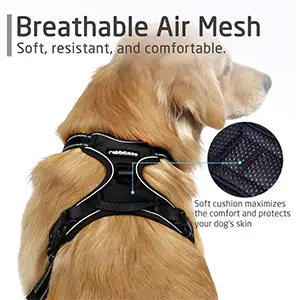 Check Amazon's Price
No-Pulling Design
The harness also comes with two built-in metal leash rings – one in the chest and another in the back. The back clip is ideal for casual walks and jogs. Whereas, the chest attachment clip is designed to stop your dog from pulling while you take him or her on walks. This slide on dog harness design will make your dog turn around instead of move forward every time he or she pulls on the leash. This will eventually help train your dog not to pull. It also has a sturdy top handle that lets you have instant control of your dog.
Adjustable Straps
The dog harness has four easily adjustable straps: two chest straps and two neck straps. This feature allows you to customize a snug fit on your pooch while still maintaining optimal mobility. It also has an easy-to-use design so that you don't have to struggle with putting it on and off your dogs. You simply slide it over your dog's head, clip in the two fast-release buckles, adjust the straps, and your dog is good to go.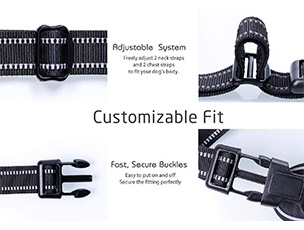 Check Amazon's Price
Non-Slip Lock System
The harness has two-fast release buckles to keep it secured on your dog. The easy clip-on design lets you take the over-the-head harness on and off easily. Many find this design much easier to use compared to the step in dog harness. This overhead dog harness also prevents your pooch from slipping out of the harness, especially if you have an overly excited dog.
Variety Of Sizes & Colors
This cute dog harness comes in multiple sizes – from small to extra-large. From small dogs like terriers and pugs to larger breeds like Labradors and German shepherds, this product has a size fit for your dog. It also comes in the following colors: adorable pink, bright orange, classic black, ocean blue, passion red, and vibrant lime.
Rabbitgoo Dog Harness No-Pull Pet Harness Reviews
If you're still not convinced, then here are a few user reviews to help you decide if Rabbitgoo no-pull dog harness is the right option for you: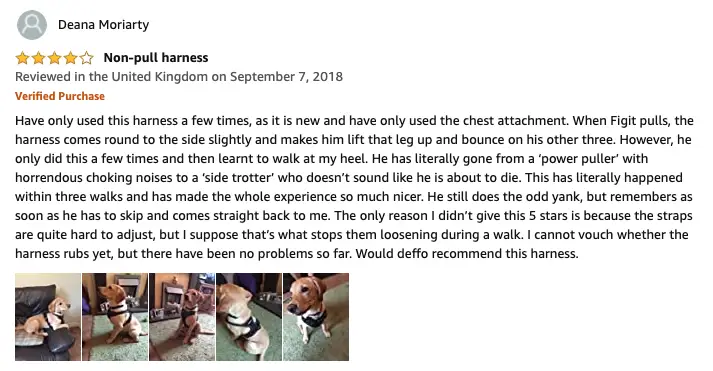 Alternative Pet Harnesses
If you are still on the fence and are looking to compare how this dog harness fares against its competitors, then here are three alternatives to look at:
WINSEE Dog Harness
The WINSEE harness is a stylish no-pull dog harness that is perfect for dog owners with an active lifestyle. It is designed to help you keep your pup safe and secure while you go hiking in the woods, walking around the neighborhood, or jogging in the park. It also has a chest-mounted D-ring to discourage leash pulling. It also comes with a handle on the back where you can buckle the seatbelt through to keep your dog from slipping from the car seat.
Bolux Dog Harness
This dog vest harness prioritizes outdoor safety. It has a bright fluorescent trim that makes this product more reflective compared to Rabbitgoo. This feature keeps your pooch safer in low-light conditions. However, Bolux dog harness has a design that evenly distributes the pressure throughout your dog's body. This prevents choking when your dog pulls on the leash, but it can also be uncomfortable for your dog. Check out our full review of the Bolux Dog harness here.
PoyPet No Pull Dog Harness
Like Rabbitgoo, PoyPet has two leash attachment hooks: one on the chest and another on the back. The hook on the chest significantly reduces leash pulling. It also has a handle to help you control the dog, especially when your pup tries to lunge at something. This product is also a less expensive alternative that is made with soft, quick-dry, and non-toxic material so that your dog is comfortable even while exercising.
Conclusion
Remember that it is better that you solve leash pulling problems with your dog as early as possible. Otherwise, you put your dog in a dangerous position as this can lead to neck injuries. And nobody wants that.
Rabbitgoo is equipped with a front clip to help curb this problem. It also has other features that help keep your dog as comfortable and mobile as possible.
Click here to get current pricing for the Rabbitgoo Dog Harness >>