Trekking and Hiking are always fun, especially if you have your furry companion with you. Just like your feet needs to be protected, so does his. A way to protect them is with some dog boots that are built for rough terrain. Ruffwear's Grip Trex™ may be the one for the job. This article is a complete review of Ruffwear's bog paw protection booties. If you want to see other options, check out the best dog protection booties on our list.
What To Consider When Buying Dog Paw Protection Boots
There are a lot of different types of dog boots. Choosing the right dog boots will help you out in the long run, pun intended. Our dog's paws, much like our own feet, are not immune to cuts, blisters, and punctures. The dog boots can protect them from possible injuries that they can sustain on your hike. Although the weather isn't the only criterion when looking for dog boots. Numerous factors can affect your decision.
Material and Quality – What are the shoes made of? Are these comfortable for my dog? Can I use it to do long hikes?
Design – What makes this product worth it? Is it good for all weather types?
Security – How easy is it to put on and take off?
These are only some of the things that I would consider before buying dog boots for your furry friend. Although it is still up to you what type of dog boots you should get depending on your needs. In this article, we'll be taking a look at dog boots that prides itself as the standard pet wear for hiking and other outdoor activities. Let's dive right into it.
Ruffwear – Grip Trex™ Dog Boots Review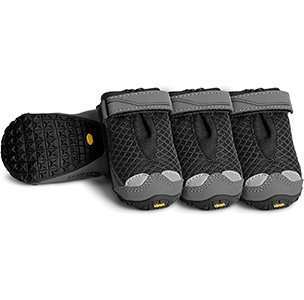 Ruffwear's Boots are said to be the standard dog boots worn by active dogs who like to run, hike, and trek. High-performance dog boots that have a resilient and rugged design with Vibram outsole for exceptional grip on hard-to-walk on the terrain. Designed to securely fit on your dog's paws so they can forge ahead and explore the great outdoors with you.
Quick Glance
What's Good
Gusset Design for easy on and off
Hook and loop that securely fastens the boots on your dog
Reflective trim for visibility on early morning or night runs
Vibram sole to grip on difficult terrain
What's Bad
Getting the right size to fit your dog
They're a little too short for some dogs
Not suitable for giant dog breeds
Dog's with dewclaws may feel slight discomfort
Why Choose Ruffwear – Grip Trex™?
All dog boots have one goal – to protect your dog's paws. However, what makes them unique is the features that they offer. Let's take a look at what makes Ruffwear so different.
Quality and Material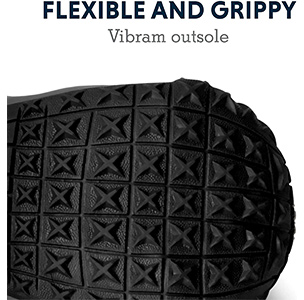 One unique quality about these boots is that they are made with Vibram non-marking outsoles that help your dog traverse the trail with extra grip so he doesn't slip, hence, Grip Trex™. This gives your dog traction and flexibility to roam around without you having to worry about any injuries. Breathable mesh covers your dog's paw that allows him to wear it on long hikes and trips. It keeps dirt from going into the boots while making your dog's paws comfortable as he strides.
Design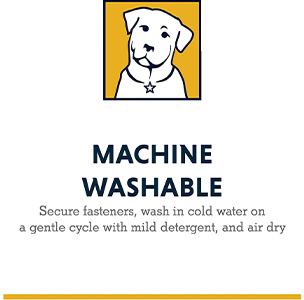 Ruffwear designed these boots to be trail-ready. It is equipped to handle anything that you may encounter on a hike, trek, or any outdoor activity that you and dog can enjoy. It is also designed to fit your dog's paws very well to keep him comfortable on your adventure. It has a gusset design that expands to give you the ease of on and off. With these, Ruffwear promises that every dog is an explorer.
A design flaw that I saw with this is that these boots are a little short so sometimes gravel and other small rocks can enter the boots. An important aspect of ordering is measuring your dog's paws correctly. Usually, there are measuring guidelines that help you fit the boots correctly. If done correctly I don't see a problem with rocks and gravel.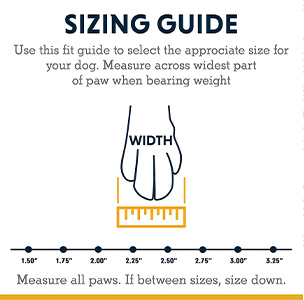 Security
Security is the most important feature in dog boots. You have to make sure that these boots don't come off while you're on the trail. Luckily, these Grip Trex™ boots are equipped with a loop and hook feature that makes sure that the boots are securely fastened on your dog's paws. Reiterating that these only work if the size of your boots is a snug fit on your dog. Another safety feature that is worth mentioning is the reflective trim that makes it convenient to take early morning hikes and midnight walks. These will reflect light off from the boots so you can see your dog when lights are flashed on them.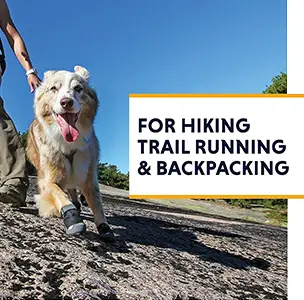 One part of the design that you have to really watch out for is the sizing. Some people have commented that you'd want to get a size smaller than your dog's measured paws so that it doesn't fall off as you are walking. One solution to fix this problem is to put some socks on your dog. Overall, Ruffwear's Grip Trex™ is a dog boot worth mentioning. They are prepared for any type of terrain, they are waterproof and safety locks that keep the paws of your dog free from harm.
What do people say about Grip Trex™?
Showing you the features of this product is not enough to convince you to get one of these. I have gathered some user feedback on this Ruffwear Boots and this is what I found.
Corrina used these boots to rehabilitate her boxer after losing muscles in her legs due to arthritis. The grips really helped her get back on her feet!
DL Finds these dog boots good but a bit too short. He says that they are very durable but a little stiff that his dog looked a little uncomfortable.

For GMSqueaky, these boots helped with her dog's problem with breaking nails while running and playing fetch. Her concerns are the dewclaws but the socks do help a little.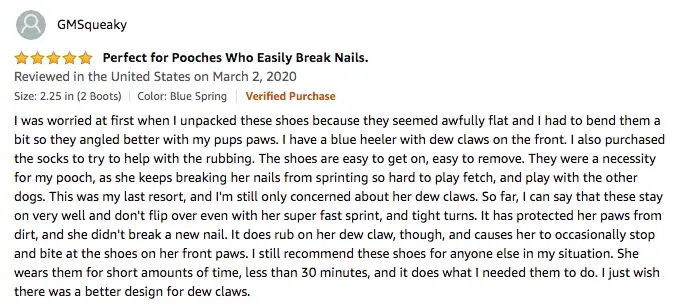 Alternatives to the Ruffwear Boots
Choosing the right dog boots can be difficult. If you think that these boots are not for you, check these alternates out:
QUMY Dog Boots
QUMY's dog boots are made to protect them from the dangers of the rough roads. With an extra extended design, these boots will surely fit comfortably on your dog's paws. Equipped with adjustable reflective velcro straps your dog will be safe from harm when walking in the early morning or even at night. It has non-slip water-resistant soles that help your dog move better in indoor and outdoor environments. Weatherproof and waterproof these are the boots that you can take anywhere.
Petilleur Breathable Dog Hiking Shoes
These weatherproof, all-around dog boots are made with lycra fabric that protects your dogs from anything along their way. Petilleur's boots are comfortable, flexible, and breathable. Your dog's paws will not feel stuffy when used on long walks and hikes. They have non-slip soles to protect them from slippery terrain and indoor flooring. With magic sticker straps, these boots are easy to wear and do not slip off that easily so you can enjoy your walk without worrying about your dog's paws.
LONSUNEER Paw Protector Dog Boots
LONSUNEER Paw Protectors are capable of protecting your dogs from indoor and outdoor activities. These are made with breathable mesh hemmed with soft cloth fabric to cover your dog's paws comfortably. Non-slip soles are fitted to protect your dogs from hot pavements, rocks, and other trail hazards. They also provide your dog with extra traction to traverse any trail he may face.
Our Final Thoughts
Ruffwear – Grip Trex™ Dog Boots are made with great quality material that you can take to any outdoor activity you want. They are made to be durable and withstand any weather. It is not the cheapest in its category but I think it is worth the money. Dog boots are an investment for those who lead very active lifestyles. These are also great for dogs who are living with arthritis and other injuries that need traction on their paws to rehabilitate themselves. Don't forget to measure your dog's paws properly before making the purchase. Over-all Ruffwear produced very impressive dog boots.
Check out current pricing and availability on Amazon here >>