No one loves the snow more than my fluffy friend. He loves rolling around while the cool breeze blows in his face. Although, you start to think about what happens when they are in the snow for too long. Are there any risks in playing in the snow with your dog? The simple answer is yes. There are a lot of risks taking your dog out in the snow. One of the things that can solve the issue with being in the cold is dog winter boots.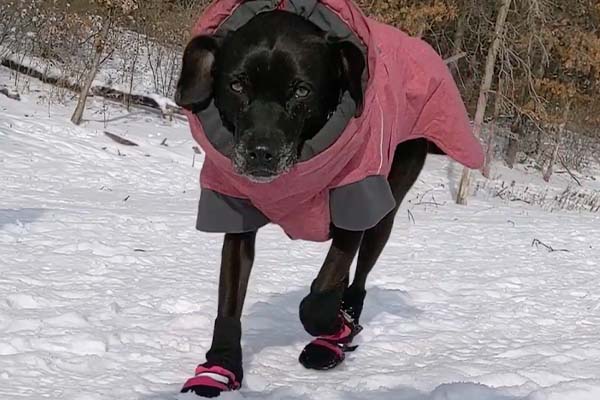 Playing in the snow: What are the risks?
Who would want to stop a cute pup from playing in the snow? I definitely wouldn't. However, there are some risks that we should look out for when we let them play in the snow. It is fun, for sure, but we must also be careful. Here are some of the dangers that you might encounter while playing in the snow:
Salt and Other Chemicals
During winter, there are a lot of people who use salt or other ice-melting chemicals to clear the road. These chemicals are very harmful to your pooch as soon as he licks his paws. When it gets into their system, it can cause different health problems and would cause you a whole lot of dilemmas along the way.
Hitting the breaks
Dogs love running in the snow. That's a fact. Especially dogs who are made to be in the cold, but what happens when they suddenly hit the brakes from their sprint? He glides across the ice and scuffs his paws enough to bleed. And now you are in a whole different mess.
Frostbite
Anyone can get frostbites, even our furry friends. Any part of the body that is away from the heart can experience a drop in blood flow and might cause tissue damage.  If not protected, dogs can also experience frostbite from being in the snow for too long.
Can Winter boots protect my dog?
One of the most common dog wear that can protect your dog from the risks in the snowy weather is dog boots. These boots are made to protect your dog from different elements that can harm your dog's paws, specifically, winter dog boots.
Although not necessary, there are some benefits to having your dog wear booties while walking in the snow. These types of boots are the perfect equipment for dogs to play in the snow freely. You can also purchase other dog snow gears that can match your booties to assist you in keeping your dog protected in this weather. You can get dog boots nad winter dog boots online and in the nearest pet store near you.
Watch this video where they answer the question: "Does your dog need winter boots?"
How do I put boots on my pooch?
When you decide to put boots on your fluffy friend, it can get a little complicated. You tend to play around with how to wear them and sometimes your dog may not like it at first. To put boots on your dog, you can stand them up and put the boots on one-by-one, fastening them securely so they don't fall off your pooch while walking. You don't want to keep buying boots every time you lose the. You might as well buy the factory that makes them.
The most important part of putting on dog boots is making sure that your pup is comfortable in them. They may walk funny at first, but that's because they are not used to wearing boots. It is not natural for them to wear any kind of dog wear. For a more in-depth tutorial on how to put boots on your dog, click here and read the full article.
Here is a video of how to fit winter boots on your dog.
An alternative to dog booties
There are occasions that some dogs do not get used to wearing dog boots at all. Just like my fluffy friend, who keeps on finding ways to remove them every time. He is an escape artist! If your dog for some reason just doesn't want to put on boots, here is an alternative you can take to still protect them from the freezing cold:
Paw protectors
Paw protectors are a type of balm that you can apply on your dog's pads before taking a walk. These balms can help protect your dog's paws in the harsh winter cold. They also have a moisturizing effect that can keep your pooch's soft pads. There are a lot of paw protectors out there and may come in different names: paw balm, invisible boot, and paw wax. You can find these online or in your local pet stores.
If you really cannot make your dog wear boots and are not keen on trying out the alternative, a piece of advice I can give you is to limit his exposure to the snow. That will keep his paws protected and no injuries may occur.
To boot? Or not to boot?
Ultimately, it is up to you if you want to put boots on your dog. They are not a necessity, but they will be good to have. They have a lot of benefits when you want to take your pooch out in the snow. They may not take to it at first, but I'm sure they'll come around.
If you want to see a round-up of the best dog boots to protect your dog, click here to find the right boots for you.