Before you go and buy a dog treat pouch and some treats to put it, let's discuss why treats are important when you are training your dog.
Should You Train Dogs With Treats?
Using treats is a form of training method called Positive Reinforcement. There is no harm being done to the dog as to when you use prong collars and e-collars. Though there is nothing too wrong with using those methods, positive reinforcement only uses praise and treats to reward good behavior.
Here is a video that you can use as a reference when you start training with treats.
Positive Reinforcement
What exactly is Positive Reinforcement? Positive Reinforcement is a training method widely used in today's world. Some famous dog trainers who use this are Dawn Sylvia-Stasiewicz, the trainer for the Obama's dog, Bo, and Karen Pryor, an author, and an expert Clicker Trainer.
It is described as a positive training method that rewards your furry friend with a treat, a toy, or praise when they perform good behavior. The theory behind this is very simple and straight-forward, dogs will repeat good behavior when rewarded. Bad behavior on the opposite, is not rewarded and sometimes can manifest in means such as removing a toy, or any reward. Physical punishments are not necessary when using positive reinforcement.
This method begins by rewarding your furry friend immediately as soon as the behavior is completed. Repetition is also part of the process. By doing so, they then realize that whenever they perform good behavior or specifically, a behavior you are targeting, a reward comes shortly after.
Once you know what to do, the only thing left to remember is that being consistent will greatly affect your furry friend's performance. Everyone in the household must use the same commands and reward accordingly when they see your dog perform good behavior.
Why Use Treats As A Reward?
In reality, treats aren't the only thing you can use as a reward. I use different rewards for the specific dog I am working with. If my dog likes toys more than food, then I am using the toy to reward him for what he has done correctly.
When you do decide to use treats, always remember that different types of treats have different values. There are High-Value Treats, that are for those times when you need to reward your dog immensely so he remembers that what he has done is a good thing. There are Mid-Value Treats that can be used for daily use for behavior he already knows and is just reinforcing them. And lastly, there are Low-Value Treats that are for the behaviors he already knows and it can also be used to wean off the treats when training.
If you would like to know more about The value of treats, check out our "What Are The Best Dog Treats For Training?" article.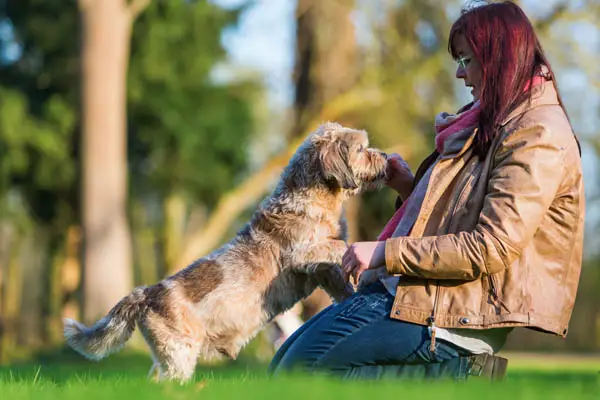 When Can You Start Training With Treats?
You can start working with your puppy as early as 6 weeks. However, some trainers recommend training after all the shots have been administered to prevent your dog from getting sick when you are training outside.
Socialization is a huge part of puppy training. Having people meet your puppy and allowing him to meet other dogs and puppies will create a well-rounded adult dog.
There are many treats available for puppies that you can use when training. It can be store-bought or homemade and it is up to you to make that choice.
Clicker Training With Positive Reinforcement
Positive reinforcement with treats can also be paired with Clicker Training. Clicker Training is a training method where you have a device called a clicker that makes a clicking sound every time it is pressed. The sound of the clicker will instantly mark when the correct behavior was done. It is a signal for your furry friend that the behavior is done and a reward will soon follow.
I know a lot of people that have had success rewarding with treats and positive reinforcement. Their dogs have shown immense progress throughout their training. The amazement in the owner's faces seeing them perform well is simply the best.
Training Pouches and Positive Reinforcement
If you have decided to take on positive reinforcement as a training method for your furry friend, The only thing left to do is to get yourself a dog training pouch to store all the yummy treats you are going to need.
A training pouch will help you greatly as it is a pouch that can keep your treats during training and even after. You can still wear it around the house if you are trying to condition your furry friend to do a specific behavior that involves the inside of your house such as not going on the sofa, or not jumping on the counter.
If you need more tips on dog training, click here to check out our article on "What Are The Best Dog Treats For Training?".