SKYMEE Dog Camera Review: As pet owners, we can't help but worry about our furry friends. It's the nature of the game and when we have a busy schedule that requires us to leave home for multiple days, nothing is more distressing than knowing you're leaving your pets behind.
Are they okay? Are they eating? Are they lonely? Leaving them home alone sucks and can be a great source of stress for pet owners.
SKYMEE has come up with a great solution that will allow you, the owner, to see your pets and keep them company even from miles away! The SKYMEE Dog Camera Treat Dispenser is a fantastic product that grants you the ability to see, speak with, and treat your best friend.
SKYMEE Dog Camera Review: Things to Consider Before Buying a Dog Camera Treat Dispenser
Firstly and most importantly, this is not a way to feed your pets while you're out of town. The treat dispenser is simply that: a treat dispenser.
In my experience, seeing my pets after I return from a long stay away from home has always left me with a sense of guilt. I feel bad that I have to leave them, but what else can be done? I make sure someone who I trust comes in and takes care of them, but I always feel bad when I return home. The SKYMEE Treat Dispenser is a great way to reduce this stress and keep your voice and your presence with your pets even when you're away.
This treat dispenser is perfect for anyone who is constantly traveling but wants to be by their dog's side at all times. If it's important to you that your dog knows you're always there for them, even when you can't be there, then this is the product for you.
Remember that this is a treat dispenser for when you can't be there with your pets. It's a great option for keeping connected with your pets while abroad and rewarding them for their patience. However, it does not work as a standalone feeding mechanism.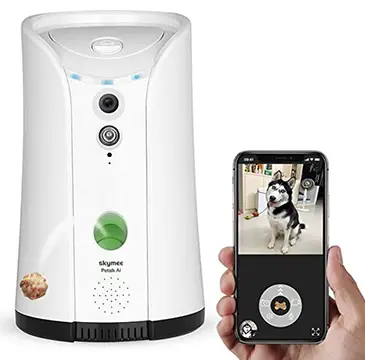 Check Amazon's Price
What is the SKYMEE Dog Camera?
The SKYMEE Dog Camera Treat Dispenser is a way to keep your pets company while being away from home. It is a pet camera device that allows owners to speak with their pets, listen to what they have to say, see what they are doing, and dispense treats as a reward for their bravery and patience!
The product has the ability to record any sound before dispensing the treats, as well as take photos and videos of your pets to see what they're up to. Easy to configure and great for traveling pet owners, the SKYMEE Dog Camera Treat Dispenser is the perfect product for owners who miss their pets while on vacation or business trips.
SKYMEE Dog Camera Treat Dispenser Quick Glance
What's Good
1080p video feed of your dog.
Two-way microphone so they can see and hear you.
Treat dispensary with recordable audio.
E8-person livestream capabilities.
Save and share photos and videos.
What's Bad
Only connects to 2.4g Wi-Fi.
Some users have had issues with product shipping.
Dogs may be fearful of the device at first.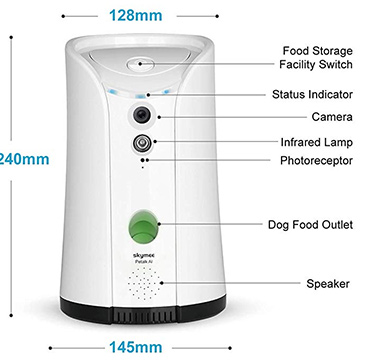 SKYMEE Pet Feeder Features
The SKYMEE Dog Camera Treat Dispenser comes equipped with many features that allow you to stay connected with your furry friends even when you are miles away! The camera feature will allow you to see what they are doing, and the treat dispenser will remind them of your appreciation. But these features offer so much more!
See Your Dog
When I'm away and my pets are home without me, all I want is to know that they're doing okay. Whenever I can't be there to physically check up on them, it's a great comfort to know that I have constant access to see what they're doing and if they're alright. With the SKYMEE Dog Camera, you can see your dog when you're not home!
Simply by having them hear your voice will calm your dog and relieve their stresses about being home without you. This works both ways! Your stresses of leaving your dog behind will be alleviated as well by knowing you can see them and interact with them even from a different country.
The video feature on the SKYMEE Dog Camera offers customers a 1080p quality video as long as you have access to 2.4g Wi-Fi in your home. Some models come with night vision so owners won't be limited to this feature during the day. As pet owners, it's understandable how stressful and unfortunate it can be to leave your pet at home alone. With the SKYMEE Dog Camera, you will have constant access to see how your fuzzy little friends are doing on their vacation!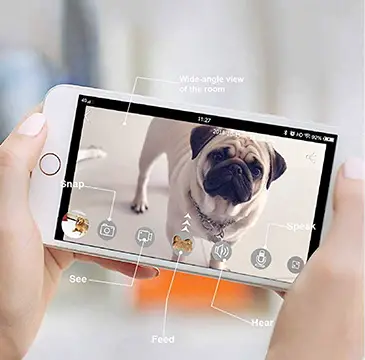 Check Amazon's Price
Talk to Your Dog
Seeing your dog is great and all, but what about speaking to them? Sure, you can call your house sitter and have them put the phone on speaker as you use your pet voice with your dog. But then you have to show them a new side of yourself that they might not have wanted to see.
This can all be avoided with the two-way microphone feature on the SKYMEE Dog Camera!
When viewing the video of your dog, you can have a full conversation with them that they will be able to hear and respond to. Because the device is able to capture and emit audio, you will never have to worry about using your pet voice in front of your house sitter again! Plus, this gives you the constant access that you receive with the pet camera – you won't have to wait until your pet sitter is there.
Allowing your dogs to hear your voice will help to settle their nerves that much more. It will make them feel as if you're right there with them, and they might not know the difference! They might think that you've changed in appearance a little, but they won't mind because you're there with them anytime you want to be.
Share Your Moments
With the app that accompanies the SKYMEE device, you have the ability to take photos and videos while viewing the camera feed of your dog. Anything that they do while you're away will not be missed, and can be saved to share online or for memory's sake. If your dog is beyond excited to see your face and hear your voice, you can record the moment to show how much they miss you.
Memories are important and missing out on keeping one forever can be devastating. Luckily, the photo and video feature means that you won't have to worry about that. Any cute or goofy thing your dog does while you're away can be remembered and saved!
The app allows you to save your content directly to your phone so you have constant access to whatever crazy thing your pet did. You can share your memories on social media for everyone to see, or just print out your photos to keep around the house! The SKYMEE Dog Camera will keep your memories safe, and your connection strong.
Livestream Video
One feature that sets SKYMEE apart from all of its competitors is the ability to livestream to an audience. If you're away on vacation, and your kids are away at college, but you all miss your dog who is home alone for a while, the livestream video will be great for you! Allowing the entire family to connect and watch as someone plays with and interacts with your dog is a fantastic benefit of the SKYMEE Dog Camera.
With the free app that accompanies this product, you can host up to 8 people to come watch as you talk with and reward your family pet. This feature sounds amazing to me as someone who is away from home and missing my dogs! To have someone stream an interaction with them would make me feel like I was right at home again.
Saving and sharing videos is great, but to have the whole family watching live together is even better. SKYMEE Dog Camera is a great way to bring everyone back together even as they're miles apart.
Reward Their Behavior
One of the standout features of this product is the ability to dispense treats to your pets. The SKYMEE Treat Dispenser allows you to reward your dogs for being so great even while you're not there with them!
Any good behavior can be rewarded with a treat, so they feel loved and appreciated. Another little add-on that SKYMEE has implemented is the treat sounds. This is a sound that plays as the device is dispensing a treat – the default is dogs barking but can be replaced by any sound you'd like.
If your dog has a certain sound they like to hear that reminds them of treats, you can record it and play it as the SKYMEE Treat Dispenser sends out their reward. These features all combine to allow pet owners to feel connected and close to their dogs even while they're away. If you feel guilty or stressed every time you have to leave your pets at home, the SKYMEE Dog Camera Treat Dispenser might be the device for you.
What the Owners Are Saying: SKYMEE Dog Camera Treat Dispenser Reviews
Many who have bought the SKYMEE Dog Camera Treat Dispenser absolutely love it! Reviews of the product speak to how amazing it is to have access to their pets even when they're away.
Some pet owners attest to how great of a gift it is to their pet as well as themselves. Being able to keep their pets company while abroad is rewarding for everyone, not just the owners.
The device is easy to set up and simple to interact with. Pet owners love the ease of use that the SKYMEE Dog Camera offers them.
Alternative Treat Dispensers To The SKYMEE Petalk
If, after reviewing the SKYMEE Dog Camera, you decide that this product just isn't for you, it's not the end of the world! We put together a review round-up of the best dog cameras that dispense treats here. Here, we have listed a few more options that are similar to the SKYMEE Dog Camera with slight differences.
TOOGE Pet Camera
This device offers many of the same features, but not the treat dispensary. Its focus lies on the camera aspect, which can be seen in the quality of the camera available. With this device, you have a more versatile camera that can reach different angles and locations rather than simply one like the SKYMEE device.
Furbo Dog Camera
This device is one of the best on the market. It has similar features as the SKYMEE Dog Camera: Visual and audio interaction with your dog, treat dispensary, save video and photos. It has the ability to operate on a lower Wi-Fi signal than the SKYMEE device. This is a fantastic alternative to the SKYMEE, however, it does come with fewer camera options.
WOPET Smart Pet Camera
With WOPET pet camera, you're getting everything that the other devices offer for a lower cost. The company who makes this device advertises it as a "pet" camera rather than a dog camera. If you're looking for a less expensive alternative that functions for both cats and dogs, WOPET Smart Pet Camera might be the device for you.
While SKYMEE is a fantastic option for pet cameras, there are other options available on the market. Continue to research and find the aspects of each one that you like the most. Don't jump at the first offer, find the perfect pet camera and treat dispenser for you!
Pawbo
The Pawbo Life Pet Camera allows pet owners to confidently leave their pets at home, knowing that they can check in on them, even when they are not physically present to tend their pet's needs. This camera, along with its convenient features, allows pet owners to continually monitor and watch their pet's activities, including the ability to communicate with their furry buddies to keep them calm and relaxed. Read our complete Pawbo Life Wi Fi Pet Camera Review here.
Our Wrap Up To The SKYMEE Dog Camera Reviews
If you live a life that requires you to travel often to places where you can't bring your dog, finding a solution that allows you to remain in contact with them might sound pretty great. Finding a way to keep connected with your pet, even as you are miles away is important for both them and you. The stress of being apart from the pet you love can sometimes be a lot, but the SKYMEE Dog Camera and Treat Dispenser is a fantastic way to alleviate this worry.
By interacting with your dog through the camera and two-way microphone set, you can keep your dog happy and your stress relieved as you see their smiling faces. Rewarding them for their patience and good behavior with treats will calm their nerves and let them know that you're never truly gone, no matter how far away from home you may be.
Click here to get Amazon pricing for the SKYMEE Dog Camera Treat Dispenser today!