The one thing I learned about cat food in all my years of buying a handful of brands is that you can't trust all of them. There were a handful of times when I felt terrible upon seeing my buddy suffer because of an allergy or indigestion, all because I bought an awful product. So, when it comes to buying cat food, I'm always cautious. But it does not mean all cat food brands are horrible. There are quite a few that my cat loves. The Solid Gold Indigo Moon Dry Cat Food makes that list. Click here to view pricing on Amazon.
Things to Consider Before Buying Cat Food
Buying cat food is no cakewalk. Some people find it helpful when they see a handful of options in one store alone, but others might quickly get overwhelmed by the choices. If you're unsure which one to take to the counter, the best thing you can do is to consider these factors:
Ingredients
Don't forget that cats are carnivores, but a lot of cat owners don't realize it. What it means is that your feline's diet must have a diet consisting of meat for the most part. Avoid cat food filled with grains and grain by-products. There's a ton of meat options, including beef, chicken, pork, lamb, duck, and turkey. Fish is a viable option, too.
Nutritional Value
Everyone is guilty of being lazy when it comes to reading product labels. I'm not ashamed to admit it, but I learned my lesson a long time ago. Some of my cats are overly sensitive to particular stuff, and not reading the specific ingredients in a canned product almost killed one of them. Put in the time to read the label. Embrace the responsibility – after all, it wouldn't take a minute. The information from the label is enough to make you curious about what your cat is getting out of that can.
Smell and Texture
If your cat isn't a picky eater, you're lucky! Some cats dig salmon but will ditch a beef cat food in a heartbeat. While you're focused on avoiding one type of meat or ingredient, the truth is that cats are selective on the smell and texture of the product. Sadly, the only way to determine if one product will suit your feline's standards is through trial and error.
You can at least go on and read the things about the Solid Gold Indigo Moon Dry Cat Food that may convince you to give it a try for your always hungry furry bud.
Solid Gold Indigo Moon Dry Cat Food Review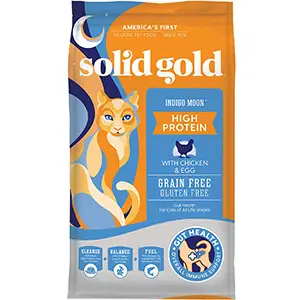 Choosing the Solid Gold Indigo Moon Dry Cat Food gives you a product that addresses your cat's carnivorous diet needs. It promises to be devoid of grain and gluten and instead comes with a high-protein formula. The product comes with chicken as the primary protein source, along with about twenty "superfoods."
The product is potentially the perfect meal for your feline if she's grown accustomed to dry food. If you're looking at something to prevent weight gain and the possible onset of diabetes, this one is a sensible choice since it is a high-protein and low-carb canned food.
Quick Glance
What's Good
High-quality US-sourced chicken
Does not cause allergies
Low in carbohydrates, perfect for weight management
Gluten-free
What's Bad
Not ideal for cats that don't drink a lot of water
The odor may not sit well with some cats
Solid Gold Indigo Moon Dry Cat Food Features and Benefits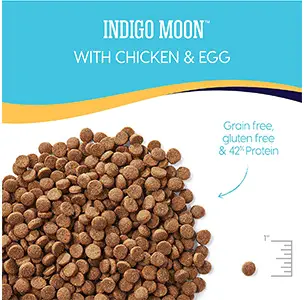 Gluten and Grain-Free Food
The product is free from common allergens in cats like soy, wheat, and corn. The lack of grains does not mean it isn't complete. It is a high protein dry food packed with vitamins and minerals. The presence of "superfood" ingredients contributes to the nutritional balance of the product. It does not have meat by-products, either.
USA-Raised Chicken
Not all chicken meat is the same. If you're up for a safe protein source for your cat, Solid Gold Indigo guarantees USA-raised chicken that will make you feel confident about the source. The addition of the whole egg means your feline is getting the amino acids to aid in metabolism, while fiber-rich peas reinforce the protein source.
Low Carbohydrates Formula
Crude protein makes up over 40% of Indigo Moon, making it one of the most compact protein cat food products out there. If you have a diabetic, overweight, or active cat, then this product can help you deal with the challenge of finding a healthy and ideal diet. The minimal carbohydrate content prevents the spike in blood glucose levels, plus it won't cause digestive issues.
Fiber-Rich Prebiotics
The manufacturer boasts its patented, protected living probiotic component. This dry cat food offers an entirely healthy meal, thanks to the mixture of carefully selected superfoods, fatty acids, and protected probiotics. The superfoods serve as the balancing component of the otherwise protein-rich food; the omega fatty acids help in maintaining a soft and shiny coat; the living probiotics boost the cat's immune system.
Nutrient-Rich Superfoods
The Solid Gold Indigo Moon Dry Cat Food represents what holistic pet food should be. The manufacturer offers a 100% guarantee, giving you the chance to return the product should you feel that it isn't at par with the highest standards of cat food. The most distinctive component of this product is its nutrient-rich superfoods which include cranberries, blueberries, almond oil, pumpkin, carrots, lentils, and broccoli.
Customer Feedback
Nothing is more reliable than a first-hand account from a person who had the opportunity to use the product, which is why I took the honor of finding them on your behalf. Here are a few reviews from other shoppers on the Solid Gold Indigo Moon:
Sasha's cat, who is a finicky eater, loved this kibble and the food did not cause any kind of digestion issues at all.

Lisa's cat was quickly losing weight. After eating Solid Gold's dry cat food, her cat started feeling better and having more energy.

Shanna likes the price point of this food and she uses this cat food in a half and half mix for her cats and they love it.

Alternatives To Solid Gold's Indigo Moon Dry Cat Food:
The Solid Gold Indigo Moon Dry Cat Food isn't the only option out there. These products offer similar perks:
Dr. Elsey's Cleanprotein Formula Dry Cat Food
Like the Solid Gold Indigo Moon, this product is available in chicken, although you can buy one with salmon as the primary source of protein. It is also a grain-free and gluten-free cat food that contains Omega 3 fatty acids. It is available in a 2-lb pack, while the smallest package for Solid Gold Indigo Moon Dry Cat Food is at 3lbs.
CRAVE Grain Free High Protein Dry Cat Food
This product is like the Indigo Moon in a way that it contains at least 40% protein with small traces of carbohydrates. Chicken is the primary protein source, while other notable ingredients include tapioca, split peas, and chicken fat. This dry cat food is also available in salmon, duck, and turkey.
Veterinary Diets Purina Pro Plan DM Dietetic Management Dry Food
Marketed as a special formula for cats with unique dietary needs, which makes the Purina Veterinary Diets dry cat food distinctive is its high levels of Omega-6 fatty acids. Both the Solid Gold Indigo Moon and CRAVE Dry Cat Food contain Omega-3 fatty acids, but this one takes the cake when it comes to additional antioxidants. But you'll have to pay more for a 10lb bag.
Our Final Thoughts
Giving the wrong food to your car can cause harm. As the owner, you carry the responsibility of finding the best food options available out there. You want to give your feline the food that best resembles her natural diet. In other words, it must be protein-filled and should have as little carbohydrate content as possible.
Check out current pricing and availability on Amazon here >>