We all want to keep our cats entertained while we are too busy to play with them ourselves. A good cat tree does the job, but the trial and error of finding the right tree for your pet is a hard task, especially if you have a larger cat. It is important to know what the best features in cat trees are so that you can pick the perfect tree for your feline. Here we will review the best tall cat tree for large cats.
Go Pet Club 62-Inch Cat Tree
VESPER Cat Tree Scratching Post with Condo
FEANDREA 67 inches Multi-Level Cat Tree
Cat tree – why buy one?
The benefits of purchasing a cat tree are numerous, and can be a great choice for many pet owners. Cats can use them for scratching, exercising, sleeping, and in many more ways! The cat trees give your pet a sense of personal space, and can be an escape for them when they feel anxious. The trees also offer stimulation for their brains and their bodies, which overall benefits their health.
Cat trees also offer a great idea of relief for pet owners. If you own more than one cat, trees can give them the comfort of having their own space. Cats are very territorial animals, and giving them a place that is their own will help lower potential conflict between the felines in the future. Cats also are notorious for climbing up furniture to give themselves an elevated perspective. By adding a tall cat tree for large cats to your living space, you are giving them a place to climb and explore that won't wreck your home.
Furniture – Best Features to Look for in Cat Trees
For cats that are on the larger side, the most important feature to make sure your tree includes is a sturdy base. The last thing any pet owner wants is to have their cat cause the tree to fall over and potentially knock down things in the surrounding area. If you are worried about this happening in your home, then look for a cat tree that can either be mounted to something or has a heavy base.
It is also important to buy a cat tree that has large enough platforms for your specific cat. If you purchase a cat tree that is made for smaller cats, then it is unlikely that your cat will use the tree since they will feel out of place on the platforms.
The age of your cat should also be taken into consideration when looking for the perfect cat tree. A cat that is between a kitten and a young feline will be more active than the typical older cat, so it would be wise to buy a cat tree that has lots of interactive elements to it. Many trees that have scratching posts, attached toys, and fun obstacles will keep your active cat entertained for countless hours.
It is also very important to consider the materials that make up the tall cat tree for large cats that you will buy. Cats are equipped with very sharp nails and can easily tear apart a variety of thinner fabrics. That is why a durable cat tree is crucial for getting the best value out of purchasing this toy. You should check to make sure that all the components of the cat tree with withstand your pet, including the posts, the platforms, and the attached toys.
Our Review Of 5 Tall Cat Towers For Large Cats
Find the best cat condo / cat tower for your cat. Below is our review of the 5 best tall cat tree for large cats.
Go Pet Club 62-Inch Cat Tree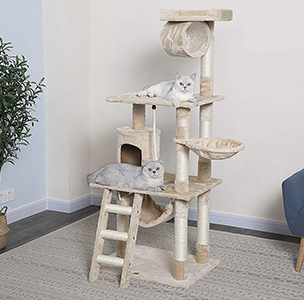 This cat tree is slightly smaller than the last one, but offers a similar amount of interactive parts to keep your furry friend active. There are many unique platforms and hiding spots on this tree, and there even is a cute little ladder for your cat to climb on.
The posts on this cat tree are partially covered in scratchable material, however there are still exposed areas that can be damaged if your cat gets carried away. The platforms on this cat tree are large enough to hold a heavier cat, however the unique nap spots and cozy beds are on the smaller side and might not be big enough for your cat.
Overall this cat tree should not be difficult to put together, but the faux fur on this particular pet tree is known for easily ripping. The material is thinner compared to other trees, and will easily tear if your cat tries to scratch at it.
Quick Glance
What's Good
Lots of interactive elements: this cat tree includes fun ropes and unique sleeping spots that will keep your cat occupied
Large platforms: this cat tree has resting platforms that are large enough to hold heavier cats
What's Bad
Thin material: faux fur material on this cat tree is not as durable as other options and will easily rip
Small resting spots: the napping areas on this tree are significantly smaller than the platforms, so if your cat is on the heavier side they might get stuck
VESPER Cat Tree Scratching Post with Condo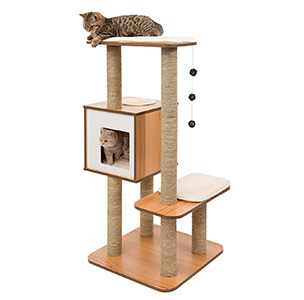 This cat tree is perfect for both the pet and pet owners who want a more elegant version of the typical cat tree. This product has exposed wood on its scratch poles, and thin pieces of faux fur that partially cover the exposed wood platforms.
The elegant wood on this cat tree spikes the price point and makes this an expensive option. There also is not a lot of interactive components to keep your cat busy, except for the scratch poles that are also located on the other options.
Quick Glance
What's Good
Elegant design: this is one of the more elegantly design cat trees on the market and will look great in your home
What's Bad
Not a lot of interactive stuff for your cat: there really is not much for your cat to do except climb and sleep on this cat tree
Wood can be easily scratched up: because this tree is mostly exposed wood and not a lot of faux fur, it can easily be damaged by your pet
FEANDREA 67 inches Multi-Level Cat Tree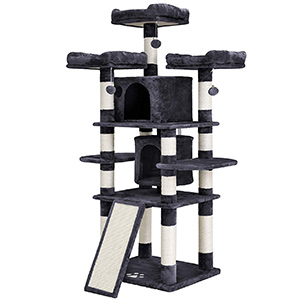 This cat tree is on the more expensive side, but is a great option if you have more than one cat. There are a number of fun napping spots and areas for your cat to play or hide away. This tree also offers perching locations for your cat, and posts ready for scratching.
Besides the high price tag, this cat tree is hard to put together considering the large number of components that make up the tree. If you are a first time builder, this tree might pose a challenge for you.
The platforms on this cat tree are big enough for most cats, however if your cat is on the heavier side they might have difficulties reaching the top of this tree as the ascending platforms get smaller and smaller.
Quick Glance
What's Good
Great for more than one cat: this cat tree is made for being used by multiple cats as there are tons of beds and toys
Lots of interactive parts: there are tons of fun things on this cat tree to keep your fur friend occupied
What's Bad
Hard to put together: because this cat tree is so complex, it may be hard to put together
Furhaven Pet Cat Tree
The first pet tree offers a wide variety of activities for your cat to keep them busy for hours. Every inch of the posts are designed for scratching, and there are many different platforms and little hideaways for your cat to explore. This is also one of the taller options for cat trees, and will really give your cat a realistic tree-climbing experience.
The Furhaven Pet Cat Tree falls in the middle range for pricing, and is made out of material that is easy to clean and keep sanitary. The play surfaces are made out of plush faux fur, so don't be surprised if your cat falls asleep on this tree! There are also a wide variety of colors so this particular style of pet tree, so you can pick a specific color that will compliment your home.
Downsides to this cat tree is that the surfaces are on the smaller side, so if you do have a cat that is larger, they might not be able to comfortably fit on this tree. The instructions for putting this cat tree together can be a bit confusing considering there are so many different parts to this cat tree.
Quick Glance
What's Good
Tons of activities: this tree will definitely keep your cat busy for a long time as there are plenty of interactive aspects to it
Height: this tree is one of the taller options for cats, and will give your pet the feeling of climbing a real tree
Color Variety: a bonus perk of this brand of cat tree is the wide variety of colors that it comes in, which can be a blessing when trying to match your home's colors
What's Bad
Difficult to put together: this cat tree comes with a lot of different parts and can be confusing to construct
Small Platforms: if your cat is on the larger side, the platforms that make up this tree may be too small to fit your furry friend
AmazonBasics Extra Large Cat Tree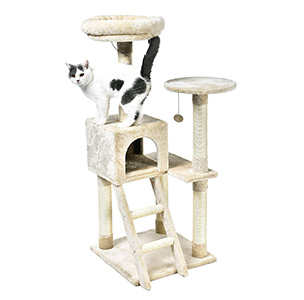 This is one of the more simple versions of a cat tree, however it still offers a lot for your cat to do. There are scratch posts and balls to keep your cat occupied. There is also a cute little ladder and hiding cave for your cat to spend time in!
This cat tree is the cheapest out of the five options, but it is also the shortest, so if the height of the tree matters to you then this might not be the choice for you. The cat tree has large enough platforms to support bigger cats, but the tree is small in general so it is made for only one cat to use.
Quick Glance
What's Good
Cheapest Option: at the price point, this cat tree offers a simplistic design to keep your cat entertained
Large Platforms: this cat tree has large enough platforms to support the size and weight of a variety of different cats
What's Bad
Height: this is the shortest option for cat trees and may bore the cats who like to climb
Which Cat Tree is the Best Option?
In our opinion, we think that the Go Pet Club 62-Inch Cat Tree is the best option in the cat tree market. At its price point, it offers the best deal for pet owners. There are a handful of interactive activities for cats, and large enough platforms for bigger cats to freely roam around.
Although the napping caves and unique lounge areas might be too tight for bigger cats, this tree is still the option for all that it offers. There are scratching posts and a little ladder for the cats to use, all while the whole tree is being supported by the strong base.
Check Amazon's Price