We feel heartbroken when we're separated from our dogs, especially when we have to take breaks for days at a time. Does your dog go ecstatic when you come back from an 8-hour shift? The separation is pronounced when you have to leave for extended periods, and you feel that we're tied to your dog forever.
Unfortunately, most of us can't afford to spend hundreds of dollars on a pet sitter, and we're forced to be left to our thoughts and worry about how our dogs are faring back home. Are they hungry, sad, distress, or in need of food? We'll never know.
The Solution To Leaving Your Dogs At Home Alone: A Wireless Video Camera And Smartphone App
A pet monitor & video camera. The pet monitor allows us to watch how our babies are doing and they're simplified to a point where all we need is a simple WiFi connection at home to know what our babies are up to. The best part is that we can even talk to our dogs.
Tenvis Pet Camera Quick Glance
What's Good
1080P HD Footage
Compatible with all iOS and Android devices
Two-Way Audio
Night-Vision
360° Tilting
Motion Sensor
Easy Set-Up
What's Bad
Primarily a surveillance-camera only
No dog treat dispenser
No two-way video
Missing more advanced, dog-specific camera options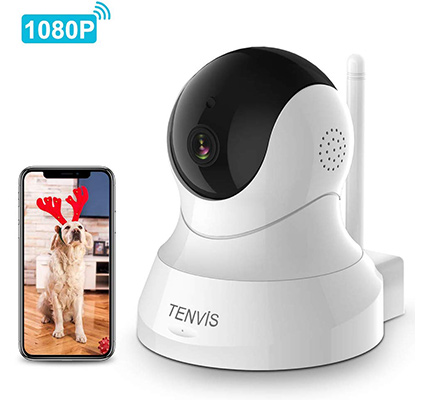 Talking To Your Puppy Via A Video Camera
Let's be real, we can't just text our dogs like you would our children. However, the pet monitor allows you to say "Atta Boy" and he will listen to you and be happy instantly! Upon hearing our voice or being called out by us our puppies immediately get excited and brimming with happiness. When you see it wagging its tail on the live cam, you'll have peace of mind knowing that your pet is safe. If you have a cute tiny dog that is more affected by separation anxiety, you will need something to keep them entertained.
What's better than tuning in every few hours and talking to our favorite dog for a minute? The camera streams constantly and allows you to talk to your dog. Moreover, even the cheapest camera will have a motion detector to signal when your dog is up to something.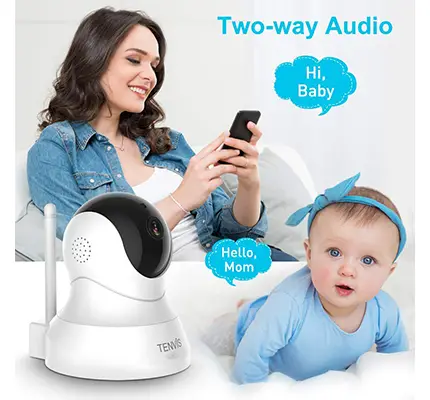 Dogs affected by separation anxiety exhibit signs of distress such as excessive barking, crying, and more. To help them, you only need to talk to them. The Tenvis Wireless 1080P Pet Camera With Phone App Speaker can help you communicate with your dog. The Tenvis records 1080P HD and provides 360-degree rotation and night-vision up to 32 feet.
Things To Consider Before Buying Tenvis 1080P Pet Camera With Phone App Speaker
Does The Entvix 1080P Pet Video Camera Come With An App?
Yes. The Tenvis 1080P camera comes with a Tenvis App compatible with iOS and Android devices. You can stream directly to your smartphone or other devices such as tablets, iPod Touch, etc. The manufacturer has more than one app and they're all compatible with this camera: Tenvisity, New Tenvis, Tenvis Sight, Tenvis P2P, iMegaCam. All those apps are compatible with the Tenvis camera. However, you must be careful not to let this data leak. Set firewall rules on your firewall. Use a new password for your WiFi. You definitely shouldn't be using default WiFi passwords.
Can More Than One Person Use The Tenvis?
Yes, if you want to give access to your boyfriend, spouse, children, parents, nanny or anyone else – you can. They only have to install the app on their phone and scan a code or have your password. Or they have to be physically present in the room, in which case you can hear them and they can hear you without having to install the app.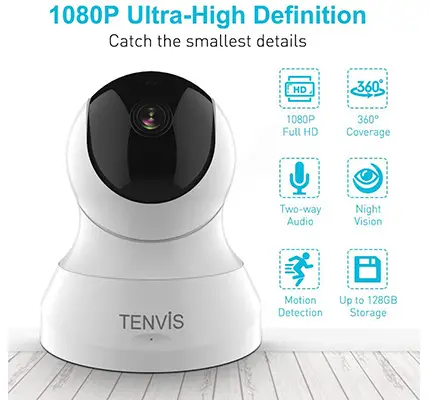 Can Other People Hear You Speak?
The Tenvis camera has a high-definition microphone built-in as well as a speaker. This is called two-way audio. It enables you to talk to anyone in the immediate vicinity of the camera while seeing them. You can see them and they can't see you, but you can both hear each other.
Is My Data Protected In The Tenvis Video Camera?
The data is sensitive because it goes out through a wireless connection. Many devices in the house connect wirelessly: Phones, Bluetooth headphones, smart TVs, Alexa, etc. Each one of those could be breached if someone was standing outside your house and picked up on WiFi transmission. To protect against that, the device has to have encryption to only share data between approved devices.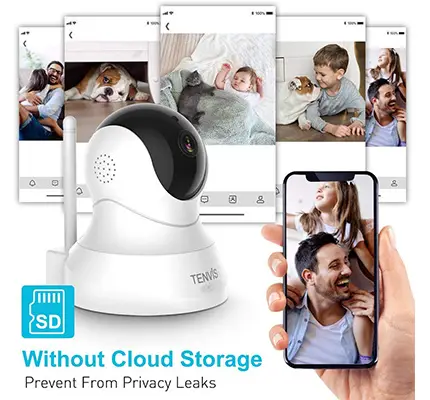 Moreover, it's better if the data is stored locally on a SD card that you can physically remove instead of online on the cloud data. The Tenvis records footage on SD cards locally, meaning only you can review the backed-up footage by hand. The Tenvis allows SD cards up to 128GB which provides 60 days of continual footage in 1080P HD. The downside is, they don't provide memory cards in the package and you must purchase your own.
Do I Have To Buy An SD Card Separately?
Yes. You can purchase the maximum 128 GB card or you could purchase smaller 64 GB or 32 GB cards. The 128 GB is good for 2 months of shooting with backups. You could buy a 128 GB card for as little as $10.
Benefits OF Tenvis TENVIS 1080P Pet Camera with Phone App Speaker
1080P HD Footage. The Tenvis records crystal-clear 1080P footage with vivid details during the day, including high-clarity night footage. The camera can record up to 50 feet away and the data is streamed live and backed up on a memory card at the same time. You can then review the footage and remove any videos for editing and sharing.
Tenvis App. The Tenvis camera is compatible with all iOS and Android devices including tablets. You only have to download the app, scan the device code and you're set! You will then be able to watch the footage and get push-notifications when the motion sensor is triggered.
Two-Way Audio. Want to communicate with the kids, nanny, parents or spouse? The two-way audio works for everyone in the house, not just for dogs.
Night-Vision. The Tenvis has infrared LEDs that activate at night and give you a view of up to 32 feet in pitch-black darkness.
360° Tilting. The camera is the shape of a round ball and has the ability to tilt 360° giving you an overview of the entire house. This means no dead angles!
Motion Sensor. The camera activates when it picks up on motions and send you push-notifications, prompting you of burglars or other unusual activity. The Tenvis can serve as a security camera in addition to a pet monitor.
Easy Setup. The camera is activated using a simple power plug and WiFi connection. If you don't have a memory card, it can still stream live footage to your phone, albeit without backups.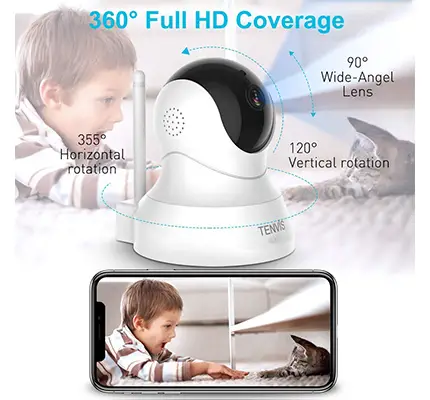 Tenvis 1080P HD Video & Night-Mode
The Tenvis 1080P HD camera is the most outstanding feature on the device, providing high-resolution footage which is directly streamed on the phone. The camera captures warm vivid images during the day, recording up to 50 feet away. You can record night footage using infrared LEDs that activate at night. The camera streams live footage and it backs up the footage on a local SD card, to ensure none of it leaks.
Moreover, the camera is controlled via the Tenvis app. The circular shape allows it to adjust to the particular angle you want to aim at. The lens can adjust 355° horizontally and 120° vertically, for a complete view at every angle. The quality of the video is not affected by the angle. Best of all, the whole family can connect to the live stream. If you're busy at work and your children are at school, they can watch the dog for you.
Night vision on the Tenvis is exceptional. Infrared can detect all burglaries, theft and unusual activity in your house. Think a pitch-black environment can conceal details? The Tenvis has 11 infrared LEDs that can see in the dark. Not only that, but the visibility range is 32 feet/10 meters in the night time, allowing the Tenvis to serve as a backdoor security camera for the home. Tenvis calls this "Smart Eyes" technology, providing monitoring and motion-detection around the clock.
3-Second Motion-Sensor Security
The Tenvis converts from a pet monitor to a full-blown surveillance camera. The Tenvis Motion Sensor can be motion-activated, recording an emergency 15-second video when it's activated and warning you on your phone. This way you don't have to wait for the live footage but you can see the exact moment the sensor was triggered. If a burglar enters the house, you want to see when they passed by the camera's line of sight, not the current live footage. You will receive an alarm in under 3 seconds. Act fast!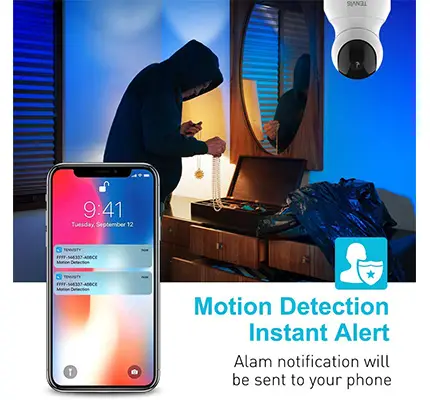 The Tenvis can also be a life-saver in case of a house fire because it can pick up on the motions and notify you. This way you can call the fire department or the police and rush to your home. The motion sensor has been tested to avoid mistakes in alarm notifications. This makes the Tenvis camera an ideal solution for securing your home during the day at night. The two-way audio is the cherry on top. The audio enables you to communicate with your dog and calm it down.
Micro SD Cards: Storage Up To 128GB
The Tenvis camera protects your footage by saving it on a local storage drive and all the live-streamed footage is not backed up online. This means that your footage is safe from hackers because only people with access to the SD card can review the footage. The maximum storage is 128GB and you will never miss important videos with your puppy, baby or family. One 128GB card can record for 60 days and it costs less than $10. Moreover, you will have evidence in case of a burglary. Unfortunately, Tenvis does not include a memory card with the package and you must purchase one separately.
Easy Setup – Ethernet & WiFi
To connect the device, you only have to have the internet at home. You're not restricted to WiFi as the Tenvis has an Ethernet port that will allow you to connect physically. To connect, you have to download the Tenvis app and scan a code. It takes under 2 minutes.
Downsides Of The Tenvis 1080P HD Camera?
The main downside is that the Tenvis is a surveillance-camera primarily, the only difference being that you can talk to your dog via two-way audio. There are more advanced cameras that allow you to treat your dog, and some even have a two-way video allowing your dog to see you while you're talking. The Tenvis is an economic camera that saves you money, and the tradeoff is that you miss out on more advanced features such as to treat dispensers and two-way video.
The Verdict – Is The Tenvis 1080P Pet Camera Worth It?
The Tenvis 1080P Pet Camera with Phone App Speaker has an impressive array of features to make our dogs happy! It allows us to communicate with our dogs using two-way audio and provides a full-angle view of the house including 360° tilting and 120° vertical panning. The Tenvis outputs 1080P HD-quality footage, streaming live video directly to your phone via the Tenvis App (iOS/Android compatible) and it backs up footage on SD cards up to 128 GB.
What's not to love? However, if you want to check out an alternative to the Tenvis, click here to view our review of the Victure WiFi Pet Video Camera. This is a similar type of camera.
The Tenvis is a high-performance security camera that's ideal for everything: dog monitoring, baby monitoring, talking to the family, keeping the home safe from burglars and more. This camera could make a great gift for a family because they never have to worry about their home security or the well-being of their pets again!