I often travel for work and that puts me away from my pets nearly every week. Worrying about how my pets are doing has been exhausting and distracting from my work. To provide myself with the peace of mind knowing that my pets were alright, and to re-establish a connection with them even when I was a state away became necessary for both me and my pets.
For all these weeks away, I would have loved to have something like the TOOGE Pet Camera to keep us connected and settle my mind about how my pets were doing.
What to Consider Before Buying a Pet Camera
If you're a pet owner who is often away from home and away from your pets, buying a pet camera might be something you should consider. Pet owners that struggle with leaving their pets behind for extended periods of time and often find that the worry outweighs the joys of vacationing – a pet camera might be something you should look into buying.
The ideal customer who would benefit greatly from a pet camera would be someone who often travels and for extended periods of time, leaving their pets at home. Someone who finds themselves worrying about their pets every time they're away from home, regardless of who is watching them would benefit from the TOOGE Pet Camera.
Keeping an eye on your pets and interacting with them is great for both owner and pet alike – letting them know you're still there even when you're not, settles the minds of both parties. Before buying the product, you should make sure that your pets are alright with technology and objects that project your voice to them. Some pets are freaked out by objects like these and will often never interact with a pet camera – make sure your pet is okay with something like the TOOGE pet camera.
The TOOGE Pet Camera
The swivel-headed 80-degree tilting pet camera presents itself as one of the most affordable pet camera options on the market. For people like me, the TOOGE Pet Camera is an inexpensive option that allows me to see my pets when I'm not home.
This product is perfect for people simply looking to know their pets are alright when they aren't home with them. The TOOGE Pet Camera is a Wi-Fi based camera that allows pet owners to see their pets when they're away from home and interact with them in a basic sense. For anyone who can't stand leaving their pets for business or vacation, yet often needs to leave them alone, the TOOGE Pet Camera is the perfect device.
It doesn't have the treat dispensing or laser pointer abilities as some of its competitors, but it comes at an inexpensive cost and offers a quality live video feed of your pets. The rotating camera head allows for a broad range of viewing options when calling in.
TOOGE Pet Camera Quick Glance
What's Good
350-degree rotation and 80-degree tilt options
Live video feed of your pets
Inexpensive and accessible for any pet owner
What's Bad
No added interaction features
Medium quality video feed
Doesn't support Mac
TOOGE Dog Video Camera Features and Benefits
These features will make speaking with your pet easier no matter how far away from home you are.
Quick Wi-Fi Connection
This pet camera operates on 2.4G Wi-Fi connection which allows you to access your pet camera almost anywhere. With the low minimum required Wi-Fi speed, you can be in the most remote hotels and still have access to your pets.
The app will connect on any iPhone, Samsung, or tablet allowing you to keep your pet in your hands and talk to them while away from home. Many competing pet cameras require a higher Wi-Fi connection which leads to problem zones that don't have access to the speedy Wi-Fi required.
TOOGE Pet Camera keeps you in mind and understands that with traveling comes connection issues. This camera makes it the priority to establish a quick connection, so you are never truly away from your pets.
Two-Way Talking
One thing that has always helped settle my pets' nerves has been for them to hear my voice. Unless I want to call my pet sitter over the phone and have them hand the phone to my dog, there has never been a quality way to speak to them. With the TOOGE Pet Camera's two-way audio speaker system, you can rotate between speaking with them and listening to what they have to say.
With the two-way talking feature on the TOOGE Pet Camera, you are able to let your pets know you're still there with them even as you're miles away. All this can be achieved without having to use your "pet voice" with your pet sitter listening. Comfort, peace of mind, and the ability to avoid embarrassment all in one camera.
Day/Night Vision Video Feed
With a good connection to Wi-Fi, a quality live video feed is accessible through this camera. Two LED lights are able to provide your video feed with the necessary light to view and speak with your pets in both day and nighttime settings. You can see up to 16-feet even in pitch black surroundings with this cameras' night-time features.
If your pet is active at night and this is the only time when you're both awake, you still have access to them to let them know you're okay – or to know that they're doing fine as well. The TOOGE Pet Camera grants pet owners' access to their pets at all hours of the day.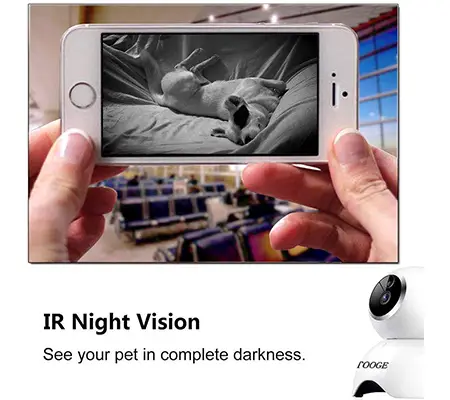 Check Amazon's Price
Rotation Options
Pets can be active and tend to move a lot when they get excited and, let's be honest, they will get excited when they see you and hear your voice! Having a camera that only focuses on one spot will leave you vulnerable to missing out on precious moments during your video chat with them. With this camera, you're able to rotate in the vertical plane for a whole 350 degrees! The tilt option allows you to tilt the camera up to 80 degrees in any direction.
A digital zoom function is available as well which allows you to zoom in on the video feed up to 4 times the original view. If your pet camera is facing a long corridor and your furry friends won't come closer than the end of the hallway, you still can see them and interact with them. Your pet might try to make the video feed difficult, but the pan, tilt, and zoom options help you out.
Motion Detection
The app that accompanies the TOOGE Pet Camera will allow you to know when your pet is active and in the area of the camera. This way, you're not mindlessly calling and hoping that your pet is in distance – the notification feature tells you when is best to call. If your pet is able to pick up on this fact, they could use it as their way of letting you know they want you to call them!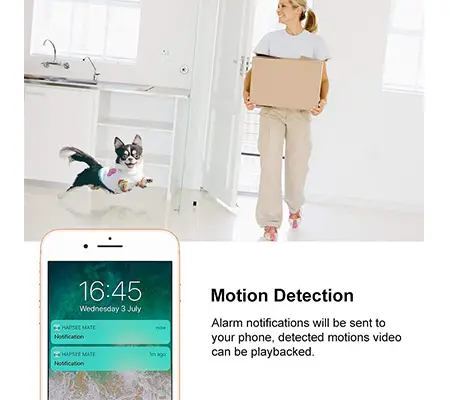 Each time your pet enters the area and interacts with the pet camera, you'll know and can plan your call accordingly. The issue faced with this, is your pet camera could be in a high traffic pet zone and you'll be flooded with notifications while your pet traverses back and forth.
User Reviews of the TOOGE Pet Camera
Reviews of the TOOGE Pet Camera rant and rave about the quality and the ease to which this product allows you to access your pets while away from home. Easy setup, simple instructions, and a friendly user interaction are three of the many favorable features that customers love.
Here are some of the comments left online about this video pet camera:
I loved this camera! I love how easy it is to install, the quality and the fact I can check on my dog even when I'm away from home. I can talk to him and he can hear me clearly. I can know if he's barking because it has a two way sound system. It's very well packed and the instructions are easy to follow. Check out the details here.
I was skeptical about this because of the low price compared to other products out there. When I saw that the app that they require you to use had only 5 ratings I got even more skeptical, but I went forward with the set up. Setting it up was easy and everything works really well! Read the full review here.
I LOVE my new TOOGE! I was definitely skeptical considering the price. However, the quality and ease of setting it up was amazing. I use this to keep an eye out on my pup while we're gone during the day. I set it up to let me know when he's moving (would also be great when you're out of town in case of someone breaking in, you would know instantly). My dog (or son) can hear me when I'm hundreds of miles away and I can hear them if they are close to the camera. The night vision is awesome. You can see very clearly. Check it out here.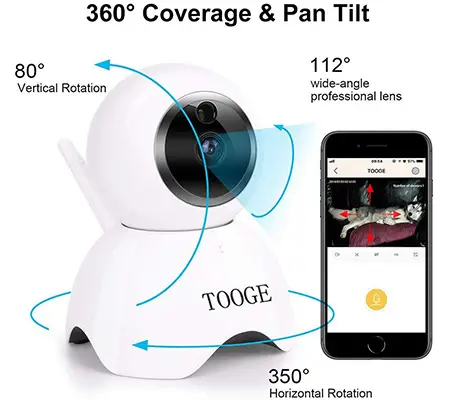 Check Amazon's Price
Alternative Options for Your Dog Camera
PetChatz and PawCall Video Camera For Dogs
The PetChatz HD dog video camera is one of the most advanced interactive pet cameras on the market. The added features and quality that goes into this product make it well worth the price tag. For pet owners like myself who often travel and miss their pets, this is an amazing device. Click here to read our complete PetChatz and PawCall video camera for dogs review.
SKYMEE Dog Camera Test Dispenser
This product brings high-quality video feed and the ability to dispense treats to your pets no matter how far away you are. The ability to share any saved moments from videos to pictures is accessible with this product as well. It comes at a much higher cost, however, but with the added features, the price makes sense.
WOPET Smart Pet Camera
Much is similar between this product and the SKYMEE camera. You have the ability to dispense treats to your pets as well as share any photos and videos taken while viewing them. A bonus of this product is the ability to toss the treats so the pets can play a sort of fetch with you. Again, a higher price is encountered with this product, but the added features justify the cost.
Furbo Dog Camera
Two-way audio, fun treat tossing capabilities, and an incredibly high-quality video feed are all features of this product. Furbo leads the way in the pet camera industry and their products showcase as to why this is. The Furbo Dog Camera offers all that the competing products do and more – for a higher price of course.
Conclusion
This pet camera is one of the best available on the market – if you find yourself away from home often and unable to be with your pet due to work or vacation, the TOOGE Pet Camera is a great fix to your problems. Often times we find ourselves stressed out and focused on the well-being of our pets while we're away. This pet camera is an affordable and great way to combat this anxiety while traveling. It has made my work life easier as now I can focus on the job and contact my pets at night when I get back to the hotel. No longer am I separated from my pets when I travel.