Keeping a high energy dog under control during walks is not an easy task. Unless your dog is very well trained, no doubt your dog will try to pull you in the direction he wants to go and almost completely dislocate your arm off in the process. Nowadays, there are harnesses that prevent that from happening. One of them is the TRUE LOVE Adjustable No-Pull Dog Harness.
Click Here to see Amazon's pricing for this dog harness.
Explaining "No-Pull" Dog Harness
A no-pull harness discourages a dog from pulling you around while you take your leisure walks at the park or around the block. A leash attachment in the front of the harness helps lead the dog towards you if he tries to pull away. It may not be the answer to stop him from pulling, but having a no-pull harness will definitely help in so many ways. The end goal here is for you and your dog to be able to take effortless walks with you in control.
Some of the things that you might want to consider when shopping around for the best dog harness would be:
Taking all that into consideration, let's take a look at the Truelove dog harness that we are featuring today.
Truelove Dog Harness Product Overview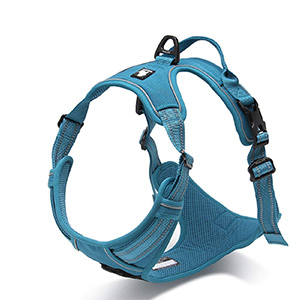 Check Amazon's Price
The TRUE LOVE Adjustable No-Pull Dog Harness is one of the major contenders in this category. This padded dog harness is one of the most expensive ones on the market. Made with high-quality material that can withstand chewing, high-load capacity buckles, and strong tensile strength that can withstand the pull pressure of even the heaviest of pullers. You are sure to love this reflective dog vest for your own furry companion.
Quick Glance
What's Good
Heavy Duty
Multiple Color Selection
2 leash attachments
Reflective Straps
What's Bad
Size Issues from Customers
Some users report chafing
A little heavy for smaller

dogs

Key Elements
TRUE LOVE has been producing these reflective dog harness vests for over 10 years now and is very hands-on when it comes to customer feedback and complaints. They have gathered all the information through the years and developed this No-Pull Harness for all our furry friends. Here are some of the key elements that TRUE LOVE believes will assist you with your pet's high-energy pulling:
Design and Comfort
Made with a durable, scratch-resistant outer layer and soft mesh inner lining this lightweight harness prides itself in comfort, load dispersion, and extended wear. It is sponge padded in the belly and chest area so your pup can enjoy wearing the harness all day. Linings are double stitched to prevent ripping from heavy pullers. Two buckle attachment makes it easier to put on your dog and no hassle taking it out.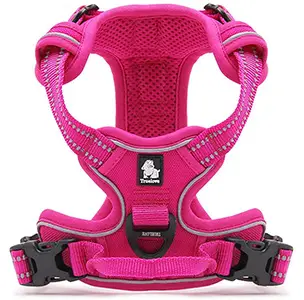 Check Amazon's Price
Strength and Security
Securing the harness is a light Duraflex buckle that can withstand heavy loads of pressure from your pulling dog. Another security feature of this harness is its 3M reflective strips on the straps to keep you safe on your early morning and evening walks. This front clip dog harness is equipped with an aluminum alloy D-ring on the back and a zinc-alloy O-ring in the chest part for maximum security when taking a walk. If you need extra control, a padded handle at the back can help you in sticky situations in busy streets.
Functionality
This harness has 2 leash attachments. One on the back and one on the chest. TRUE LOVE suggests that when using this as a beginner, use two leads rather than one to get the full value and performance of this harness. Top lead (back leash attachment) is to steer the dog in the direction that you want. Front lead (chest leash attachment) will act as a brake when your dog starts to pull. From there, when your god gets used to not pulling you, you can try to just do the top lead instead of both and see where you go from there. This is not a guarantee that your dog will stop pulling but it can manage the situation at hand whilst wearing the harness. Results may be different on a regular collar.
Customer Feedback
To give you a better sense of how this harness works in the real world, here are some reviews that might help you make your choice:
Shawn liked the easy on and off of this harness and even suggested the use of the front leash attachment.

This customer eventually came back using TRUE LOVE Harnesses after trying cheaper brands. He really liked the safety features of this harness.

Claire D. thought that this was just what they were looking for their dog. They love the elastic fabric on the belly of the dog.

Alternatives To The Truelove Dog Harness
Of course, this is not the only No-Pull Harness out in the market. There are a lot of choices that may or may not be the right fit for your dog. To assist you in making the best choice for you, here are some of the other harnesses. Let's see how they measure up.
Rabbitgoo Dog Harness No-Pull Pet Harness
Rabitgoo's Dog harness is also a heavy-duty No-Pull harness made with weather-proof material that you can use in many different types of activities like hiking, running, biking and trekking. It is equipped with two leash attachments to fulfill your needs and help manage your dog's pulling. However, some complaints are that this is not chew-proof and some stitches come undone after several uses. Check out our detailed review of the Rabbitgoo Dog Harness.
WINSEE Dog Harness No Pull
This is a No-Pull and Choke-Free harness to be used as a training tool to prevent your dog from pulling you while taking leisure walks. It is best for high energy dogs that love to go on adventures and hike. This harness is fully adjustable to fit your dog perfectly and avoid chafing on your dog's skin. It comes with an adjustable nylon collar. However, some users do not find any use for the collar included. Read more about the WINSEE No Pull Dog Harness here.
PetSafe Easy Walk Dog Harness
PetSafe's nylon No-Pull dog harness is for light to moderate pullers only. Since this is only made of nylon straps, heavy pullers might not get the best results. This harness is equipped with a leash attachment at the back and front of the harness to assist in correcting the behavior of your dog. Unfortunately, due to the lack of padding and softer material, some customers have reported some chafing and skin irritations on their dogs while using this product. Learn more about the PetSafe Easy Walk Dog Harness here.
Final Thoughts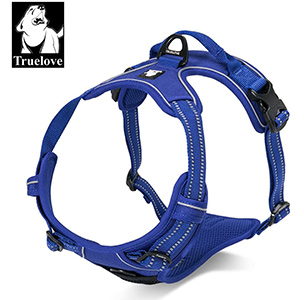 Check Amazon's Price
High-energy dogs are great but quite tough to handle without the proper tools. I know I've dealt with a couple of them in my household. The TrueLove adjustable, no-pull dog harness is a great option in the category of pet harnesses. While all of the types of dog harnesses mentioned above are great products on their own, a great pet owner is necessary to bring out the best in their dog.
CLICK HERE to check out the TrueLove Dog Harness on Amazon >>