You're away from home: traveling, working, watching over kids. The dog has to stay at home and this makes you feel guilty. How do you make your dog feel good in the meantime? There are special cameras that can recreate your presence. Those cameras are called pet cameras. Many of them look like security cameras but they're NOT basic security cameras. The difference is that they have two-way audio, which enables communication between you and your dog. You can hear the dog barking and the dog can hear you speak. Call your dog by their name, tell them they've been good and calm them down when they're barking. What more could you do?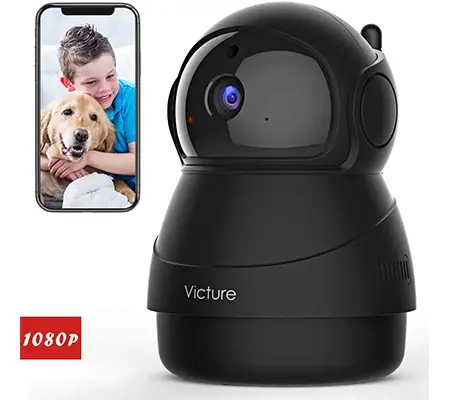 Dog cameras can be had for less than $50 – is that worth your dog's happiness? They connect to your phone and send push-notifications when something's up. Is your dog barking all the time? Tell them to calm down. If you have a baby in the home you can watch over your nanny with the baby and the pet. Your dog camera will give you a peace of mind because you'll know what's happening when you're away. You'll know your loved ones are taken care of when you're at work. Moreover, the camera can serve as a surveillance camera at night, recording for introducers with night-vision and keeping your safe at home. The Victure 1080P FHD Pet Camera is a perfect example of a simple dog camera for the home.
Things To Consider Before Buying Victure 1080P FHD Pet Camera
Victure 1080P FHD Pet Camera Quick Glance
What's Good
1080P HD video and live-streams it directly to your phone
4X optical zoom
Works as a surveillance camera
Super Night Vision
Storage encryption
What's Bad
Bare-bones functionality
Not the best camera for dogs
No dog treat dispenser
No two-way video
How Is A Dog Camera Different To A Surveillance Camera?
Dog cameras differ to regular surveillance cameras because they have audio inputs and outputs. In effect, they enable communication between you and the pet. You can say "Atta Boy" when your dog is behaving well and the camera can alert you when the dog starts moving or someone enters your home. Most security cameras don't have audio capability due to Federal regulations or the manufacturer simply didn't bother with it. The highlight of dog cameras is the audio functionality which enables crystal-clear, two-way audio communication between you and your dog.
Moreover, the distinction between dog cameras is miniscule: The main difference is the treat dispenser. If a camera has the ability to launch treats, it will cost 2-3x as much as a basic dog camera. The camera functionality is the same. The Victure is a dog camera without a launch feature. This is why it costs a lot less than other cameras such as the Petcube Bites.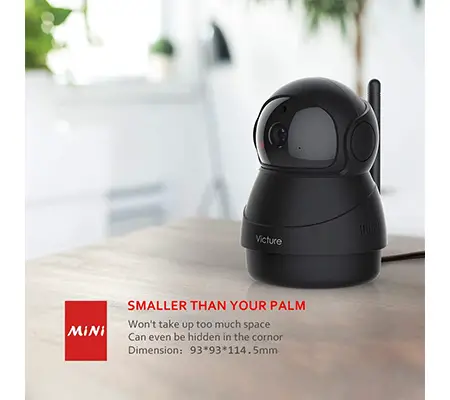 Can The Dog Camera Be Used For Cats?
Yes. Cat owners can watch over their cats with a dog camera. Certain cameras have laser toys to entertain the cats. The downside is that cats are hyper animals that can jump around often and this activates the motion sensor on the camera constantly.
Why Get A Dog Camera?
Dogs view you as the pack leader and they're attached to their leader. Separation from the leader huts dogs and in certain dog breeds causes separation anxiety. When a dog gets anxious, it starts excessively barking, chewing to destroy and displaying general signs of nervousness. The dog has to hear your voice to get reassurance everything is fine and you can achieve this using a dog camera.
What Features Should I Look For?
Dog cameras should have HD footage of 720P at least because live-streaming degrades the quality and you need a high resolution to transmit decent video to your phone. Of course, the dog camera has to have two-way audio to allow you to communicate with your dog. The best cameras have night-vision and infrared sensors which allow you to see in pitch black. If someone breaks in your house and the lights are out, the camera will still pick up on the motion and send you a push-notification. Victure WiFi has "Super Night Vision" which helps you capture footage and upload it online or save it on a SD card locally.
Victure 1080P FHD Pet Camera Features
The Victure 1080P FHD Pet Camera was design to be used as a dog monitoring camera, a baby monitor and a surveillance camera simultaneously. The Victure 1080P FHD Pet Camera has "Smart Motion Detection" which allows you to monitor motion in front of the camera and send alerts to your phone. The camera can identify when the dog is running, when your baby is crawling or when an introducer enters the house. The owner receives instant push-notifications on their phone which keeps them updated on what's going on in their house constantly. Best of all, the camera has 1080P HD recording giving you a clear view during the day and night.
In terms of design, the Victure 1080P has an identical design to every other surveillance camera out there. There is nothing spectacular about the design. It looks identical to other security cameras. It's compact, discreet and only 11cm/4″ long. This means you can mount it pretty much anywhere in the home.
Video 1080P HD & Audio Quality: Spot On?
The Victure records 1080P HD video and live-streams it directly to your phone. The quality is excellent, as you'd expect from a new-generation surveillance camera. Now here's the standout part: The Victure shoots 120° wide at the base level, which can also be tilted and aligned up and down. In essence, you can cover the entire room without any blind spots. Notice anything on the screen that you want to get a better look at? The camera has 4X optical zoom, allowing you to zone-in on any specific point of interest.
Victure's audio clarity is superb. We were able to communicate clearly when we ran our tests and the audio features "anti-noise" technology which allows you to focus on the subject at hand and reduce side interference. Example: You can hear the pet barking instead of the police sirens outside. The microphone is 48dB built-in and the speaker is fairly loud, allowing your dog to hear you clearly. The whole family can be connected to the system and communicate with the dog via the Victure app (iOS/Android compatible).
Motion & Infrared: Works As A Surveillance Camera
The Victure WiFi camera enables two-way audio communication but also features advanced surveillance capability with motion-detection. Burglars broke in your home at night? The motion sensor will pick up on movement and alert your phone immediately, allowing you to call the police or react. The camera can be motion-activated and take alarm videos for your phone. The footage is streamed directly via the cloud or saved on an SD card. When the dog starts running around, this is identified as a motion and owners get an alert via the app.
The Victure has "Super Night Vision", featuring 8 hidden infrared LED sensors that pick up on motions in complete darkness. Worry about movement in front of your home? Even if your front entrance is unlit the camera will pick up on any activity in the neighborhood. The same applies in the interior: The lights could be turned off and the camera would pick up on all motion and record footage. The night-vision technology allows you to see up to 30 feet away from the camera's location. You don't have to keep the lights on to keep recording.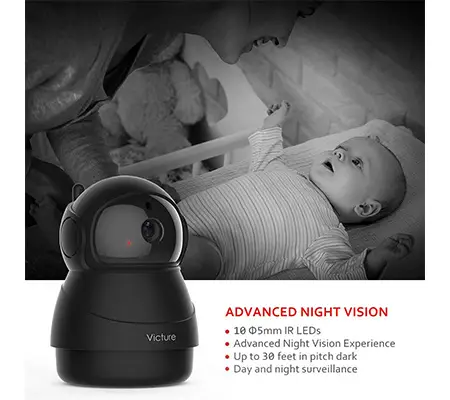 Storage Encryption: Is Your Data Safe?
Surveillance-camera audio can be creepy: What if someone hacked into your camera and talked to your baby? You need encryption. The WiFi signals that get transmitted can be intercepted by anyone on the street, if they're left unprotected. To protect the data, you must either get encryption or save on a local memory card. The Victure provides cloud encryption for footage you stream or save on the cloud (Note: Only for the first month, other months are billed). The camera also has micro SD card encryption. You can only access the content with permission from your account on the app. Even if someone stole the SD card, they wouldn't be able to access and watch the content.
Mounting & Assembly: Easy As Pie
The camera comes in a large package that includes all your power cords and mounting hardware. It takes under 2 minutes to mount the camera on a surface in the home and the instruction manual explains how to mount it to typical areas such as the wall, table of ceiling. Users only have to plug in the power cord, download the app and connect via WiFi.
Economic Factor: Real Money-Saver!
The Victure 1080P FHD camera provides the same quality footage as much more expensive cameras, yet it's a real saver and can cost 2-3x less than a camera with a treat dispenser. The lack of a mechanical treat launcher brings down the price significantly, and yet it allows you to communicate with your pet in an identical manner to more expensive cameras.
The manufacturer provides a 12-month warranty on all parts and services since the purchase date. The company also offers 24/7 customer service in case customers have questions or run into factory defects.
What Are People Saying About The Victure 1080P?
The Victure receives RAVE reviews by customers: It's currently as 4.5 star product based on hundreds of reviews. Dog-owners love this camera! It's got the functionality and the price. The main selling point is the encryption and optional local storage for security at a low cost.
Victure 1080P: Inside The Package
The Victure package provides the main camera including assembly hardware. The following is found inside the package:
Victure 1080P FHD Camera
Pan-Tilt Device
Mounting Screws
Power Cable
Power Plug
Instruction Manual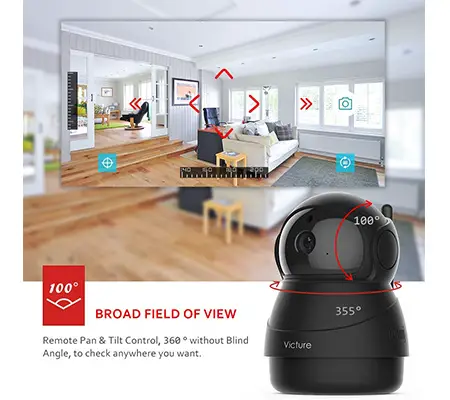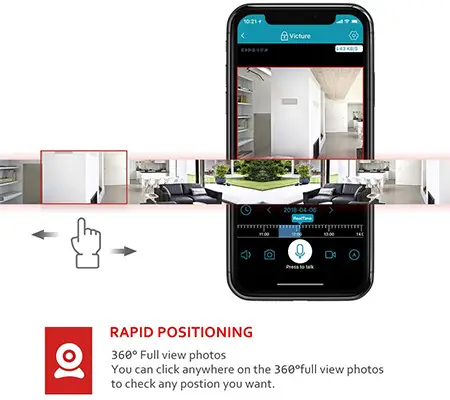 Downsides To Victure 1080P?
This camera is excellent for people who want the bare-bones functionality, without compromising on features such as encryption. However, this is not the best you can do in terms of dog cameras. The Victure is still on the "economical" end of cameras only providing monitoring capability. Many cameras can disperse treats and some even have two-way video such as the premium PetChatz HD Camera.
The Verdict – Buy The Victure 1080P Or Skip?
The Victure 1080P has excellent 1080P video streaming, great audio output, tilting/angling, night-vision sensors, motion sensors and encrypted storage. This makes it good for light monitoring and surveillance at home. An alternative pet video camera to consider is the Conico Dog Camera. Click here to view our complete review of this pet video camera.
However, if your dog is a very anxious breed such as small dog that can't stand prolonged separation, you should consider investing in a more expensive camera with a treat launcher or a two-way video output. For regular dogs who take separation lightly that you want to check up on occasionally, the Victure should be more than enough.