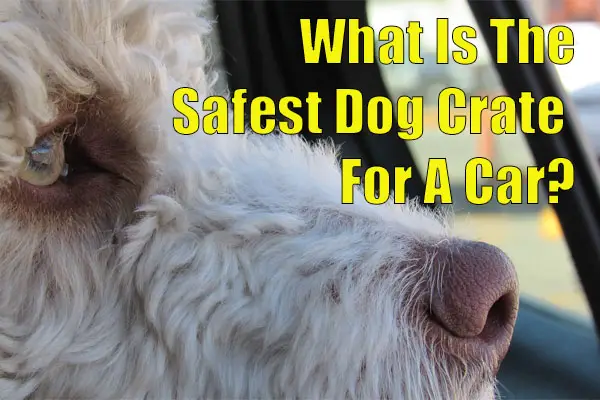 For someone who has tried to travel with a dog in a car, you know how difficult, albeit impossible it is to force the animal to sit still. You do not want it to be continually moving or pacing around, especially when you are the one driving. Letting it move on its own while you drive is so risky that many states deem it as illegal, more so if you put the dog on your lap while driving.
No matter how inconvenient driving and traveling with a dog is, you have no choice since you cannot dare leave your beloved pooch behind. But it does not mean you should break the law or do something that will put you in danger so that you can take your dog with you. The most practical way of solving your predicament is by putting your canine buddy in a crate.  This article discuss the benefits of a dog crate and what to look for when buying a dog crate. You can also check out our article that talks about airline travel with your dog.
Benefits Of A Dog Crate In A Car
The investment in a crate makes the most sense. Aside from preventing the animal from moving freely and without control, it also guarantees that your attention is on the road. You do not worry about scary scenarios like your pup's head hanging out on the partially open window or when it tries to sit on your lap, causing you to lose control of the steering wheel. An unrestrained dog in a car is too great of a risk. The crate will put all those concerns to rest.
Aside from safety, the use of a dog crate also leads to these benefits:
It Means Less Mess Inside The Vehicle
Dogs are a mess, regardless of where you put them. The last thing you want is to let it sit on your car's upholstery. The next thing you know, it already started munching on the leather or fabric seats. Dogs tend to destroy things around them when they are panicked or stressed. Putting them in a crate minimizes the possible damage and mess inside the vehicle.
A Dog In A Secure Crate Will Not Distract You
Even if you are traveling with your wife and kids, it does not mean that you no longer get distracted by a dog in the backseat. Just by thinking of the ways that a pet can wreak havoc will prevent you from getting undivided attention while driving. But if you put the animal inside the crate, you know that it will not jump on your lap, scratch the upholstery or sidings, or jump out of the window.
Buying The Best Dog Crate
At this point, there no longer is a question as to the practicality of having a dog crate when you decide to go on a road trip with your pooch. Now your focus should be on buying the best type of crate. Dog crates come in different material construction, sizes, and types. Some dog owners buy a crate for comfort and convenience, while others emphasize safety. For your part, there is no question that safety is of foremost importance.
The best dog crate for car travel must possess these attributes:
1 – Durable
Any material that contacts a dog's paws and teeth will eventually give in to wear and tear. This is quite true if your four-legged buddy likes to scratch and bite when it is an uncomfortable situation. Luckily for you, some dog crates are designed to withstand wear and tear better than others. Your choice here is a dog crate made from heavy-duty plastic or metal. You can only go for soft material carriers like the ones made in fabric or polyester if your dog is small and behaves well inside it.
The durability of the crate also contributes to its safety. A heavy-duty crate made from premium quality plastic or metal is less likely to give your pup a chance to escape from it.
2 – Right Size
The safest dog crate for a car has enough interior space for your dog to stand up, sit down, and stretch comfortably. Pick a crate that lets your pooch move around freely. Not many dog owners realize that the primary reason why the animal likes to scratch or bite off the sides of the crate is that it is not comfortable inside. The lack of space makes it feel claustrophobic and dizzy.
The first time I bought a crate for my dog, the shop owner told me to get something that has at least five inches of allowance, both in length and height. I did not understand the purpose at first, so I bought something smaller. It was a disaster, to say the least. My dog had a panic attack immediately after putting him inside the congested crate. I knew that the size was the issue because when I bought a bigger one, my dog went in comfortably and with no fuss for the entirety of the trip.
3 – Bevy of Security Features
You can only call a dog crate safe if it comes with the essential security features, especially those designed to work in cars. Avoid buying a dog crate with a one-latch closure, especially if you own a clever dog that can find its way out. Also, a one-latch closure type of crate is not suited for a bumpy car ride since it might get loose. Instead, find a crate that is equipped with at least two latches. If you cannot get one, a crate with solid zippers is the next best thing.
Choose a crate which attaches to your vehicle securely. It can be a strap linked to the headrest or something that connects to the seatbelt. The idea of these reinforcements is to prevent the crate from moving and sliding, especially when you must go through bumpy roads or sharp curves.
4 – Comfortable
Do not forget about comfort, though. Some dog owners think that if they choose a durable and safe crate, it means that they must sacrifice comfort. The best dog crates designed for car travel does not compromise comfort. Find one that has plastic or metal sides but reinforced with soft padding on the sides. Keep in mind that dogs will only feel at ease and secure during travel when the crate gives them the comfort that they deserve.
Final Thoughts
You realize by now that not all dog crates are meant for car travel. So, a crate designed for air travel strolls in the park, or short trips to the vet may not be the one suited for an extended road trip. The way to buy the best dog crate is by understanding its primary purpose, which in this case is for car travel.