Most airlines let people travel with pets and even allow pet owners to bring their pets in the cabin. An in-cabin carrier must be small enough though for it to be stowed under the seat. So, if you have a small dog like a Pomeranian, chihuahua, or poodle, then you are in luck. In this article, we answer the question, "What size small dog carrier will fit under the plane seat?"
Important Note: Certain breeds of pets (cats and dogs) aren't allowed for air travel. For instance, many airlines do not allow snub-nosed or brachycephalic breeds because they are prone to breathing difficulties and respiratory issues during air travel.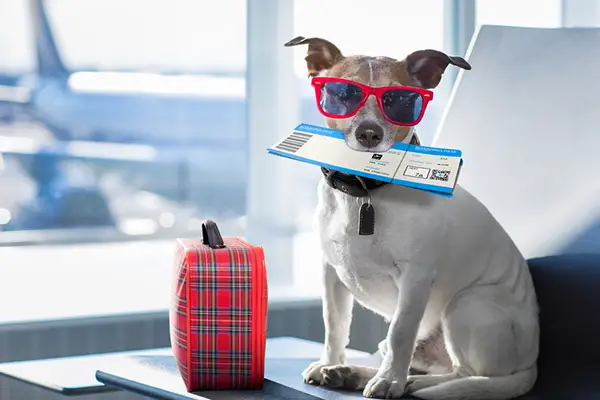 Another Important Note: Large dog breeds are not supposed to be in the cabin simply because they won't fit under the seat. If you need to fly with a larger dog, you can still do so, however, they need to be checked baggage.
What is the Right Size Dog Breed For Travel In A Plane?
If you wish for your dog to be placed under the seat during air travel, then the first thing you must understand is that it is only possible if your pooch is considered a toy, small, or medium-sized breed. You can say that the carrier is of the right size when your four-legged buddy comfortably and conveniently sits or stands inside without his head brushing off the top.
Aside from standing comfortably, your small dog must also be able to lie down and stretch. You know that the pet carrier isn't the ideal size when it does not fit under the plane seat, and your dog's legs are protruding.
Related post: Best Small Dog Pet Carrier
Choosing the Ideal In-Cabin Carrier for Your Small Dog
When it comes to choosing the best available in-cabin carrier, you must understand that it isn't just about the fact that it fits under the plane seat. You need it to have the convenience and safety features to make the travel as convenient and stress-free as possible. With all those fancy add-ons you see in online ads, you're probably unsure which features are usable and practical. You see, not all features are useful. The one thing you must avoid is buying an expensive small dog carrier with useless features.
Best In-Cabin Pet Carrier For Dogs & Cats
Henkelion TSA Airline Approved Small Dog & Cat Carrier
Airline-approved design
Has an adjustable shoulder strap for hands-free carrying
This pet carrier is made of durable and lightweight polyester fabric.
Four-sided mesh for safe and comfortable travel.
This pet carrier is easy to carry and store
Comes in several sizes.
Click Here for Latest Price
Buy a small dog carrier with leak-proof features and added ventilation. You may choose a soft-sided or hard-sided version. However, you don't want the soft-sided carrier for a dog that likes to bite and chew on stuff when it is stressed out because it will likely munch on those soft components while you're on the move.
Ventilation is crucial for pet carriers because it influences the comfort level during travel. Avoid a small dog carrier with very little air pockets and vents because it will make your pet feel claustrophobic. The last thing you intend to see is a dog visibly having a difficult time breathing.
Dimensions: What Size Small Dog Carrier Will Fit Under the Plane Seat?
Most airlines have specific requirements when it comes to the allowed size for in-cabin pet carriers. A handful of companies will allow a small dog carrier under the seat, provided that it is not larger than 18.6 x 8.5 x 13.5 inches. It means that any dog carrier with larger dimensions isn't allowed. The reason why airline companies have these regulations is that they don't want other passengers to complain about the inconveniences of having a dog carrier or crate impeding access to the aisle.
Important Note: Do not assume that under-seat storage spaces in the same plane are the same. What it means is that the window or aisle seat may have a smaller storage area compared to the middle position. It is why you should call the airline in advance to know the dimensions of the under-seat storage for the specific seat assigned to you.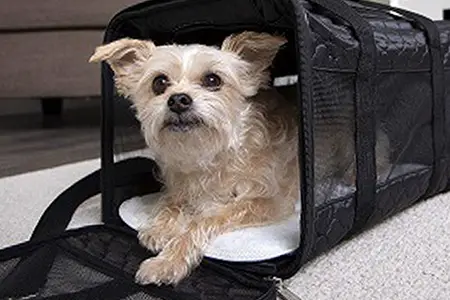 Even with seemingly strict requirements, you should be happy when the airline allows you to bring your small dog in the cabin. It is something you'd prefer any day to that of having the pooch placed as baggage. You never will know what happens to the pet when he's alone and has no one to comfort him once the plane flies.
The Value of Airline-Approved Pet Carriers
You know by now that the only way for you to travel with your furry buddy on a plane is if you use a small dog carrier. But it is not just any carrier or crate. You need something that is airline-approved and can conveniently fit under the seat. You can't undermine the value of an airline-approved carrier because it serves as your dog's ticket to the flight.
An airline-approved carrier isn't merely about the right size. You also should choose a durable and high-quality fabric material. You do not want your small dog carrier to fall apart and rip off right in the middle of a plane ride. It's not that difficult to figure out if the product is well-built and constructed. The one thing you can do is to list renowned brands.
As I mentioned earlier, you must choose a pet carrier with sufficient ventilation. Keep in mind that your furry buddy is already inside a crate, and putting that crate under the seat will make things a bit more uncomfortable. You should at least try to mitigate the situation by choosing a carrier with breathable features. You want the dog to be able to breathe and see you through the mesh or vent.
Once you determine the right small dog carrier based on size and breathable features, you also must think about your convenience and comfort. It's no secret that traveling with pets is a hassle, and it's the reason why you should bring a carrier to make the experience as convenient as possible. When choosing the ideal carrier, consider how you want to handle and transport it. Some carriers have flexible designs that allow you to use them as rollers or carry them like a backpack.
What Size Small Dog Carrier Will Fit Under the Plane Seat – Final Thoughts
The invention of a pet carrier is heaven-sent. It means that you no longer have to leave Fido behind when you're flying to another destination. But be careful to buy the best pet carrier for airline travel by purchasing the correctly sized pet carrier. We hope the information you received in this article, "What Size Small Dog Carrier Will Fit Under the Plane Seat?" helped you make the best decision.
Amazon Best Rated Products - Last Updated on 2023-12-10. DISCLAIMER: Some or all of the product links on this page are affiliate links. The operator of this website received a small commission if you purchase products through these links, HOWEVER, there is no added cost to you. These commissions help to fund the operation of this FurryFriendsGear.com