The WOPET Smart Pet Camera is an incredible way to stay connected and in touch with your pet, even when you're not around. It lets you keep an eye on your animal, while simultaneously providing a built-in microphone and speaker, and the ability to give them treats. The camera has a wide range of features that are great for those who work during the day, who hire pet sitters, and for those whose pets are prone to getting into trouble. Check out our complete WOPET smartfeeder review below to learn about all the great benefits and features that the WOPET automatic pet feeder offers.
WOPET Smart Feeder Review: What to Consider Before Buying
Buying a pet camera can seem like a bit of an investment, but there are many beneficial reasons to purchase one. The camera is excellent for those who are worried about leaving their dogs home alone for long or short periods of time. Many people who purchase pet cameras have animals that are elderly, have more extensive medical needs, or who are not great at being home alone. The pet camera allows you to keep tabs on them and interact with them via a camera and a two-way microphone. It also lets you deposit treats to give them a little pick me up throughout the day.
Pet cameras can also be great for those who frequently hire pet sitters to come to their house. It can help keep tabs on when a pet sitter comes by and feeds and walks your dog or cat and can be great for staying connected to both the sitter and the animal.
Most pet cameras can be accessed through a smartphone, and some can also be set up to connect with a computer. It enables you to tune into your pet throughout the day from afar, whether you are at work, at the store, visiting family, or anything else.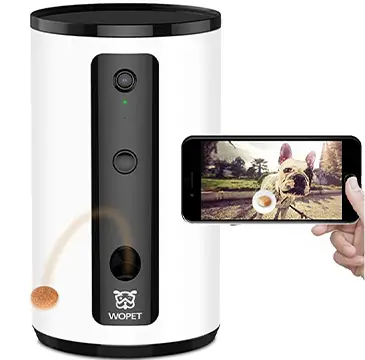 What is the WOPET Smartfeeder Pet Camera?
The WOPET Smart Pet Camera can be set up just about everywhere to monitor and interact with your pet remotely. It has two-way audio, lets you dispense treats for them, and ensures high-quality images. It is also incredibly reasonable prices, so it is accessible to a wide range of people.
WOPET Smart Camera Quick Glance
What's Good
It has a built-in advanced microphone and speaker for two-way audio interaction.
It has a Full HD Camera and Night Vision.
It lets you get Livestream video to monitor your pet, even in the dark.
Ensures clear and high-quality images in any setting.
Allows you to toss treats to your pet through the app.
It is compatible with iOS 7.0 or Android 5.0.
It can connect to and be used with your home Wi-Fi.
It comes with a 12-month warranty and around the clock technical support.
What's Bad
It requires a stable internet connection and will disconnect if your Wi-Fi is not reliable.
The camera is stationary and does not adjust, so however, it is set up is the angle it will display all-day.
It requires your home Wi-Fi network to be at a 2.4GHz frequency for all of the features to work.
WOPET Automatic Dog Feeder Features and Benefits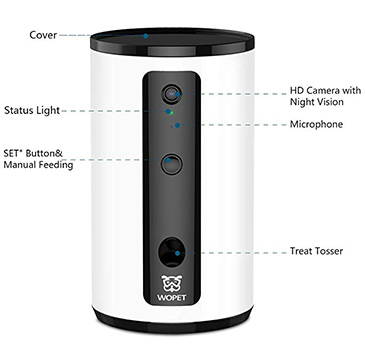 The WOPET Smart Pet Camera has many great features that separate it from other pet cameras and make it an appealing option. Here are a few of the best features that our WOPET smartfeeder review addresses. Keep reading to learn why they're incredible for both you and your pet:
Full HD Camera and Night Vision
The Full HD Camera allows you to live stream video content and monitor your pet at the highest quality. It also provides a wide-angle view, so you're able to see the whole room and a much wider track of space. Additionally, it has a system that works to ensure clear and high-quality images at any time of the day and any lighting. It also has night vision, so it is able to function even in pitch black and provide a clear image. The night vision provides high-quality photos without disturbing your pet as they are being monitored.
Two-Way Audio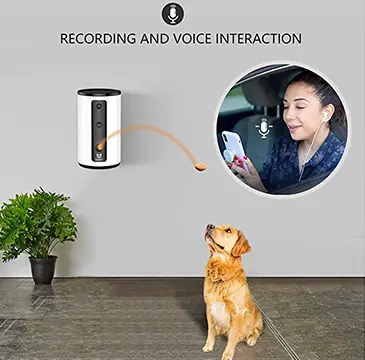 Two-way audio is a fantastic feature that is not often present in pet cameras. It allows you to not only monitor and listen to your pet but also to send voice commands and talk to your animal while you're not home. This has a variety of benefits. It can help you calm your pet down when a pet sitter is coming by for the first time. It can also help you give directions to a pet sitter in real-time while simultaneously getting to interact with them over video. For my dog, in particular, this is great for preventing her from getting lonely. Most pets love to hear the voice of their owner and will perk right up.
Easy Setup
You can start using this pet camera within a few minutes. It has a power adapter with an easy setup, only involving three simple steps. First, you have to plug the product into a power outlet using its USB cord. Then, you download the WOPET app. Last, you connect the product to your home Wi-Fi, and you're all set to go.
Treat Tossing
One of the perks of this camera is that it lets you toss treats to your pet from afar. You can do this via the app on your phone and fill it up with your pet's favorite treats or even an assortment of a couple of your pet's favorite treats. I love this feature because it helps keep my dog happy when I'm not home and helps her warm up to a potential pet sitter.
Excellent Warranty
This product has not only a 30-day money-back guarantee but also a 12 months warranty. This shows that they are confident in their product and are willing to refund you if you are unhappy. They are also willing to replace the product if it breaks or malfunctions within the first year of ownership.
Special Concerns
It is important to remember that everyone's pet is different, and everyone's pet responds to and adapts to different products differently. Some dog breeds who connect heavily with voice may get very excited just by hearing your voice through this product. For others, it may not be enough to quell separation anxiety. It is also possible that your pet may not like this product or adjust to liking it. Each pet has their own preferences and their own means of connecting. On the bright side, even if this is not an excellent option for your pet, there is a 30-day warranty, so you can quickly return it if it is not working out the way you would.
WOPET Smart Pet Camera User Reviews
Those who have purchased the WOPET Smart Pet Camera have written overwhelmingly positive reviews. Here are some of the favorite features that those who are a fan of the product commend:
Reviewers are pleased with the quality and wide-lens of the camera. Because it has a wide lens, it can include a view of the entire room, so your pet won't have to be confined to a small space for it to work.
Reviewers are happy that the camera can both be placed on the floor or attached to the wall. This can ensure that it is out of reach if your pet is apt to chew on the camera or its cord.
Reviewers found that this product significantly calmed their nerves when they were leaving elderly or sick pets home alone. They were able to watch their animals and make sure that they were doing well all throughout the day.
Reviewers found that the app and product were both incredibly easy to set up and use, so those with technological competencies on all levels were able to utilize the product.
Reviewers were happy that they were able to interfere with and correct their dog's negative behavior in real-time. For instance, one reviewer has a dog who often chews on the blinds and was able to scold their dog through the two-way microphone to reinforce positive behavior.
Alternative Options To The WOPET Automatic Pet Feeder
For those who are looking for a pet camera but may not be entirely sold on this option, there are also various other cameras on the market with their own unique perks. Check out our comprehensive review round up of dog treat dispensing video cameras for a full list of alternative dog treat dispensers. Here are a few top options:
Furbo Dog Camera
The Furbo dog camera features an HD Camera with 1080p that has a 160-degree view with streaming videos and night vision. Similar to the WOPET Smart Pet Camera, the Furbo Dog Camera also features two-way communication between you and Fido along with the ability to dispense treats! The Furbo is one of the best selling dog treat dispensers with fantastic consumer reviews.
SKYMEE Dog Camera Treat Dispenser
This dog camera and treat dispenser is around the same price and provides many of the same features, like two-way audio, a treat dispenser, and a Full HD Camera. However, it lets you take photos and record videos from the app and allows up to eight people to watch the live video at the same time. This is great for those who have a large household or multiple people who want to tune in to their pet's live stream. Read our full SKYMEE review here.
Here are some of the features that those who have purchased this camera rave about:
This product is compatible with Amazon Alexa.
It lets you take and share photos and videos.
It has an easy 3-step setup, similarly to the WOPET.
TOOGE Pet Camera
This camera is a bit simpler than the WOPET. It does not have two-way communication or treat launching. However, it is much less money than the WOPET, so it is excellent for those who have a smaller budget.
Here are a few of its perks that customers love about it:
This camera has motion detection and 24/7 recording.
It is set on a ball, so it can tilt, pan, or zoom in at a variety of angles.
It costs the same as a standard webcam.
PetChatz HD and PawCall
This camera is known for its breadth of additional function, and is more expensive than other camera systems but is able to do much more. It also has an addition, which is called PawCall, which is a feature that allows your dog to get in contact with you via barking or pushing a button. This is particularly great for those that may have pets that are needier or dogs that are larger and need extra protective features on the camera. This is perhaps the option that is most different from the WOPET, as it offers a slew of extensive features great for those whose pets need more attention.
Here are a few features that set it apart from other options:
It has a feature that lets your dog play games with light and touch puzzles and helps keep them occupied.
It has an on-call button that your dog can be trained to press to contact you.
It offers Dog TV entertainment to help your dog burn off some extra energy and occupy their time.
It has aromatherapy so it can help your dog calm down.
It can withstand up to 100 pounds of pressure so is incredibly durable and resistant.
It is pet safe and how no cords to chew on. This tends to be a big issue with some animals and can help prevent your pet from getting into trouble.
WOPET Automatic Pet Feeder Review Wrap Up
If you spend a lot of time out or just want to spend more time tuned in to your furry friends, purchasing a pet camera is an excellent option. It can help you keep a constant watch on your dog or cat and make sure that they're not getting into any trouble and are always tended to. It can help you keep an eye on a sick or an older animal so that you don't have to spend the day worrying about them. It can also help you stay in touch with your pet's needs and help your animal stay occupied and give them treats when you're not around.
Of course, every animal, household, and pet own vary. This is why there are multiple options for pet cameras, which each provide their own unique features. Finding one that works best for you and your pet might require a bit of research, but taking the time to select the right one is critical to reaping its full benefits. Getting to know the tendencies, needs, and schedules of you and your animal can help you find the best option and keep your pet occupied, happy, and safe.