My travel experience with my dog was the inspiration of this 2PET Foldable Dog Crate Review. Traveling with a dog sounds like fun until you try it for the first time and realize how inconvenient it is. I may have brought my dog with me countless times, be it by air or land travel, but I would be lying to you if I say that the first experience was a breeze. Frankly, I never thought I'd do it again after the initial try. We went to a vacation house for the weekend and decided to bring our Labrador Retriever with us. Well, describing the experience as a "disaster" is quite an understatement.
I didn't bring a carrier or crate with me. So, that was a mistake on my part.  It took us a while to bring the dog on another trip, but this time, we already bought the 2PET Foldable dog crate after researching multiple travel dog crates.  This review serves as you gauge in figuring out if you need a dog crate when traveling. But before we talk further about the product, I want to make sure you know what to look for in a dog crate designed for travel.
How to Choose the Right Dog Crate for Travel
From the moment you decide to bring your dog along for a road trip or weekend getaway, then you should immediately invest in a crate designed for travels. Although there are hundreds of choices out there, remember that not all dog crates and pet carriers are designed to withstand the inconveniences of travel.
When shopping for a dog travel crate, be sure to focus on these things:
Spaciousness
The last thing you want is to force or squeeze your four-legged buddy on a three-hour trip. The reason why dogs don't like being inside a crate in the first place is that it restricts their movement. If you want Fido to behave appropriately inside the car, put him in a crate that has enough space to lie down, stand up, and stretch. So, be sure you get the dog's height and length before you go shopping for a travel crate.
Material
Dog travel crates come in two varieties – one that's made from hard plastic or metal and the other built with fabric and reinforced with steel frames. If your dog has this nasty habit of biting or chewing on anything, then you should stay away from fabric-made crates. But if you have a well-behaved pooch, a soft-sided dog crate or pet carrier is the best option since it is light and portable.
Durability
Since you're spending your hard-earned money on something that is by no means cheap, then you should go all-in and purchase something that can last for a long time. The only way to make sure that you get a durable dog crate is by doing a ton of research. You won't run out of information since most companies sell their products online; it's up to you to do some comparison shopping.
2PET Foldable Dog Crate Review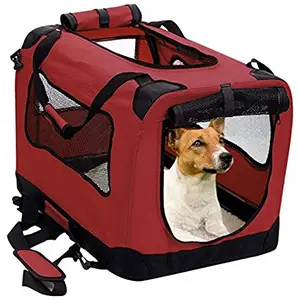 Although made from a soft fabric material, the 2PET Fold and Carry dog crate flaunts a water-resistant exterior and robust frame made from steel. The manufacturer pitches it as a capable and reliable product that can be used in both indoor and outdoor environments. With an Oxford 600D fabric cover, you can't go wrong with this pet travel aid.
Quick Glance
What's Good
Attractive design
Sturdy yet light
A wide array of sizes
What's Bad
Not ideal for destructive dogs
Specs don't qualify for air travel
Average quality mesh windows
Foldable Design
The foldable design is what makes this dog crate stand out from the rest. Since you can minimize its footprint by folding it when not in use, it means that you won't experience the usual inconveniences of bringing a dog along. It's a crate that fills your need to restrain and protect your canine buddy for outdoor excursions, visits to the veterinarian, and fun road trips.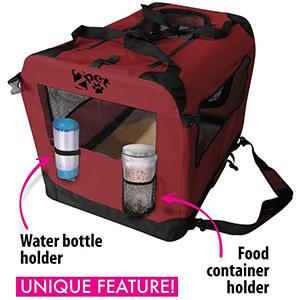 Multiple Sizes
Dog travel crates should come in different size options, and it makes sense because these pets vary in size, too. The good news is that 2PET understands this predicament, which is why its foldable dog crate is offered in multiple sizes, i.e., small, medium, large, XL, and XXL. We bought the XL one for our Labrador Retriever. Remember that you're better off purchasing a large-sized carrier instead of getting the small one. Some extra room for your pup wouldn't hurt.
Durable Steel Tube Design
The rationale behind a steel tube design is to steer away from a flimsy product that is reminiscent of most pet carriers made from soft material. Even if this crate is classified as a soft-sided dog carrier, it is reinforced by a lightweight and robust steel tube design that can withstand pressure and weight with no issues.
Equipped with a Top Handle
The nifty top handle makes perfect sense as you can convert this travel crate into a fully-functional pet carrier. The truth is that this feature is the reason why I decided to get the 2PET foldable dog crate after carefully weighing other prospects.
Easy-To-Clean Soft Fabric Cover
The sturdy steel frame is covered by a premium quality Oxford 600D fabric cover that can easily be removed and washed. This is an attribute of soft-sided dog crates that hard plastic ones don't get. Aside from being machine washable, the material is also water-resistant, making it an ideal carrier for your pooch on outdoor activities.
Full Frontal Zipper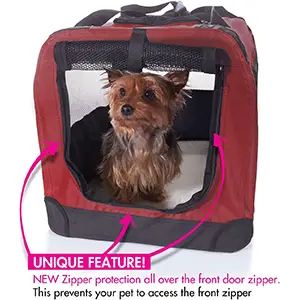 The full-frontal zipper may appear like nothing special, but it is an ingenious way of making sure that your dog can't get to it. It's a practical design feature for dogs that love to chew and munch on the soft material of the crate when they are restrained and uncomfortable.
Sufficient Ventilation
The bone-shaped windows aren't just for aesthetics. Coupled with the mesh panels, this 2PET dog crate offers by far the best natural ventilation I've seen. The air conveniently passes through the windows, giving your dog a relaxing time and room to breathe inside. This is especially helpful for dogs who quickly get claustrophobic when placed inside a tight space like a traditional crate or kennel.
What do Other Users Think of the 2PET Foldable Dog Crate?
If you're still on the fence on which dog travel crate to buy, these actual user feedback and 2PET Foldable Dog Crate Review comments can help you decide:
B. Brashear and his wife think they bought the best available dog crate that's perfect for a long road trip.

Brent S. recommends the product from 2PET as a multi-function dog crate.

The folding mechanism of the dog travel crate is what JPage is most impressed with.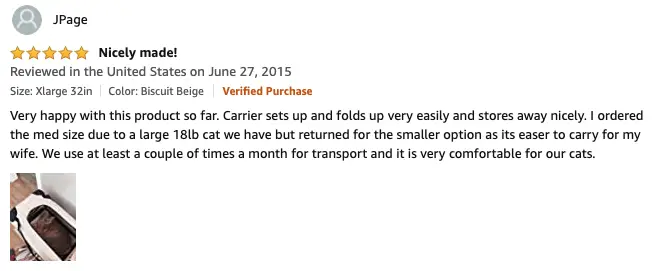 Alternatives to the 2PET Foldable Dog Crate
With lots of competition out there, you have the luxury of choosing a dog crate that addresses all your needs and provides a solution to the inconveniences of traveling with a pet. If you still want more proof to convince yourself that the 2PET foldable dog carrier is the right choice, then why not compare it with these:
Petmate Sky Kennel – If you want the complete opposite of the 2PET dog crate in terms of construction, then you might want to look at the Petmate Sky Kennel, which is made from a durable plastic shell. There's no doubt it is a big and heavy crate, but if your dog loves to chew on anything it could get its mouth on, this one is a viable option. See the features of this pet carrier here.
EliteField 3-Door Folding Soft Dog Crate – This product has a couple of similar features to the 2PET folding crate. First, its frame is made from durable steel tubes. Next, the covering comes in the form of a 600D fabric combined with hex mesh. This is almost the same construction and design. Learn the specifics of this dog crate by visiting this link.
Noz2Noz Soft-Krater Indoor and Outdoor Crate for Pets – Marketed as an indoor/outdoor pet travel crate, this product features a premium-quality tight-weave mesh fabric and lots of ventilation. I believe that its strongest suit is that it can hold a dog weighing up to 70 pounds. Only very few dog crates can equal this feat. So, if you have a large breed, this is an excellent proposition. Click here to read more about the Noz2Noz soft-sided crater.
Wrap Up
I enjoyed writing this 2PET Foldable Dog Crate review and I hope you got value from it. Regardless of how long the drive is, I feel confident that taking my dog with me will always be fun. But I don't recommend long trips without a dog travel crate. The 2PET Foldable Dog Crate made everything easy and convenient for my buddy and me. I'm sure you can't wait to do the same.
>> Click here to get current pricing on Amazon for this dog carrier <<