Whether you're planning on a weekend getaway or want to simplify your pet's feeding schedule, finding the best automatic dog feeder is an excellent option for dog owners. Automatic feeders give your dog the set portions and keep a regular feeding schedule, so you don't have to wake up extra early or measure your pet's meals several times a day.
There are several types of automatic dog feeders on the market. These include the simple food hopper option, which works with gravity to release food into a bowl, or a programmable dog food and water dispenser that automatically sets portions for your pet.
You'll find great benefits when purchasing an automatic feeder for your dog. It's a fantastic way to help control your dog's food portions by supporting a healthier lifestyle and monitoring how much they consume, depending on the type of product chosen.
When we reviewed various dog feeders with automatic functions, we found the following products to be among the best based on various factors, including quality, durability, value, ease of use, and effectiveness.
Related article: Best Dog Camera That Dispenses Treats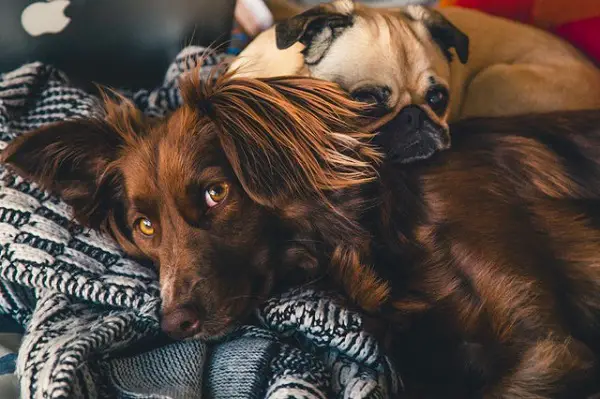 TOP 3 Best Automatic Dog Feeder Products
Best Automatic Pet Feeder for Small and Medium Pets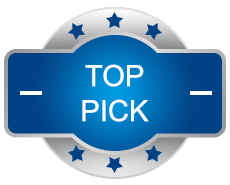 Hipidog Automatic Pet Feeder
Editor's Comments:
The Hipidog Automatic Pet Feeder offers a great cost-effective and durable combination. This product is ideal for small and medium-sized pets, including cats and smaller breeds of dogs.
Manufacturer: Fairy Tale
Size/dimensions:Two feeders, for food and water, both measure 15.27 x 12.64 x 7.32 inches
Main attributes:Made of eco-friendly materials, including durable rubber, and a weight of 3.32 lbs., which lasts for up to seven days, depending on the size of your pet
The Bottom Line:
Hibidog's automatic compact pet food and water feeders provide a cost-effective, easier way to feed small dogs and cats using a gravity-controlled hopper system.
What's Good
Dispenses adequate food and water for up to seven days, depending on the size of your pets, so that you can enjoy a weekend trip
It's easy to assemble and clean
No power source or batteries are needed, as the food and water are discharged using gravity
Made with environmentally friendly, non-toxic, and BPA-free plastic
Portable and fits into any space for your pets' convenience
Side handles make it simple to lift and move the feeders, which are lightweight
Both feeders are easy to clean and rinse with water, which only needs to be done once weekly
What's Bad
The food feeder is designed with a wide mouth, which means it discharges too much food at a time, resulting in overfeeding smaller dogs and cats.
Pets that eat a lot may need a larger automatic feeder
If you have more than one pet, you'll likely need two feeders for each cat and dog in your home.
Summary
The Hibidog Automatic Pet Feeder offers a great value product for pet owners, which is easy to assemble, fill, clean, and maintain to keep your pets safe with a consistent supply of food and water. The water and food feeder is constructed of durable, BPA-free plastic that you'll find easy to clean and prevent bacteria build-up and contamination.
Since the feeders release food and water through a hopper mechanism, which works with gravity, you can set them in the ideal location for your pets, without any need for electricity or programming when to dispense food into the bowl. These feeders are inexpensive and offer a great value in providing durable, consistent quality, so your pets are consistently fed while you're away.
In general, this low-maintenance, affordable set of automatic pet feeders is a great way to keep your pets healthy and well-fed during your weekend away.
Best Programmable Pet Feeder with Portion Control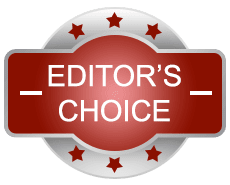 PetSafe Healthy Pet Simply Feeder for Dogs and Cats
Editor's Comments:
The PetSafe Healthy Pet Feeder offers various schedules to feed your dog or cat up to 12 meals per day with various settings for portion control.
Manufacturer: Water and Feed
Size/dimensions: 54 x 8.7 x 12.36 inches
Main attributes: Constructed of BPA-free plastic and equipped with a stainless-steel bowl, and the design is pet-proof
The Bottom Line:
The PetSafe Healthy Pet Feeder is a convenient way to dispense dry food for your pet while monitoring and controlling portions through a programming feature.
What's Good
You can schedule your pet's meals, up to 12 meals per day
Portions are flexible, so you can measure anywhere from 1/8 cup to four cups for each meal, depending on your pet's dietary needs and size
The feeder is pet-proof, so your dog cannot reach inside to retrieve dry food that's not yet dispensed
There is a slow-feed feature available to prevent your pet from overeating
It's constructed from durable materials, including BPA-free plastic, and includes a stainless steel bowl
All parts of the feeder are dishwasher-safe, except the conveyor system, which is easily cleaned by hand
The feeder works well with different types of dog food, including semi-moist wet and dry pet kibble
The brand, PetSafe, is globally recognized as a highly durable product designed for dogs and cats
The feeder is easy to assemble, disassemble, and clean to keep it safe and bacteria-free
This fully automated feeder allows you to keep your pets fed without manually providing food over the weekend or when you're away from home for more than a day
What's Bad
While the feeder accommodates most types of dog kibble, the food must not measure more than ¾ inches in diameter to prevent getting stuck
Batteries are not included with the feeder, which requires a power adaptor orfour D-cell alkaline batteries
The feeder is a bit more expensive than average, though it's durable and long-lasting
If you have more than one dog and cat in your home, you'll need more than one feeder to provide enough food
Summary
The PetSafe Healthy Pet Feeder makes it easy to provide your dog with accuratelymeasured portions of food while you're away for the weekend trip or working longer hours. This feeder operates with a power adaptor or four D-cell alkaline batteries, so you can easily program the portion size, dispensing frequency and choose the kibble you'll need for your pet.
While this feeder costs more than similar products, it's easy to use with a convenient scheduling system and is made with safe, durable materials that will last for years. The feeder is easy to disassemble for cleaning and sanitizing, so you can keep your dog safe from germs and bacterial growth, which is common in pet bowls.
One of the best features of the PetSafe feeder is the slow-feed option, which helps your pet curb their overeating habits, so they have access to a limited amount of food, in smaller portions, over more extended periods.
Best Wi-Fi Enabled Smart Pet Feeder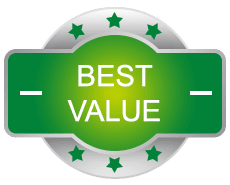 Wopet Automatic Smart Pet Feeder for Dogs and Cats
Manufacturer: PetKey
Size/dimensions: 6 x 14 x 14.2 inches, with a weight of 4.87 lbs.
Main attributes: The feeder features a panel display to conveniently program, with a transparent container for food and easy design to clean and assemble.
The Bottom Line:
The PetSafe Healthy Pet Feeder is a convenient way to dispense food for your pet while monitoring and controlling portions through a programming feature.
What's Good
Features a built-in infrared sensor system that provides an alert when the feeding tray is full
All parts of the feeder are easy to assemble and detach for cleaning and maintenance, to prevent bacteria build-up
Smartphone programming allows you to control your pet's portions anywhere you have Wi-Fi and phone access, with the option of battery backup in the event of a power outage
You can record a custom message for your pet that's up to 10 seconds in length. This message is played when the feeder dispenses food to comfort your pet by your voice.
The feeder is compatible with iOS 9.0 and Android 4.4 versions or later
There's a dual power mode option where you can use an adapter or three D-sized batteries
You can program up to 15 meals, with the option of personalizing your pet's schedule and helping them establish healthy eating habits
What's Bad
The feeder is suitable for dry kibble only
No batteries are included, though the feeder includes a power adapter
Some pet owners find the angle and size of the bowl is a bit of a challenge to feed larger pets
Summary
The Wopet Automatic Pet Feeder is one of the best smart food dispensers that's affordable and easy to use. It's the ideal product if you're comfortable using your smartphone app to dispense food and record personal messages for your pet when you're working late or away for the weekend.
All machine partsof this smart dog feeder are easy to disassemble and remove for cleaning and refilling, so you'll avoid bacteria and germ contamination when you refill the feeder. It's a great automatic feeder that offers customized options for your dog's feeding schedule while adding the personal touch of recording a message to keep your pet happy while you're away.
Overall, this smart pet feeder is a great, innovative product that's an excellent choice for pet lovers. It's an ideal option for dogs, cats, and smaller animals, allowing you to control dispensing from the convenience of your smartphone.
Best Automatic Dog Feeder: An In-Depth Buying Guide
Our top-rated automatic dog feeders all have durability, ease of assembly, and cost-effectiveness in common. While every model varies from manual functions that work with gravity to automatic, programmable options, you'll find all dog feeders are highly effective in ensuring your pets are adequately fed regularly.
The dog feeder you choose depends on your schedule, how you wish to set your pet's mealtimes, and the functions you're looking for in a product. If you're looking for an easy solution to feeding your pets throughout the day, a manual hopper-style feeder is suitable. In contrast, a Wi-Fi smart feeder or programmable option works best if you're planning a weekend away or working longer hours.
Your Dog
The main deciding factor for choosing a quality automatic feeder as a pet owner is your dog's health and dietary needs. If you're not concerned about portion control and want to ensure your pet is fed regularly, a simple hopper-dispenser or manual feeder that works with gravity is usually suitable. The size of your dog is another essential factor to consider, as smaller feeders may not adequately provide enough food for large-sized dogs.
Health and Dietary Needs
Suppose your veterinarian recommends a specific diet or portion control for your pet. In that case, a programmable feeder will give you greater customization to ensure your dog is provided with smaller, manageable meals. Dogs with specific health and dietary plans benefit from the smartphone-enabled option, which gives you the option of recording comforting messages for your pet while dispensing specific food portions.
Materials
While most pet feeders are highly durable, some are not as pet-safe as others. If your pet is prone to reaching into the hopper or parts easy to remove, this is important to consider when purchasing a feeder. Automatic pet feeders should be constructed with durable, BPA-free plastic and stainless steel materials so that they last longer and can be easily cleaned, detached, and reassembled.
Some feeders contain dishwasher-safe parts, which is another excellent feature. It's crucial to clean automatic feeders regularly, every week at a minimum, to ensure they do not accumulate bacteria and harmful germs that may harm your pets.
Frequently Asked Questions about the Best Automatic Dog Feeder
How long do automatic dog feeders last?
On average, most feeders last at least one year, though they can last much longer with careful maintenance and cleaning. Durable materials are vital to keeping the mechanisms protected inside the feeder, as well as keeping your pet safe. Many automatic dog feeders offer a limited warranty, which is essential to review before purchasing a product.
How can I train my dog to use an automatic feeder?
If your dog isn't accustomed to eating from an automatic feeder, leave it next to their bowl for a week or two, so they can get familiar and comfortable with the device. Some pets are quick to feed on the automatic feeder, while other dogs and cats may take a week or two to get used to it.
Dog feeders offer consistent food, which will eventually gain your pet's trust. Once your dog realizes the benefits of the automatic feeder, they won't fear it and look forward to each meal.
Can more than one pet share one feeder or cats and dogs?
Some pets are comfortable with sharing the same bowl, though ideally, it's best to purchase separate bowls and feeders for each pet. Each dog or cat in your home will get accustomed to feeding on one device and may not want to share their food.
How does a gravity feeder work?
A gravity feeder doesn't require a battery or a power adaptor. The kibble is filled into the hopper of the feeder, which is released a little at a time. Food is dispensed based on motion, which is detected when your dog feeds. The amount of food consumed determines how much kibble is released to replenish the bowl.
Once the bowl is empty, you'll need to refill the gravity feeder. It's generally a great way to feed small dogs and cats when you're away for a day or a bit longer.
Which type of automatic pet feeder is best for portion control?
Gravity pet feeders are an excellent solution for many pets, though if your dog tends to overeat and requires a diet or smaller, more controlled portions, a programmable feeder is a better choice. These feeders are programmed to release specific portions so that your dog or cat can only access a certain amount of food at a time.
Another advantage of using a programmable pet feeder is accessing the controls remotely through smartphones or mobile devices. If you have a pet sitter caring for your dog while you're away on vacation, you'll find the controlled portions of your pet feeder makes it easier to ensure your pet is fed regularly and at specific mealtimes.
Do automatic pet feeders improve your pet's health?
Automatic pet feeders offer the benefit of portion control, which can improve your dog's diet and health. They are also easy to disassemble and clean, which helps prevent bacteria and germs from contaminating your pet's food. You can also measure specific portions and control the amount of kibble that your pet consumes at each meal. Most pet feeders accommodate most smaller-sized kibble and pet food types, including specialized formulas recommended by the veterinarian.
Can I add moist pet food to the automatic pet feeder?
Some pet feeders accommodate various types of food, though it's best to use dry kibble only, as this type of pet food doesn't spoil like moist or wet food if not consumed too quickly. Dry dog food keeps well for several days, so if your pet skips a meal or doesn't eat everything right away, the food will keep fresh for a while. It's also best to avoid adding water to a food dispenser unless it's designed to provide water only. Typically, this is done through a separate feeder to keep dry kibble in its bowl or feeder.
How strong and durable is a pet feeder?
Most high-quality pet feeders are considered "pet safe," which means your dog won't be able to access the internal mechanisms that release food. This feature keeps your machine functioning well and your pets safe from getting stuck or harmed by reaching inside.
Amazon Best Rated Products - Last Updated on 2023-12-07. DISCLAIMER: Some or all of the product links on this page are affiliate links. The operator of this website received a small commission if you purchase products through these links, HOWEVER, there is no added cost to you. These commissions help to fund the operation of this FurryFriendsGear.com