Does your dog have persistent bad breath? It's a common problem for many dogs, which may be caused by many issues, including diet, tooth decay, and halitosis or periodontal disease. While bad breath may indicate an underlying health condition, most situations are quickly resolved with quality teeth cleaning formula with one of these best dog breath freshener products.
Halitosis is easy to prevent and treat in most dogs by regularly cleaning their teeth to prevent the build-up of plaque, tartar, and rinsing food particles that can cause bacteria to accumulate and spread. While serious health conditions require a veterinarian, most cases of bad breath are easily treatable with the right product.
Oral hygiene is an integral part of your dog's health, and there are great options to consider based on what's best for your pet. The most crucial criteria to look for in a product include:
effectiveness
ease of use
price
flavor
scent
You'll find the following products offer excellent results that adequately improve your dog's oral hygiene and breath.
TOP 3 Best Dog Breath Freshener Options
Best Product for Advanced Teeth Cleaning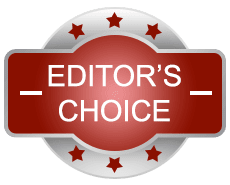 Dental Fresh Advanced – Dog Teeth Cleaning Formula
Editor's Comments:
Dental Fresh Advanced is an effective product that removes tartar and plaque build-up like a toothbrush in the bottle. This cleaning formula targets all your dog's dental issues to prevent contributing factors that cause halitosis, bacterial infections, and tooth decay.
Manufacturer: Dental Fresh
Size: 8 x 3.52 x 8.4 inches and just over 1.2 lbs.
Main Ingredients: Sodium bicarbonate, stabilized chlorine, purified water, sodium benzoate, potassium sorbate, methylparaben, and tetrasodium EDTA.
The Bottom Line:
Dental Fresh Advanced offers a significant plaque and tartar water rinse for dogs that diligently remove bacterial build-up and plaque to eliminate bad breath and brighten teeth. This product is affordable and easy to use once your dog gets used to the bottle brush application.
What's Good
It is effective in fighting periodontal disease and protects gums against infection
The product is affordable so that you can stock up on two or more bottles
Works well with pets with advanced dental problems, including swollen gums, halitosis, and discolored teeth.
It's easy to use and works as effectively as a toothbrush
Prevents bad breath and improves oral hygiene with regular use
Well suited for most breeds of cats and dogs
There's no sugar, alcohol, detergent, or solid and unpleasant flavors
Whitens teeth and protects gums
Thoroughly cleans all parts of the mouth, including hard-to-reach areas
What's Bad
Some dogs may not like the taste of the rinse, especially when added to their water bowl
A larger ratio of rinse may need to be added to water for effectiveness, which can use up one bottle quickly
It's suitable for adult pets only
Summary
The Dental Fresh Advanced teeth cleaning formula is a safe, effective rinse that works well for all levels of dental issues, including advanced halitosis and gum infection. This product effectively removes harmful bacteria so that your dog can enjoy good oral health with whiter teeth. It's an excellent rinse suitable for adult dogs, and most pets will drink it in their water, making it easy to administer.
With regular use, this formula effectively prevents a lot of dental issues, so you can save the cost of expensive veterinarian visits and eliminate bad breath. While some pets may not prefer the solution diluted in their water, you can use the formula with a toothbrush.
It's an excellent product to use regularly to prevent tooth loss, gingivitis, and other dental conditions, once they advance to tooth decay. You'll find this rinse does a great job of preventing bad breath in your dog and improving their oral health.
Best Oral Hygiene Chews for Dogs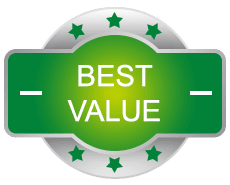 Virbac CET Enzymatic Hygiene Tablet Chews for Dogs
Editor's Comments:
CET Enzymatic Oral Chews is an excellent product that improves dental hygiene for dogs without using a toothbrush or rinses.
Manufacturer: Virbac Animal Health
Size: 9 x 3 x 10.25 inches, and a weight of 8.5 oz.
Main Ingredients: Beef hide, hydrolyzed vegetable protein, primary dried yeast, dried why protein concentrate, poultry digest, glucose oxidase, dextrose
The Bottom Line:
CET Enzymatic Oral Chews are among the top dental health products for dogs as an alternative to a standard rinse or toothbrush.
What's Good
Highly recommended by veterinarians as an effective way to maintain your dog's oral health
The product features a dual enzyme system that works to reduce plaque and tartar from accumulating on teeth
Dogs enjoy the taste, and it's easy to offer as a dog treat
Made with high-quality ingredients, including beef hide and a tasty poultry flavor
Provides adequate daily dental care for long-term benefits, including eliminating lousy breath
What's Bad
Recommended for small dogs only, between 11 and 25 lbs., as the product is more accessible for smaller breeds to digest
If your dog's oral hygiene indicates advanced tooth decay and gum swelling, this product may not be as effective
Summary
The Virbac CET Enzymatic Hygiene Chews effectively treatlousy breath while improving your dog's oral health. These chewable treats are made with quality selected beef rawhide that's coated in a poultry flavor that your pets will love. Virbac's product works by loosening the tartar and plaque build-up on your dog's teeth, which occurs during chewing.
These treats keep your dog's mouth fresh and clean, and they are especially effective in between brushing and rinsing. The chews are available in four sizes: small, small, medium, and large, so you can buy a larger quantity if you have more than one dog.
In addition to providing excellent quality ingredients and effective treatment for your dog's oral health, this product is recommended by veterinarians. Virbac is a leading manufacturer in providing quality products for cats and dogs. You'll find these treats are not only inexpensive but handy to offer your dog when you're short on time to brush their teeth or administer a rinse.
Best Breath Freshener Oral Care Spray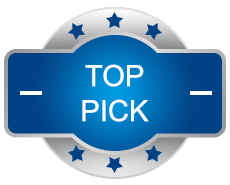 Gerrard Larriett Natural Dog and Cat Natural Breath Spray
Manufacturer: Gerrard Larriett Aromatherapy Pet Care
Size: 23 x 1.73 x 1.69 inches, and a weight of 9.59 oz.
Main Ingredients: Mint, baking soda, aloe vera
The Bottom Line:
The Gerrard Larriett Aromatherapy Pet Spray is an excellent alternative to standard oral hygiene products on the market.
What's Good
The product protects your pet's gum and teeth while preventing bad dog breath
There are no parabens in the spray
All ingredients are natural, cruelty-free, and offer a pleasant taste and odor
Effective for cats and dogs
Recommended by veterinarians as a natural and highly effective product that neutralizes odor and promotes oral hygiene
Only a tiny amount of spray is needed for best results
Prevents the build-up of plaque and tartar on the teeth
There are no alcohol or sweeteners contained in the spray
What's Bad
Some dogs may not enjoy the taste, which can make this spray challenging to administer
The spray may cause a gassy or gurgling stomach in some pets
Some pet owners find this spray is not as effective as administering the product as a dropper
Summary
The Gerrard Larriett Dog and Cat Natural Breath Spray is an excellent freshener that keeps your pet's breath and mouth clean. It's effective in preventing tooth decay, gum swelling and infection, and neutralizing odor. All the ingredients are natural and cruelty-free, with no additives, sweeteners, or alcohol.
One of the most effective ingredients in this dog breath spray is baking soda, which prevents staining on your pet's teeth, naturally whitens, and breaks down tartar and plaque. You'll find the mint flavor and odor deodorize breath right away, so your pet will have fresh breath with just one or two sprays.
Aloe vera, one of the main ingredients, helps moisturize and soothe your pet's skin. This natural plant extract is naturally anti-bacterial and helps fight infection and bacterial growth.
The dental spray bottle is compact and perfect for travel and portable storage. It's easy to use and only takes a few sprays to promote your dog's oral and dental health effectively
Best Dog Breath Freshener: Buyer's Guide
Our top products chosen for freshening your dog's breath are applied differently and work diligently to promote oral hygiene. While most dogs experience lousy breath sometimes, you'll find that by maintaining your pet's oral health, they will enjoy excellent hygiene and avoid tooth decay and gum infections.
When you choose a breath freshener for your dog, you'll find many products that cater to specific types of pets, including dog breeds. Some pets prefer a rinse diluted in their water bowl, while others may respond better to a beef hide chew or spray. Pet owners often try more than one product before determining which option works best for their dog.
Whether you choose a product with all-natural ingredients or prefer a dental chew for your pet, you'll find lots of great options that cater to your dog while supporting their oral health.
Your Dog
All dogs benefit from breath freshener products, though some sprays, chews, and rinses are formulated to work best with certain breeds and pet sizes. It's also important to consider how much you'll need for your pet based on their size, health needs, and if you have more than one dog and cat.
Specific products, such as sprays, tend to be compact and small, while chews and rinses are available in larger containers and may be better suited for several dogs or larger pets. You'll find that veterinarian-recommended products are often the best for your dog, as they have a proven track record of effective treatment.
Do you prefer all-natural ingredients without parabens? Is your dog picky and won't accept anything other than chews? There are many factors to consider, and you'll quickly find the best fit for your dog once they try one or more options.
Ingredients
Dog breath fresheners are safe and effective for your pets. One of the leading factors in choosing the right product for your dog is the ingredient list. You'll find a wide range of products that include ingredients formulated for sensitive skin, teeth, gums, and textured treats made with natural beef and flavors.
The top natural ingredients for effectively treating halitosis are baking soda and mint. Baking soda removes the plaque build-up on teeth while mint infuses a pleasant scent and taste to remove strong odor. If your dog requires a more potent treatment, your veterinarian may recommend a water additive or a particular formulated product to treat halitosis or gingivitis.
Vet Recommended
Always choose dog breath fresheners that veterinarians recommend. You can find further details on the reasons for the support from product reviews and through consulting with your dog's vet. Once you have a few quality options to choose from, it's best to determine what your pet prefers, so they can gain the benefits of regularly using this product.
Odor and Taste
A primary factor in selecting a great breath freshener for your dog is the odor and taste of the product. While some dogs respond well to mint-enhanced sprays and rinses, other pups may struggle with the taste and prefer a beef chew or meat-flavored treat that's textured to remove tartar and plaque from their teeth.
Some products offer over-powering scents and may not be ideal for you or your pet. For best results, try at least two different types of quality breath fresheners, and find which one your dog enjoys and what works best for both of you.
Frequently Asked Questions about the Best Dog Breath Freshener
Should I use the breath freshener more than once per day?
The amount of breath freshener you administer to your pet depends on the product, its strength, and what your vet recommends. Specific breeds, dental concerns, and hygiene challenges may require a more potent product or more frequent use. If you're unsure how often you can use the breath deodorizer, consult the instructions on the product and contact your vet for advice. At the very least, you'll find once daily is often the best way to keep your dog's oral health in check.
Can I use toothpaste for people on my dog to treat their breath and oral health?
No. Toothpaste is formulated for people and contains ingredients that are not pleasant for dogs if swallowed. Some of the most common side effects include digestive issues and stomach aches. Many toothpaste brands, including natural products, contain levels of sodium that can make your cat or dog ill if consumed.
While some toothpaste products may include the same ingredients as dog breath fresheners, specific items must be avoided as they are toxic to dogs. Xylitol is a natural sweetener that's often used in place of sugar, and while it's safe for humans, it can seriously harm your dog or cat.
If you prefer to use toothpaste for your dog, your vet can recommend some great options specially formulated for pets.
What are the causes of halitosis or bad breath in dogs?
Dogs suffer from bad breath or halitosis; there are a variety of reasons to consider:
Plaque, tartar, and bacteria buildup on teeth and gums, the most common cause
Particles of food not adequately removed, which may decompose and lead to decay
Gingivitis or a related gum infection
Tooth infection or loss
Oral tumors and loss of tissue in the mouth
Bleeding disorders, or an injury in the mouth that leads to infection
While most instances of bad breath are minor and easy to remedy, a persistent and pungent odor may signify a more serious health condition or illness. If you suspect your pet is suffering from a disease or chronic condition, it's best to inquire with a veterinarian and schedule a visit.
How do I treat severe tooth problems at home?
If your dog is suffering from serious tooth decay or gum disease, it's best to consult with a veterinarian to determine if medical treatment is required. In some cases of advanced dental issues, such as gum swelling and significant plaque build-up, a professional dental cleaning one yearly, followed by brushing your dog's teeth twice or three times daily, is recommended.
There are essential brushing techniques that you'll find helpful for effectively removing plaque and tartar. After each brushing, rinsing is another important step in flushing any bacteria in your dog's mouth.
When should I start treating my dog's breath?
If your pet doesn't have issues with bad breath, you'll still want to ensure they have good oral health with a proper diet, water, and a rinse or frequent brushing. If you haven't used a brush or breath treatment product, and you haven't noticed any issues with your pet's oral health, don't worry! You can begin anytime and try various products and methods to find the best dog breath freshener for your pet.
It's also important to feed your dog a balanced diet, with no sugar, high sodium, or additives that can impact your pet's oral hygiene and overall health.
Amazon Best Rated Products - Last Updated on 2023-12-07. DISCLAIMER: Some or all of the product links on this page are affiliate links. The operator of this website received a small commission if you purchase products through these links, HOWEVER, there is no added cost to you. These commissions help to fund the operation of this FurryFriendsGear.com