Everyone familiar with thick-coated dogs knows that they can often end up with clumps of matted hair all over their bodies. You can bring your dog to the groomer to get this taken care of, but not everyone has the money or even a flexible enough schedule to accommodate frequent visits to the groomer. In this article, you'll find the best dog clippers for matted hair.
Does this mean you shouldn't have a dog with a thick coat? Of course not! If you can't or are simply not interested in seeing your local groomer regularly, then you simply need to invest in a pair of dog grooming clippers yourself.
However, if you aren't familiar with the dog clippers available on the market today, figuring out which ones would be best for matted hair specifically may be a bit of an overwhelming task.
If you'd like some help narrowing it down, keep reading for our list of some of the best dog clippers for matted hair. Since these can be a bit expensive, we've also put together a buyer's guide to make sure you have considered everything before making your final decision.
Listing of the 5 Best Dog Clippers for Matted Hair
Best Dog Clippers for Matted Hair on Dogs with Short and Medium Coats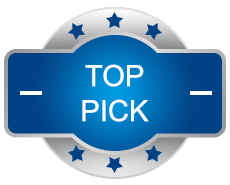 Wahl Professional Animal Bravura Clipper Kit
Editor's Comments:
Wahl is a well-known name in pet grooming supplies. The Wahl Professional Animal Bravura Clipper Kit makes lightweight, professional-grade clippers accessible to those wanting an effective way to deal with their short and medium-coated dogs' hair matted fur at home.
Manufacturer: Wahl Clipper Corp.
Dimensions: 6.25 x 4.5 x 10 inches
Weight: 0.55 pounds
Voltage: 100 – 240V
Blade Material: Stainless steel
The Bottom Line:
The Wahl Professional Animal Bravura Clipper Kit has a lot of really nice features, including the fact that it is one of the lightest clippers on the market today. While they would certainly work to an extent on most dogs, it probably works best for those looking to get matts out of smooth, short, and medium coat dogs.
What's Good
Exceptionally lightweight
Cordless and corded clippers option
5-in-1 blade to accommodate different cutting lengths
Kit includes 6 guard attachment combs, cleaning brush, blade oil, charge stand, charger, and storage case
90-minute battery runtime
Up to 5500 strokes per minute
What's Bad
Clippers may be difficult to fit into charging stand
Expensive
Guard combs won't cut under matts
Summary
The Wahl Professional Animal Bravura Clipper Kit is a great choice for those looking to get matts out of dogs with smooth, short, and medium coats. However, it is often used by professional groomers for sensitive areas on all types of dogs.
The included 5-in-1 blade can be adjusted to 5 different cut lengths to accommodate different types of coats: #9, 10, 15, 30, and 40. The only problem with this blade if you're using it for matts is that you can't really use the attachment comb with it, as they won't cut under the matts. They will get rid of them, though!
If you don't mind your dog getting a close shave, then you may also want this clipper set for its other great features: it has a 90-minute runtime, an LED battery life indicator, is super lightweight at only 0.55 pounds, and it works both corded and cordless.
Though it does come with a charging stand and cord, some people have complained that it can be tricky to get the clippers to sit properly in the stand. Other than that, the battery seems to hold up pretty well over time.
Best Dog Clippers for Matted Hair on All Coats and Breeds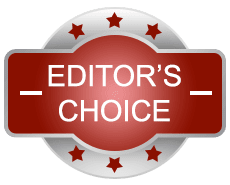 Andis UltraEdge Super 2-Speed Detachable Blade Clipper AGC2
Manufacturer: Andis
Dimensions: 7.72 x 2.4 x 9.8 inches
Weight: 1.7 pounds
Voltage: 120V
Blade Material: Steel
The Bottom Line:
Though it may seem a bit expensive for individual dog owners, the durability and performance of the Andis UltraEdge Super 2-Speed Detachable Blade Clipper AGC2 may just make it well worth the price. With a little maintenance, these powerful clippers can help cut through matted fur for years.
What's Good
2-speed motor
Shatterproof casing
Detachable clipper blade
14-inch heavy-duty cord
3400 – 4400 strokes per minute
Available in different colors
What's Bad
Pricy
Corded clippers design can be annoying
Only comes with one blade
A little heavy
Summary
The Andis UltraEdge Super 2-Speed Detachable Blade Clipper AGC2 is a robust set of clippers that can cut through the worst cases of matted fur. While it is powerful at high speed, its dual-motor allows you to easily switch to a lower speed, which is ideal for when you need to be more careful around some of your dog's more sensitive areas.
Since the motor isn't magnetic on this grooming clipper, it manages to stay relatively quiet during grooming sessions despite its power and performance. This makes it a good choice for those dogs who are especially sensitive to noise.
One of the main drawbacks to the Andis UltraEdge AGC2 clippers is the lack of included accessories, especially at this price point. It does come with a #10 (or 1/16 inch) blade, which is often considered the safest length for matted hair, but if you want to leave your dog's hair a little longer, you will have to buy one of the detachable A5 compatible blades, sold separately.
It is at least easy to change the blades and, if you need to, you can replace almost all of the other working parts of the Andis UltraEdge AGC2 yourself. If you consider this, along with the fact that these clippers are also housed in a shatterproof casing, you can see how long they may be able to last you over time.
Best Dog Clippers for Matted Hair on Dogs with Thick Coats
HANSPROU Dog Shaver
Editor's Comments:
HANSPROU may not be a particularly famous name when it comes to dog grooming, but their HANSPROU Dog Shaver makes quick work of matted fur on dogs with thick coats.
Manufacturer: HANSPROU
Dimensions: 10.8 x 7.09 x 2.72 inches
Weight: 1.43 pounds
Voltage: 100 – 240V
Blade Material: Titanium ceramic
The Bottom Line:
The HANSPROU Dog Shaver is a great, affordable grooming tool option for those looking for a powerful enough set of clippers to get through any matted fur on dogs with thick hair. Be careful with those sharp blades, though!
What's Good
Powerful 12V motor
Uses a titanium alloy blade and ceramic moving blade
Clipper noise is only about 50db
Comes with a cleaning brush and four guard combs
Can adjust blade level from 0.8 – 2mm
Sharp blades
7000 revolutions per minute
What's Bad
Corded clippers
May have to stop and clean out guards often while doing a big cutting job
Sharp blades
Summary
The HANSPROU Dog Shaver provides a quick and easy way of getting tough matts out of the thickest coats, thanks to its powerful motor, titanium alloy fixed blade, and ceramic moving blade. The 35-tooth blades are rather sharp, which can be a good thing and a bad thing. 
It is good because it makes it easier to cut through tough matts, but this also means that you need to be careful with it, especially if you are dealing with nervous dogs or those with finer coats. Some people have found that without the guard combs, it can be quite easy to accidentally nick your dog with these sharp blades.
If you have a nervous dog, it does help that these clippers are quiet at only about 50db. They also work fast, with some customers saying that they helped cut down on the amount of time it typically takes to properly groom their dog.
Another nice thing about this set is its adjustability, as you can adjust the blades to 5 different levels and use the included four guard combs to accommodate different hair lengths. However, if you use the guard combs, you may find that you have to stop and clear out the fur every so often if you're doing a big grooming job. If you're primarily using it for shorter jobs, though, it appears that it shouldn't be too much of an issue.
Best Dog Clippers for Matted Hair with Quick Charging Battery
WAHL Lithium-Ion Pro Series Cordless Animal Clippers
Editor's Comments:
If you need to be able to quickly charge your cordless clippers between grooming sessions, then check out the WAHL Lithium-Ion Pro Series Cordless Animal Clippers. The rechargeable battery has a quick charge option that only takes 15 minutes!
Manufacturer: Wahl Clipper Corp.
Dimensions: 3 x 9.13 x 10 inches
Weight: 1.6 pounds
Voltage: 100 – 240V
Blade Material: Carbon
The Bottom Line:
While they may be a little noisy, the WAHL Lithium-Ion Pro Series Cordless Animal Clippers have great battery life and are an affordable way to effectively cut matts out of short and medium coats.
What's Good
Self-sharpening blades
Cordless
Battery lasts up to 2 hours, charges in 15 minutes
Effective heat dissipation
Affordable
6000 – 7000 strokes per minute
Comes with four color-coded comb attachments, scissors, and a comb
What's Bad
May not work as well for cutting thick coats
Noisy
Summary
The main thing to like about the WAHL Lithium-Ion Pro Series Cordless Animal Clippers is its 2-hour run time and 15-minute quick-charging capabilities. If you need an affordable cordless option that can last throughout long matt-removing sessions, especially if you have multiple dogs, this set may be your best bet!
However, you need to be willing to put up with a certain noise level throughout this time. While not everyone seems to be bothered by the noise, customers and their dogs who are especially sensitive to sound don't seem to be too impressed with the noisiness of this dog clipper.
While the motor may be noisy, it, as well as the battery, doesn't appear to have problems with overheating, which means that you and your dog won't get burned while you are working through those matts.
Some customers claim that this dog clipper doesn't work well for getting matted dog hair out of thicker coats, while others do, so whether or not they really work for thick dog hair may simply come down to the user. It may just be a matter of using the scissors on those matts that come with the kit before going in with the clippers, but it's hard to say exactly why there seems to be some debate.
Best Dog Clippers for Matted Hair on a Budget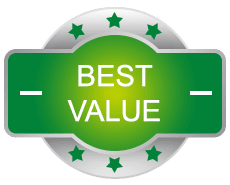 ENJOY PET Professional Hair Grooming Clippers
Manufacturer: ENJOY PET
Dimensions: 9.6 x 9.1 x 2.7 inches
Weight: 1.3 pounds
Voltage: 100 – 240V
Blade Material: Titanium ceramic
The Bottom Line:
It may not be the most durable set of clippers, but you are getting really great value for your money with the ENJOY PET Professional Hair Grooming Clippers. These quiet clippers can indeed get rid of matted dog hair in even the thickest fur, though they may not last forever.
What's Good
Inexpensive when compared to other brands
Cordless
Quiet, operating at 50 – 60db
Includes 4 guard comb attachments, scissors, and comb
Lightweight
5 adjustable clipper blade levels
Fast heat dissipation
7000 – 9000 revolutions per minute
Battery can last up to 7 hours after a 3-hour charge
What's Bad
Battery may stop holding a charge over time
Guard comb attachments tend to get clogged during use
Doesn't come with a case to hold all of the attachments
Summary
The ENJOY PET Professional Hair Grooming Clippers are a great choice for those on a budget and/or who are new to the world of grooming, as you may not want to spend a lot of money on clippers while you are first figuring things out.
Even though this dog hair clipper is significantly more affordable than some of the others on this list, these dog grooming clippers are still of a decent quality. They feature a powerful 15W motor and titanium ceramic blade with 33 teeth and 5 adjustable levels to deal with all different lengths of dog hair.
Then there are the included accessories. This set comes with 4 guard comb attachments, a comb, and scissors to help you cut through some of the toughest matts before getting rid of them completely with your clippers. 
That being said, while these accessories are certainly nice to have, they may not be of the best quality. Some people have found that the guard combs are cheap and contribute to clogging issues while using the clippers and that the scissors may not be all that sharp.
And while the rechargeable battery does last a long time, up to 7 hours, customers have complained that their battery has stopped holding a charge or has died altogether after different periods of time, so the battery life may be a little unpredictable.
Best Dog Clippers for Matted Hair: Buyer's Guide
While there are many great options for matt-busting dog grooming clippers to consider, not every set of clippers will be ideal for every situation. Therefore, there are a few things that you should keep in mind before you make your final decision.
Dog Breed
What kind of dog do you have? Is its coat short or long? Fine or thick? Just about any set of clippers will go through matts in short and fine hair, but you will likely need something with a powerful motor if your dog has an especially thick coat if you want to be able to move through matted dog hair quickly and easily.
Blade Speed
When you are working with particularly thick or matted fur, it's important that the speed of the blades is fast enough so the clippers can easily move through the fur without getting caught, potentially hurting your dog. To deal most effectively with matts, try to get a set of clippers with at least 3000 strokes or revolutions per minute.
Corded versus Cordless
While cordless options may be more convenient, if your dog has a lot of thick fur or tough matts, you will likely have more luck with a corded set of clippers. This way, you can be sure that you will have a steady power supply throughout your grooming session. This is also a good idea if you have multiple dogs, as you won't have to worry about recharging the battery as you move from one dog to another. Look for clippers with a long power cord to at least help with maneuverability. 
If you don't think that a long cord will cut it, or if you have dogs with short or medium coats, then you may want to invest in a cordless set of clippers. Make sure you pay attention to the battery life, though, as some rechargeable batteries last quite a bit longer than others.
Clipper Weight
If your grooming sessions tend to be on the long side, it is important to consider the weight of your clippers. A heavier set of clippers may mean that you have to take breaks while grooming, and not every dog is going to be willing to stay still while you rest your hand. This is especially significant if you have arthritis or other issues with hand and arm mobility. If this is the case, one of your top priorities should be getting something lightweight.
Noise Level
If you've spent a lot of time with dogs in your life, chances are that you already know they have rather sensitive ears. Some dogs are more sensitive to noise than others, of course, but if you have a dog that spooks easily, then you should find some clippers that are on the quieter side. Try and look for clippers that have noise levels of around 60db or less.
Frequently Asked Questions about the Best Dog Clippers for Matted Hair
Why Can't I Just Use Human Clippers for My Dog's Matted Hair?
If your dog has fine and/or short hair or very loose matts, you may be able to get away with using human clippers for their hair. However, you are taking a risk.
The dog clippers recommended for matts are typically more powerful than clippers that may be used for human hair because they can help prevent the fur from getting caught in the blades, which can hurt your dog. However, if you run into this type of situation too often, your dog may begin to not trust you and your clippers, making it more difficult to get them to stay still long enough to remove troublesome matts.
Manufacturers of dog clippers also tend to put more effort into making their clippers on the quieter side to accommodate dogs' sensitive ears.
Do Dog Clippers Need to be Sharpened?
Yes, over time, all blades will need to be sharpened, even those marketed as self-sharpening. You will know that your blades are dull if you are suddenly having a hard time getting through your dog's coat or if they are starting to pull at the hair. If you are comfortable sharpening the blades yourself, then look for clippers with detachable blades.
If you don't like fiddling around with sharp blades, then there are some ways that you can keep your blades sharper for longer. For example, it is a good idea to thoroughly clean and oil your blades after every grooming session to keep them in good condition. 
It also helps if you clean your dog before using the clippers on them, as any kind of dirt or particles in your dog's coat could potentially damage your clipper blade, causing excess friction while they are in use.
How Long Do Dog Clippers Last?
Multiple things can affect how long a set of dog clippers will last, like how much you use them and how well they are maintained, but often it simply comes down to the quality of the materials used to make the clippers.
While it may be tempting to get a set on the cheaper side, say anything under $50, you may find that these clippers begin to not work as well or even break entirely after just a few months. This means that you could be buying multiple cheaper sets of clippers a year.
On the other hand, if you choose to spend more money on a higher quality pair, it may be years before you have any kind of issues. Therefore, when you think about it, you may actually save more money in the long run by investing in high-quality clippers.
Amazon Best Rated Products - Last Updated on 2023-01-29. DISCLAIMER: Some or all of the product links on this page are affiliate links. The operator of this website received a small commission if you purchase products through these links, HOWEVER, there is no added cost to you. These commissions help to fund the operation of this FurryFriendsGear.com