Is your dog susceptible to ear infections? Are you looking for the best dog ear cleaner?
For those who are unsure, dog breeds with floppy ears, long and/or thick hair, and who enjoy swimming tend to be the most at risk of developing ear infections. While they may not seem like much, ear infections, when left untreated, can lead to a host of serious health problems for your dog, including facial paralysis, eye issues, and deafness.
Therefore, if your dog falls into one of these categories, it may be time to look into incorporating a dog ear cleaner into your regular grooming routine.
Fortunately, there are some really great options out there for clearing out any kind of buildup in your dog's ears. Keep reading for our list of the best dog ear cleaners out there and a buyer's guide to help you determine which one is right for you and your dog.
Best Dog Ear Cleaner for Regular Maintenance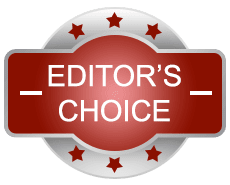 Virbac Epi-Otic Advanced Ear Cleaner
Manufacturer: Virbac
Size: 8oz
Main Ingredients: lactic acid, salicylic acid 0.2%, chitosanide, PCMX, propylene glycol, sodium docusate, water, fragrance, and FD&C blue #1
The Bottom Line:
The Virbac Epi-Optic Advanced Ear Cleaner is a well-priced, easy-to-use formula that will effectively clean and dry out your dog's ears without causing excess irritation.
What's Good
Often recommended by vets for regular ear cleanings
A general product for dogs with a variety of ear-related issues, including otitis externa
Active ingredient salicylic acid helps dry out the dog's ear canal
Effective at removing ear wax and other debris
Gentle enough for sensitive skin
Contains no alcohol or chlorhexidine
Low pH of 2.2 means it shouldn't interfere with other ear preparations
Also cat friendly
What's Bad
May not be as effective for especially waxy ears
Not available in bottles bigger than 8oz
Summary
The Virbac Epi-Otic Advanced Ear Cleaner is an alcohol-free keratolytic formula that helps remove wax and other cellular debris from your dog's ears while also drying the canal, which is important as bacteria like to reproduce in a moist environment. In addition, it manages to do all of this without causing irritation to the skin, which means it is appropriate for dogs with allergies or otherwise sensitive ears.
This preparation also has an anti-adhesive property, meaning it can prevent bacteria and other microorganisms from adhering to the skin in the dog's ear canal in the first place. As a result, keeping the inner ear and ear flap relatively germ-free may help reduce the occurrence of infections or other ear-related issues over time.
Overall, customers seem to be pretty happy with the performance of this cleaner. The one thing that seems to be dividing a lot of people is the smell. While most people are really happy with the citrus smell, others can't stand it! 
Some people are unsure why an ear cleaning formula for dogs requires such a strong fragrance anyway. It does seem to eliminate any unpleasant odors coming from dog ears, though, so it is really just a matter of preference.
While this Virbac cleaner isn't meant to treat ear infections, it can be used to clean your dog's ears before applying any prescription medication. Due to its low pH of 2.2, it shouldn't interfere with any of the ingredients in other ear treatments, though you should check with your vet before using it for this purpose.
Best Dog Ear Cleaner for Itchy Ears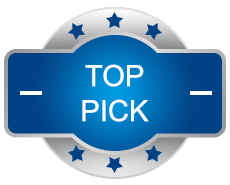 Zymox Otic Enzymatic Solution with Hydrocortisone
Manufacturer: Pet King Brands
Size: 1.25oz
Main Ingredients: hydrocortisone 1%, benzyl alcohol, dextrose, glucose oxidase, glycerin, hydroxypropyl cellulose, lactoferrin, lactoperoxidase, lysozyme, potassium iodide, propylene glycol, purified water
The Bottom Line:
The Zymox Otic Enzymatic Solution with Hydrocortisone is a great cleaning solution for dogs with ear infections. Hydrocortisone is a nice touch for providing relief from itching and inflammation.
What's Good
Recommended by vets
Safe and natural alternative to antibiotics for infections caused by fungi, yeast, and bacteria
No-sting formula
Hydrocortisone helps to relieve itching
Provides relief from irritation, inflammation, smelly ears, itchy ears, swimmer's ear, and ear infections
Patented antimicrobial LP3 Enzyme System cleans and disinfects while eliminating microbes
No scent
Safe for all pet ages, even cats
Not tested on animals
What's Bad
Expensive
Addition of hydrocortisone may make it too strong for regular use
May not completely cure chronic or severe infections
Summary
The Zymox Otic Enzymatic Solution with Hydrocortisone may not be for regular cleanings, but if your dog has an ear infection or allergies, they may be able to find some relief with this product. This Zymox Otic solution uses a patented antimicrobial LP3 Enzyme System to clean and disinfect dog ears and has been proven to provide relief from a broad spectrum of ear-related problems, such as candida albicans, pseudomonas, staphylococcus aureus, as well as other bacterial, fungal, and yeast infections.
This formula also contains 1% hydrocortisone, which can provide relief from both itchiness and inflammation caused by ear-related issues. However, if your dog has broken or irritated skin, you may want to consider the Zymox Otic Enzymatic Solution without Hydrocortisone.
While this cleaner has overwhelmingly positive reviews overall, with people saying that it is a fast and effective cleaning solution, a few people have complained that this solution has not gotten rid of their dog's chronic ear infections. 
It works for a while, but once they thought it had been cleared up and they stopped using it, their dogs would once again present with the same kind of ear issues. This kind of problem may indicate other underlying health problems, though, so make sure you check with your vet if you notice something similar happening with your dogs.
Best Dog Ear Cleaner for Waxy Ears
Vetoquinol Ear Cleansing Solution
Editor's Comments:
If excessive wax buildup is your main problem, then check out the Vetoquinol Ear Cleansing Solution. It's gentle enough to use up to three times a day for a full week if your dog has especially gunky ears.
Manufacturer: Vetoquinol
Size: 8oz
Main Ingredients: SD-alcohol 40-2, 10%, lactic acid 1.76%, benzoic acid 0.15%, salicylic acid 0.1%, fragrant base, aloe vera gel, deionized water, propylene glycol, glycerin, dioctyl sodium sulfosuccinate
The Bottom Line:
While it may not be alcohol-free, the Vetoquinol Ear Cleansing Solution is a safe and gentle formula that will help get rid of any waxy buildup in your dog's ears.
What's Good
Vet recommended
Gentle enough for regular use
Safe enough for dogs and cats of all ages
Alcohol helps dry out the skin
Lactic acid acidifies the skin, creating an unfavorable environment for bacteria to grow and reproduce
Aloe vera helps soften and moisturize the skin
Especially useful after swimming
Effective for relief from irritation, redness, and infections
What's Bad
Strong smell lingers after cleaning
May not work very well for yeast infections
Alcohol may irritate especially sensitive skin
Summary
The Vetoquinol Ear Cleansing Solution is a gentle formula that is still strong enough to deal with ear irritation, redness, odor, and infections in dogs and cats. It contains denatured alcohol to help dry out greasy external ear canals, lactic acid to acidify the skin and make it hostile toward bacteria, and aloe vera to help moisturize and soothe any irritation.
This solution is best for those who want something for regular ear cleaning and maintenance. If your dog has especially dirty ears, you can start by administering the solution 2 – 3 times a day for up to a week. After successfully removing all of that initial buildup, keep using it once or twice a week as part of your regular grooming routine.
Customers have noted that this Vetoquinol solution is especially great at cleaning out the dark, waxy gunk that can buildup in dogs' ears and that it is even good for those with allergies. The main complaint seems to, once again, be about the fragrance. Again, this is another scent that seems to divide people: most seem to say that it is mild and pleasant, while some can't stand it and think it stinks! It really just comes down to personal preference.
Best Dog Ear Cleaner Combo Pack
Vet's Best Dog Ear Cleaner Kit
Editor's Comments:
The Vet's Best Dog Ear Cleaner Kit provides you with separate ear wash and dry formulas for a coordinated treatment option. The ear wash helps flush out the gunk, while the dry can help absorb any excess moisture in the ears, allowing you to achieve a high level of ear care for your dog.
Manufacturer: Vet's Best
Size: 4oz x 2 bottles
Main Ingredients: Ear Wash: witch hazel, yucca, clove oil, tea tree oil, chamomile, echinacea. Dry: witch hazel, aloe vera, clove oil, tea tree oil, calendula, chamomile, echinacea
The Bottom Line:
The Vet's Best Dog Ear Cleaner Kit is great for those that like having the option of using both wet and dry formulas to clean and deodorize their dog's ears. Be careful of the tea tree oil in these products, though, as it can be toxic to dogs in high concentrations.
What's Good
Veterinarian formulated and approved
Ear Relief Wash cleans, deodorizes, and soothes ears
Ear Relief Dry absorbs excess moisture and prevents odors
Alcohol-free
Made with natural ingredients
Suitable for all dog breeds and sizes
Gentle enough to use on a regular basis
What's Bad
Strong smell
Tea tree oil can be toxic for dogs in high concentrations
The dry formula may not work as well as the wet one
Summary
The Vet's Best Dog Ear Cleaner Kit comes with two bottles to help clean and treat red, raw, greasy, and irritated ears. The Ear Relief Wash is meant to help clear out wax and other debris, relieve irritation and itchiness, and neutralize odors, so it does most of the work. The Ear Relief Dry is meant more to help extend the time between cleanings, as it dries to a powder to help absorb moisture and provide protection from odors.
This dog ear cleaner can be used on a regular basis, but you do have to be careful when you have it around your dog. Tea tree oil can actually be toxic to dogs in high concentrations, and while these bottles may not contain a ton of it, it is certainly better to be safe than sorry. Make sure to close the lid tightly and store it securely away from your dog after each use.
Customers generally seem pretty happy with the performance of this product, with some saying that it was the only ear cleaner that actually worked for their dog. That being said, some were turned off by the strong smell, and a few people have not been thrilled about the performance of the Ear Relief Dry. While it does absorb moisture, it may get stuck in the ears as it can get gunky, which may be annoying to some dogs.
Best Dog Ear Cleaner on a Budget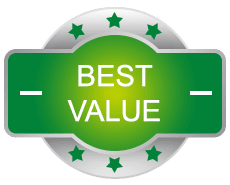 Pet MD Tris Ear Flush
Editor's Comments:
Dog ear cleaners can be expensive if you have to use them regularly! However, if you are on a budget, the Pet MD Tris Ear Flush is an effective ear cleaning formula that won't break the bank.
Manufacturer: Pet MD
Size: 12oz
Main Ingredients: ketoconazole 0.1%, purified water, SDA-40, nonoxynol-9, benzyl alcohol, disodium EDTA, tromethamine technical grade, fragrance
The Bottom Line:
The Pet MD Tris Ear Flush is an effective and affordable option for those looking to incorporate an ear cleaner into their regular grooming schedule. It may even clear up minor ear infections.
What's Good
Approved by vets
Affordable
Active ingredient ketoconazole helps remove wax and other debris from ears
Gentle enough for daily use
Relieves itchiness and irritation
Good for all dogs and cats
Neutralizes odors
Cleans and dries the dog's ear canal
Contains antifungal and antibiotic properties to help with mild ear infections
What's Bad
Strong smell
Contains alcohol, so be careful not to use it on broken skin
May be better for minor problems, not severe issues
Summary
The Pet MD Tris Ear Flush is an affordable and gentle option for those looking for an effective dog ear cleaner. It is easy to use and contains ketoconazole, which can help remove wax, debris, and any other buildup that may be present in your dog's ears, causing irritation. It also has antifungal and antibiotic ingredients that can not only help clean, dry, and deodorize your dog's ears but also clear up minor infections.
While this Pet MD flush may be effective for minor infections, it is really meant as more of a preventative cleaner. That means that you shouldn't expect it to clear up any kind of severe infections or solve any chronic problems. It works best when used as part of a regular ear cleaning routine, not as a treatment. Also, it's important to note that this product shouldn't be used on broken skin, as it may cause further pain and irritation.
Overall, customers seem to be pleased with this dog ear cleaner. They seem to agree that it can indeed flush the gunk out of their dogs' ears, relieving their pets of itchiness and irritation. There is, once again, a debate about the scent being a little strong, but the majority seem to be pleased with the fragrance.
Best Dog Ear Cleaner: Buyer's Guide
As you may have noticed in our list, a lot of the dog ear cleaning solution options we have discussed are quite comparable in terms of effectiveness: all of them should indeed clean your pet's ears in one way or another. 
However, some of the dog cleaning solution options are more appropriate than others in certain situations, so there are a few things you should keep in mind before deciding which ear cleaner is best for you and your dog.
Your Dog
The first and most important thing to consider when choosing a dog ear cleaner is your dog's specific needs. Are you looking for a preventative cleaner because you know your dog is susceptible to infections but is currently healthy? Or do you need one that will help with specific kinds of issues? 
For example, is itchiness a big concern? Do you need a gentle formula because your dog has really sensitive skin? If you're not sure, then consider talking to your vet before picking up just any dog ear cleaner.
Ingredients
Always check the ingredient list before using an ear cleaner on your dog, as certain ingredients can tell you a lot about the cleaner's effectiveness for certain ear problems. For example, salicylic and lactic acid can help prevent mild yeast or bacterial infections, hydrocortisone can help provide itch relief, and ketoconazole works as an antifungal.
Vet Recommended
Always look for dog ear cleaners that veterinarians have approved. If the labels don't say vet approved, talk to your vet before choosing an ear cleaner. Vets are the real experts when it comes to what is safe and appropriate for dogs, as dogs obviously cannot speak for themselves (oh, but imagine if they could!). 
Also, you may be tempted to try an at-home, all-natural remedy for your dog's ear, but these really could do more harm than good. Remember that store-bought products often have to undergo extensive testing before they are put on the shelves, so they may often be safer than do-it-yourself concoctions.
Liquid Cleaners > Wipes
Since the dog's ear canals tend to be long and narrow with a right-angle shape, cleaning wipes are typically unable to reach all the way down into the canal to perform a deep and thorough clean. 
Liquid cleaners, on the other hand, make it much easier to get into the ear canal. This is because, with liquid cleaners, you can squirt the solution directly into the canal, allowing it to get in deeper than an ear wipe or your finger can fit, so there is a much better chance that it can get to everything in there.
Plus, if you let your dog shake their head after administering the cleaner, the sheer force of the shaking will help dislodge any additional dirt and debris.
Fragrance
One of the main things that seemed to divide people on a lot of the dog ear cleaners on this list is the fragrance. Some people react very strongly to scents they find unpleasant, so regardless of how well some of these cleaners worked for them, they rated them poorly and refused to use them again if they didn't like the smell. If you and/or your dog are especially sensitive to strong or unpleasant smells, try finding a fragrance-free cleaner or has a really mild scent.
Frequently Asked Questions about the Best Dog Ear Cleaner
How Often Should I Be Cleaning My Dog's Ears?
It depends on your dog's breed, lifestyle, and even medical history. If you have one of those breeds that are susceptible to ear infections, for example, then you may need to clean their ears more often than unsusceptible breeds.
When it comes to lifestyle, dogs that love to swim should have their ears dried out every time they get out of the water. You don't necessarily have to do a full clean each time, though, as drying them out may be enough to stave off any infections.
Finally, if your dog has a chronic ear problem, you may need to clean them once or twice a week. However, it is best to consult with your veterinarian about how often is best, as it is possible to clean a dog's ears too frequently.
Can Cleaning My Dog's Ears Really Prevent Ear Infections?
Yes, incorporating ear cleaning as part of your normal grooming routine may indeed help prevent a dog ear infection.
Dogs can get all sorts of things trapped and taking up space in their ears, such as wax, yeast, bacteria, fungus, ear mite, and even just water. An excess of these can lead to irritation and inflammation in the ear, leading to an infection.
However, if you clean your dog's ears regularly, you can remove this buildup and moisture that can be a breeding ground for bacteria and other organisms. Even if your dog's ear problem is related to allergies, routine cleaning can help provide some kind of relief and help relieve itchy ears.
What Are the Symptoms of an Ear Infection in Dogs?
Some of the most common signs of an ear infection include:
Redness or rawness in the ear
Bad smell coming from the ear
Head tilting
Seeming off balance
Ear itchiness
Excessive discharge from the ear
If your dog has any of these symptoms, then it may be a good idea to take them to the vet to diagnose the problem before using any kind of ear cleaning solution.
Help! Why Won't My Dog Let Me Clean Their Ears?
Unfortunately, it is completely normal for dogs not to be thrilled with ear cleanings, which can make your job rather difficult. Some dogs are just sensitive or simply don't like having someone touch their ears.  All you can do is try and build trust and make this a positive experience for them, and the best way to probably do that is with rewards.
Try touching your dog's ear and then immediately giving them one of their favorite treats. Do this a few times while touching all different parts of their ears.  If they realize that ear touching = treats, they may be more than happy to sit still for a few minutes!
Another idea is to distract them by spreading something like peanut butter on a wall or floor. Then, while they are licking away, you can get in there with the cleaner. They may not even notice!
Amazon Best Rated Products - Last Updated on 2023-01-30. DISCLAIMER: Some or all of the product links on this page are affiliate links. The operator of this website received a small commission if you purchase products through these links, HOWEVER, there is no added cost to you. These commissions help to fund the operation of this FurryFriendsGear.com