Need help finding the best dog food for Bulldogs? Well, in this article we dive into 4 top products and provide our ratings, pros & cons, product specifications, and ingredients list.
A bulldog is a unique dog breed with distinct features, including a pushed-in nose, wrinkly skin, small ears, and a pout-like expression. They are smaller, with a muscular build and a thick body structure.
You'll find bulldogs in several patterns, colors, primarily short and shiny. While bulldogs are small to medium in size, with a courageous and assertive demeanor, they are cuddly, friendly, and enjoy spending time with their owners.
A balanced diet and plenty of water are essential for bulldogs. It's essential to monitor them outdoors in hot and humid weather, as bulldogs overheat easily, which makes hydration and shade essential in the summer.
It's crucial to provide a highly nutritious diet for bulldogs, focusing on low calories and quality cuts of meat and protein to promote physical development while maintaining a healthy weight. And, that is possible with our listing of the best dog food for Bulldogs!
Bulldogs were bred initially centuries ago and have become increasingly popular as excellent family pets in recent years. They are very playful, friendly, and approachable. While they enjoy being active, they are more passive and less energetic than other breeds. Bulldogs tend to be a bit protective, and they quickly adapt to new environments and make great companions.
4 Best Dog Food for Bulldogs
Best Dog Food for All Life Stages for Bulldogs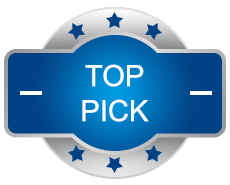 Fromm Four-Star Surf & Turf
Editor's Comments:
Fromm Four-Star Surf & Turf dog food is an excellent formula for bulldogs that's ideal for all life stages and offers a solid level of nutrition.
Quality of ingredients
96
Manufacturer: Blue Line Distributing
Size: 15 x 10 x 3 inches, and a weight of 4 lbs.
Ingredients: Fish broth, salmon, duck meal, salmon meal, chicken, chickpeas, potatoes, peas, lentils, dried egg products, peat protein, salmon oil, carrots, cheese, flaxseed, herring meal, dried tomato pomace
The Bottom Line:
Fromm Four-Star Surf & Turf dog food is formulated to meet the AAFCO Dog Food Nutrient Profiles standard for high-quality nutrition.
What's Good
All ingredients are natural and sourced from high-quality farms and suppliers
It's a great product for dogs of all sizes and stages in life
There's a rich source of nutrients, vitamins, and minerals from both animal and vegetable-based foods
It contains both meat and plant-based proteins
A significant source of fish oils and omega fatty acids, which support your dog's coat and encourages healthy skin
Grain-free, with no artificial ingredients or preservatives
An ideal formula for picky eaters
Reasonably priced
What's Bad
Only one size is available to purchase
Summary
Fromm Four-Star Surf & Turf dog food formula offers an excellent balance of meat and plant-based proteins, vitamins, and minerals that support growth and development. It's also grain-free without any fillers, ideal for weight control and promoting an active lifestyle.
While this product is only available in one size, it's convenient for portion control when feeding small to medium-sized breeds. You'll only need to serve between a third or half cup for each meal.
This formula is a worthwhile investment for your bulldog, as it provides all the essential nutrients for a well-balanced diet.
Best Grain-Free Dog Food for Bulldogs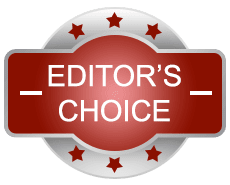 Ketona Salmon Adult Dry Dog Food
Editor's Comments:
Ketona Salmon Adult Dry Dog Food recipe offers a low-carb, high-protein formula that promotes high energy, a balanced diet, and a healthy weight for your bulldog.
Quality of ingredients
90
Manufacturer: KetoNatural Pet Foods
Size: 13 x 10 x 4 inches, and 4.2 lbs.
Ingredients: Salmon and salmon meal, flaxseed meal, ground green peas, potassium chloride, vitamins E, B12, D3, A, zinc, manganese, copper, iron, lecithin, folic acid, calcium, oat hulls
The Bottom Line:
Ketona Salmon Adult Dry Dog Food offers a keto-friendly formula perfect for weight control while providing a balanced diet's required protein and nutrients.
What's Good
Improves blood sugar levels and may help prevent diabetes in some dogs
All ingredients are high-quality, GMO-free, without any artificial flavors or preservatives
Contains no corn, soy, wheat, rye, sorghum, potatoes, rice, or barley
It offers all the nutrition of a raw diet at a reasonable cost and is more shelf-stable
Ideal for a low carb diet
Grain-free, with low calories and high protein, which is perfect for maintaining a healthy weight
Reasonably priced
It's an easy transition from regular dog food to a low-carb diet with this formula
It contains higher protein and meat-based nutrients than other raw and fresh food formulas
Easily digestible and doesn't cause any issues with your dog's sensitive stomach or digestive system
Excellent for all dog breeds and sizes, including bulldogs
What's Bad
There are just two sizes available
Summary
Ketona Salmon Adult Dry Dog Food is a wonderful choice for bulldogs because it supports a low-calorie, low carb, high-protein diet, which keeps your pet's weight under control at any age. It's an easy formula for your dog to adjust to, without the need for a gradual transition.
The rich nutrients and protein are best supported with lots of fresh water, which keeps your dog well hydrated. While this formula is ideal for most dogs, it's best to check with your bulldog's veterinarian to ensure no existing health conditions may require a different formula or specific nutrient blend.
Best Dog Food for Weight Control for Bulldogs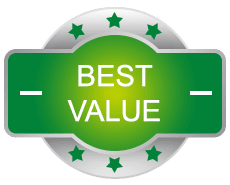 Hill's Science Diet Dry Dog Food
Editor's Comments:
Hill's Science Diet Dry Dog Food is a light, health-conscious option that helps weight management by providing smaller portions with natural ingredients.
Quality of ingredients
95
Manufacturer: Hill's Pet Nutrition Sales Inc.
Size:75 x 5.66 x 8.5 inches, and a size of 5 lbs.
Ingredients: Chicken meal, cracked pearled barley, whole grain wheat, pea fiber, dried beet pulp, soybean oil, flaxseed, potassium, vitamins B12, D3, E, A, manganese, calcium, zinc, copper, carrots, green peas, broccoli, oat fiber, whole grain corn, folic acid
The Bottom Line:
Hill's Science Diet Dry Dog Food is a unique formula that focuses on weight control for small to medium-sized dogs. The kibble size is small, making it easy to feed and digest.
What's Good
Hill's Science diet is a famous, reputable brand that offers high-quality pet food
Fewer calories than similar dog food products
It contains L-carnitine and natural fiber to promote a healthy body weight
Recommended by veterinarians
All ingredients are natural and high-quality
Supports your dog's skin and coat, with a significant source of vitamin E, and omega fatty acids
It's an affordable product for pet owners
Available in three sizes: five, fifteen, and thirty pounds
What's Bad
This dog formula contains grains and wheat, which may cause an allergic reaction in some dogs
It contains soy and corn gluten meal, which some dogs may not prefer, or may lead to food sensitivities or allergies
Summary
Hill's Science Diet Dry Dog Food is an easily digestible food that's great for your dog's weight and health. Hill's Science Diet offers an impressive line of dog food products specially formulated to support your bulldog's active lifestyle and a balanced diet. This brand is a top favorite for many pet owners, as it's inexpensive and readily available in most stores and online.
You'll find this formula offers high-quality protein with the ideal natural balance of fiber, carbohydrates, and nutrients to support a healthy diet and lifestyle.
Best Dog Food Formulated for Bulldogs
Royal Canin Breed Dog Food
Editor's Comments:
Royal Canin Breed Dog Food for adult bulldogs is a breed-specific formula designed to give your dog the ideal nutrients and portions needed.
Quality of ingredients
97
Manufacturer: Royal Canin
Size: 25 x 16 x 6 inches, and a size of 30 lbs.
Ingredients: Pork meal, chicken meal, brewers rice, oat groats, fish oil, vegetable oil, dried beet pulp, calcium, potassium, egg product, vitamins E, D3, C, A, B1, B6, B12, copper, iron, green tea extract, zinc, marigold extract
The Bottom Line:
Royal Canin Breed Dog Food is an excellent formula for adult bulldogs, with a recipe designed to provide your pet's nutritional needs. It's an ideal product for adult dogs twelve months or older.
What's Good
This dry food formula is highly digestible for bulldogs, which helps support healthy digestion and prevent excessive gas or odors
It contains high-quality animal protein, carbohydrates, and fiber
A good source of EPA and DHA, which supports the development of bones and joints, especially for stocky-built dogs
Small, unique, pellet-sized kibble that's easy for feeding – even for a senior dog
Royal Canin offers tailored nutrition formulas for pure-breed dogs
Ranks in the top 200 dry dog food products
What's Bad
Some bulldogs accustomed to another diet may not prefer this formula
It contains grains, which may cause allergic reactions or food sensitivities for some dogs with a sensitive stomach
More expensive than other brands
Summary
Royal Canin Breed Dog Food is a well-balanced meal for your adult bulldog, and it's a high-quality dry food that supports this unique breed's skin texture, fur, and body's stocky, short stature.
Royal Canin features unique dog food products for specific breeds based on specific activity levels, physical attributes, and health. You'll find this brand is generally favored by bulldog owners, is easily digestible, and provides an exceptional blend of flavors and nutrients.
Best Dog Food for Bulldogs: Buyer's Guide
Bulldogs are great companions with great personalities and enjoy spending time with their owners. They are playful, friendly, and feisty, though they tend to be more passive than other dogs. Their stocky, short-built makes it easy for bulldogs to gain extra weight, which means you'll want to choose a formula that's well balanced, high in protein, and with low calories and carbohydrates.
One of the most important ways to keep your bulldog healthy and fit is regular exercise. Walking and playing are essential, and you may need to adjust the nutrient and carbohydrate levels as your dog develops into adulthood.
A well-balanced diet with the best dog food for Bulldogs and regular physical activity will help keep your adult dog avoiding many illnesses and health conditions. While many bulldogs are considered less energetic, with routine and encouragement, they typically get active for short periods by nature.
Your Dog
Bulldogs offer a unique dog breed that you'll love as a pet, and they respond well to affection and require special diets to maintain their health from birth to adulthood. Most bulldogs respond well to both dry kibble and wet food, and unique formulas are designed to meet this breed's needs to ensure they develop and grow with the best nutrition.
While animal protein should always be a significant component of your dog's diet, choosing quality meat is also essential. A well-balanced best dog food for Bulldogs often contains grains, vegetables, and low-calorie ingredients.
It's important to choose food products with high-quality ingredients, with limited calories, which are most appropriate for your dog's health and weight.
There are a few critical factors to consider when choosing a dog formula for your bulldog:
Your dog's size, age, and activity level. If your dog walks and plays regularly, they might be able to handle slightly more calories than sedentary dogs
A formula with a focus on weight management is ideal for mature dogs and bulldogs that tend to be slower or not as active
Always choose a dog food product with high-quality ingredients, nutrients, and protein, and avoid artificial ingredients and flavors
While many bulldogs can eat grains, it's essential to monitor your pet for any allergies to gluten, wheat, or grains in general, and consult with your vet if you need a specific formula
It's essential to choose a formula that contains fatty acids, healthy fat, and natural oils to support your bulldog's fur and skin
You'll find that our top picks in the list of the best dog food for Bulldogs features all the nutrients and supporting quality ingredients your bulldog needs to enjoy a healthy, balanced lifestyle.
Vet Recommended
Your veterinarian can provide great dog food options for your bulldog, whether you're looking for weight control and reduced calories for a more active dog or a mature bulldog. Most dog breed-specific formulas and high-quality dog food options for bulldogs and similar-sized breeds are typically good for your pet.
Suppose your dog's health history or current conditions require additional support with supplements or a specialized formula. In that case, your vet can provide assistance in which brands and products are best for your bulldog.
Best Dog Food for Bulldogs FAQs
Which protein sources and meats are best to feed a bulldog?
Choosing a quality protein source is essential, depending on the dog food product. Natural meats from local, high-quality suppliers and farms are ideal for your bulldog's diet. The best protein options for your dog are beef, chicken, lamb, turkey, salmon, and duck.
When you review the ingredient list on your dog's food product, you'll want to choose formulas with only natural items, including quality meats and fewer filler items.
Are fats bad for my bulldog?
Not all healthy fats are suitable for your dog, and most should be avoided. Some healthy options in your pet's diet are often included in many formulas, including flaxseeds, sesame, hemp seeds, and chia seeds.
Which foods should my bulldog avoid?
Certain foods are human-safe, though they may be harmful to your dog and should be avoided. These foods include milk, caffeine, grapes, onions, avocado, items containing alcohol, macadamia nuts, chocolate, salt, fat trimmings, and dairy products.
While some dogs can handle dairy in moderation, it's best to avoid feeding your bulldog milk, cheese, butter, and other milk-based products.
Is it safe to feed leftovers or table scraps to a bulldog?
As long as the food is safe for your bulldog, the occasional treat or food scrap is acceptable, though it's not recommended. This can quickly become a habit and spoil your pet so that they expect to dine on leftover treats and forgo their regular diet.
If your bulldog requires a special diet for weight management or suffers from allergies, it's best to avoid extra scraps, even if they are healthy and seem to support your dog's health.
Which minerals are essential for a bulldog's health?
Calcium, potassium, zinc, and magnesium are among the essential minerals for your dog's health. These support bone and teeth growth while preventing infection and supporting the immune system. It's crucial to choose a dog food that includes a significant amount of minerals during every life stage, to ensure healthy development.
How can I support my dog's health in addition to a balanced formula?
Your bulldog requires regular water for hydration, improving metabolism, and regulating your dog's body temperature. It's also important to implement regular activity and exercise to keep your bulldog fit and healthy.
Regular hydration is vital if you live in a hot or humid climate, as bulldogs tend to overheat quickly and should be carefully monitored when they spend time outdoors.
Should I customize my bulldog's diet?
It's ideal for customizing your dog's food plan to ensure they receive all the necessary nutrients, protein, and caloric intake for a healthy, happy life. In most cases, specialized formulas offer great options for your dog, though a veterinarian can provide helpful suggestions on brands and diets that work best for your pet.
Best Dog Food for Bulldogs Final Thoughts
We hope that you were able to find the best dog food for Bulldogs in this article. If you'd like us to review another product, please feel free to contact us!
Amazon Best Rated Products - Last Updated on 2023-01-30. DISCLAIMER: Some or all of the product links on this page are affiliate links. The operator of this website received a small commission if you purchase products through these links, HOWEVER, there is no added cost to you. These commissions help to fund the operation of this FurryFriendsGear.com