Need help finding the best dog food for Pitbulls? Well, in this article we dive into 5 top products and provide our ratings, pros & cons, product specifications, and ingredients list.
Pitbulls are robust and energetic with agility and a muscular build. They are playful and enjoy companionship with humans, like puppies and adults. There are a variety of pitbull breeds, including the American Pitbull Terrier and Staffordshire Bull Terrier as the most common. And, to keep your Pitbull healthy & energetic, it is important to select the best dog food for Pitbulls to feed them.
While pitbull breeds are often aggressive with humans and other dogs, they are generally people-oriented and adapt well to living with families and farm dogs.
A pitbull puppy thrives on a high-protein diet and requires three servings a day, whereas adult dogs and senior Pitbulls can eat twice daily. They are muscular, high-energy dogs that require a well-balanced diet with protein, fiber, minerals, vitamins, and fatty acids which is easy to find with the best dog food for Pitbulls options listed in this article.
These nutrients protect your pitbull breed's health while supporting the vital development of muscles, bones, and joints. Once a nutritious diet is established as a puppy, Pitbulls grow quickly to become solid and playful pets and working dogs.
The top 5 ingredients in your pitbull terrier's diet include amino acids, animal protein (single or multiple sources), omega fatty acids, vitamins, and minerals.
Our best dog food for Pitbulls picks include protein and nutrient-rich formulas based on pet satisfaction, product size options, price, nutrients, and quality of ingredients. Establishing a healthy, well-balanced diet is essential to your Pitbull terrier's healthy development and growth throughout all stages of life.
Best Dog Food for Pitbulls – Top 5 Options…
Best High-Protein Formula for Pitbull Breeds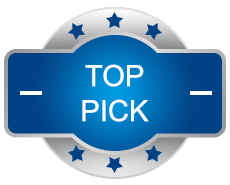 Bully Max
Quality of ingredients
96
Manufacturer: Bully Max
Size:25 x 12.25 x 6.25 inches, and a weight of 15 lbs.
Ingredients: Chicken fat, chicken meal, brown rice, whole ground flaxseed, dried plain beet pulp, egg product, pearled barley, fish oil, potassium, vitamins B12, D3, A, zinc, iron, manganese, dried kelp, calcium, fish meal.
The Bottom Line:
Bully Max High-Performance Premium dog food is designed to build muscle, promote growth and support all sizes and stages of your Pitbull. Bully Max is a dog food brand prepared for this dog breed.
What's Good
Available in three convenient sizes, 5, 15, and 40-pound bags
Rated as a five-star performance dog food, and one of the top choices for pitbulls
This formula is meat-based, which ensures your Pitbull Terrier receives multiple sources of meat protein
Bully Max is a reputable dog food brand with a solid record of quality results
Contains omega fatty acids and amino acids to support healthy skin, digestion, and coat
Suitable for all pitbull breeds aged four weeks or older
Ranks within the top 105 top dry dog food brands as a best seller
What's Bad
Limited flavor options available for this product
Summary
Bully Max High-Performance Premium dog food offers a specific formula with 20% fat, 30% protein, and a rich source of nutrients for pitbulls of all ages, from four weeks to senior pitbulls. Each serving contains an impressive 535 calories per cup, ensuring your pitbull receives a significant dose of carbohydrates ideal for physical exercise and play. This blend is an ideal part of a pitbull's diet.
Related Article: Best Dog Food For Pitbull Puppies
Best Large Breed Puppy Formula for Pitbulls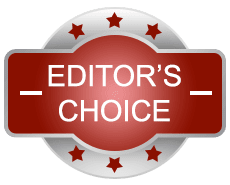 Royal Canin
Editor's Comments:
Royal Canin Size Nutrition for large breed puppies is well-formulated dry dog food for pitbull terriers during the first year.
Quality of ingredients
97
Manufacturer: Royal Canin
Size:25 x 15.5 x 25.5 inches, and 18 lbs.
Ingredients: Chicken, corn, chicken fat, corn gluten meal, dried plain beet pulp, wheat, vegetable oil, fish oil, calcium, psyllium seed husk, vitamins B6, D3, C, E, B12, copper, manganese, brewers rice flour.
The Bottom Line:
Royal Canin Size Nutrition is a well-balanced, nutrient-rich formula designed to support your pitbull puppy's immune system, digestive health, and overall growth.
What's Good
Available in three sizes, including 18, 35, and 6-pound bags
Designed for large breed puppies
This formula contains easily digestible proteins, along with a significant source for prebiotics
Supports bones, muscles, and joint growth
Ideal for puppies with food sensitivity and allergies
A great source of vitamins, antioxidants, healthy fats, and minerals
Promotes healthy metabolism and digestion
What's Bad
Not recommended for adult or senior pitbulldogs
Summary
Royal Canin Size Nutrition is a great dry dog food to implement into your pitbull puppy's diet from four weeks to one year. This formula is also great for other large breed puppies such as the Golden Retriever, American Pitbull, and German Shepherds. This dry dog food is an excellent Pitbull puppy formula and is ideal for serving on its own or with a wet dog food topping to boost the protein content.
Best Adult Large Breed Dog Food for Pitbulls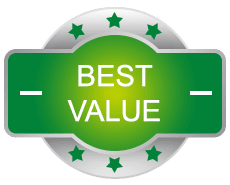 Blue Buffalo
Quality of ingredients
95
Manufacturer: Blue Buffalo Company Ltd.
Size: 15 x 8.75 x 5.5 inches, and a size of 6.11 lbs.
Ingredients: Deboned chicken, pea starch, chicken meal, brown rice, chicken fat, dried tomato pomace, peas, pea protein, sweet potato, zinc, garlic, turmeric, iron, calcium, potassium, dried chicory root, potatoes, manganese, vitamins B2, B1, D3, B12, A, blueberries, cranberries, parsley, barley grass, dried yeast, carrots
The Bottom Line:
Blue Buffalo Life Protection Natural dry dog food is an excellent formula for large breed adult dogs. This dog food brand is well-known for providing a well-balanced diet for all stages of adulthood.
What's Good
Featured in a variety of flavors, including chicken with brown rice, lamb with brown rice, fish with brown rice, beef with brown rice, and small bite chicken with rice
Available in five size options, including 5, 6, 15, 30, and 34-lb packages
Kibble sizes are pellets, which make them easy to pick up and chew
Real meat is the main ingredient, offering a significant source of animal protein for your dog's muscular development and growth
Rich in antioxidants, whole grains, vegetables, fruits, and healthy fats
Contains no poultry by-products, corn, soy, or artificial flavors or preservatives
Includes omega fatty acids for healthy skin, coat, and digestion
Ranked as the top choice for dry dog food products as a best seller
What's Bad
This formula is not recommended for puppies or small breed dogs
Some flavor blends may not be available for purchase
Summary
Blue Buffalo Life Protection Natural dry dog food formula features all the essential nutrients, healthy fats, fiber, and high-grade protein your pitbull breed requires for optimal performance and health.
Best Gluten-Free Dry Dog Food for Active Pitbulls
Quality of ingredients
95
Manufacturer: Mid America Pet Food LLC
Size: 6 x 17 x 30 inches, and 40 lbs.
Ingredients: Beef, pork, fish meal, chicken, amino acids, vitamins, minerals, and fatty acids
The Bottom Line:
Victor Super Premium Dog food provides one of the best grain-free options for large breed dogs with high protein from quality beef, chicken, and pork meats.
What's Good
This formula is ideal for all breed sizes and stages of life, including pitbulls
The ingredients include 26% protein, which is meat protein from chicken, beef, and pork
All ingredients are sourced from high-quality suppliers, farms, and ranches in the U.S.
This blend features supplements, minerals, and vitamins to provide the maximum nutritional benefit for dogs of all ages, breed sizes, and activity level
It's a famous brand and choice among dog owners
Ranked as a best seller in the top 150 dry dog food products as a top choice
An excellent blend for households with multiple dogs and breeds, including various sizes
This gluten-free formula is ideal for dogs with food allergies and sensitivities
An excellent choice for highly active puppies and young adult dogs
What's Bad
Only available in two package sizes, 5 and 40-pound bags
Summary
Victor Super Premium Dog food is a well-balanced product that's reasonably priced, nutritious, and an excellent option for pitbulls and other dogs. The pellet size is small and easy for any breed dog to pick up and chew without difficulty. This grain-free dry dog food is also best for dogs that may experience allergic reactions to wheat, gluten, and other grains that cause food sensitivity issues.
Best All-Natural Large Breed for Pitbulls
Wellness Core Large Breed
Quality of ingredients
95
Manufacturer: WellPet LLC
Size:5 x 15 x 4.5 inches, and 26 lbs.
Ingredients: Deboned chicken, turkey meal, chicken meal, dried ground potatoes, tomato pomace, lentils, peas, pea fiber, chicken fiber, zinc, calcium, blueberries, apples, parsley, carrots, spinach, broccoli, kale, taurine, vitamins A, B12, C, D3, copper, manganese, green tea extract, rosemary extract, iron, calcium.
The Bottom Line:
Wellness Natural Pet Food Natural formula is an excellent formula for pitbulls and giant breed dogs to promote lean muscle growth and toning while supporting overall health and nutrition.
What's Good
This formula offers an advanced formula that provides high-grade animal protein, antioxidants, healthy fats, probiotics, and minerals
An ideal formula for food sensitivities and dogs that are picky eaters
It contains all the essential nutrients for large breed dogs to thrive and perform well in physical activities
It contains omega fatty acids to promote healthy skin, digestion, and coat
Supports heart health with probiotics, glucosamine, taurine, and antioxidants
All ingredients are natural and non-GMO, with only wholesome grains included
What's Bad
Available in one size only
Summary
Wellness Natural Pet Food Natural formula is one of the best dog food options for pitbulls and large, active dog breeds. All ingredients are natural and without additives, preservatives, or artificial colors for quality flavor and nutrients. It's an excellent formula to feed Pitbull Terriers throughout adulthood.
Best Dog Food for Pitbulls: Buyer's Guide
Pitbulls are highly energetic and muscular dogs that primarily require a high level of protein from meat sources and a significant amount of healthy fats, minerals, vitamins, and probiotics. They require a lot of space to exercise and play, including outdoor space, following ideal mealtime.
Your Dog
While all dogs require a high protein level, pitbulls need a significant amount to build their muscular frame. They continuously support their physical activity as they grow into adulthood.
As pitbulls become senior dogs, they thrive on protein, with a lower-fat diet and increased fiber. It's essential to consider the following factors when choosing a quality dog food formula for your pitbull:
Your dog's physical size, activity level, age, and overall health
Allergies, preferences, and food sensitivities
Dietary requirements for competitions or specific physical activities, including sports
Read labels to avoid artificial flavors, colors, and preservatives
Preferences for your dog and the type of flavor blends they enjoy, including wet dog food toppers and raw food options
Vet Recommended
If your pitbull requires a specialized diet due to a medical condition, allergies, or health reasons, a veterinarian or vet nutritionist can guide you on the best commercial dog foods and supplements available. They may advise a more customized diet for raw food, human-grade food, and other items to enhance your dog's nutrient content. It's essential to ensure that your dog receives animal protein, fiber, probiotics, vitamins, fruits, and healthy fats. And, providing the best dog food for Pitbulls is a great way to accomplish this.
Pitbull breeders can offer a dietary plan for pet owners, which helps establish a healthy routine and eating schedule from the first year into adulthood.
Best Dog Food for Pitbulls Frequently Asked Questions
Do Pitbulls tend to eat more protein than other dog breeds?
Yes. Pitbulls thrive on higher protein levels than regular dog food formulas provide. While most large-breed dog food formulas are ideal for Pitbulls, you can easily add an extra dose of protein, preferably with a wet food topper or supplement to promote maximum muscle, bone, and joint development.
Which brands are best for Pitbulls and similar large breed dogs?
Our top five best dog food for Pitbulls options include Wellness Core, Royal Canin, Victor, Blue Buffalo, and Bully Max. If you're in search of other reputable dog food brands, you may consider high-protein formulas from Natural Balance, Wild dry dog food products, and Purina Pro Plan.
If you're looking for more breed-specific formulas not available in these commercial dog food products, your veterinarian can provide great options and custom dietary plans for your Staffordshire Bull Terrier or pitbull terrier.
Can a pitbull eat raw meat?
Yes. Raw food diets are excellent for Pitbulls, provided they are sourced from high-quality animal meats. You can also serve your pitbull raw apples, bananas, cantaloupe, carrots, cucumber, strawberries, blueberries, and watermelon.
If you choose to add raw meat to your dog's diet, it's crucial to avoid serving cooked, canned, or dry dog food, as these options should be served separately.
Which foods should Pitbulls avoid?
Certain foods are harmful to your dog and should be avoided, including bread dough, avocado, onions, garlic, grapes, raisins, chocolate, xylitol, caffeine, and foods that may contain alcohol.
Is dairy safe to feed Pitbulls?
In small amounts, dairy is acceptable, though it's not recommended and doesn't provide any added benefit to the high-protein diet that Pitbulls require. The best options for dairy are low-fat options such as cottage cheese, mozzarella, and plain, unsweetened yogurt.
Which foods are the best for Pitbulls?
Beef, chicken, fish, pork, lamb, and cooked eggs are excellent options for boosting the protein content in your pitbull's diet. These foods contain many amino acids, vitamins B6, B3, B12, calcium, and iron.
What vegetables are best for Pitbulls?
Broccoli, mushrooms, kale, sweet potato, green beans, carrots, parsley, pumpkin, and spinach are among the best vegetable options for Pitbulls, as they provide a rich source of plant-based protein, vitamins, minerals, and fiber.
How can I manage my Pitbull's weight control?
If you notice excessive weight gain and a lower activity level, you can switch your dog's protein source from pork or beef to fish, chicken, or turkey. This change will offer a consistently high protein level with all essential nutrients and lower fat. Additionally, you can consult with a veterinarian if changing your dog's diet to a low-fat and low-carb diet isn't as effective or concerned about other health conditions. Additionally, your vet will help you choose the best dog food for Pitbulls options.
Is it a plant-based protein diet for Pitbulls?
Pitbulls thrive on meat-based proteins, though some formulas and customized diets successfully implement a vegan diet that provides all the amino acids, protein, vitamins, and minerals your dog requires for proper development and growth. If you're committed to trying a plant-based approach to any dog's diet, especially Pitbulls, which require high-protein content, it's best to consult with a vet nutritionist for recommendations.
Best Dog Food for Pitbulls Conclusion
We hope that this article was helpful to you in selecting the best dog food for Pitbulls. Feel free to contact our team should you want us to review any other Pitbull food options to add to this list.
Amazon Best Rated Products - Last Updated on 2023-01-29. DISCLAIMER: Some or all of the product links on this page are affiliate links. The operator of this website received a small commission if you purchase products through these links, HOWEVER, there is no added cost to you. These commissions help to fund the operation of this FurryFriendsGear.com