It is no secret that dogs enjoy rolling around in mud, puddles, and dirt. Even if that's the case, being covered in layers of dirt and sludge isn't an interest we share with them. So it's bath time for our four-legged friends. Here will take a look at 15 shampoos and give you our recommendation for the best dog shampoo for labs.
Unfortunately, bathing often is not advisable for our dogs, especially Labradors. It strips their fur and skin of their natural oils. However, having one every now and then helps save your nose, carpet, and other furniture.
Choosing the best shampoo for your Lab is important. There are a lot of shampoos available on the market, and it might be confusing to choose the best one for your dog. But don't fret! We are here to help you.
How Often Should You Bathe Your Lab?
A lab's undercoat contains natural oils that keep excess water from reaching its skin. These oils are a natural barrier that keeps your dog's coat shiny and smooth. This is an important thing to understand when caring for your Lab. It will help you determine how often you should bathe your Labrador.
There are several factors at play when deciding how often you should bathe your Lab. Where you live is one factor. Do you live in the countryside or is your house surrounded by open fields? If so, then there is a higher chance that your dog gets dirty easier and more frequently, especially if your Lab is particularly playful and likes to roll around. Your Lab might need frequent baths if this is the case.
Other factors include the smell and the age of your dog. If your Lab is experiencing skin problems such as fleas, mites, and ticks, then you might need to bathe your dog more often. The frequency depends on how bad the skin condition of your Labrador is. Consult your vet to determine how often you should wash your dog. But if you want to have a bathing schedule for your Labrador, I would say that the ideal frequency is at least once a month and be sure to use the best dog shampoo for labs as recommended in this article.
How To Bathe Your Labrador
See if you can use a damp cloth or dog wipes to wash off the dirt off of your Lab. In fact, it is advised that you spot clean your Lab regularly. Don't use baby wipes because they have chemicals that might cling to your Lab's fur. These chemicals could be toxic if your dog licks it off. Instead, use the best dog shampoo for labs in lieu of a wipe.
Where you should bathe your Labrador depends on the weather. Warmer months mean that you can hose down your dog in your backyard. Your Lab won't mind being hosed with cold water. Make sure you have a few large towels ready before you start. The cold season means that you need to bathe your dog indoors. Lay some towels on the floor before you lift your Lab into the tub. Then use the shower nozzle to rinse and wash your dog.
Only use shampoos made for dogs. Pour a coin-sized drop in your hand and rub it on your Lab's coat to form a lather. Don't shampoo the dog's ears and face and use a wet cloth to wipe them instead. Hose your dog down and repeat if needed. Remember to rinse thoroughly because dogs lick their coats. You wouldn't want your Lab licking up harmful leftover shampoo on their coats, would you?
You also need to dry your dog properly. Your Labrador will shake his fur to remove water. You can help your dog by using towels to remove as much water as you can. You can also use a hairdryer set on low if your Lab can tolerate it. If not, then just make sure he's in a warm place until he's completely dry. Check out our other dog grooming articles here.
Things To Look For And Avoid In A Dog Shampoo
What you should look for in the best dog shampoo for labs is entirely dependent on your Labrador Retriever. Say you had just adopted a puppy, then you'll need puppy shampoo for bath time. If your dog has sensitive skin, then you might want to look into shampoos that have aloe or oatmeal. These ingredients will help with your Lab's irritated and itchy skin. If your dog has fleas, purchase shampoos that are formulated to kill fleas and ticks upon contact.
Remember that Labs also shed fur. So, you might want to have a dog shampoo formulated to help with shedding. You'll also want to buy a hypoallergenic dog shampoo if your Lab has allergies. As a general rule of thumb, keep your dog shampoo simple and look for ones that have natural ingredients like citrus extracts, herbal proteins, and vitamins.
Avoid dog shampoos that contain artificial dyes and fragrances. Choose more natural scents like chamomile, eucalyptus, and lavender. Never use shampoos made for humans as these are harmful to your dog's coat and skin. Many shampoos will strip off the natural oils and wax on your Lab's coat, leaving it dull, brittle, and prone to rashes.
How To Choose The Best Dog Shampoo For Labs
Choose dog shampoos that are mild and have safe ingredients. There are a few things you can do so that you have the best dog shampoo for your furry best friend. The first factor to consider is to identify your Lab's specific needs. Think about the health and comfort of your dog. For example, a Lab that has dry skin will benefit from a shampoo that contains aloe, oatmeal, and vitamin E. Knowing precisely what your dog requires will help you in choosing the shampoo that will work best on your dog's coat.
You also might want to do a skin test on your Lab. This will prevent dealing with a negative reaction if your Lab has sensitivities and allergies. Ditch the ones that are unsuitable and harmful to your dog's sensitive skin.
Product reviews that are readily available online also help make your life easier when choosing the right shampoo. Read the corresponding reviews of different products. Ask about the products on various pet forums and read different blogs. You can be sure that some of your safest options are those that have a high number of positive reviews.
Check Out These Dog Shampoos
Below is a list of 15 of the best dog shampoo for labs you might want to consider for your dog's bath time.
Chlorhexidine Shampoo for Dogs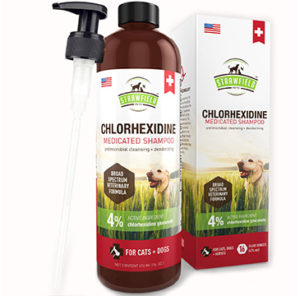 Does your dog suffer from itchy skin, mange, allergies, and hot spots? If so, then you might want to try the chlorhexidine shampoo medicated shampoo. It contains four percent chlorhexidine gluconate, an antiseptic used to cleanse skin irritations.
This shampoo uses high-quality ingredients to achieve its broad-spectrum veterinary formula that helps soothe itchy skin. It is an anti-yeast, anti-fungal, and anti-bacterial shampoo that is formulated to provide relief for dermatologic problems like acne, dermatitis, yeast infections, Pyoderma, and more.
Quick Glance
What's Good
Safe to use on

dogs

, cats, and horses
Has a light scent that will leave your

pet

smelling fresh and clean
No-sting formula makes it safe to use for disinfecting your

dog

's ears
Made in the USA
Products are made in a federally regulated and National Animal Supplement Council or NASC-inspected laboratory
What's Bad
Has a thick, honey-like consistency and does not lather well.
Requires a lot of shampoo to fully clean your

dog

Costly
Can cause an increase of shedding with some

dogs

Some dogs experience increased itchiness after use
Curaseb Antifungal & Antibacterial Chlorhexidine Shampoo for Dog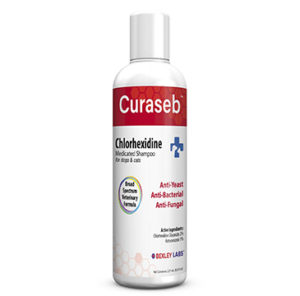 Curaseb Antifungal & Antibacterial Chlorhexidine Shampoo is one of the best shampoo options if your dog is deals with fungus, yeast, bacteria, ringworm, and Pyoderma. Its active ingredients are two percent chlorhexidine gluconate and one percent ketoconazole. These make it an effective shampoo for treating a wide variety of skin-related issues.
Curaseb is formulated to deodorize your pet's skin. It not only eliminates the musty odor but also leaves your dog smelling pleasant for long periods. Its veterinary grade formula gently cleanses the skin so that your dog's fur won't dry out.
Quick Glance
What's Good
Paraben-free and soap-free
Safe for both cats and dogs
Cheaper option compared to other brands
Has a refreshing cucumber melon scent
Made in the USA
What's Bad
The ink from the bottle label runs and stains everything it touches
Has a water-like consistency, so you need to be careful when pouring
Shampoo is red and may dye white dogs and towels pink
Can cause inflammation and rash in some

dogs

Some dogs experience

hair loss

after using this product
Veterinary Formula Solutions Triple Strength Dirty Dog Concentrated Shampoo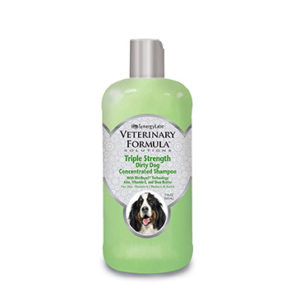 Does your Labrador love playing in the dirt? If your answer is yes, then Veterinary Formula Solutions Triple Strength Dirty Dog Concentrated Shampoo is your go-to shampoo. It is formulated to have three times more active cleansing ingredients compared to other brands. It's highly effective at cleaning even the dirtiest dogs.
It also has an exclusive formula that repels dirt. This formula can keep your pet's coat cleaner for much longer than other shampoos. It contains shea butter, wheat protein, vitamin E, and aloe vera to enrich and moisturize your dog's coat. This shampoo has a long-lasting white tea and green apple scent. Your dog will smell amazing long after bath time has taken place!
Quick Glance
What's Good
Extra strength formula to clean, moisturize, and condition even the dirtiest and smelliest

dogs

pH balanced for

dogs

so that natural skin oils remain intact
Contains patented fragrance extenders for long-lasting fragrance

Dog

feels silky and smooth after use
Lathers easily
What's Bad
The scent can be overpowering, which might not be suitable for

pets

and people with a particularly sensitive sense of smell.
May cause an allergic reaction to

dogs

with sensitivities
This product is not recommended for long-haired

dogs
Burt's Bees for Dogs Natural Shed Control Shampoo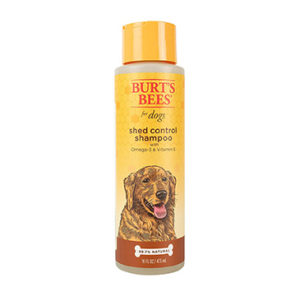 Burt's Bees harnessed all the useful properties of ingredients like honey, oatmeal, lavender, and avocado to come up with a shampoo that is suitable for all dogs and puppies. This particular shampoo is designed to help reduce fur breakage. Its shed control formula contains natural ingredients like Omega 3-s and vitamin E to strengthen fur. This mild shampoo has no fragrances, colorants, sulfates, and harsh chemicals.
Quick Glance
What's Good
Free from parabens, petroleum, and synthetic fragrances
Bottles are made of post-consumer recycled bottles
Made from natural ingredients, so it is safe for both

puppies

and adult

dogs

pH balanced for

dogs

to condition dry skin and reduce flaking
Helps prevent shedding
Leaves

dogs

silky smooth and soft
Made in the USA
What's Bad
Does not have a strong lather
The natural ingredients and lack of fragrance mean that stinky

dogs

may require more cleaning
Bark 2 Basics Honey & Almond Dog Shampoo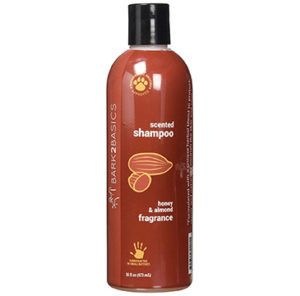 This Bark 2 Basics shampoo has an herbal blend formula that gently cleanses your dog's coat. Not only that, but its natural ingredients also help protect, repair, and nourish your pet's skin and coat. It has a mild honey and almond fragrance that will leave a pleasant lingering scent on your pet.
Bark 2 Basics handcrafts their products in small batches to guarantee high quality. It has a soap-free formula, which means that it is gentle and won't cause tears. The shampoo is rinsed out fairly quickly and does not contain harsh additives that build up on the coat.
Quick Glance
What's Good
Soap-free and cruelty-free
Made of biodegradable packaging
Used by groomers worldwide
Natural ingredients cleanse the skin without drying it out
Leaves a subtle, long-lasting clean scent
Made in the USA
What's Bad
The company is relatively new in the market as it only began operations in 2015
PetHonesty Antibacterial & Fungus Treatment Shampoo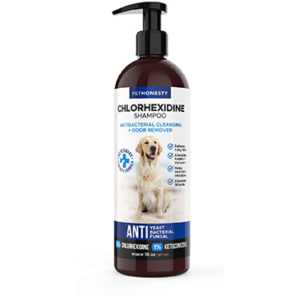 PetHonesty's Chlorhexidine Antiseptic Shampoo cleanses wounds, rashes, skin infections, hot spots, and itchiness. It is made up of two percent chlorhexidine and one percent ketoconazole. It also has aloe vera, making it an effective treatment in soothing irritated skin, infections, inflammations, and other dermatological issues.
This anti-yeast and anti-bacterial shampoo treats bacteria and fungus that cause smelly skin problems. Its gentle formula has a light cucumber melon scent that removes odors and makes sure that your dog smells clean. The bottle also comes with a cap and pump for easy dispensing and use.
Quick Glance
What's Good
Made of 100 percent natural ingredients
FDA-approved and GMP-certified
Safe to use on cats, horses, and

dogs

Does not contain corn, sugar, wheat, and preservatives
Leaves

fur

soft and fluffy
Made in the USA
What's Bad
The sweet fruit smell can be overwhelming to those with a sensitive sense of smell
Odor fades after a short period of time
Can cause inflammation and itchiness for some dogs
Benzoyl Peroxide Shampoo for Dogs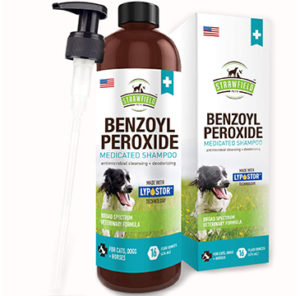 Benzoyl Peroxide Medicated Shampoo contains 2.5 percent Benzoyl Peroxide and two percent micronized Sulfur. It is designed to help relieve itchy skin and treat flaky, dry skin. Its broad-spectrum veterinary formula treats seborrheic dermatitis, hot spots, allergies, dandruff, and other skin conditions.
This medicated shampoo also offers degreasing and antimicrobial benefits to your pets. It is made using Lypostor technology, meaning that nano-sized Liposome particles enhance the effects of all functional ingredients in this shampoo. It also acts as a skin infection treatment for conditions caused by mites such as yeast infection and follicular plugging.
Quick Glance
What's Good
Universal shampoo for cats,

dogs

, and horses of all ages
Manufactured in the USA

Paraben

– and

soap

-free
Comes with a pump for easy dispensing
Effective at relieving itchiness
Reasonably priced
What's Bad
It can leave a smell of sulfur on your

dog

's

fur

Does not lather easily
Does not work for some

dogs

that have skin problems
Nutriline Labs Antifungal & Antibacterial Chlorhexidine DermaHex-K Shampoo for Dogs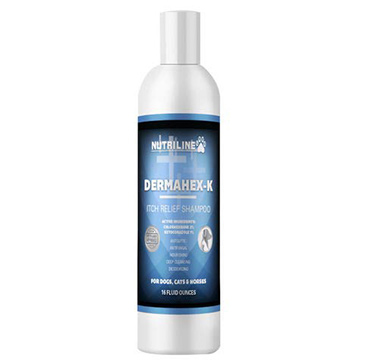 The DermaHex-K Itch Relief Shampoo is specially formulated to kill bacterial and fungal infections. Its active ingredients are two percent chlorhexidine gluconate and one percent ketoconazole to combat topical skin conditions. It also actively nourishes and deep cleans your pet's coat. Also, it does not leave a harsh chemical scent, unlike many other medicated shampoos.
This antiseptic shampoo gets rid of skin conditions like ringworm and yeast. It also protects your pet's skin to get rid of itching. You will notice that your dog is not constant scratching after just a few washes. It has a concentrated formula, so a little goes a long way to create a rich lather. Also, the shampoo rinses out easily as well.
Quick Glance
What's Good
Hypoallergenic
Paraben and Sulfate free
Deodorizes while leaving your

pet

with a light cucumber melon fragrance
Manufactured in the USA
Formulated for

dogs

, cats, and horses
Leaves

fur

soft and shiny
Relieves itching
What's Bad
Red-colored shampoo that might turn light-colored

pets

pink
Vetnique Labs Furbliss Refreshing Dog & Cat Pet Shampoo with Essential Oils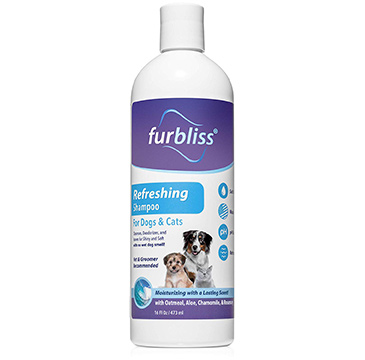 If keeping your dogs and cats smelling their best is what you are looking for, then Furbliss Refreshing Shampoo might be what you are looking for. It contains chamomile and rosemary extracts. This shampoo leaves your pet's coat feeling soft and shiny without the wet dog smell. The shampoo lathers well and is mild enough to use around your pet's face without any stinging.
Furbliss has a therapeutic formula that moisturizes the coat and leaves it soft, shiny, and healthy. This shampoo also contains aloe and oatmeal, which has a soothing effect on itchy and sensitive skin.
Quick Glance
What's Good
Seaside breeze scent that deodorizes and eliminates wet

dog

smell
Safe to use on dogs and cats of all

breeds

and ages
Made in the USA with high-quality ingredients
Tear-free formula
What's Bad
Although eliminates odor, the shampoo's fragrance doesn't last for long
Arava Natural Medicated Dog Shampoo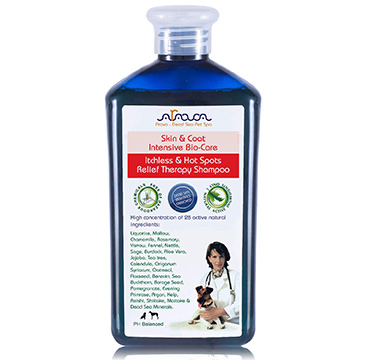 Arava Natural Medicated Shampoo has 28 active natural ingredients. These include pomegranate, aloe vera, jojoba, tea tree, argan, kelp, and Dead Sea minerals, among others. It is formulated to help reduce skin infections like dandruff, abrasions, ringworms, mange, and hot spots.
The Arava Bio-Care formula offers a gentle, deep clean to relieve dry skin. This relief therapy shampoo is safe to use on puppies and dogs. It also has a moisturizing effect and will leave your dog's fur silky smooth. After a bath, you can expect your dog to smell light and fresh.
Quick Glance
What's Good
Made of 100 percent natural and herbal ingredients
Chemical-free formula
Part of each sale goes to non-profit organizations for

animals

' rights
Has a light herbal scent
What's Bad
Does not lather very well
Has a thick consistency that might need to be thinned out with water especially if you have big

dogs

Can cause a rash to

dogs

that have skin issues
Has a higher price tag than other

dog

shampoos
Rocco & Roxie Argan Oil Dog Shampoo and Conditioner – Healthy Shiny Coat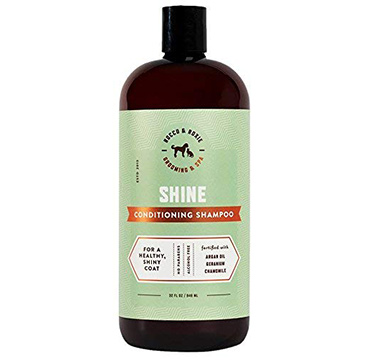 Has your dog's coat lost the luster it once had? If you nodded your head yes, then Rocco & Roxie might have the shampoo you are looking for. Their Shine Conditioning Shampoo contains argan oil, peppermint oil, vitamin A, and geranium extract that deeply conditions and moisturizes your pet's skin.
We have found that this product leaves a dog's fur soft, shiny, and smooth.It also alleviates itchiness, allergies, and dryness. It repairs hair follicles, restores luster, and helps dogs stay clean for long periods. This shampoo leaves a fresh and natural scent that is not overpowering.
Quick Glance
What's Good
No parabens, phosphates, masking dyes, and drying alcohols
Sudsy shampoo that is easy to rinse out
Owned by a family-run business that offers great customer service
What's Bad
Has a light scent which means that a very smelly

dog

may need a more thorough cleaning to remove the wet

dog

or other odors off their coat
Doesn't work as well with

long-haired

dogs

compared to short-haired

breeds

Does not lather well
Earthbath Oatmeal & Aloe Shampoo, Vanilla & Almond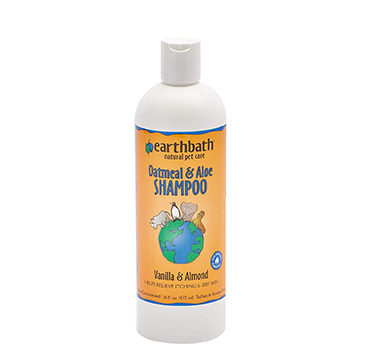 Earthbath All Natural is one of the top choices for your pet's sensitive skin and coat. It contains aloe and three percent colloidal oatmeal, which relieve dry and itchy skin. It also helps heal and re-moisturize sensitive skin. The new and improved shampoo is gentle on all skin types. It has many natural ingredients, allowing your pet to have a gentle but thorough cleaning. Not only that, but it deodorizes and leaves a lasting vanilla and almond fragrances well.
Quick Glance
What's Good
Compatible with flea treatment
Biodegradable packaging
Uses natural ingredients and is 100 percent cruelty-free
pH balanced and soap-free
No parabens, synthetic dyes, and phosphates
Safe to use on both cats and dogs
What's Bad
Scent only lasts for a day at most
Water-like texture and does not lather well
Can cause issues for dogs with skin sensitivities
Need to use a lot for a medium-sized dog
Veterinary Formula Clinical Care Oatmeal and Tea Tree Oil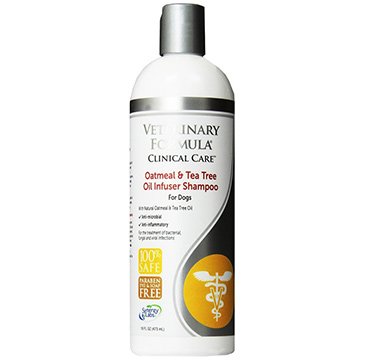 This anti-microbial and anti-inflammatory shampoo contains natural oatmeal and tea tree oil. It has veterinary-grade ingredients that gently cleanse skin infections and allergies. It also alleviates dry, flaky, and itchy skin caused by fungal and bacterial infections. The shampoo also soothes the sting and itch of bug bites.
Quick Glance
What's Good
Soap, dye, and paraben-free
Compatible to use with topical flea and tick treatments
Made in the USA
No artificial fragrance and has a light tea tree oil scent
What's Bad
A lot of the product is needed to get a rich lather
Scent is very subtle
Contains DMDM Hydantoin which is a toxic formaldehyde component
Pet MD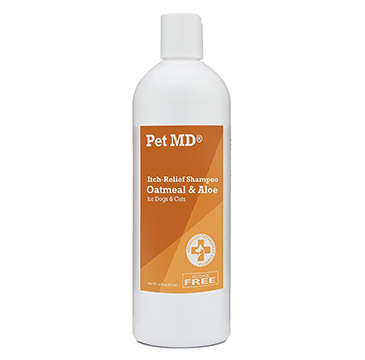 This Pet MD Shampoo has aloe, wheat germ oil, and oat protein to moisturize your dog's skin. This shampoo can help relieve itchiness, flakiness, and skin irritations. It rehydrates the skin while leaving your pet's coat shiny and smooth. It also has a nice clean scent that is not overpowering.
Quick Glance
What's Good
Soap and alcohol-free
Made in a federally regulated facility in the USA
Safe to use for all animals over six weeks
Compatible with flea and tick meds
What's Bad
Sensitive dogs may only receive temporary relief from itching
Sensitive dogs may experience hair loss
Does not have a desirable fragrance
And The Best Labrador Retriever Dog Shampoos Is…
So there you have it, a roundup of some of the best dog shampoos for your Lab. Of course, you would want only the best of the best for your dog. We understand that every dog is different and that this needs to be taken into consideration when choosing the best dog shampoo. Some dogs may need a shampoo that helps relieve itching, while others may need one that has only natural ingredients.
Our choice for best dog shampoo for labs is Burt's Bees for Dogs Natural Shed Control Shampoo. This natural shampoo uses excellent ingredients that help reduce shedding while preserving your dog's luster and shine. It has a subtle odor that smells clean and is not overpowering, unlike many dog shampoos on the market. It is affordable and a lot goes a long way.
Check Amazon's Price
A close runner up is PetHonesty Antibacterial & Fungus Treatment Shampoo. This is a great shampoo for dogs that have allergies, sensitivities, and skin problems. After using this product, you will find that your dog smells clean and that they are not itching like they were before bathtime. The pump is also very convenient.
Check Amazon's Price
We believe that Earthbath Oatmeal & Aloe Shampoo, Vanilla & Almond deserves a featured spot as a runner up as well! This shampoo is made from all-natural ingredients that help reduce itchiness and can help your dog's coat feel soft and shiny. Overall, we believe that this is a very affordable product that works.
Check Amazon's Price
Another runner up shampoo for labs with skin conditions goes to Nutriline Labs Antifungal & Antibacterial Chlorhexidine DermaHex-K Shampoo for Dogs. This shampoo does exactly what it claims to do. It helps relieve itchiness and dogs with skin issues. Also, it has a long-lasting scent and leaves your pup feeling soft and silky.
Check Amazon's Price