My cat loves the outdoors, and I enjoy watching her have fun. But at the same time, I also can't help but feel anxious as I know many things can happen to her while outdoors. I have the option just to let her stay indoors, but I don't think it's right to keep her secluded here. So, I surfed the internet and found the Best Pet Outdoor Cat Cage, an outdoor cat enclosure that offers the best solution to my problem.
Things to Consider Before Buying an Outdoor Cat Enclosure
An outdoor cat enclosure is designed to keep your cats safe while they explore the outdoors. It is now considered one of the essentials by cat owners, and since there is a lot on the market, choosing the best one is harder.
So, to help you find it, here are a few things that you should consider:
Your Space
If you have your own backyard, try to assess how big the space you have to set-up an outdoor enclosure. You can also try to consider the places where your cats would most likely love to go to when they're outside. This way, you get to know how big the cat enclosure you would need to buy.
But, if you're staying in an apartment and don't have your own backyard, you might want to prefer the foldable cat enclosures. With this, you can try to consider how much storage space you have in your home for this product. If not a lot, then you might need to buy a smaller size.
You can also think about how much space you can occupy if you visit a common park. You might need to choose an outdoor enclosure that is not too big to leave room for other animals to play in, too.
Portability
Speaking of foldable cat enclosures and going to common parks, portability is another thing you should consider when buying an outdoor cat enclosure.
Whether you're often traveling or just bringing your cat out daily, a portable cat enclosure is definitely for you. This is usually made of lightweight materials and has a foldable design so you can carry it easily wherever you go.
The Design
As I mentioned earlier, there are many outdoor cat enclosures on the market today. They all come in different materials, shapes, sizes, and structures.
You can choose a design that you think is the most aesthetically pleasing to your eyes, like your favorite color, for example. You can also choose a design depending on what material your cat would be most comfortable with. Probably on that would provide excellent ventilation, so your cat doesn't feel confined. You can also choose a design that you think would match your house's or backyard's aesthetics.
Materials
Next, you should also make sure that the materials of your outdoor cat enclosure are high-quality. For me, this is an excellent indication that the whole product is high-quality, too. After all, better materials will always last longer so you won't have to spend more on maintenance.
Set-Up Process
You must also consider the amount of time you can spend to set-up the cat enclosure. I know we all love our cats, but not all of us can dedicate hours to set up an enclosure. If you're one of these people, you should definitely get one that comes with an easy set-up process.
You can choose between two types – pop-ups and the pull-string. Both types would only require a few seconds to have the cat enclosure installed. The only problem is that these types tend to be very simple and are usually smaller.
The Number of Cats You Have
If you have multiple cats, the number is one thing to consider. This is what would help you determine the best enclosure size to get.
Naturally, you would want a cat enclosure that would fit all your cats without them feeling too confined. Meaning, there should still be enough room left for them to roam around, and you can even still place extra toys and accessories inside.
Accessories
If you love freebies, accessories are one that you should look at. Not all outdoor cat enclosures offer this, especially the simple types. However, if you're looking to buy multi-tiered cages, the accessories will be one deciding factor for you. It's an excellent way for you to save up money rather than buying them separately.
Budget
Lastly, you should set your budget. This will help provide you limits on what you can and can't buy as it will already help you narrow down your choices.
If you don't want to set one, but you're still looking to save, check the list above and try to decide which features you love. After that, find the best brands that offer it, compare the prices, and go for the one that is worth the money you spend.
Best Pet Outdoor Cat Cage Review
The Best Pet Outdoor Cat Cage is one of the best-selling cat cages on the market. It's also the perfect choice for those looking for a multi-tiered cage but is on the budget. It is made of strong metal painted with non-toxic, black paint, giving it quite a modern and elegant look.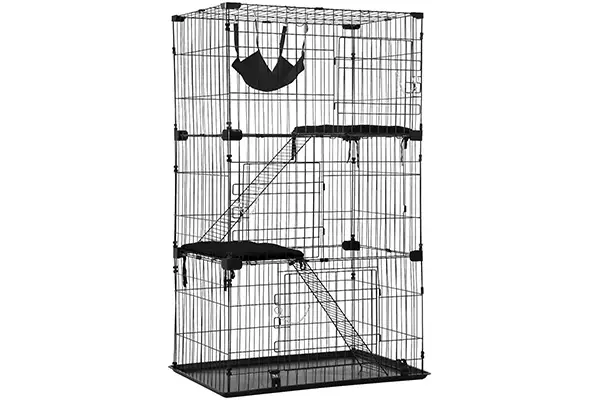 The product is said to be large enough to fit three adult cats. The big openings allow excellent air circulation inside and a chance to enjoy a great view and 360-degree sunbath, too. But the best part for me is that this cat cage comes with accessories that will make your cats enjoy their time while inside.
Quick Glance
What's Good
A multi-tiered large cage that fits up to 3 adult cats
Comes with lots of accessories
Have three oversized doors and a slide-off base plate for easy cleaning access
Reasonably Priced
What's Bad
Assembly Required
Few cat owners complain about the flimsy ladder and unclear instructions
Features and Benefits Of The Best Pet Outdoor Cat Enclosure
Design and Materials
The Best Pet Outdoor Cat Cage is a large multi-tier cat cage made of sturdy and strong metal wire. It is also rust-proof and rot-proof, ensuring the product's quality that will last with you for long periods.
It is a very simple looking cat cage covered with black paint, giving it a modern and stylish look that perfectly matches any home style. The paint used is non-toxic to ensure that it's safe for your cat to use.
Each floor has three oversized doors that you can use to put your cat in and out easily, and it also comes with secure locks so your cat remains safe inside.
There are two ramps inside that would make it easier for your cat to climb up and down each floor. In every platform, there are different activities she can try and enjoy.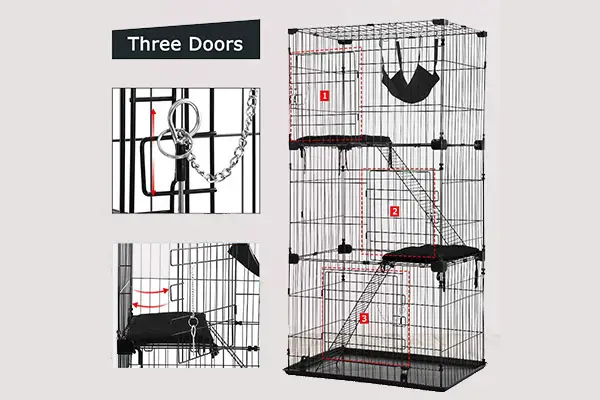 Activity Space
The Best Pet Outdoor Cat Cage has a product dimension of 33 x 67 x 22 inches. This is pretty big and is said to fit three adult cats. It's also enough space to support the energetic activities they do like running, jumping, and playing. You can also put extra stuff inside like a litter box and other toys for them to enjoy.
Ease of Cleaning
The Best Pet Outdoor Cat Cage comes with three oversized dogs, one for each platform so that it's easy for you to access it. This way, you can put your cat in and out easily. Cleaning is also easier as you don't have to disassemble the whole cage just to do this.
There's also a pan stop at the bottom of the cage. To clean it, remove the buckles on the slide and slide the tray out to clean it.
Ease of Set-Up
This outdoor cat enclosure does need to be assembled. However, it's not something to worry about as it comes with clear instructions that would make things easier for you. Some users say it wouldn't take you up to one hour to assemble it whole.
Freebies
Everybody loves any extras, which makes this Outdoor Cat cage from Best Pet rise from its competitors.
There are two cat beds available on the second and third platforms and a swing at the third platform. This gives your cat a lovely place to relax when they take their afternoon naps. They also come in a pink color if you don't want the black option.
Flexibility
Lastly, we love this cat cage's flexibility. You don't have to put up the hammock's and platforms the same way in the picture. If you have kittens, you might need to adjust the beds and hammock lower, so it's easy to reach.
Social Proof
As you can see, the Best Pet Outdoor Cat Cage is a great product. However, I know you can't just take my word for it, so let us also look at what other customers say.
This cat owner bought this for her kittens and said it helped with the litter training. The kittens also loved the hammock, so she added more cushions they can relax in.
This cat owner loves the fact that this cat cage is pretty quick to assemble. She also loves that it feels light despite the size.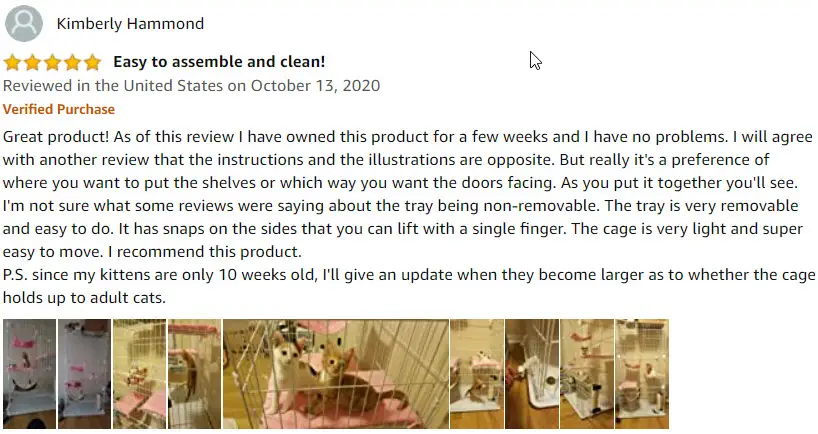 This cat owner also finds this cat cage easy to assemble and works well for a cat that can't get along well with others. The only issue she had, though, is the ladder.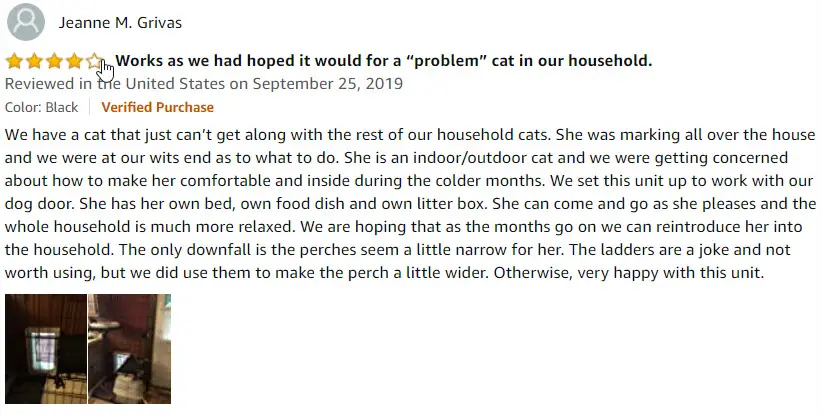 Alternatives To The Best Pet Outdoor Pet Cage
We all know that every cat has different preferences. So, if you think this outdoor cat cage from Best pet is not for your feline friend, here are some alternatives you can check out:
EliteField 2-Door Soft Pet Playpen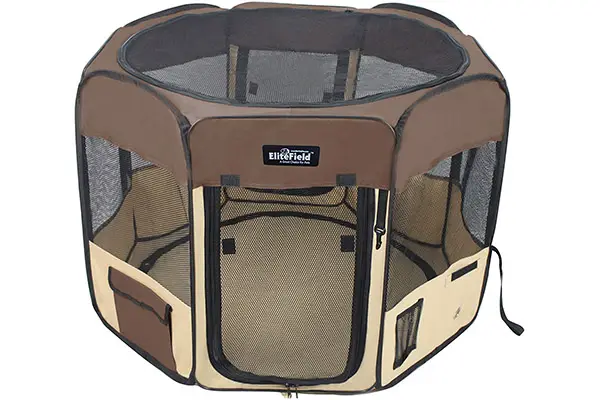 First on our list is the EliteField 2-Door Soft Pet Playpen, one of the best-selling playpens on the market. As the name implies, it's an octagon-shaped playpen that features two doors for easy access on any side. The floormat and roof cover is detachable for easy cleaning, too.
The playpen comes with mesh windows for better air circulation insides. It also comes in eight different sizes and colors, so you can find one suitable for your taste and one that would be most comfortable for your cats to stay in.
Outback Jack Outdoor Cat Enclosure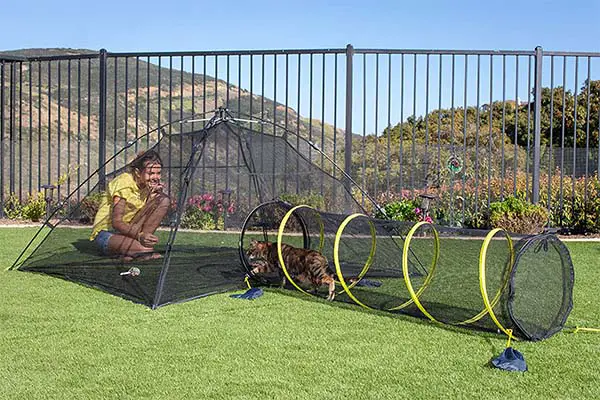 Another alternative you have is the Outback Jack Outdoor Cat Enclosure. This one also comes with a portable design, but instead of being a playpen, this product comes in two parts – a cat tent and a cat tunnel.
You can use the cat tent and cat tunnel separately or together to create a bigger activity space. It's estimated to give your cat over 30 square feet of activity space inside, which is enough for several cats to roam around inside even with a few more accessories.
Hi Suyi Cat Tent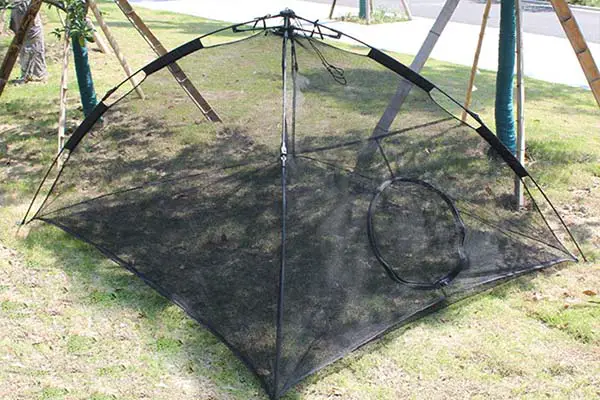 Our third alternative is another cat tent, the Hi Suyi Cat Tent. This cat tent is spacious and has over 32 square feet of activity space inside, perfect if you have multiple cats. You can even add other toys and accessories they would need inside.
The cat tent is made of mesh material to provide excellent air circulation. At the same time, your cat can sunbathe without any problem. I also love that the product comes with a portable design so you can take it anywhere without any problem.
Conclusion
Overall, the Best Pet Outdoor Cat Cage is an excellent product for those looking for a durable and modern-looking cat enclosure. This is also the best option for those looking for a multi-tier platform but is on the budget. Because of the many extras, you can save more money from buying beds and hammock that you'd want to put in your enclosure.
Click here to get current pricing on Amazon for The Best Pet Outdoor Cat Cage.>>