I love taking my cat out from time to time to enjoy the outdoors, especially on a sunny day. However, we can all admit that our backyard is not the safest place for them. If curiosity beats them, they will surely stray away, and who knows what may happen. So, I surfed the internet and found what could be the solution to my problem – the Hi Suyi Cat Tent. It's an outdoor cat enclosure I can set-up in my backyard to provide a safe place for my cat.
Things to Consider Before Buying an Outdoor Cat Enclosure
An outdoor cat enclosure is probably one of the best items developed. It ensures to keep your cats safe while they play outdoors. You are also creating a boundary of where they can go, and you don't have to keep an eye on them all the time as you're sure that they won't get lost.
However, what's the right outdoor cat enclosure that you should buy? We know you can't just pick whatever you saw first in the marketplace. You need to take into consideration the few things below:
Your Space
Go to your backyard and try to see how much space you can provide for the cat enclosure. Most of the time, we would like a big cat enclosure to give your cats lots of activity space. If you have the space for it, then you can certainly opt for a permanent cat enclosure set-up in your backyard.
But, what if you don't have your own backyard because you're only staying in an apartment building? Well, you can always go for the foldable ones that you can take to the park. If there's a lot of space there, then you can still buy a bigger size to provide more room to play in.
Portability
I have already mentioned that if you're only living in an apartment, it's better to choose the foldable cat enclosures that you can take and open up anywhere you want. This is what you call portability, another thing you can consider.
If you love traveling with your cat, then you should definitely go with cat enclosures that are lightweight and easy to carry. These usually come with a pop-up or pull-string system as we all know you don't have time to set-up when you're outdoors.
You'd rather want to spend your time doing other stuff, and your cat would rather play immediately than watch you assemble her enclosure.
The Design
Next, you might also want to consider the design of the cat enclosure. There are lots of types of cat enclosures, from elegant multi-tiered ones to simple cat tents. You can choose the design based on what's aesthetically pleasing to your eyes, what your cat would love, or what would be most suitable for your home. It's your choice.
Materials
Always remember to buy a product made of high-quality materials. I think that this just adds great value to the overall quality of the product as it tends to last longer. This also makes you think that you haven't wasted money at all.
You should note, though, that the materials would depend on the design of the cat enclosure. For example, if you're going for something metal, you might want to make sure that it's rust-proof.
Set-Up Process
Not many of us love to spend a lot of time setting up. So, if you're one of these people, you can go with an outdoor cat enclosure that no longer requires assembly. These are usually the foldable ones that can be assembled using a pop-up or pull-string system.
Of course, you need to note that these kinds of cat enclosures will only provide your cat a large but limited space. If you wish to go with multi-tiered enclosures, then you have to expect that you would need to spend time assembling it.
The Number of Cats You Have
The size of the outdoor cat enclosure would depend on the number of cats you have. The more cats you have, the bigger you should also get to provide more room for them. Your cats shouldn't feel confined or imprisoned when you put them all in the enclosure.
Remember, the purpose of an enclosure is to provide space for them to roam around safely. And it beats the purpose if they won't be able to do this because you bought a smaller size than what can accommodate them.
You should also think about your plans to adopt more cats in the future. If so, you can already buy a larger cat enclosure, so you don't have to buy one soon when you add more cats.
Accessories
Some cat enclosures already come with extra accessories, especially the bigger cat enclosures. So, if you're going with a bigger cat enclosure, this can be one of your deciding factors of which one to choose.
Budget
Finally, think about how much you are willing to spend on an outdoor cat enclosure. This will help you greatly in narrowing down your choices. Remember, the cheaper the item doesn't necessarily mean it's terrible; you just need to choose one that would be worth the money you spend.
Take a look at the list above again and think about which features are essential to you. Then, try to find them in the marketplace. Choose at least three of the items and weigh the benefits and downsides. After that, think about which of those will be worth buying.
Hi Suyi Cat Tent Review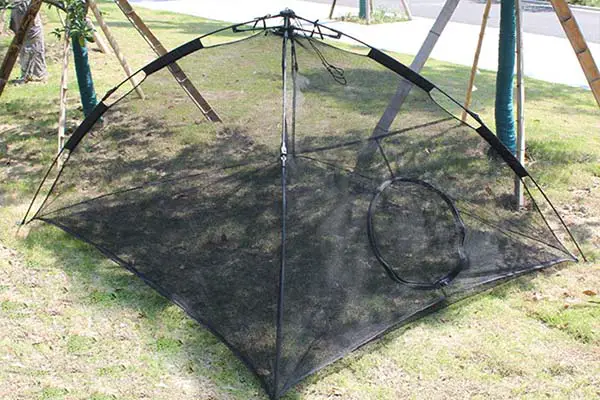 So, why did I choose Hi Suyi Cat Tent out of all the products on the market?
The Hi Suyi Cat Tent is, as the name implies, a spacious cat tent that is perfect for multiple cat owners. The product features a high-quality mesh material and a pull-string pop-up system. It's also very light and easy to carry.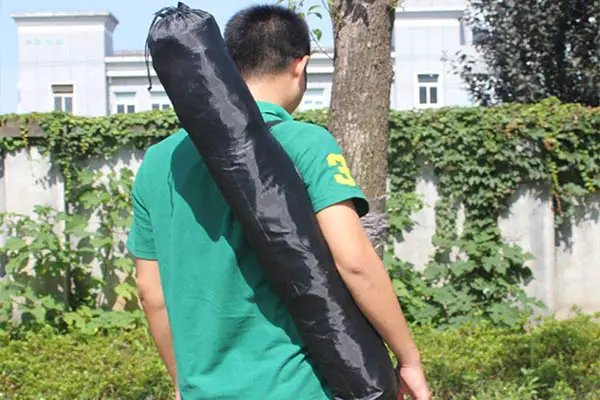 All in all, this product promises safety, comfortability, and ease of assembly. It's also great for travelers who take their cats with them on outdoor adventures.
Quick Glance
What's Good
Has over 32 inches of activity space.
It comes with a pop-up system.
Lightweight and portable.
What's Bad
There are a few complaints that it's not easy to fold to stow away.
A few users also complain that the zippers are easily broken.
Features and Benefits
Design and Materials
The Hi Suyi Cat Tent is a simple cat tent that will fit multiple cats. It is made with high-quality nylon mesh on all sides. This is perfect for providing your cat with excellent air circulation and full access to the sun and the view around him. There's one large circular door that will give access to your cat inside.
We also love that the mesh quality is easily washable, which provides less hassle for you.
Activity Space
The Hi Suyi Cat Tent has a product dimension of 74 x 63 x 36 inches, which is pretty large to cover multiple cats. There are over 32 square feet of activity space inside, which makes it cozy. Plus, there's plenty of room left for your cat's toys and other accessories.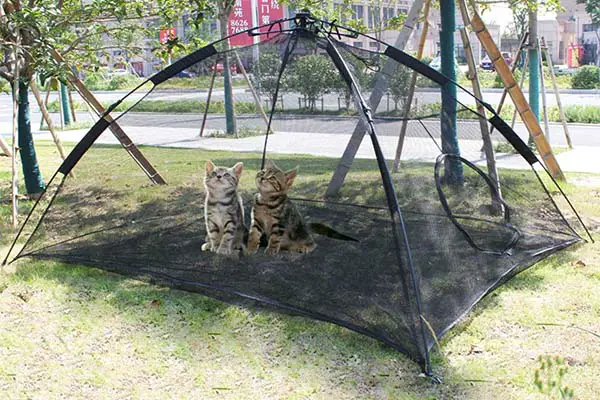 Ease of Assembly
What we love about the Hi Suyi Cat Tent is the easy set-up process. There's no need for you to attach the tent poles as everything is readily assembled. All you have to do now is open it.
The manufacturer summarized the process in four steps:
Take out the tent from the bag.
Spread out the poles.
Then, slowly pull-up the rope until it opens up.
After that, put it down on the ground.
It's that easy and would not even take 2 minutes.
However, though the set-up process is kind of easy, some users complain about how hard it is to put back to the case. But, for sure, you'll be able to figure it out after a couple of uses.
Portability
The Hi Suyi Cat Tent is designed to be lightweight and portable. It weighs about 3.75 pounds, which makes it very easy to carry. It also comes with a carry-on bag for easy portability and ground pegs to protect it from toppling over because of strong winds. Perfect for adventurers like you.
Social Proof
The Hi Suyi Cat Tent is a great product. But don't just take my word for it. Let us also take a look at what other cat owners say about the product.
This cat owner is impressed with how her two large cats easily fit inside the tent while still leaving lots of space to roam around.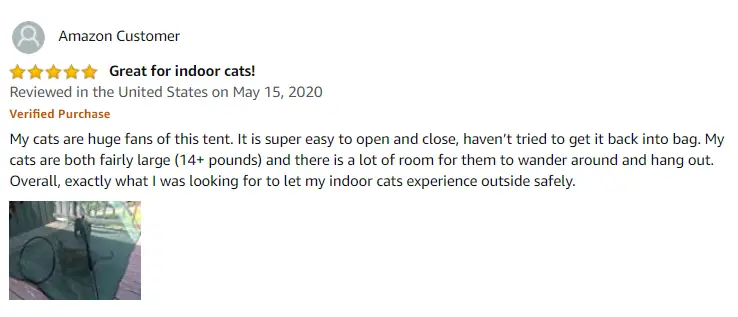 This cat owner is impressed with the easy set-up process that even if it's just for 15 minutes that he'll be outside with his cat, he's still going to take it with him.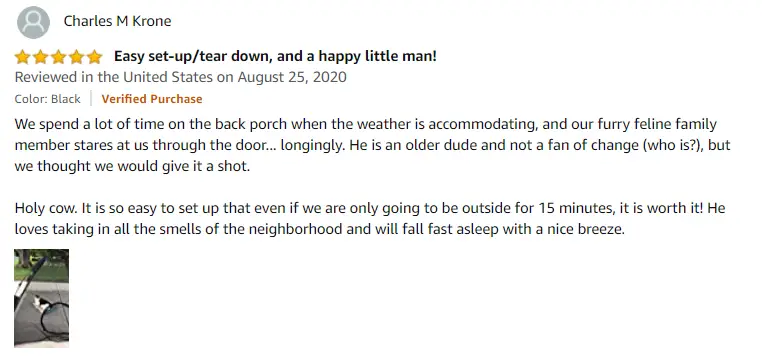 This cat owner loves the Hi Suyi Cat Tent overall. However, she suggests having a bigger storage bag for an easy fit.

Alternatives To The Hi Suyi Cat Tent
Now, I'm pretty aware that not everyone would find this cat tent as the perfect fit for their cat. So, here are some alternatives you can check out:
Zampa Pet Playpen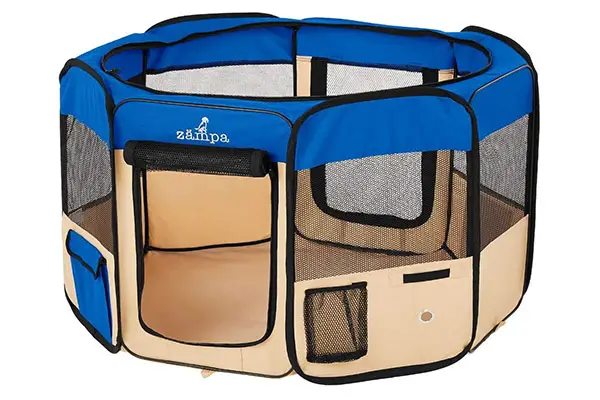 The first on our list is the Zampa Pet Playpen. This is an octagon-shaped playpen with a detachable roof for those with cats who love to climb out. It comes in four sizes to allow you to choose the best size to make room for all your cats without them feeling imprisoned.
This is another foldable, lightweight, and portable cat enclosure you can buy if you love traveling. It comes with four metal spikes, so it doesn't topple over outdoors.
PawHut Wooden Outdoor Catio Cage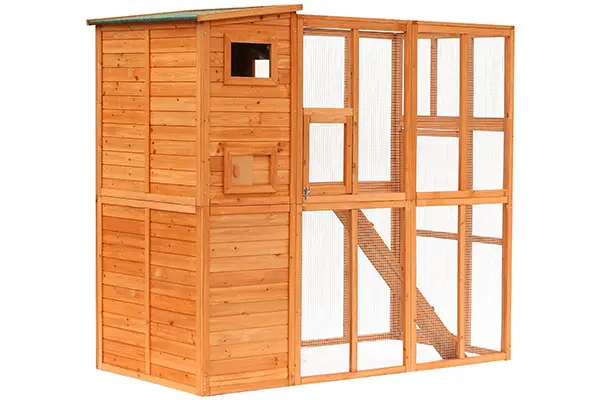 PawHut Wooden Outdoor Catio Cage is an excellent alternative for those looking for something stylish and elegant. This is made of wood and non-toxic wires and provides a multi-tiered platform your cat can enjoy.
We love the large door for easy access when putting your cats in and out and also for cleaning. But, since this is a large cage, you should note that you'd have a lot of assembling to do. Again, this is not something you can quickly transfer from one place to another, so it's perfect for those with large backyards.
Best Pet Outdoor Cat Cage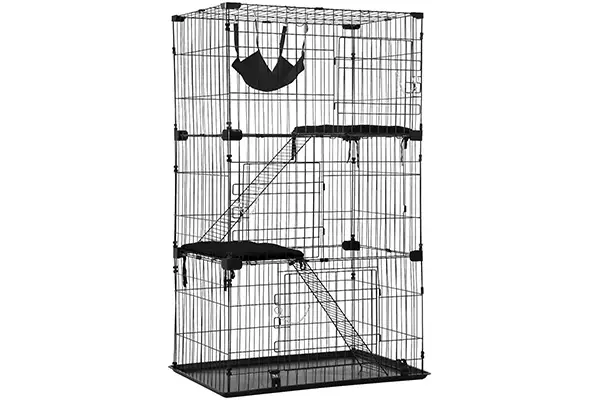 Another alternative for those looking for multi-tiered platforms is this Best Pet Outdoor Cat Cage. This one is made of sturdy and strong metal that is painted black. But what you would love the best here are the extra accessories – hammock, two cat beds, and two metal ladders.
You should note that assembly would require and might probably take about 30 minutes of your time. But, you get a beautiful cat cage in return.
Conclusion On The Hi Suyi Cat Tent
Overall, I can say that although the Hi Suyi Cat Tent comes in a simple design, it is made with high-quality materials. Manufacturers put a lot of thought into the durability, ease of set-up, safety, and comfortability of the product. Perfect for those who love traveling to faraway places with their feline friends.
Click here to get current pricing on Amazon for The Hi Suyi Cat Tent.>>