My cat has always loved the outdoors. However, I also can't deny the fact that the outside world is indeed a dangerous place for these little kitties. A lot of bad things can happen like dogs can chase them, they will chase small objects they're curious about, they might stray away, or someone might steal them. So, to give me some peace of mind, I surfed the internet to find the best solution for this problem, and there I found the Zampa Pet Playpen.
Things to Consider Before Buying an Outdoor Cat Enclosure
Outdoor cat enclosures are items you can buy from the market that aim to keep your cat safe while they play outdoors. It's perfect for our explorer but vulnerable feline friends. It's also the ideal solution for whatever problems and worries we have when our cats play outdoors.
However, since this is one of the cat essentials, there are many outdoor cat enclosures on the market. So, for you to choose the best one for your cat, here are a few things you should consider:
Your Space
First, try to estimate how much space you'd wish the cat enclosure to occupy. If you have multiple cats, it's natural to want to have a big enclosure to make room for all of them. A permanent multi-tiered cat enclosure in your backyard might be the best, given that you have your own backyard to build that up.
But, if you're only staying in an apartment and sharing a common lawn where you usually take your cat out, then you can't get those big enclosures. You might rather go with the foldable ones that are easy to set-up and keep in your home.
Portability
If you're quite the adventurer who loves going away with your kitty, portability is one thing you should consider. Naturally, you would want a cat enclosure that comes with a portable design and lightweight, so it's easy to carry anywhere you want. They also usually come with a carry-on bag and ground stakes, so it doesn't topple over when there are strong winds.
Materials
The next thing you should look at would be materials. What kind of materials were used? Is it high-quality? Would your cat be comfortable with it?
If you're looking at a playpen or cat tent, you would want to look at the fabric used if it would allow excellent air circulation so your cat won't feel suffocated. If it's a metal cat cage, you would want it to be sturdy, rust-proof, or rot-proof. Lastly if it's something permanent that you would install outside, you would like to ensure that it can stand against any weather conditions.
Looking at the materials helps in knowing about the quality of the product. It's also the best way to tell if what you're buying is actually worth it.
Set-Up Process
Next, you need to ask yourself if you're willing to dedicate a lot of time to set up the cat enclosure. If not, then you should go with something that won't require you with any tools. Probably one that pops up once you open it.
But, if you want the bigger ones with multiple platforms, you have to expect that you're going to need to spend a lot of time assembling. But, they usually come with instructions, so it's not really a big problem.
The Number of Cats You Have
If you own multiple cats, you would have to consider this, too. This would help determine what size you should get.
You must ensure that the enclosure is big enough for all your cats. They would need to have plenty of space to run around into, and if possible, you can still put a couple more things inside. Try to consider if you're getting more cats in the future and get a bigger enclosure that would fit that number. This way, you won't have to buy a new one.
The Design
If you are a bit conscious of aesthetics, then the design is one to look at. Cat enclosures come in many types – multi-tiered or single-tiered, wood or mesh or cage. Your choice would likely depend on:
What would best suit your lifestyle?
What's comfortable for your cat?
What would look good in your backyard?
What would look good for your eyes?
Accessories
Who doesn't like freebies, right? If you're going with the multi-platform outdoor cat enclosures, then accessories might be something to consider as this is common with that type. It also helps you save money that you would have to spend to buy extra accessories your cat would enjoy inside her enclosure.
Budget
Last but not least, think about how much you're willing to spend on an outdoor cat enclosure. It's not wise to buy an expensive cat enclosure just because you think it's the best. There are always lots of affordable but high-quality options on the market.
You must always weigh in the pros and cons of every product, and having a budget will help you decide on what would be the most worth buying. It also helps in narrowing down your choices.
Zampa Pet Playpen Review
The Zampa Pet Playpen is considered one of the best playpens on the market today. It's a spacious octagon-shaped playpen that gives multiple cats enough room to roam around inside. It also has a removable roof that you can keep attached if your cats can climb up to escape.
The whole product is foldable and lightweight, so you can take it anywhere you want. It also comes with four metal spikes, which makes it appropriate for outdoor use.
Quick Glance
What's Good
It comes in four sizes
Pop-up system, lightweight, and portable
100% money-back guarantee.
What's Bad
May not be the best choice for cats who love scratching
Features and Benefits Of The Zampa Outdoor Pet Playpen
Design and Materials
The Zampa Pet Playpen is a stylish playpen that comes in an octagon-shaped design. It comes in four sizes so you can choose the best size that will give enough space for all your cats. It also comes in four colors, so you can always choose what looks best for you.
The playpen features one door and a removable roof cover. So, if you have cats who love climbing, you don't have to put them inside through the roof. You can put them in through the door. The floor is permanently attached, there are no zippers, so you won't have any problems about treats getting stuck to it.
Other extra features you might love are the bottle holder and exterior side pockets for any personal items you might want to keep within your reach. It also has mesh windows all around to provide excellent air circulation so your cat won't feel suffocated.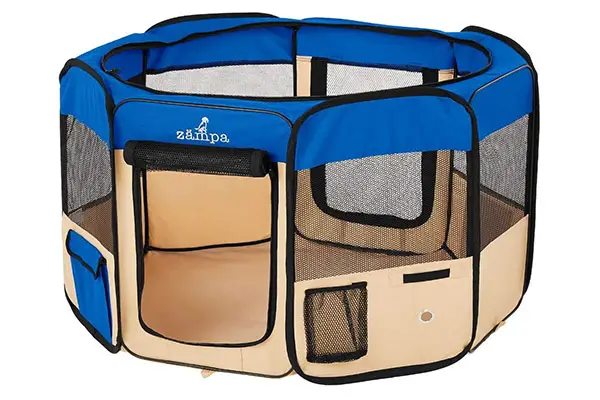 Activity Space
As mentioned above, the Zampa Pet Playpen comes in four sizes to ensure that you can choose the best size that will give your cat lots of activity space.
The extra small size has a 29 x 29 x 17 inches product dimension, which is enough for one or two cats and a few extra accessories. On the other hand, the largest size has a product dimension of 61 x 61x 30 inches, which can fit multiple cats and a couple more things inside.
It's a very spacious playpen that your cat will love.
Ease of Assembly
Another great advantage the Zampa Pet Playpen offers is the ease of assembly. You don't need to assemble it. It comes in a foldable design that would just pop-up once you open it. It won't even take you a minute, and your cat will be able to enjoy it immediately.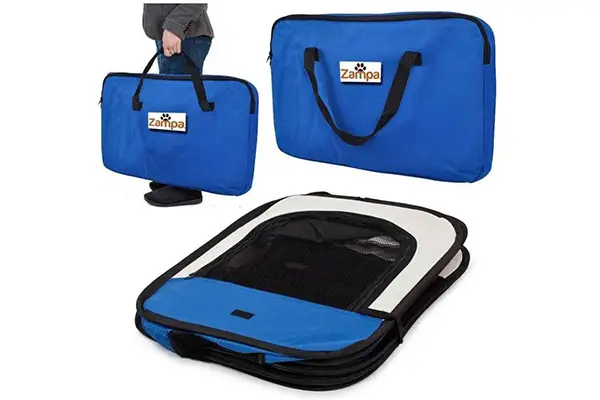 Portability
If you're looking for a great portable outdoor cat enclosure, the Zampa Pet Playpen would also be one to look at. It weighs about 6.0 pounds and comes with a hand carry bag so you can easily bring it wherever you want. The best part is, there are metal spikes so that wherever you go, the playpen is secured even if there are strong winds.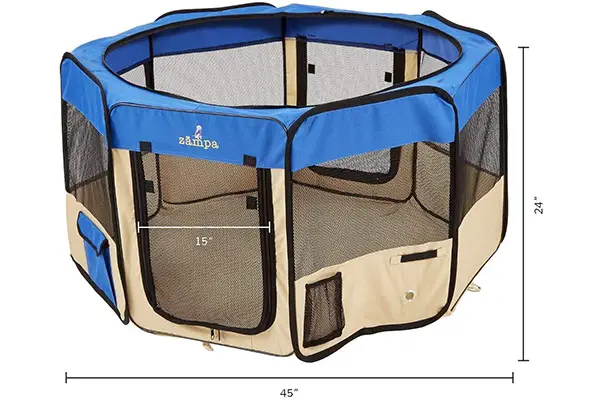 Social Proof
The Zampa Pet Playpen is an excellent choice for an outdoor cat enclosure. However, I know you shouldn't just take my word for it, so let's take a look at what other customers say about it:
1) This cat foster parent bought a medium-sized Zampa Pet Playpen and is impressed with the quality and the space it provides. In her estimate, she might be able to fit six kittens inside and still have a lot of room to roam around.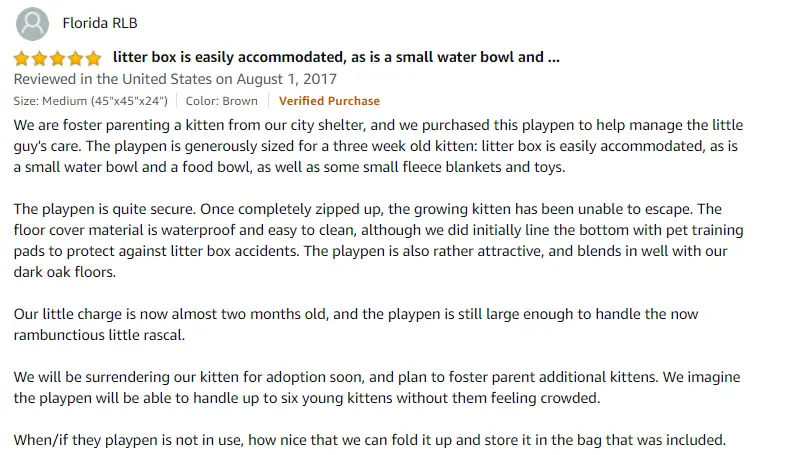 2) This cat owner uses the playpen as a home for her cats in a hotel room when she travels. She could fit her three adult cats and one litter box inside while still leaving plenty of space for them not to feel too confined.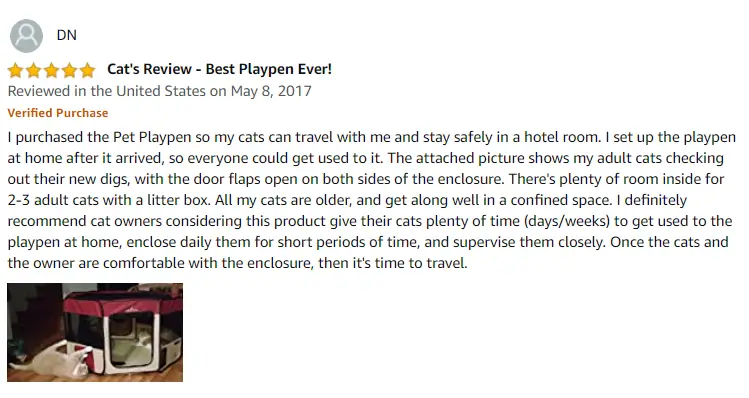 3) This other customer uses the playpen for her puppies, too. The only concern, though, is that folding the playpen back is a little bit tricky.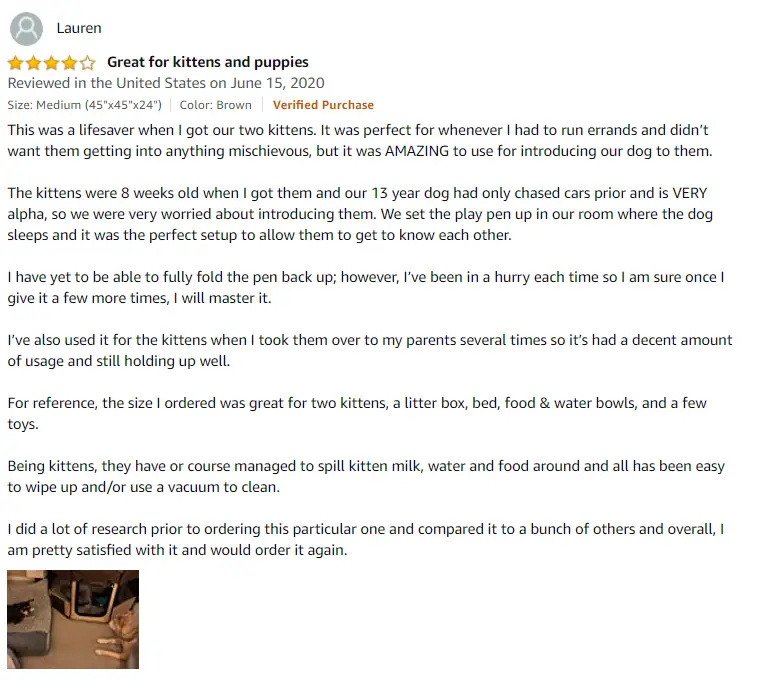 Alternatives To The Zampa Pet Playpen
There's really no one solution for every problem. So, even after all the positives above and you still think this playpen is not for you, you can check out these three alternatives, too.
PawHut Wooden Outdoor Catio Cage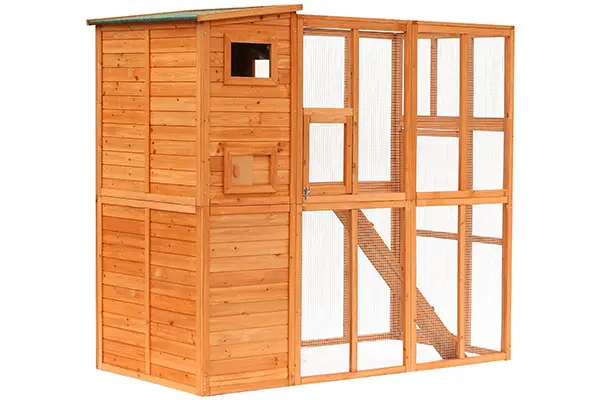 First on our list is the PawHut Wooden Outdoor Catio Cage. This is the best for those who are looking for a more stylish and elegant option for an outdoor cat enclosure. This comes with a multi-tiered platform, a ramp, and is made of wood and non-toxic wires. It's your best choice if you don't want to do your own DIY of the same kind of cat enclosure.
The best thing about this is it provides a lot of activity space for your cats. And since cats love climbing on things, they will surely love the multiple platforms and the ramp it gives. You also get to have plenty of space to add more accessories and toys inside.
The biggest disadvantage, you would need to spend a lot of time assembling it.
Best Pet Outdoor Cat Cage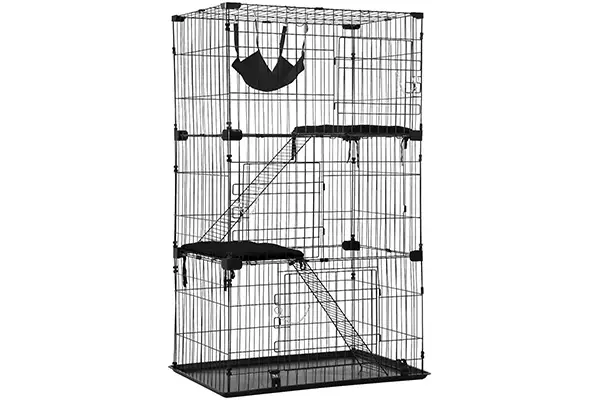 Another multi-tiered platform you can check out is the Best Pet Outdoor Cat Cage. This one is made of rust-proof and rot-proof metal, which ensures that it will last longer. The whole cage is said to fit about three cats, so it may not be the best choice if you have more of that.
What we love about this outdoor cat cage from Best Pet is that it comes with lots of accessories. So, you don't have to spend extra money on those. But, you should also note that this product requires your time to assembling it.
EliteField 2-Door Soft Pet Playpen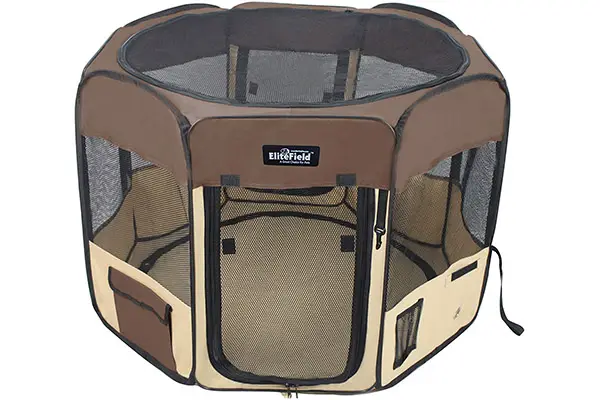 The third alternative is the EliteField 2-Door Soft Playpen. This is another best-selling playpen on the market today. Unlike the Zampa, it comes with two doors instead of one, and the floormat is also detachable so that it's easy to wash.
The product comes with a foldable system so that you can set it up and stow it away in seconds without any problem. It's also portable so you can carry it wherever you want with ease.
Conclusion
The Zampa Pet Playpen is an excellent product for those looking for a simple, high-quality, and comfortable outdoor cat enclosure. It promises to provide your cat with a spacious activity space that won't suffocate them because of excellent air circulation. It's also the best choice for travelers who always go to different places with their feline friends.
Click here to get current pricing on Amazon for The Zampa Pet Playpen.>>