Cats are naturally curious animals, and the vast outdoor is not the safest place for them. Their curiosity might lead them to stray away too far, which can endanger their lives.
The first question we sometimes ask is, how do we protect them. Although letting them stay indoors is possible, this will not provide them the best lifestyle that will help stimulate them mentally and physically.
Because of this…
Manufacturers have developed outdoor cat enclosures to provide our cats with a safe space to do their big activities. These enclosures offer you the best solution for whatever problems your cat might encounter when she's outside. This includes getting chased by other animals, getting stolen, getting hit by traffic, contracting diseases, and more.
Below, we present the best types of outdoor cat enclosures we've found on the market today. We also include the pros and cons if you choose that kind of outdoor cat enclosure.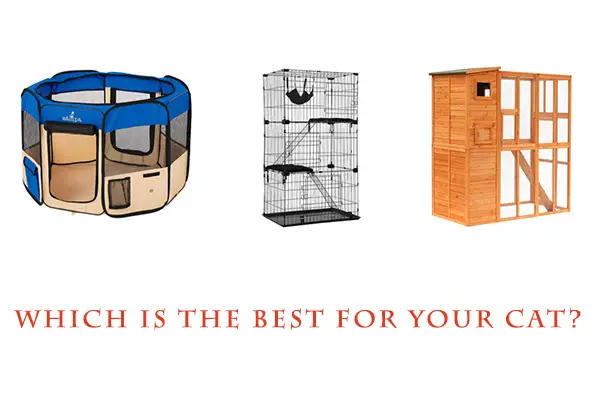 Benefits of an Outdoor Cat Enclosure
Before we dive into the best outdoor can enclosure, let us first examine why you should use an outdoor cat enclosure.
Outdoor Cat Enclosures Keep Your Cats Safe
The very purpose of having an outdoor cat enclosure is to keep your cats safe. You see, there are a lot of scenarios that can happen while your cats are outside.
They might get hit by oncoming traffic. While your cat is outside, something might catch their attention, which might lead them to be too close to the road.
They might encounter other animals. You should be aware that your cats aren't the only animal in your neighborhood. They might meet a dog and get chased, they might find a snake and get bitten, or they might even meet another cat and get into a catfight.
They might get picked up or played by other people. Not all humans are like you, who like cats. So, you should consider the possibility of your cat getting picked up and stolen. Some even do horrible things like injuring cats on purpose for entertainment, which is sad and scary.
They might get poisoned from eating something harmful like poisonous plants or pesticides.
They might contract an infectious disease.
There are lots of possibilities that may happen. But you can prevent all these by setting boundaries for your cat through an outdoor cat enclosure.
Outdoor Cat Enclosures Reduce Your Vet Bills
It's pretty obvious, right? By preventing all things enumerated above from happening, you're preventing your cat from getting injured or sick. This means you wouldn't have to take her to the vet for any form of treatment, so you get to save money.
Outdoor Cat Enclosures Provides Your Cat a Healthy Lifestyle
Even cats who love the indoors would get bored staying inside and napping the whole day. Cats need exercise, and climbing on top of the couch and perching by the windowsill will not suffice. This is why you take them outdoors, where they have a bigger space to explore.
With outdoor cat enclosures, you have a say of how much room they can roam around on. You can also place several platforms so they can climb up and down as they please. The best thing about this is they can get fresh air and direct access to the sunlight, which they love.
Outdoor Cat Enclosures Helps Your Protect WildLife
Aside from protecting your cat from the dangers outside, you'll be protecting some outside aspects too if you build an outdoor cat enclosure. This would include birds and other wildlife that cats sometimes love to chase. If placed inside an outdoor enclosure, birds won't be able to get near your cat, thus keeping them away from danger.
Outdoor Cat Enclosures Give You Peace Of Mind
The ultimate benefit of getting an outdoor cat enclosure is that it will give you peace of mind. Think about not having to worry about your cat all the time while you're outdoors. You can chill and relax comfortably by your patio, knowing that your cat is locked safely inside the enclosure and having the time of her life, too.
The Best Outdoor Cat Enclosures
Outdoor Cat Enclosures come in many shapes and sizes, and honestly, it's hard to find the best ones on the market. Below, we'll introduce you to the best types of outdoor cat enclosures you can see that may be an excellent fit for your cat or cats.
Portable Cat Enclosures
Portable cat enclosures are the best choice for those who love to travel with their cats. These enclosures are usually lightweight, foldable, and easy to carry. Here are a few examples of portable cat enclosures:
Cat Tents
First on our list are cat tents. These enclosures are among the most portable ones. They are easy to fold, easy to set-up with their pull-string or pop-up system, and generally occupy less space.
Cat tents are usually made of netted materials like mesh so that air can circulate well. This way, your cat won't feel imprisoned while inside. This would also give them full access to the sun and the view around them.
These tents are perfect for those who love to travel with their cat or cats. Just make sure that the cat tent you buy comes with ground pegs so that the wind won't blow the tent away.
The only downside probably is when your cat loves scratching. There's a high chance that the tent may get damage, or their claws might get stuck.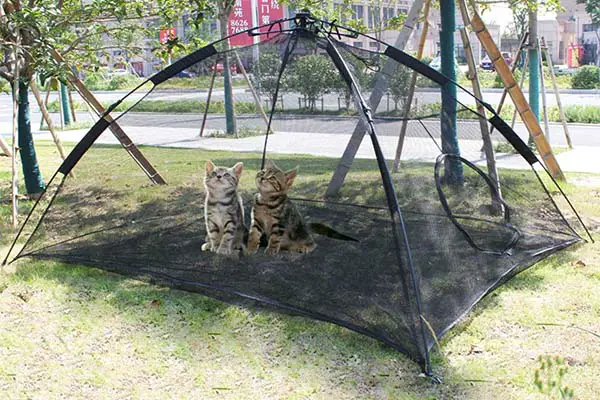 Cat Playpens
Next, we have cat playpens. This is another portable enclosure you can buy on the market. It usually comes in an octagon-shape with one door and mesh windows for better air circulation. There is a roof cover that you can attach or detach, depending on if your cat can easily climb out of the enclosure.
This usually comes in different sizes. You can choose one that would provide enough room for all your cats. You can also place litter boxes, treats, and other cat toys inside. As this comes in a portable design, it usually comes with a hand-carry bag and ground pegs for outdoor use.
Again, if your cat is prone to scratching, playpens can easily get damaged, too.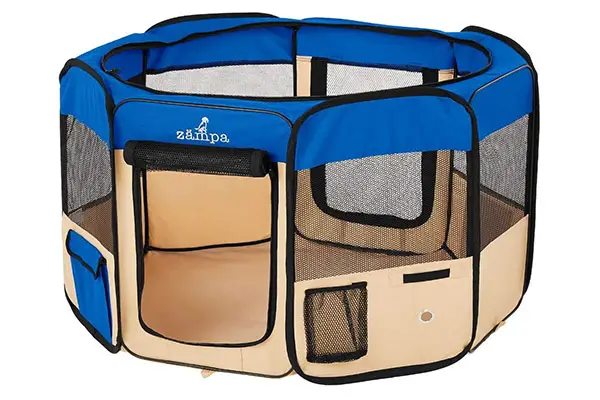 Multi-Layered Cat Cages
Multi-layered cat cages are enclosures you can buy on the market that are usually made of strong metal or wood. They feature multiple layers of platforms so your cat can enjoy climbing up and down.
These cages are designed to help support the exercise needs of an active cat. You can also place a lot of toys inside that will help keep them very entertained.
These enclosures would require assembly compared to cat tents or playpens, so they may not be the best choice if you don't have time to dedicate to the assembly process. They can also be transferred from one place to another, but you would need help to do it.
Window Catio
Window catio is a cat enclosure you build around your window – or specifically a window your cat loves to spend her time in. You just need to build a structure right outside that window, so they have more space to roam around.
It's up to you how big you want it to be. The idea is, your cat can get to view the outside while also being on the outside instead of just watching from the inside. This way, he gets more access to the sun and fresh air.
Balcony Catio
If you live in an apartment, you can never feel confident about your cat being safe on the balcony. Yes, they can balance, they can land on their feet, but a high fall can still injure them. This is why building a balcony catio may be the best option for you.
All you need is to build a simple covering around your balcony. You can put an extension of wood, cover it with a net so that in case your cat missteps, she wouldn't fall to the ground. You can also add some activity areas to climb on platforms to create an ideal outdoor environment.
Cat Tunnels
Next, you can also build or buy cat tunnels. This an elongated enclosure that will allow your cat to run. You can directly attach tunnels on a cat door or create an opening through your house wall. This way, your cat can go out any time she wants. You can also build a bigger enclosure at the end of the tunnel for a much bigger space.
Free-Standing Cat Enclosure
If you have a bigger backyard space, a free-standing enclosure might be an excellent choice for you. This is a cat enclosure located a few steps away from your home and can be a bit bigger than the rest of what we enumerated above.
The only problem with free-standing cat enclosures is that your cat can't go there whenever he pleases. You would have to take him there so he can enjoy the outdoors. After that, you would also need to bring him back into the house. So, it requires some action from you.
Porch Cat Enclosure
A porch cat enclosure is a great space that you can create to spend time with your cat outdoors. As the name implies, this is a cat enclosure built on your porch. You can place some accessories here that your cats would enjoy, and also put a lounge chair or desk for you to relax, too.
Things to Consider When Buying or Building a Cat Enclosure
What we enumerated above are all excellent choices for a cat enclosure. But what can be considered best may differ on what you and your cat needs. So, how can you choose or build the best outdoor cat enclosure? Here are a few things to consider:
Location
Whether you're going for a portable or permanent outdoor cat enclosure, try to think about where you're planning to put it first. Probably the best thing to look at is where your cat spends her time the most.
If she loves perching by the window, why not make things more convenient by building a window cat enclosure.
If you're living in an apartment, then maybe you should try to consider your cat's safety and build an enclosure around the balcony.
If your cat tends to go out through the cat door to enjoy the outdoors, build a tunnel going to a much bigger enclosure.
If you don't really have the space to build one, then you can certainly go for portable cat tents or playpens that you can set-up anytime.
In other words, always think about your cat's lifestyle and what she enjoys. You should also take into consideration access to sunlight, shade, and a good view. After all, you're building a cat enclosure for your cat to have a healthier lifestyle.
Size
Next, you should think about the style and size of the outdoor cat enclosure. In this, you should consider three things: your space, the number of cats you have, and your cat's lifestyle.
If you only have a small space, it wouldn't be wise to build a large outdoor cat enclosure. However, you can certainly build or buy a multi-layered cat enclosure so she can still do lots of climbing.
The number of cats you have would greatly influence the cat enclosure's size you're buying or building. Even if you're only going for a portable outdoor cat enclosure, knowing how many cats you have will help you choose the best size that will give them a lot of room to play.
Style
Try to observe your cat and know what she loves to do. Her lifestyle is what would help determine the kind of outdoor cat enclosure you should build or buy.
If your cat loves climbing, then make sure that the enclosure has platforms she can climb. If she loves tight spaces, then probably placing some boxes or tunnels would be a great idea. If she loves spending her afternoons napping, then you should probably place some beds or hammock she can rest on.
Materials
If you want great quality, then you should invest in high-quality materials. If possible, try to go with the rust-proof, rot-proof, and weather-proof materials. This way, your outdoor cat enclosure will last longer.
You should also make sure that the covering would allow air to circulate well inside the cat enclosure. And for your cat's safety, if you are putting doors, it should be locked securely, too.
Budget
Last but not least, consider your budget.
Remember, not because you're spending less, the quality of your cat enclosure would be bad. Knowing how much you can spend will help you create the best enclosure worth that money. You can divide that amount and allocate it in the best way possible.
The same thing if you're buying a catio. Setting a budget will help you filter out your choices, and you just need to pick the best enclosures within the budget.
Which Is The Best Outdoor Cat Enclosure?
So, which is the best outdoor cat enclosure?
The truth is, no one can tell. What is best for us may not be best for you. Out cats have different personalities, and you need to find one that best fits your cat's personality and lifestyle. The best outdoor cat enclosure would highly depend on what you like and what your cat is comfortable with.