If you are like me and thousands of other dog or cat owners, you'll come across a time where your pet's odor starts to negatively impact your home environment. I have personally had to battle this odor issue, so I know exactly where you are coming from.
I found a great pet deodorizer that is natural and safe to use around your dog or cat.
In this article, I'll talk about DEODORATOR®, a 100% safe and natural deodorizer that you can use in your home that actually works!
DEODORATOR® Review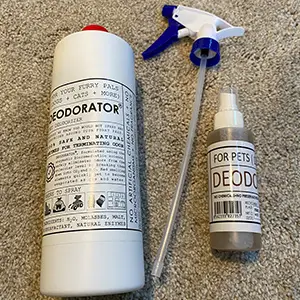 I ordered this pet deodorizer to deal with a persistent dog smell in my home. This was especially important to me because I was selling my house and I did not want my dog's odor to negatively impact a potential buyer's initial impression of my home.
Here's the rub…
Many of the pet deodorizers I have tried in the past simply masked the odor but didn't actually address the root problem. I absolutely did not want that as my solution!
DEODORATOR® is the solution.
Here is how it works…
This pet deodorizer is scientifically formulated using enzymatic bioremediation. Now, I am not a scientist however, I do understand that this product attacks odors at the molecular level by breaking them down into two components, water and a harmless gas CO2. according to the manufacturer, they are simply accelerating the natural process of odor breakdown.
A great feature of this deodorizer is the lack of any kind of "masking agent" or lingering fragrance. This was especially important to me in my household as we are allergic to strong fragrances.
DEODORATOR® Features
No Chemicals: This pet deodorizer is made of water, molasses, malt, biosurfactant, and natural enzymes. It is totally safe to use around your pets and family.
No Fragrance: This product Does not contain any fragrances to be used as a "masking agent".
No Microorganisms: DEODORATOR® does not use any type of microorganism, thereby eliminating any type of unpredictable reactions.
No Secondary Pollution: Typical deodorizers, cleaning agents, and sanitizers attack and kill living cells with harmful chemicals that pollute the environment. This is not the case with this product. DEODORATOR® handles the battle with pet odors in the exact opposite way.
Destroys Viruses: Think of DEODORATOR® as a naturally acting degreaser that dissolves fats, oils, and grease. This deodorizer destroys viruses by attacking the outer fat protective layer. This is especially helpful to know during the age of coronavirus.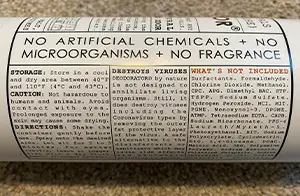 The Bottom Line:
I love the way that this deodorizer works. I used it on 2 dog beds and on the carpets that my dog loves to sleep on. It eliminated the odor without leaving any kind of residual smell or fragrance. And, the odor did not come back immediately. I recommend this product for any pet owner that is dealing with an odor problem in their home.
Pet Deodorizer FAQs
Do I Need A Strong Pet Deodorizer?
That depends on how strong the odor is, if the odor is strong then a strong deodorizer is best. Otherwise, a mild one works just as fine. You can use a strong pet deodorizer if you notice the odor has not been eliminated after using a mild one.
Can A Pet Deodorizer Harm My Pet?
Make sure you go for deodorizers that have been tested and confirmed to be harmless on pets. You also need to follow brand instructions. If a brand recommends applying the deodorizer when the pet is out of the room, adhere to those instructions.
Do Medications Interfere With Pet Deodorizers' Effectiveness?
Some medications will cause the pet's urine or waste to smell way worse than normal. In such cases, you can get a stronger pet deodorizer. Just make sure that it is not pumped full of chemicals.
What About DIY?
As effective as youtube videos may make this look, sometimes vinegar and baking soda will not be able to do the trick. You will have to do proper research and get a commercial pet deodorizer if you want your home to be stink-free.
How Do I Get The Best Pet Deodorizer?
Read as many reviews as possible to see what other pet owners suggest. Once you try one or two products, you will be able to identify the best product for you.
How do I get rid of pet odor?
If you have pets then pet odor is inevitable but there are ways you can get rid of the stink. Make sure you use a stain remover and scrub the spot where the pet urinated or pooped. Make sure you wash your upholstery and your carpets with soap and water. Open all the windows to let some fresh air into the room. Vacuum thoroughly to get all the odor out of your furniture and carpet. You can also get a professional to help you out if you do not have enough time to vacuum as frequently as needed.
How can I stop my dog from smelling so bad?
If your dog loves swimming, you have to dry its fur immediately because the wet fur will smell if you let it lie on the carpet or furniture. You would also wash your dog regularly using scented soaps. If you have to walk your dog then make sure you wipe its paws once it is back in the house. Additionally, make sure you check that your dog is in the best of health. Sometimes dogs may smell because of skin issues or get bacterial infections in their ears. Taking them to a vet is paramount.
How do you deodorize a house with pets?
First, clean the place by vacuuming and moping. Once you have done this, clean all your upholstery and ensure you take out your pet's toys and sleeping bed so they can get some fresh air. Next, take the pet deodorizer and spray it in the house when the pet is outside. A pet-safe floor cleaner is one way to ensure the floors always smell great. Wash all of your linen to eliminate the odor and get a professional to wash your carpet. You can also wash your pet's bed using pet-safe products. You should also look into getting an air purifier for the house and a pet odor neutralizer spray.
Why do some houses smell like dog or cat?
One of the major reasons for the house smelling like a dog or cat is that the pet is not potty trained and help themselves on the carpet and furniture, or in some corners of the house. It is advisable to begin potty training your pet as soon as you bring it home and have a designated area for the pet to help themselves. Once they are a few months old, train them to go outside by using cues to guide them. One other reason is that you have not emptied the litter box. Clean your cat's litter box regularly to prevent the odor from becoming worse. Failure to clean all the corners of the house will also cause the place to smell because pets love to help themselves in such spots. Cats, especially, love to help themselves in secluded spots.