I love dogs. I love walking them in the morning so that I can get some exercise too. However, I don't like cleaning up their waste.
It's so much hassle, and it's a mess. I also don't like the fact of needing to bend over as it strains my back. When I searched for a solution, I found a pooper scooper that might offer me the convenience I need. That is the Dogit Jawz Dog Pooper Scooper.
Things To Consider Before Buying A Dog Pooper Scooper
It is every pet owner's responsibility to clean up after your pet. For dog owners, this means picking up dog poop in your backyard, or while you're walking at the park. We all know how this can be a messy task, especially if you're picking up dog poop using an old plastic grocery bag and your bare hands.
However, if you have a pooper scooper, you might save yourself from the hassle of cleaning dog poop. Generally, its design provides convenience to dog owners with a backyard. This way, they would only have to clean after their dog finishes pooping for the day. Plus, it can hold multiple piles of waste with ease and can save you from using too much plastic.
Having also a pooper scooper will help protect your back from straining due to bending over frequently. There are also spring-loaded pooper scoopers made exactly for seniors, which you can operate with one hand.
Picking out the right pooper scooper is very important so you can get the most of its benefits. That is why it's essential to consider the following factors:
Pooper-scooper Style
You can choose between the jaw-clamp-style pooper scoopers, and the bin and rake pooper scoopers.
You can operate a jaw-clamp-style pooper scooper with one hand. They are also more lightweight and compact, which is excellent in terms of portability. On the other hand, the bin and rake pooper scoopers are a two-piece system. They are less portable; however, they can store more piles that the former.
Weight and Length
You should also consider the weight and length of the pooper scooper.
Generally, you would want your pooper scooper to be light enough for you to carry without straining your arm. At the same time, the length should fit your height perfectly to help lessen the strain on your lower back if you need to bend over.
Ease of Cleaning
Lastly, consider if it's easy to clean. You would want to choose a pooper scooper that has a non-stick material or a simple design so dog waste wouldn't get stuck. This way, you can easily hose it down to clean up for another use.
Dogit Jawz Dog Pooper Scooper Review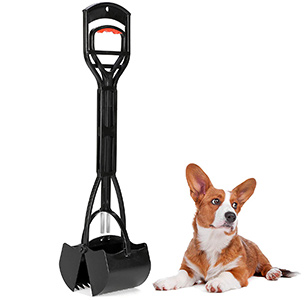 The Dogit Jawz Dog Pooper Scooper, as the name implies, comes with sharp, jagged teeth for scooping dog poop on grass and gravel. There is also a smoother version that you can choose if you need to pick up dog waste on the pavement. It works with a spring-loaded function so you can use it even with one hand.
It's a simple yet effective way of cleaning up after your dog. Now, let's take a closer look at some essential features of the product.
Quick Glance
What's Good
Scoop can easily pick up  dog waste from grass and gravel
Can be used with one hand
Heavy-duty but lightweight
What's Bad
The handle is not adjustable
Design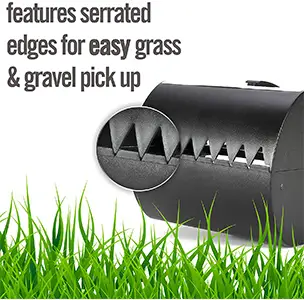 The Dogit Jawz Dog Pooper Scooper is designed to have sharp and jagged teeth (looking similar to jaws) for easy scooping on grass and gravel. So if you're usually walking your dog or releasing your dog in these types of surfaces, then this will be ideal for you.
It can also work well on picking up dog waste on pavements as long as the poop is dried. If it's not, then picking it up can be messy. However, you can also purchase another version of this pooper scooper that has smooth edges to pick up waste on pavements.
It's not the type of pooper scooper that you can use on different pavements. Which means you might need to purchase the two different types. That is unless you would prefer to use plastic when picking up poop on footpaths, or wait out until the waste dries up.
Convenience
For those looking for comfort, then the Dogit Jawz Dog Pooper Scooper will offer you exactly that.
It is a jaw-clamp type of pooper scooper, which means you can operate it with one hand. This is made possible by the spring-loaded function and ergonomic handle that allows you to pick up waste in a straightforward motion. It's perfect for seniors.
The material used for this product is heavy-duty but lightweight for easy portability that won't strain your arms. And since it's durable, it will last for years so you can also get the best value for your money. The handle feature and compact design are also convenient for storage.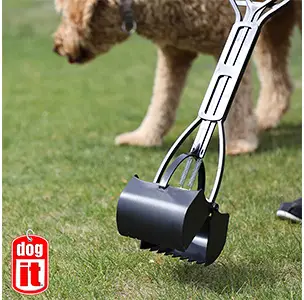 The scoop size is large enough for you to pick up various wastes before you dispose of the whole batch to a bin. It can also handle even the enormous quantities of poop, especially if you have a large dog.
The disadvantage I see, however, is the fact that the handle is not adjustable and might be short for some people. So, you might need to see for yourself first if the height fits you well.
Cleanliness
The Dogit Jawz Dog Pooper Scooper features non-stick material. This way, poop won't stick to it even if you don't use plastic to cover the scooper. You can easily throw the collected waste to the trash bin, hose down the scooper after use, and hang it for storage.
Key Features Of The Dogit Jawz Dog Pooper Scooper:
Spring-loaded for convenient and straightforward waste pick-up
Lightweight and compact
Serrated for easy waste pick-up on sand and gravel
What do other people say about this Pooper-scooper?
The Dogit Jawz Dog Pooper Scooper is probably one of the best choices for pooper scoopers in the market today in the convenient category. Here are some user reviews about the product:
Donna has six dogs and she considers this pooper scooper a blessing. She can scoop up wastes easily from her yard:
DHNL says the same thing and even bought one for their elderly parent who needs it as well.

Jess loved this so much that she bought another one because she finds it so easy to clean up the mess with this product.

Alternatives To The Dogit Jawz Pooper-scooper
If you think that the Dogit Jawz Dog Pooper Scooper is not for you, here are some great alternatives that you can also check out:
PPOGOO Non-Breakable Pet Pooper Scooper
The PPOGOO Non-Breakable Pet pooper Scooper is another jaw clamp type of pooper scooper that you might love.
It features an easy-pull handle for fast waste pick up. The scooper is lightweight but durable, plus you can use it for multiple types of surfaces. It's one of the few dog pooper scoopers that added foldability in its features, which is excellent for storage.
Try to see more details about the PPOGOO Pooper-scooper here.
Nature's Miracle Non-Stick Advanced Jaw Scoop
Also a jaw clamp-type pooper scooper, Nature's Miracle Non-Stick Advanced Jaw Scoop offers convenience and ease of use.
It is made of durable and lightweight material for easy portability. And since you can operate it with one hand, it's undoubtedly ideal for seniors. The smooth quality of the scoop allows you to pick up dog poop on any type of surfaces such as grass and pavements. Finally, as the name implies, this pooper scooper is made with non-stick material to offer easy cleaning by simply hosing it down after use.
You can find out more about Nature's Miracle Jaw Scoop here.
Bodhi Dog Complete Poo Pack
If you're looking for the perfect package, then you might want to look at the Bodhi Dog Complete Poo Pack. It comes with everything you need for the easy waste removal process. The pack includes:
Pooper Scooper
Dog waste bag holder
Rolls of bags
The pooper scooper was made of lightweight material to provide easy portability wherever you need cleaning. It is also a jaw clamp type of scooper that can function with one hand for quick waste pick-up. The non-stick material offers ease of cleaning, which is pretty convenient.
Find out more details about this Bodhi Dog Complete Poo Pack here.
Our Final Thoughts
The Dogit Jawz Dog Pooper Scooper will not go last in terms of offering convenience.
I like the fact that you can use it to pick up poop on sand and gravel, which is perfect for dog owners who have their backyard. The size is also generous to allow you to pick up multiple loads before needing to throw it to the trash bin. The non-stick material used is also perfect for that easy cleaning, especially that I wouldn't want to spend more time trying to remove fecal matters so that I can store it well.
Other than that, this dog pooper scooper comes at an affordable price. It truly offers great value for the long-term. With this pooper scooper, you would no longer find dog poop cleaning a significant chore.
So, if it fits in your budget and you think the Dogit Jawz Dog Pooper Scooper can solve your problem too, click here to check out this pooper-scooper product on Amazon now.  If this one isn't for you, explore other Dog pooper-scooper options in our round-up review article.
Check out current pricing and availability on Amazon here >>