Travel dog crates come in different shapes and sizes. Every variant offers something unique, but choosing the best one will depend on how you plan to use it. When I bought my first dog crate for my Jack Russell Terrier, the purpose was to get one that will keep him safe and secure during extended road trips. So, I thought a hard-plastic model was the best option, considering that the material would not give in to the bumps on the road and my dog's propensity to chew and scratch on anything.
Sadly, it did not work out the way I envisioned it. My dog was not comfortable in it, plus it was so heavy to carry around. After just a couple of 120-mile trips, I got rid of it and bought a different one. This was the reason I decided to write this EliteField 3-Door Folding Soft Dog Crate Review. I found that this EliteField 3-Door Folding Soft Dog Crate really worked with my dog's needs as well as my own.
How To Pick The Ideal Travel Crate For Your Dog
Purchasing a dog crate should be on your list of priorities once you decide to have a dog as a pet. A per carrier or crate is not exclusively for training or restraint. You also use it to transport your canine buddy when you need to travel with him. Putting a dog on a crate while traveling, be it on air, land, or sea, will make the entire experience convenient and secure. But not all crates are meant for traveling. You have to learn what to look for in a dog travel crate right before you start shopping. The last thing you want is to buy something that you will regret later.
So, here are the things to factor in the purchase of the ideal dog crate for travel:
1 – Material
Dog travel crates come in different material constructions, the most common of which are hard plastic and soft fabric. Both materials are usually reinforced with metal or steel bars for stability. When you are about to shop for a crate, be sure to focus on something that features heavy-duty construction. It does not necessarily have to be hard plastic, especially when you want your pooch to feel comfortable in the entirety of the trip.
2 – Ventilation
The best type of dog travel crate is the one with sufficient ventilation and visibility. Whether you are traveling by air, land, or sea, you need your dog to be calm and relaxed inside the crate. But that is not possible if it feels claustrophobic or trapped inside. The purpose of the side-to-side ventilation and grills is to allow the air to get in and out. They also allow your dog to see you and be reassured that he is not alone.
3 – Safety Features
Dog owners usually buy a crate to train the pooch not to munch on the couch, shoes, or furniture. But when it comes to traveling, you buy one so that the pup is safe from scenarios that can put him at risk of getting injured or killed. There is a reason why airline companies only allow dogs on board if they are put on a carrier. You also need a crate when you are on the road with your furry buddy to prevent him from jumping out of the window or distracting you while driving.
When buying a dog travel crate, focus on safety. Unfortunately, not all crates are constructed and designed that way. You want yours to reinforcements, adjustable straps, buckles, and secure doors and latches.
 EliteField 3-Door Folding Soft Dog Crate Review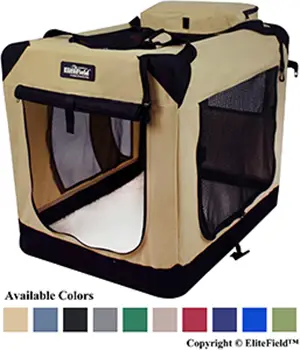 Elitefield's take on a dog travel crate favors comfort above anything else. The most obvious proof of that is the fact that the manufacturer chose to equip it with soft-padded sides instead of the traditional hard plastic material. The company says that even with a soft-sided design, the crate is more than enough to provide security and stability for the dog while traveling.
This dog crate is best for dogs who are used to traveling and will remain calm and composed throughout. But if your pooch has this habit of chewing and biting things when it is uneasy and uncomfortable, then the soft materials in the EliteField 3-Door Folding Soft Dog Crate may not last long. Anyway, let us dig deep on the features that will help you figure out if this is the right crate for you and your dog.
Quick Glance
What's Good
Reasonably priced
A comfortable alternative to hard-plastic crates
Proven manufacturer reliability
What's Bad
Not recommended for dogs with a habit of chewing and scratching
Limited sizing options
EliteField 3-Door Dog Carrier Features And Highlights
Stylish Design
Majority of dog travel crates you find in stores feature a utilitarian design. The prevalence of this design is due to the manufacturer trying to assure pet owners that their product is durable. But this is where the EliteField soft-sided crate stands out. You will never describe it as dull because of its cozy and stylish exterior. Despite the soft fabric material, this product does not compromise durability and quality.
600D Fabric Material
Being a soft-sided travel crate is the primary reason why some dog owners are hesitant to buy this product. They think that the material is not reliable enough to withstand the pressure of traveling, including that of the bumps on the road and the weight of the animal. But when I got this dog crate, I was awed by its material construction. The 600D fabric combines comfort and durability, unlike any other material out there. It may be soft, but there has never been a time that I doubted its resiliency.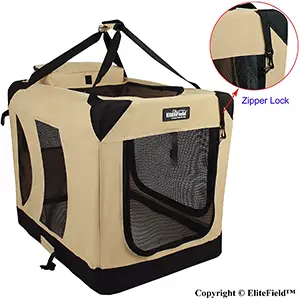 Multiple Sizes
The dog travel crate is available in different sizes, ranging from 20 inches up to 42 inches. Hence, you still can use this if you have a large dog to bring with you on a trip. The steel frame reinforcements guarantee that it will not easily bend or break even if your dog tries to mess with it. But do not forget to measure your dog before you choose the size. You do not want to get something that will make the animal feel congested and claustrophobic.
Three Mesh Doors
The EliteField dog travel crate is the perfect choice when it comes to comfort, thanks to its three-mesh door design. You get three mesh doors on the top, front, and side, giving your pup a comfortable form of restraint and sense of security while traveling. My Jack Russell terrier is usually edgy and agitated when traveling, but this crate made all the difference. The mesh doors made him realize that he is not alone inside the car. I did not have to extend my arms to hold my pooch while I was driving since he was calm and comfortable.
Free Accessories
The purchase of the EliteField travel crate for dogs comes with several freebies, most notably the carrying bag and fleece bed. There also are nifty additions for you to secure the crate while traveling, i.e. hand carrying straps, handle, and adjustable padded shoulder straps.
Two-Year Warranty
EliteField is an American company that manufactures pet care products. So, if dependability is a big deal for you, then there is nothing to worry about. This product comes with an extended two-year warranty and a 100% money-back guarantee. I am aware that other dog travel crates offer the same, but I have read a handful of positive feedback from customers who said that EliteField after sales service is topnotch.
What Others Say About The EliteField 3-Door Folding Soft Dog Crate
Choosing a dog crate for travel purposes took a little longer than I anticipated, but I could not be happier that I ended up with the EliteField 3-Door crate. I browsed the web for feedback and reviews once I narrowed down my list of three products. I chose this one because of reviews like these:
Jason commends the plentiful space, sees his dog is quite comfortable in it.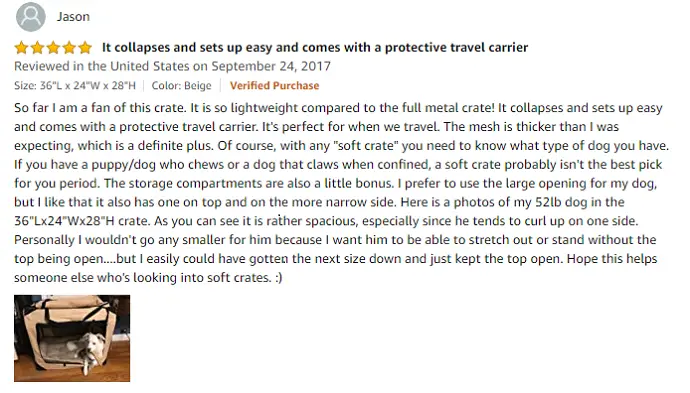 Nancy got lucky with a rare find here. She bought the "special edition" EliteField crate with four doors in it. The photos show that her buddies love it, too!

So much for what the skeptics gripe about soft-sided crates being impractical for traveling. This is what Megan has to say:
Alternatives To The EliteField 3-Door Folding Soft Dog Crate
Finding excellent dog travel crates should not be that difficult, especially when you realize that there are hundreds of products to choose from. The only thing that can make the experience overwhelming is when you have to pick the best one from a list of prospects that are somewhat similar to each other. If you want to do some comparison shopping before you get the EliteField dog crate, here are some great alternatives to consider:
Noz2Noz Soft-Krater Indoor and Outdoor Crate for Pets
Like the EliteField 3-Door crate, this one is made from high-quality fabric material. In other words, it emphasizes comfort more than anything. Nonetheless, it is reinforced with heavy-duty materials for it to withstand use and abuse, plus there is enough ventilation for the dog to feel comfortable and relaxed while traveling. See more of the Noz2Noz soft-sided travel crate for pets here.
Aspen Pet Porter Heavy-Duty Pet Kennel
The Aspen Heavy-Duty Pet Kennel is the opposite of the EliteField soft-sided crate as it is made from a hard plastic material. It is designed for medium-sized breeds and features a convenient latch which allows you to open it with one hand. This crate is made for dogs who get easily agitated during land or air travel. The hard materials all over the kennel will ensure that a dog that likes to bite or scratch the surface just to get out will not damage it. If you think this is a better option than EliteField's fabric-made carrier, then click here.
 2PET Foldable Dog Crate
If your primary concern is portability, you may be interested in the 2PET dog crate with a foldable mechanism. Like the EliteField 3-Door crate, this one is made from soft materials and reinforced by a lightweight steel tube design. This product flaunts a premium quality construction that separates it from dog crates with similar material. You can also wash the Oxford 600D fabric cover. Learn more about the 2PET dog crate by visiting this link.
Our Final Thoughts
Much has been said about the unreliability of a soft-sided dog travel crate, but I beg to disagree. This is why I wrote this EliteField 3-Door Folding Soft Dog Crate Review. I chose a hard-plastic variety for my first ever purchase, but it did not work out the way I expected. My decision to go with the EliteField 3-Door soft-sided crate was the right one since it addressed my dog's need for a comfortable carrier while also making sure that he is safe during extended trips.
Click here to check current pricing on Amazon for the EliteField 3-Door Folding Soft Dog Crate >>