Cats love being perched high up in the sky. But how high can they really go? If your cat is the type that likes going up on your dressers and other high furniture, then a cat tree might be a good addition to your furniture. Luckily, there are a lot of cat trees that offer tall items that your larger cat can enjoy. The FEANDREA 67-inch MultiLevel Cat Tree is one of them.
Things To Consider When Choosing A Towering Cat Condo
Cat trees are now almost an essential part of every cat owner's furniture. Having one gives your cat a space to relax, play and observe. Most of these cat trees have scratching posts that your cat can use to trim their claws and exercise. Created with high-quality material, these cat trees are a comfortable piece of furniture made for cats that want to relax and enjoy their time as the day goes by. It can be a sanctuary that they go to seeing as they most likely have condos or cubes that they can cozy into.
Over-all, it is a must-have for every cat owner. But choosing the right one can be a little tricky. There are some things that you might want to consider before you purchase a cat tree:
Design – What does it look like? How many perches does it have?
Size – How tall is the tree?
Material – What material used? How comfortable is it?
Added Features – What else does the cat tree come with?
All these factors come into play when deciding on what kind of cat tree to get for your kitty.
FEANDREA 67-inch Multi-Level Cat Tree Review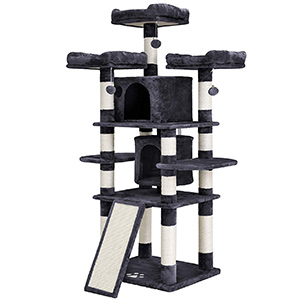 The FEANDREA 67-inch Multi-Level Cat Tree prides itself as being a luxurious cat tree. This multi-layered cat playhouse is fitted with 2 condos, 3 plush perches and raised edges so your cat can quietly observe at the top of the tree. These cats are also equipped with scratching posts that help with claw care and exercise. This cat tree is the perfect piece of furniture for your cat to play around.
Quick Glance
What's Good
Tall cat tree with different features
Scratching posts made from sisal ropes
Made with soft cushions to let your cat rest
Extra-large scratching pad
Robust supporting tubes for stability
What's Bad
Carpet covers the top and bottom of the scratching post that some cats would miss and scratch the carpet
Staples on the ropes make for a dangerous experience
A bigger cat tree means a need for a bigger space
If you have a larger cat at home, this might be the perfect one for you. This tree gives your cat to move around a lot more. Although, you do need somewhere to put this humongous cat tree in your house. Do you have enough room for this luxurious cat tree? Let's take a look at why you need to consider making room to fit this awesome product.
Key Features of the FEANDREA Multi-Level Cat Tree
Choosing the right cat tree might put you in a predicament. There are a lot of different choices and there are a lot of great features that make up each cat tree. These cat tree makers are giving us a hard time. I'll lessen the load by showing you what features the FEANDREA Multi-Level Cat Tree has.
Design
This cat tree is built with CARB-Certified P2-grade particle boards that give it its sturdy perches and edges. Reinforced with Robust supporting tubes to hold this massive cat tree. Designed with plush, comfortable perches, your cat will surely have time of his life sitting around. He'll be watching you like a hawk from up above that tree. It has spacious condos where your cat can cozy up to when he gets tired from scratching the sisal scratching posts that are built into the cat tree. He sure is going to have a wonderful time!
Size
Standing tall at a height of 67 inches, this cat tree is one of the tallest in its category. Perfect for taller and larger cats that enjoy scratching, sitting perched as high as they can and playing around with the rest o the gang. The size of this tree is almost as tall as an average human. It's actually as tall as me. Imagine your cat watching over you, feeling superior to you as you move around the house. Isn't that so much fun? Of course, you have to have room to fit all of this luxurious glory. If you don't have space, this may not be for you.
Material
The FEANDREA cat tree is composed of different areas and different materials for each area. The scratching post is wrapped with sisal rope to endure that your cat's claws are as healthy as they can be. They are also a lot more durable than other materials.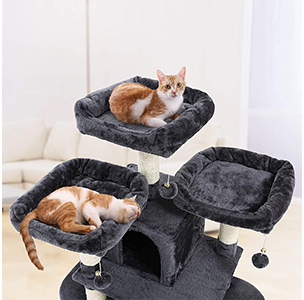 This tree is covered in plush fabric to give your cats the greatest comfort as they perch in that tall tree and watch everything they see. Just like Simba from The Lion King. One part of this cat tree that I'm a bit doubtful of is the paper tubing that holds it all together. Even though it is high quality, the paper is still paper. Careful not to get it wet.
Added features
One of the things that make this cat tree stand out aside from its height is that it comes with an extra-large scratching pad. I don't see it in most of the cat trees I've looked at. The scratching pad gives your cat the freedom to scratch to his delight. This wide panel reduces the risk of your cat scratching your furniture. It's such a delight to see cats scratch away.
What Others Think About This Cat Tower
If you are not sold with the idea of this cat tree by now, I can show you some reviews from users that have actually tried this product. Let's see if, after this, you don't go straight to purchasing this cat tree.
Clint call this an Oasis for his cat. This also stopped her cat from ruining his furniture.

The more the merrier. Her 3 large cats wrestle and play around this huge cat tree and enjoy it very much. She finds it very stable. Easy to assemble too.
This cat tree fits her 20-pound long cat very well. She says that is it very comfortable and her cat just loves it.
How does it compare?
Did those user comments help? If not, maybe you'd want to see other options and compare them to the featured product. I have 3 that are similar to this product. Let's see what makes them stand out.
Furhaven Pet Cat Tree
Standing at an even taller 69 inches, this tall cat tree ticks almost all the boxes. It has scratching posts wrapped in sisal ropes for your cat's clawing needs. This cat tree is covered in faux fur to give maximum comfort to a tired kitty. It is equipped with a cat IQ box that your cat can play with. It also includes a built-in wand and dangling toy. Your cat is sure to be entertained with this cat tree.
AmazonBasics Extra Large Cat Tree
An almost 50-inch cat tree, this multi-level cat tree is sure to have your cat staying there all the time. It has an interactive play design to keep your cat occupied for a while. It is also equipped with dangling to entertain your cat. Made with soft carpet material to ensure your cat's comfort. Not as tall as the rest, but still an awesome playground for your cats.
Go Pet Club 62-Inch Cat Tree
Go Pet Club's thoughtfully designed cat trees offer activity, entertainment, and leisure. Their tree is covered in faux fur to provide a soft and safe space for your kitties. Its scratching post is also covered in sisal rope to have your cat scratching away on the tree instead of your furniture. Equipped with high-quality boards to support your cat's playfulness. It is sure to give your cat a good time. This cat tree stands at 62 inches.
Final thoughts on the FEANDREA Multi-Level Cat Tree
If you are looking for a cat tree that is large enough to fit your large kitty, then this might be for you. This cat tree gives your cat comfort, play, and scratch. As tall as it is your cat is sure to love this cat tree that makes him feel superior perched on top of this product. To see the best cat trees for large cats, click here.
Check out current pricing and availability on Amazon here >>