Cats enjoy being on top of everything. Literally. They love jumping on different furniture around the house. Another thing about them is that they like to scratch. It's in their nature. They will scratch on anything and everything they want. Good thing there is cat furniture available to satisfy those needs. The Furhaven Pet Cat Tree is one of them.
What are Cat Trees?
If you have a large cat the loves to jump and play but they mess up your well-placed furniture, a cat tree may be very useful for you. Most cat trees for large cats have multiple perches where your cat can jump on and play around. They also have to scratch posts that promote good claw maintenance and take care of their natural instinct to scratch. The question now is how do you choose the right one? Let me share with you some things you'd want to consider before purchasing a cat tree.
Design – What kind of cat tree would suit my cat's needs?
Size – How big or tall does my cat tree need to be?
Material – What material is used in making this cat tree? Is it safe for my cat?
Added features – What other benefits can this cat tree give me?
These are just a few, but the most important ones that you should ponder on when choosing a cat tree. However, choosing a cat tree should be both beneficial to you and your cat. Sure it helps with the scratching and jumping around, but what other benefits does it have? Let's take a look at what our featured product can offer.
Furhaven Pet Cat Tree Review
The Furhaven Pet Cat Tree is a tower condo playground for your cats. It has fun and stimulating activities that your cat will surely enjoy. This cat tree includes scratching posts, stimulating game boards, multi-level condo, and multiple bed rest for those kitties that enjoy cuddling and cozying up. This cat tree stands at a whopping 69.3 inches. Is that tall enough for you? We'll see.
Quick Glance
What's Good
Stimulators to keep your cat's mind active
2 condos for resting and cuddling
Sisal-bound posts for scratching
Wand and dangling toys for your cat to enjoy
What's Bad
The narrow build is problematic for larger cats
Unstable for some customers
Not so easy to assemble
Key Features
As with many cat towers, the Furhaven Pet Cat Tower has a lot of different features that support your cats with all their needs. We'll be taking a look at them one-by-one and find out if this is the best cat tree for your feline friend.
Design
This cat tower is a tall cat tower that promotes your cat's enjoyment. It is equipped with a wide base to support the weight of your cat. It also has multiple poles that make it sturdy and safe for them. Covered with carpet fabric, this will let your cats rest with the utmost comfort. They're also easy to clean. This cat tree includes multiple scratching posts bound with a sisal rope to promote your cat's scratching instincts. It also fits 2 condos and multiple perches where your cat can enjoy cuddles and relax while on this playground.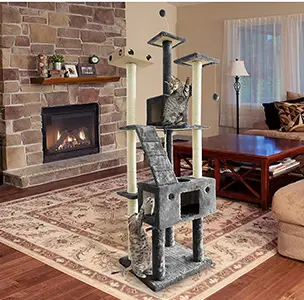 Size and Shape
Standing tall at 69.3 inches, your cats are sure to enjoy their time on this cat tree. With a high and narrow design, your cats will have fun and rest well on this tree. A tower design gives your cat the opportunity to climb up high as much as they want. We all know how much they like to climb. Unfortunately, being a tower has its drawbacks. I have read reports that this cat tower is too narrow for their larger cats to enjoy. Check out the specification first and see if your cat will feel comfortable in that little space.
Material
Your cat's comfort is what all these cat trees want. Many cat trees are said to be made with very comfortable material. But how comfortable does it really get? This cat tree is covered in soft carpet fabric to keep your kitty warm and fuzzy while they're relaxing. The scratching posts are made with a sisal rope that resembles the trees that your cats love to scratch on. It gives them the same feeling and has almost the same benefits.
Added Features
What does this cat tree have that all the others don't? Furhaven takes pride in saying that their cat tree is very stimulating for your cats. They provided your cats with an IQ box to stimulate your cat's mind while on the tree. They also have dangling toys and wands for your cats to play with and have a banging time on top of the tree.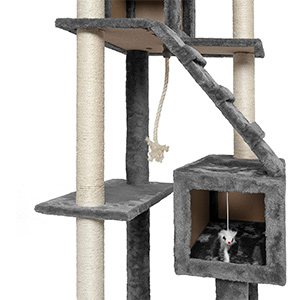 All of these come in to play when making a decision in what cat tree to get for your home. Treat it as an additional piece of furniture. Consider also where to put it and if you have enough space for it.
What Other Customers Think About This Cat Tree
If you are curious about how it works in "real life" Here are some of the comments I found to assist you in making a decision.

Kelly considers this a good buy. Her 13-pound cat absolutely loves this cat tree. But now that she has all grown up, she won't fit in the hammock.
Joe says this is a good purchase but could use some improvements. He said it was easy to set up but has to tighten the screws every couple of months.
This user finds that it is a good product for the price. She wishes that this is a bit more sturdy. She also said the fabric is soft but the board underneath isn't.
Similar Cat Trees
We've compiled a list of other trees that are similar to the featured product. This is to help you look at all the possible options for your cat. Let's see how they compare to each other:
AmazonBasics Extra Large Cat Tree
This cat haven features naturally fibrous construction. It promotes good claw health with its jute fabric-covered scratching posts. They say that it can prevent your cat from scratching the rest of your furniture. It also gives your cat space to relax and have his own space and just look at things below him with its multiple perches and cat condo. It is not as tall as the featured product but will work just as well.
Go Pet Club 62-inch Cat Tree
This product is made with highly compressed wood covered in faux fur to give your cat maximum comfort while it relaxes atop the cat tree. It promotes exercise for your cats by climbing, playing and scratching. Its scratching posts are covered in sisal ropes for your cat's scratching needs. This 62-inch tall cat tree is an amazing addition to your furniture to give your cat his own personal playground.
VESPER Cat Tree Scratching Post with Condo
With a design as slick as this, I don't know how it can get any better. VESPER's V-High Cat Tree for larger cats promote relaxation and enjoyment. A condo where your cat can enjoy cozying up, tall and slim scratching post that is great for excessive scratching. Over-all this product is a great modern looking cat tree that will fit in any part of your house. However, this is also one of the most expensive ones, Almost double the price of the featured product.
Our Final Thoughts
Like most cat playgrounds, this cat tree can help prevent your cats from jumping around your furniture and scratching on them. It is also an inexpensive option. However, like what we have learned today, you get what you paid for. It is very tall and narrow that in my opinion, it is not best for a larger cat above 13 pounds. To see more about what best cat trees are best for you, check this article out.
Check out current pricing and availability on Amazon here >>