Cats sleep most of the day. They can sleep up to 15-20 hours a day. It is only important that we give them the space that they need to feel most comfortable when they sleep or take a catnap. Having a cat bet has a lot of benefits that can help your cat sleep better, feel safe and secure, and are most helpful for those senior cats with joint problems.
We'll be talking about how to properly choose a cat bed for your furry friend including what type of materials you can choose from and whether you would need a heated cat bed in your home.
This part is the easy one. What's hard is getting them to use it. For now, let's just talk about how to choose a bed for your cat.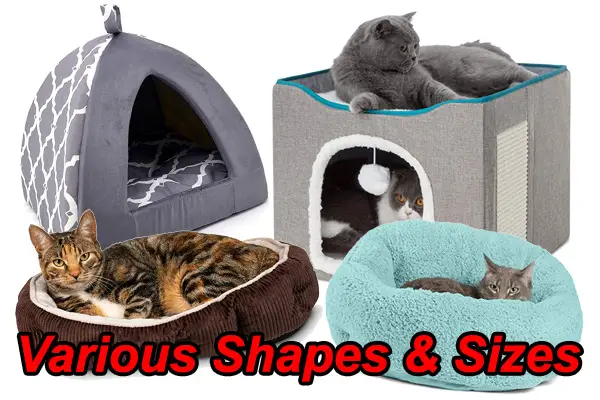 What To Consider
When buying anything nowadays, you always want to be sure about what you are buying. You don't want to be rushing into buying something and end up using it just once, if not at all. We have gathered some information on the things you should be considering before you purchase a cat bed for your cat.
Material
The first thing to consider is the material covering the cat bed itself. There are many choices for this and all are very good choices. It is all a matter of preference. Your cat's preference I mean. Getting the right one means allowing your cat to try different materials and fabric and finding out what they like best.
Natural Fabrics – Natural fabrics are the most common ones that are liked by almost all cats. These are materials such as cotton, wool, or feathers. These are also the least likely fabrics and materials that will trigger an allergic reaction from your cat.
Washable Materials – Many microorganisms and things like fur, fleas, and bacteria can stick to your cat's bed without you even knowing about it. A washable bed allows you to clean the bed or bed covers wherever you feel the need to or when there is visible dirt and such on the bed.
Tassels and beads – Try to avoid these add-ons because these are the things that can cause your cat some harm. They can swallow these things accidentally and that will lead to an unexpected, unfavorable trip to the vet.
Size and Shape
Cat beds also come in different shapes and sizes. The best thing to do is to measure your cat and use that as the basis of measurement for the size of the bed that you want to purchase. You'd want it not to be too cramped and not too big either.
The best way to get them measured is to get a measuring tape and measure the length of your cat from the base of the tail to their head. You can then add a couple of inches just for safety.
Additional Features
Additional features are always great to have when purchasing a new item. Although not really needed, these things are just nice to have. They also have great benefits for those who have them.
Cat tree with a perch – There are cat trees available that have perches and play areas that your cats will enjoy and love. These are best for young active cats that love to play around.
There are cat trees that have scratching posts included so that your cat can keep their claws sharp. There are also those that have hiding boxes that can give them the space they need when they don't want to interact with anyone, including you.
Heated Beds – heated beds are best for those in areas that have colder temperatures. It may be made with a space blanket that uses your cat's own body heat and redistributes it to the whole bed. It can also be a heated bed that makes use of electricity. These beds usually can be adjusted with a built-in thermostat. For some, you can even remove the heating unit when summer comes along.
Types of Cat Beds
Now comes the choice that you have to make on what kind of cat bed you want to get for your cat. There are many more choices available but these are the 4 choices that would suit your cats the best.
Cat Trees With Beds
Cat trees are always a great buy because they have all the things that your cats need inside the house. Some trees even include beds that allow your cat to take their catnaps after an afternoon of playing.
There are many sizes, shapes, and additional features of these cat trees that you can get. Some have perches, some have boxes where your cats can hide and some have toys and scratching posts. It is a very multi-purpose piece of furniture a cat parent can have inside the home.
Hooded Cat Beds
Hooded cat beds are those cat beds that can be closed when it is time for sleeping. These are best for cats that love cuddling up and being cozy when they are in bed. They are also sometimes called cave beds where your cat can just go inside the cave and be at peace and get some sleep. They come in different shapes like tents, igloos, and other shapes as such.
Cup Style
These are the most common types of cat beds that you see in your local pet store. They are essentially shaped like a cup that your furry friend can get cozy in. They are circular and have high sidewalls for added comfort. These beds are perfect for those cats that love curling up into a ball when they sleep.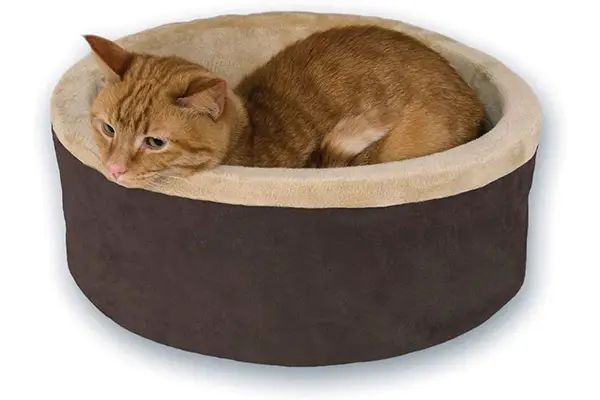 Orthopedic Beds
Orthopedic beds are best for senior cats that have issues with their bones and joints. These types of beds have special foam that helps with issues like arthritis and the like. They can come in cup shapes or mats for easier access.
How To Choose A Bed For Your Cat – Points To Remember
I hope that by now you know what kind of bed you want and what kind of bed your cat needs. Always remember to think of what your cat needs first. Especially for those who need special attention.
Also, decide whether you need heated beds for the wintertime. These can really help with making your cats comfortable in the colder seasons. Making them comfortable and keeping them happy is one of the most important jobs of being a cat parent.
Whatever you may choose, know that it'll be the best choice for your cat.