I live in a region where my small dog really benefits from having a sweater when I take her out for long winter walks. The challenge for me was finding the right sized, best sweater for my dog. After careful research, and some trial and error, I was able to determine the best way to measure my small dog for a sweater and I share how to measure small dog for sweater in this article.
There are three measurements needed to determine the proper size for a dog sweater, the neck circumference, the girth circumference and the topline back measurement (the distance from the neck to the tail). If your dog falls between two sizes, opt for the larger size sweater for the best fit. 
I am going to go into more detail on:
How to measure your dog, step by step
Detailed sizing chart for dog clothes
When is the best time to put a sweater on a small dog
How often to wash your dog sweater
Let's jump right in…
How To Measure Small Dog For Sweater: Step By Step Instructions
Obtaining the right sweater fit for your pup requires three measurements: neck girth, chest girth, and length. You will need a soft measuring tape in order to perform these steps. Do not use a metal tape measure as the metal edges could cut and hurt your dog.
Below are the step by step instructions:
Neck Girth: Measure the circumference of your dog's neck, around where the dog's collar is located. Note: remove the collar before measuring! Also, use the "two-finger" rule. This means that two fingers should easily fit under the tape measure.
Chest Girth: Measure the circumference of your dog's chest. Be sure to measure the largest part of the chest, typically the area behind the front legs.
Length/Body: While your dog is standing, measure the distance along his back from the neck to the base of the tail.
You can also use this handy sizing chart to help. Keep in mind that each sweater manufacturer will vary slightly so it is best to double check your measurements with their sizing guidelines.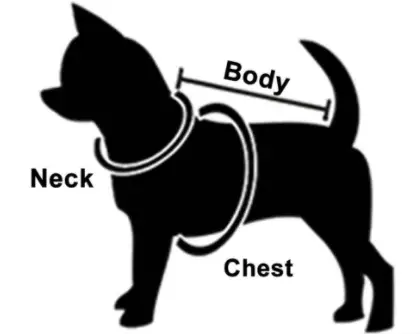 | Sweater Size | Weight (lbs) | Neck (in) | Chest/Girth (in) | Body/Length (in) |
| --- | --- | --- | --- | --- |
| XXS | 2 – 5 | 6 – 8 | 9 – 13 | 7 – 11 |
| X-Small | 6 – 11 | 7 – 10 | 12 – 16 | 9 – 13 |
| Small | 9 – 16 | 8 – 12 | 15 – 21 | 12 – 16 |
The best-fitting small dog sweater is the one that is snug against the skin. The term "snug" is what we refer to as the middle ground for tight and loose. 
Dog Sweater Sizing By Small Breeds For Help With How To Measure Small Dog For Sweater
| Breed | Dog Size | Dog Sweater Size |
| --- | --- | --- |
| Yorkies, Chihuahuas, Pomeranians, Maltese, Papillons, Toy Poodle | X-Small | XXS – XS |
| Pug, Boston Terrier, Shih Tzu, Miniature Pinscher, West Highland Terrier, French Bulldog, Dachshunds, Bichon Frises | Small | XS-Small |
| Beagles, Miniature Schnauzers, Shetland Sheepdogs, Cavalier King Charles, Scottish Terriers | Medium | Small-Medium |
When Should A Dog Wear A Sweater?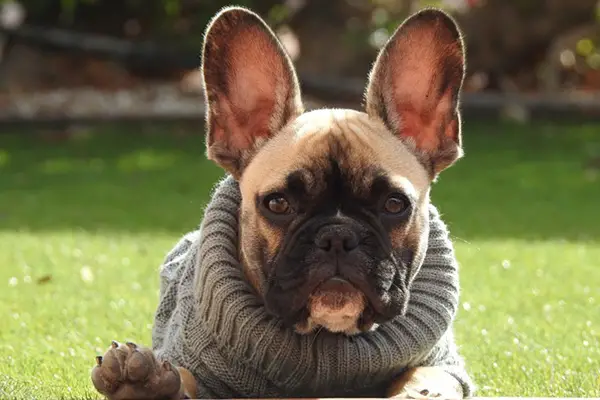 This depends on where you live and the size of your dog. For small dogs that live in cold weather climates, wearing a dog sweater to go outside is advisable. If you notice your dog shivering a lot when you take him out for a walk, that is a good indicator that your dog needs a sweater.
Additionally, some people tend to keep their homes on the cooler side of the spectrum. If that describes you and you have a small pup, you may want to consider a sweater for indoor use as well. Think of it like this, if you have to put on a sweater yourself and your dog falls in the extra-small to small breed range, they may need additional warmth protection as well.
Can I Use Baby Clothes For My Dog?
The short answer is yes especially if you are looking for a DIY solution. However, baby clothing is not designed or made for dogs therefore, it won't have the same fit. Also, this could lead to discomfort and stress for your pet. 
The best solution is to properly measure your small dog for a sweater that is specifically made to fit her.
How To Tell If Your Dog Gets Cold At Night?
The most notable sign is shivering or shaking. Another indicator is if you notice her tucked up tightly in a ball with her tail between her legs. In some cases, your pup might bark and or wine as well.
With a small dog breed, your pet may not have the same body mass and fur that a larger breed has. Therefore, they tend to get colder a little easier. If you sleep in a cold house, take notice of how your dog behaves at night. Your pet will give you clues as to whether or not they get cold. This is a good indication if they need a sweater to sleep.
How To Care For A Small Dog Sweater
When buying a dog sweater, check the manufacturer's recommendations on how to wash it. Some sweaters require hand washing and line drying. Other sweaters are able to be machine washable and dried.
Another consideration is color fading and color bleeding. As with human clothing, be sure to read the labels to prevent this from happening. I care for my dog sweaters in a very similar manner as my own. I encourage you to do the same.
Dog Sweater Styles
Dog sweaters come in a variety of styles and fashions. For example:
Wool Sweaters – These are great for dogs that need additional warmth. However, make sure that your dog does not get overheated. I like wool sweaters for small dogs for taking pets on walks in extremely cold temperatures.
Designer Sweaters –  These sweaters can get very fancy and fashionable. If you are shopping for a designer sweater for your small dog, I encourage you to be careful of sweaters that have design elements that can come loose. Also, double-check the sizing as these sweaters may run slightly smaller than others.
Velcro Sweaters – A Velcro-style sweater for small dogs is awesome for dog owners that have trouble getting a regular sweater on and off their pup. This style of the sweater makes it very easy to dress your dog.
How To Measure Small Dog For Sweater – Wrap Up
I hope that this guide provided you with enough details and information for your quest on learning how to measure small dog for sweater. Be sure to check out the small dog sweaters that we reviewed. Click here to view that complete review article.