Are you frustrated because your dog keeps incessantly chewing his bed? This nasty habit has to come to an end. Dog owners must learn about the best tips and suggestions to get your dog to stop chewing his or her bed immediately. Our how to prevent dog from chewing bed guide will give you all the answers you need to know!
To stop a dog from chewing on their bed, first, use a deterrent spray made of apple cider vinegar. Leave the TV on to distract your pup while you're out. Provide ample chew toys as an alternative option. Discipline your dog after it's used the bed. By a chew-proof dog bed so it isn't torn apart.
Getting your dog to stop chewing its bed can be a difficult and trying process. But I want to make sure that you now have hope. I want you to know that it is possible given enough time, effort, and discipline.
If you've struggled to get your dog to stop chewing the dog's bed up until this point, just know that it doesn't have to continue. I'll share my favorite tips with you below, explain why dogs chew their bed in the first place and share other relevant information about this stressful topic.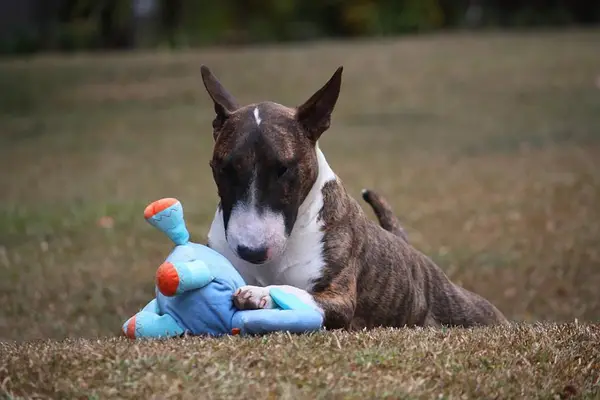 Why Does My Dog Keep Chewing Up His Bed?
Before I share my favorite tips to stop this unwanted practice, I felt it best to dive into the psychology of the matter first.
Based on my research and personal experience, I've discovered 3 reasons why your dog will keep chewing his bed even when you beg him to stop. They include:
Natural Instinct
Anxiety and boredom
Possible health problem
Now, it isn't wise to immediately jump to conclusions and automatically assume the worst. Take time to pay attention to your dog and see if he or she provides signals that conclude you into their particular reason for the problem.
Check Out This Chew Toy For Aggressive Chewers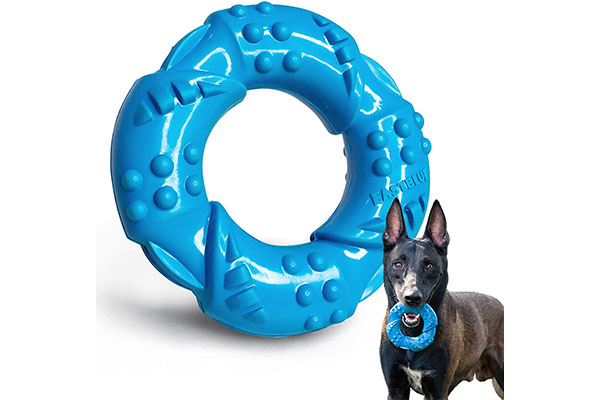 EASTBLUE Dog Chew Toys for Aggressive Chewers
Made from ultra-tough natural rubber, nearly indestructible large and medium breeds.
Related article: Top 10 Best Dog Beds, Our Complete Analysis
Chewing A Dog Bed Because Of An Underlying Health Problem
As an example, in the worst-case scenario, your dog might chew the dog's bed due to an underlying health problem. This doesn't have to be the end of the world and it doesn't mean your dog is deathly ill or really sick. It could be a psychological issue or a minor health concern.
According to Dog Gorilla Beds, "Whether you suspect a compulsive chewing disorder or a gastrointestinal issue, you should discuss this issue with your vet as soon as possible."
Unless you have veterinarian training, you shouldn't immediately jump to conclusions or make your own personal diagnosis. Speak with your veterinarian and let them know about the problem. They have years of experience and even more schooling and training. Let them do their job and ultimately make the determination for you, because their experts, and they know what you are talking about.
Chewing A Dog Bed Due To Anxiety And Boredom
Many dogs become really bored and anxious when they are stuck at home alone and away from their family and loved ones. Remember, just like anyone else, a dog requires stimulation throughout the day. Otherwise, their mind will wander aimlessly and restlessly and this could have a negative impact on their overall psychology.
Unfortunately, when boredom rears its ugly head, dogs tend to become very destructive because they have nothing better to do when their natural instincts kick in. Or, they become really upset with their owners and they start destroying things like their dog bed to intentionally get your attention.
No matter the reason, it's important to do everything possible to alleviate their boredom and separation anxiety by improving the experience while your dog is alone. Some ways to help your pup relieve the anxiety and boredom include:
Hire someone to stop by the house and play with your dog and take it for a walk during the middle of the day
Leave lots of toys lying around the house for your dog to play with while it is home alone
Give them plenty of chew toys to chew on while you aren't home
Keep your dog in a crate or special room while no one is at home
How To Prevent Dog From Chewing Bed: Stopping Natural Instincts
It shouldn't surprise anyone to learn that a dog's natural instinct is to chew. In particular, young pups love to explore and stick their nose where it doesn't belong. That includes chewing dog beds, sneakers, slippers, clothing, or anything else that might be lying on the floor or within reach.
You'll have a difficult time trying to stop this behavior because it's one of your dog's natural instincts. Your best bet is to redirect their attention. This way your dog will focus on chewing on chew toys and other acceptable items, which will prevent your pup from destroying your house, their dog's bed, and other important items within your domain.
Do You Know How to Wash A Dog Bed?
Washing A Dog Bed Is Important To Keep It Smelling Fresh And Looking Clean! Click The Button Below To Read Our Step-By-Step Guide.
Stressed-Out Puppy: Tips To Eliminate Dog Bed Chewing Due To Anxiety
Unfortunately, adult dogs tend to begin destroying things with their anxiety-induced dog bed chomping when they're experiencing high levels of stress. In some cases, this happens because your dog is in a new and nervous environment. In other cases, it's happening because your dog is suffering from separation anxiety.
No matter what the causes, just know that your dog is compulsively chewing his dog bed due to unmitigated stress. It's possible to stop dog bed chewing by redirecting its attention, plenty of chew toys, and other deterrents.
Some tips to help curb this unwanted behavior include:
Figure out the issues that are stressing out your dog. This gets right to the heart of the problem and it's the most efficient and effective way to eliminate destructive dog bed chewing. Yet, on the other hand, the stresses that are triggering this situation might be created by something that is totally out of your control. For example, your dog may get upset because it lives with another dog, cat, or another unwanted animal companion. Maybe your dog is stressed out because you have family members like small children that run around and play quite loudly and noisily, which is creating undue stress for your dog. It's important to figure out what's triggering the stress. Then move your dog bed as far away from the trigger as possible to see if this helps cut down on excessive dog bed chewing.
Try products containing synthetic dog pheromones. These products are very popular and they help dogs eliminate nervous problems and issues. They sell these products in a wide variety of options including wipes, sprays, plug-in diffusers, and dog collars. Typically, these products are odorless and they contain calming pheromones that are naturally released by the dog's mother while it was a puppy. Pheromones do not work immediately, so give them time to calm down your dog.
Hire a specialist to help with behavior therapy. This is likely going to be the last resort for many people because it's time-consuming and expensive. But it's also potentially necessary if your dog happens to suffer from extreme anxiety. Look for a specialist in your area to help your dog with behavior therapy. Talk to your veterinarian to find out if he or she has a preferred specialist in your area that they recommend.
Leave the radio or TV playing while you aren't home. This is a great strategy that provides a calming effect for dogs that are overly anxious during the day when no one's home. Something about hearing people talking on the television or radio provides a calming and soothing effect. Hearing the voices must make it seem like your dog isn't at home alone, so it's quite effective. You might also play music that is specifically recorded and composed to provide a soothing effect for dogs. Check with your favorite online retailer or ask your local veterinarian for some recommendations.
Before moving on to the next topic, I'd like to point out that punishing your dog isn't necessarily a great idea when it's chewing because of an anxiety issue. Punishments like yelling at your dog, spanking your dog, or muzzling your dog could lead to even more anxiety and behavioral problems. Avoid punishing your dog as much as humanly possible if they have a stress-related excessive chewing issue that they're dealing with.
Cooped Up Canine: Tips To Eliminate Dog Bed Chewing Due To Boredom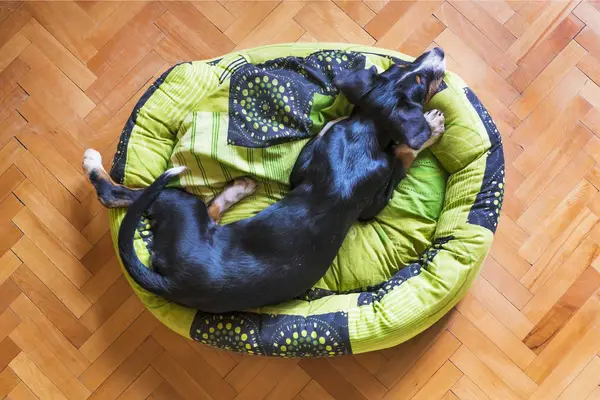 Is your dog left home alone for many hours in a row by itself? This will obviously lead to boredom because your dog has nothing to do. 
It's not like he can turn on Netflix and lay on the couch and watch his favorite movie, right? Your dog is going to have loads of pent-up energy during the day as it lays around and does nothing all morning and afternoon long while you slave away at work.
Here are a few tips to help you alleviate boredom-induced pent-up energy:
Give your dog plenty of exercise. Make sure your dog has the opportunity to run outside and play vigorously for 30-60 minutes a day. This is especially true if you plan to keep your dog in a crate while you are off at work. But whether you keep your dog in a crate or not is irrelevant. If your dog is going to sit at home by itself for eight hours a day, it needs to relieve pent-up energy. Another tip is to hire a dog walker to play with him for half an hour to an hour a day while you're at work.
Leave your dog plenty of chew toys within reach. Chew toys are an important deterrent to stop dogs from chewing on their bed. These interactive dog toys not only give your dog something to do, but they also give your dog something to destroy. Give chew toys that are food treats, stuffed animals that they can rip to shreds, or any other toy that will help stimulate your dog's mind and keep it occupied.
Get your dog redirection training while it's a puppy. This training will help stop your dog from chewing on dog beds and other unwanted items. It's best to continue this training and follow the rules by providing your dog with a sanctioned chew toy as an alternative.
Upgraded to a chew-proof dog bed. According to Orvis.com, "Some dogs instinctively love to rip filling out of stuffed products. These extra durable dog beds use tougher material and additional layers to withstand the most destructive chewers." Chewing beds, also known as indestructible dog beds, last longer than normal beds.
Lastly, I'd like to mention using an apple cider vinegar-based deterrent spray to prevent the toughest chewers from continuing their bed chewing fixation. Dogs do not like the taste of apple cider vinegar. In fact, they actually despise it. So, using it on their dog bed will definitely stop them from chewing it. I just hope it doesn't stop them from sleeping in it as well, which could definitely pose a problem.
Chew-Proof Dog Beds
Best Dog Bed Overall
Kuranda ChewProof Elevated Bed
The Kuranda Bed is the ultimate chew-proof bed on the market today. It may not be the cutest of dog beds, but if you are having problems with even the most destructive chewers, then this is the bed for you. The bed is elevated with ultimate strength PVC frames that can support dogs up to 100 pounds. It may not look as comfortable, but rest assured, they will feel like floating when they sleep on this bed. 
Click Here for Latest Price
Best Dog Bed For The Value
K9 Ballistics Original Tough Bed
The Tough bed stays true to his name. It is made with Durable Ripstop Waterproof Ballistic fabric that can withstand the chewing of your lovable furry friend. With its very detailed design, diggers, scratchers, and chewers will easily give up on trying to destroy this very tough bed. 
This bed is made with reduced exposure seams and triple overlock stitches on all its seams. Reinforced to ensure your dog's chewing habit ends as soon as possible. It may cost you a few extra bucks, but this bed is worth it if it means your dog will never chew again.
Click Here for Latest Price
Best Dog Bed For The Price
Veehoo Cooling Elevated Dog Bed
This is a very affordably priced, elevated dog bed that helps your dog with any anxiety issues. 
It is composed of a powder-coated steel tube frame, durable textilene fabric, and non-skid rubber feet.
And, this bed can hold a maximum weight of 150 pounds (68kg); Suitable for a normal adult German Shepherd, Golden Retriever, Akita etc.
Click Here for Latest Price
The Bottom Line On How To Stop A Dog From Chewing His Bed
Dogs unfortunately chew unwanted items when they are bored or experiencing undue stress and anxiety. This leads to destructive chewing and ruining brand-new dog beds, shoes, sneakers, slippers, and other clothing items and apparel. When dogs chew a lot and get really destructive, they can ruin the furniture, tear up the rug, and create all sorts of havoc.
Today, I did my best to help pet owners by providing my best boredom and stress-related tips to stop your dog from chewing its bed. I'd like to reiterate my findings by sharing a quick rundown with you below. My best tips to prevent boredom-induced chewing include:
The view dog has plenty of chew toys
Continue with redirection training from when it was a puppy
Use an apple-cider vinegar deterrent spray
Upgrade to a chew-proof dog bed
Give your dog 30-60 minutes of exercise per day
And to stop anxiety-induced chewing, please try:
Use a synthetic dog pheromone product to calm down your dog
Keep the TV or radio on while you're out
Determine the issues causing stress for your dog and eliminate them as best you can
Hire a specialist to train your dog using behavior therapy
WARNING: Do not punish your dog by yelling, spanking, or muzzling him because it causes even more anxiety-related destructive chewing in most dogs
Thanks for stopping by. If you have any other tips that you'd like to tell us about, please feel free to mention them in the comments below.
Amazon Best Rated Products - Last Updated on 2023-05-29. DISCLAIMER: Some or all of the product links on this page are affiliate links. The operator of this website received a small commission if you purchase products through these links, HOWEVER, there is no added cost to you. These commissions help to fund the operation of this FurryFriendsGear.com