We all want the best for our furry friends. We give them the best food, the best treats, and the best bed that money can buy. But even the best dog beds can be chewed up and ruined in just a matter of days or even hours. In this article, we will find out why our dogs chew their dog beds and how to prevent dog from chewing bed.
There are now beds that are made for those furry friends who chew or tear up their beds. At the end of this article, we will be giving you a shortlist on which beds you should get to prevent your dog from chewing their new dog bed. 
Why are dogs chewing their beds?
There are many reasons that your dog chews their dog bed. It could be something that started while they were young, or maybe something is causing them to do it and they may not be able to control it. 
Here are three reasons that most pet owners experience as to why their furry friends attack their dog's bed.
Instincts
As puppies, young dogs will explore their world with their mouths. They will end up chewing, licking, and possibly eating everything and anything in their path. This kind of behavior is instinctively inside every dog. This is something that you cannot stop, but rather redirect all the dog chewing towards chewing toys and other appropriate chew toys.  This will help with your pet's compulsive chewing disorder.
Here are some great sanctioned chew toy options to consider:
Check Out This Chew Toy For Aggressive Chewers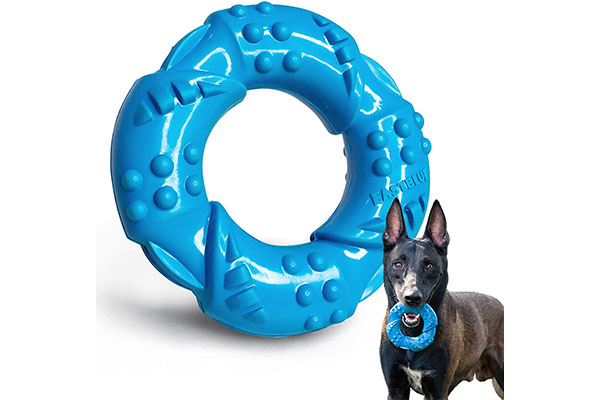 EASTBLUE Dog Chew Toys for Aggressive Chewers
Made from ultra-tough natural rubber, nearly indestructible large and medium breeds.
Boredom and Anxiety
Like us humans, dogs can also get bored and stressed. It could be that they lack stimulation, mentally, and physically. This can sometimes result in unwanted chewing behavior.
Anxious Dog Bed Chewing
When your dog destroys their dog bed, this can be stress-induced dog chewing. Most often called, destructive chewing. Stressors can come from anywhere. It could be something in his surroundings or environment that makes him stressed or uncomfortable. Sometimes, it can also be separation anxiety when they are far away from you for too long. 
Whatever the case, normal redirection with toys will not fix this problem. You need to identify what these stressors are and eliminate them immediately. You can also use anti chewing beds and extra durable dog beds.
One option is to consider using a synthetic dog pheromone product to help calm your pet.
Bored Dog Bed Chewing
Exercise is an important part of a dog's daily life. They need to be taken on walks or at least have playtime every day. When they do not have enough exercise, all that energy can sometimes go into chewing household objects including dogs chewing beds. 
Underlying Health Issues
When everything else is not working, there may be some health issue that is bothering your pet and that could be the reason that he started chewing on his dog bed. Only assume this when all options have been explored. However, if you suspect this may be an issue, go to the vet once to have them check for any underlying health issue. 
How To Prevent Bed Chewing Behavior With Your Dog 
There are many ways that you can stop your dog from chewing their bed. They are not absolute ways that will end their terrible habit because every dog is different and the reasons also vary as to why they are chewing their beds.
Here are a few tricks that you can try to prevent your dog from chewing their bed:
1) Utilize Dog Toys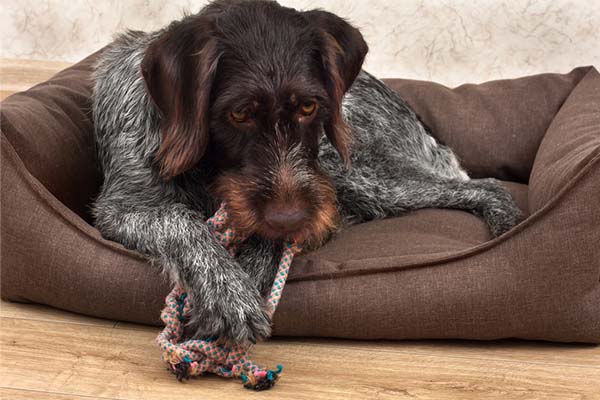 Dog toys are great tools that can be used for redirection for your dog's mouth. It means that you can offer them some toys that they like that they can chew on as an alternative. You are redirecting all that pent-up energy and their chewing behaviors towards dog chew toys.
And, buying them a new chew toy is cheaper than buying them a new bed every time they destroy the previous one. 
2) Deterrent Sprays
Deterrent sprays can be used to stop your dogs from their compulsive behavior of bed chewing. It gives off this scent and bitter taste that most dogs do not like. This can be bought from your local pet store or an online shop. You can even DIY a batch if you do not trust what companies put in these sprays. 
3) Exercise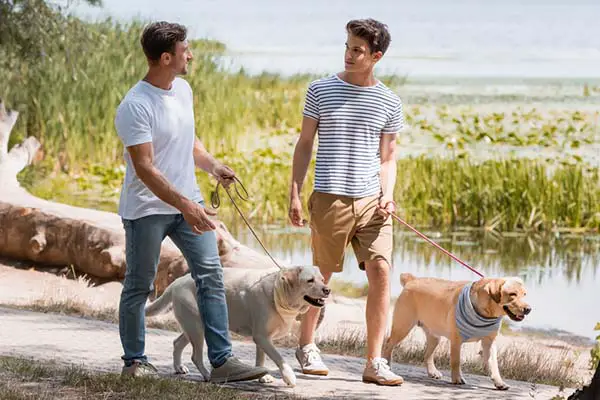 Exercise can greatly affect your dog's mental and physical health. Taking them out for a day in the park, playing with other dogs, or simply taking them out to go walk outside for at least 30 minutes can help your pet, especially with severe anxiety.
Added benefit…
They get so worn out that they prefer to lie on the bed than chew it. 
If you have a busy home life, then consider hiring a dog walker for a mid-day stroll. And, dogs love it! I implemented this strategy effectively when I have meetings that pull me out of the house for more than eight hours. I set up 2-3 dog walks throughout the day.
Chew Proof Dog Beds
When your dog doesn't stop chewing on the bed, it may be time to upgrade your gear to a more durable option. Sometimes, deterrent sprays and dog toys are just not enough to have them stop tearing up their bed. 
For an immediate solution, beds that are designed to specifically reduce dogs chewing on them are available for purchase.
How Do They Work?
Chew proof or indestructible beds are made for the most destructive of chewers. They can withstand anything that your dog may try to do with the bed. That includes chewing, tearing, scratching. 
These beds often have metal frames, durable material, or elevated surfaces. These features prevent your young and adult dogs from ruining a perfectly nice and soft bed yet again. If you want to save money from buying pet beds repeatedly, one that is designed to help prevent chewing and that can stand up to the abuse is your best bet. 
Are They A Guarantee? 
The short answer for that is no. They are merely tools to assist you in stopping your dog's destructive behavior. For teething puppies, they might grow out of it in the future. However, for those older dogs, who still have this problem, dog beds may just help lessen the chewing if not completely stop it. 
What Should I Look For In a Dog Bed  
There are many types of beds that you can buy for your furry chewer. They also have different features that help with the problem at hand. Here are some of the features you may want to look for in a chew proof bed: 
Elevated Dog Frame – Elevated beds are hard for dogs to chew on because bed frames that are elevated are usually made with metal or plastic/polymer that cannot be ruined by your dog's chewing. Being elevated will also help it not be overturned easily and not allow for your dog to ruin whatever stuffing the bed has. 
Metal Frame – Metal frames can help with the chewing because they cannot chew on it. Otherwise, they will just ruin their teeth if they continue to try. Once they know that they cannot destroy the bed, they will stop chewing it. 
Durable and Tear Resistant  – There are dog beds that are made with a durable, tear, and chew-resistant material that can withstand your dog's teeth and mouth. You would want one that is virtually indestructible but still has a washable cover for you to clean it once in a while. 
Chew-Proof Dog Beds
Kuranda ChewProof Elevated Bed
The Kuranda Bed is the ultimate chew-proof bed on the market today. It may not be the cutest of dog beds, but if you are having problems with even the most destructive chewers, then this is the bed for you. The bed is elevated with ultimate strength PVC frames that can support dogs up to 100 pounds. It may not look as comfortable, but rest assured, they will feel like floating when they sleep on this bed. 
Click Here for Latest Price
Best Dog Bed For The Value
K9 Ballistics Original Tough Bed
The Tough bed stays true to his name. It is made with Durable Ripstop Waterproof Ballistic fabric that can withstand the chewing of your lovable furry friend. With its very detailed design, diggers, scratchers, and chewers will easily give up on trying to destroy this very tough bed. 
This bed is made with reduced exposure seams and triple overlock stitches on all its seams. Reinforced to ensure your dog's chewing habit ends as soon as possible. It may cost you a few extra bucks, but this bed is worth it if it means your dog will never chew again.
Click Here for Latest Price
Best Dog Bed For The Price
Veehoo Cooling Elevated Dog Bed
This is a very affordably priced, elevated dog bed that helps your dog with any anxiety issues. 
It is composed of a powder-coated steel tube frame, durable textilene fabric, and non-skid rubber feet.
And, this bed can hold a maximum weight of 150 pounds (68kg); Suitable for a normal adult German Shepherd, Golden Retriever, Akita etc.
Click Here for Latest Price
Wrap Up On How To Prevent Dog From Chewing Bed
Whether you are dealing with young puppies or an older dog, your four-legged friend might resort to compulsive behaviors of chewing on their bed. Now, it may be an underlying health problem or lack of mental stimulation that is leading them to destroy objects, like their bed. Or, they may just be destructive chewers that need some training and course correction.
As dog owners, we need to deter this nasty habit so they don't end up ingesting bedding and getting sick. I hope that the tips and advice we provided in this article help you in your quest to prevent your dog from chewing and tearing up their beds!
Amazon Best Rated Products - Last Updated on 2022-05-16. DISCLAIMER: Some or all of the product links on this page are affiliate links. The operator of this website received a small commission if you purchase products through these links, HOWEVER, there is no added cost to you. These commissions help to fund the operation of this FurryFriendsGear.com