Winter is coming and your cats need a place to sleep. A regular cat bed just won't cut it because you want the best for your furry friend. Luckily, beds like the K&H Pet Products Thermo-Kitty Heated Pet Bed are available for you to pick up online and at your local pet stores.
Buying A Heated Cat Bed? Here Is What To Consider
Buying a bed for your feline friend is no that easy. There are quite a number of things for you to consider before hitting the check-out button on your favorite shopping site. Here are some of them:
Size is one of the most important things to think about when buying a bed for your cats. It has to be just the right size for them to enjoy it fully. When it is too big, there is so much space that sometimes they don't get to get into the position where they would feel comfortable. The same goes for when the bed is too small. You might want to give them some space to stretch their legs and still get into a position where they feel cozy and warm.
A heating bed is a great feature that you want to be added to your cat bed. Having this option gives your cat a place to be warm during the colder seasons. Aside from cuddling with you tinder the covers, a heated cat bed is a place for them to lounge and get comfy in the colder temperatures.
Think about some of these and it will do wonders for your furry friend. Take time considering what you need and what your cat will need, most especially.
K&H Pet Products Thermo-Kitty Heated Pet Bed Overview
The K&H Pet Products Thermo-Kitty Heated Pet Bed are cat beds for all seasons. It envelops your furry friend in a heated bed for the colder seasons. When summer comes along, remove the heater to make it more comfortable for them.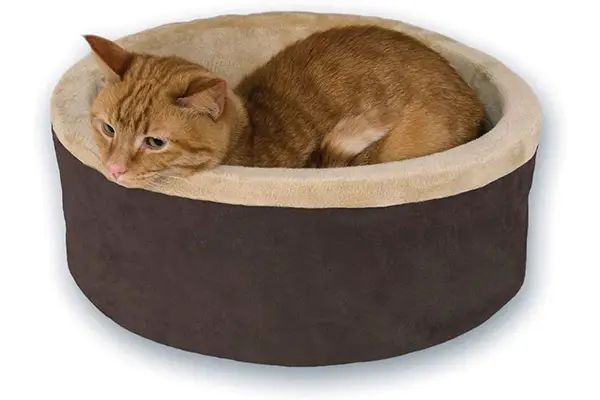 This bed comes with a one-piece pillow and an inside fleece cover to make it the most comfortable bed for your cats. The entire cover is removable to easily wash it in the washer. Just unzip to remove the ortho-foam. A 4-watt heater is inside the bed that heats its surface up to 15 degrees higher than room temperature.
Quick Glance
What's Good
Heated bed for the colder seasons
Soft pillow included
Foam walls to keep them secured while sleeping
Removable cover for easy washing
What's Bad
No power switch, just plug to turn on and off
The pillow/Pad included is slightly smaller than the bed
No temperature control, some users report that the temp is fairly low
Key Features K&H Thermo-Kitty Heated Pet Bed
Heated Bed
The K&H Pet Products Thermo-Kitty Heated Pet Bed is equipped with a dual thermostat 4-watt heater that warms the surface of the bed to up to 15 degrees higher than the ambient air temperature. It compliments your pet's natural body heat to keep them comfy, cozy, and warm.
You can easily remove this heater when the warmer seasons come along. Although, it lacks some features that can make this product better like a temperature control to regulate the amount of heat the cat gets. Some users find that there is not enough heat on this bed.
Super Soft Cushions
This cat bed includes a one-piece poly-filled pillow that makes your cat feel that they are sleeping on a cloud. To add to that, there is an inside fleece that comes over the top to give a more appealing look.
It also features soft walled cushions filled with the softest foam to keep them safe and secure inside the bed. This also provides additional beck rests for a more comfy night's sleep.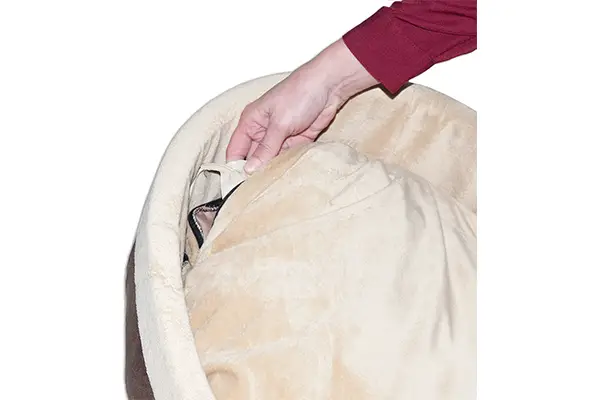 Removable Cover
Cleaning is a breeze with the K&H Pet Products Thermo-Kitty Heated Pet Bed with its removable covers that you can just throw in the washer in a gentle cycle and tumble dry to keep it smelling great for you home and your kitty.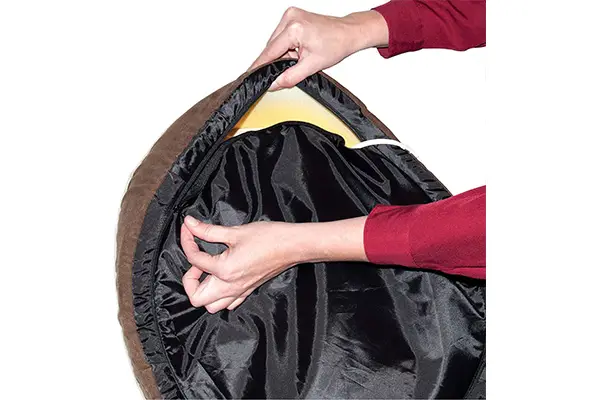 What others say about the K&H Heated Pet Bed
On my journey in compiling the best cat beds for our feline friends, I discovered some reviews of the K&H Pet Products Thermo-Kitty Heated Pet Bed that is worth reading before you hit that check-out button:
Sew Novice had a lot to say about it. He loves it either way but wishes that there were some additional features to make the bed better.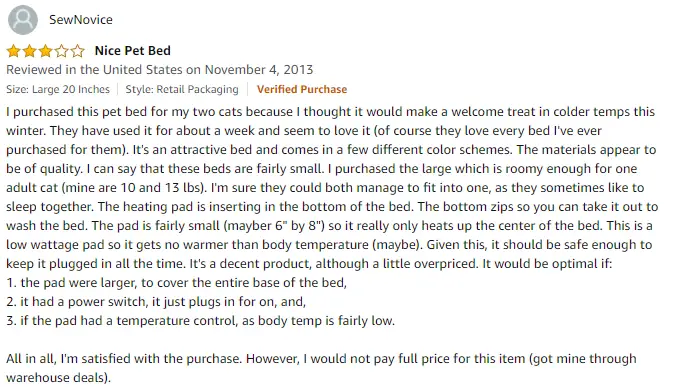 Brandy Martin's cat used to hang behind the PlayStation before this bed. Now he has a proper place to hang out in and keep warm.

Amy lost all her snuggles when she got this bed for her furry friend. Feeling a sense of loss about the snuggles but she and her cat couldn't be happier.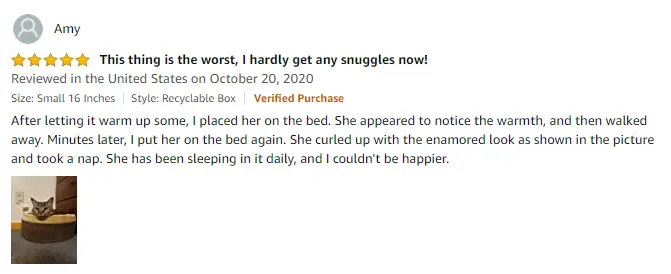 Alternatives to the K&H Thermo-Kitty Heated Pet Bed
Best Friends by Sheri Deep Dish Sherpa Cuddler
The Best Friends by Sheri Deep Dish Sherpa Cuddler is a very unique bed for your furry friends. It is equipped with high walls that surround the bed to provide your cats to feel safe and secure. The high walls at the back also provide ease on the joints for those cats that are in their senior years.
The lower walls in the front act as headrests that your furry felines can sleep on after a long tiring day. This deep dish bed is covered in ultra-soft cozy sherpa fabric that provides your cat the ultimate softness and cuddly feeling. The bottom of the bed is made of tough nylon that resists water and dirt.
It also comes in a variety of colors and sizes that you can choose from.
Petmate Aspen Pet Self Warming Bed
This Self Warming Pet Bed has a corduroy lining that features reflecting heat technology to keep your furry friends warm as they sleep. The bed reflects your cat's own body heat upon themselves to keep them cozy. No electricity needed.
The bed is made of plush corduroy and the sleep surface is covered in faux lambswool that is so soft, your furry friend will not want to get up. It also features a non-slip underbelly to prevent the bed from slipping every time they get into the bed.
AmazonBasics Collapsible Cat House with Bed
This Collapsible Cat House gives your feline friend a place to lounge, play, and escape when he wants to. It is accommodating to any cat's natural instincts. It combines a bed to sleep in up top and a hiding spot for when they want to be cozy and escape from everyone as most cats do.
This Cat House is also collapsible that you can bring it anywhere. You can pick from 3 neutral colors that go well in any house.