Have you ever thought of getting your cat a place to lounge in? There are many different options today on what you could get. They need their own space in the house. Lest you want them to be hanging out in your bed or couch the whole day. The AmazonBasics Collapsible Cat House with Bed is sure to provide that for them.
What To Consider When Buying A Cat Bed
Before getting your cat a cat bed, you might want to think about what kind of cat bed you would need and if you really need one.
If you are the type to allow your cats on the bed or on the couch, you probably don't need one. It sure would be nice to give them a space of their own anyway. If you are the other type where you try as much as possible to not have them on the furniture, There are some options for you to choose from.
However, you might want to consider what type of cat bed you want for them to use or if it will even go with your other furniture in your house. Finding a nice, stylish cat bed is not that difficult. There are many cat beds that are available in neutral colors to blend into any home.
Another thing you might want to think about is the comfortability of the bed you are getting. It is what's most important when getting a bed for your cat. Much like getting a bed for yourself, you want something that makes you want to not get up. It goes the same for your furry friends. You should get them a bed that will make them not move for a while. A nice bed to lounge on.
AmazonBasics Collapsible Cat House with Bed Overview
The AmazonBasics Collapsible Cat House with Bed gives your feline friend a place to lounge, play, and escape when he wants to. It is accommodating to any cat's natural instincts. It combines a bed to sleep in up top and a hiding spot for when they want to be cozy and escape from everyone as most cats do.
It is also collapsible that you can bring it anywhere. You can pick from 3 neutral colors that go well in any house.
Quick Glance
What's Good
Cat house for extra shelter
Collapsible to bring anywhere
Comes in neutral colors to go with any furniture
What's Bad
A bit difficult to clean
Thin Lining inside the house
Key Features AmazonBasics Collapsible Cat House with Bed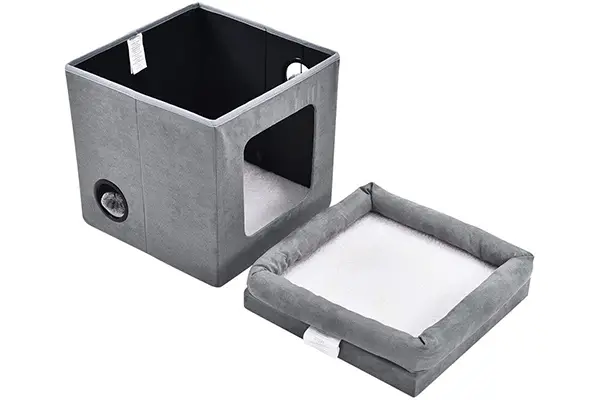 Not Just A Bed
The cat bed from AmazonBasics is not just a bed. It is a cat house and a cat bed in one. It's shaped like a box with holes so your cat can crawl inside the cat house and hide if he wants to. It makes for a great play instrument as there are other smaller holes where you can play hide and seek with your cat.
Atop the cat house is a cat bed where your furry friend can sleep at night or lounge around and perch in while the sun is still up. This will be the place he will frequent most in the house.
Cozy Material
The AmazonBasics Collapsible Cat House with Bed is covered in a cozy sherpa fabric that's surrounded by a raised border edge in soft suede.
By covering it in these materials, the AmazonBasics cat house will be the place to be. They are soft materials that your cats will love to lay on all day.
Collapsible
Another good thing about this cat bed is that you can take it anywhere. The cat house is fully collapsible. You can easily set it up and collapse it in seconds. This is great if you want to store the house temporarily. It doesn't take too much space in your storage closet.
It is also good for those who travel with their cats. You can bring it along and set it up in your accommodations so they still have the same bed they sleep in at home.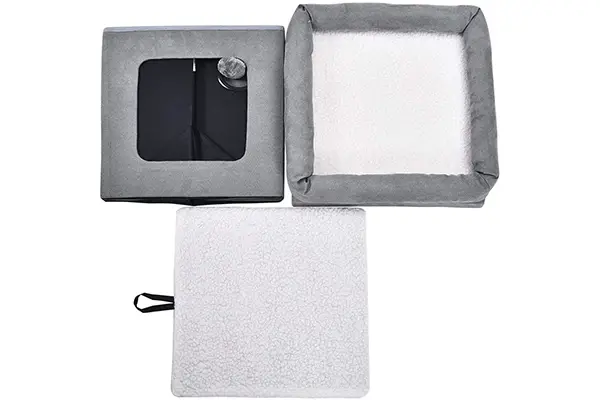 Blends In
The cat house comes in 3 neutral colors: Blue, Grey, and Brown. These are neutral colors that can go with any piece of furniture in your house. You won't even notice it as it will be part of your decor. Cats love lounging on other furniture anyway. Am I right?
What others say about the Cat House with Bed
While looking at different cat houses for our list, I came actress some reviews from other users of the AmazonBasics Collapsible Cat House with Bed. Come and take a look:
Katie thinks that this is a very sturdy cat house and is very easy to set up. She even plans to get another one of these as a perch for her kitties in the car.

Mandee says that it would be perfect if not for a design flaw. She wishes that the covers be removable so it could be washed in the washer.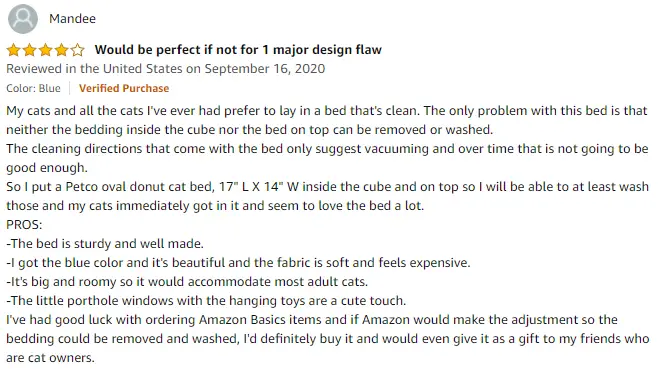 Natasha just says wow! Her furry friends absolutely love this cat bed. It has become her cat's hiding spot for when she starts using the vacuum.

Alternatives to the AmazonBasics Cat House
Best Friends by Sheri Deep Dish Sherpa Cuddler
The Best Friends by Sheri Deep Dish Sherpa Cuddler is a very unique bed for your furry friends. It is equipped with high walls that surround the bed to provide your cats to feel safe and secure. The high walls at the back also provide ease on the joints for those cats that are in their senior years.
The lower walls in the front act as headrests that your furry felines can sleep on after a long tiring day. This deep dish bed is covered in ultra-soft cozy sherpa fabric that provides your cat the ultimate softness and cuddly feeling. The bottom of the bed is made of tough nylon that resists water and dirt.
It also comes in a variety of colors and sizes that you can choose from.
Pet Magasin Thermal Self-Heated Cat Bed
The Thermal Self-Heated Cat Bed by Pet Magasin gives your cat a place for them to sleep where they feel cozy and warm. It is stylish and comfortable. Very minimalist. If you are looking for mats that can provide all the comfort and coziness of other beds without the fuss.
It is also equipped with a non-slip underbelly that keeps that mat safely in its place. It is made with three thermal insulation layers that keep the bed comfortable, thick, and warm for your furry friend.
K&H Pet Products 3191 Thermo-Kitty Heated Pet Bed
This Thermo-Kitty Heated Pet Bed is a cat bed for all seasons. It envelops your furry friend in a heated bed for the colder seasons. When summer comes along, remove the heater to make it more comfortable for them.
This bed comes with a one-piece pillow and an inside fleece cover to make it the most comfortable bed for your cats. The entire cover is removable to easily wash it in the washer. Just unzip to remove the ortho-foam. A 4-watt heater is inside the bed that heats its surface up to 15 degrees higher than room temperature.